Category — Features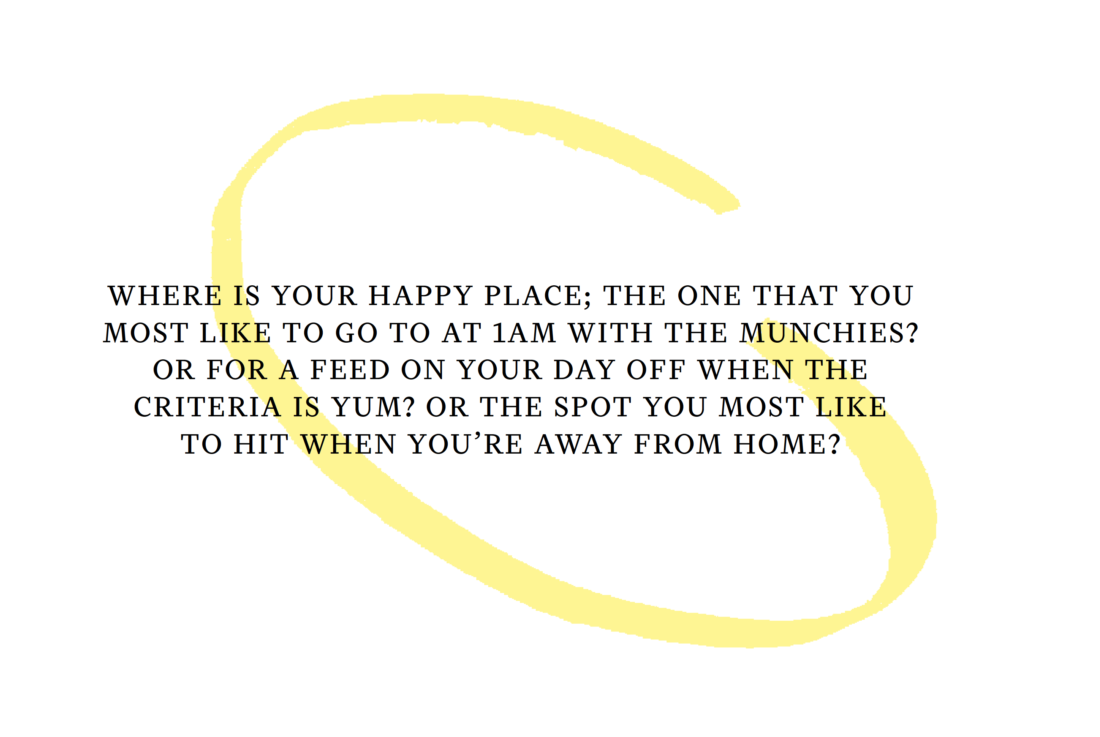 Where Restaurants Eat
We like crowdsourcing information as well as funding at Stone Soup. And we like celebrating exceptional food as well as hidden gems. So we asked some questions of possibly the best source of information about where to eat, our country's most celebrated chefs and restaurateurs. These people are some of the most passionate, obsessive and fussy eaters around — as restaurants are what they live and breath.
We're not pretending this was a rigorous process, it is entirely opinion — with a splash of nepotism we're sure — but also an engagement of our friends in the restaurant game. Firstly to give people a chance to celebrate those in their industry that they hold in the highest esteem, but also to get the goss on the spots they really eat at; late at night after a busy shift, on their day off, or on a trip out of town.
We cast a pretty wide net, some chose not to participate, and we're sure we accidentally neglected to ask a few who will wish they had been involved, sorry, get in touch for next time.
To see who answered our call, those we now consider part of our syndicate, read their response to question two below, a treasure trove of interesting eats from Kaitaia to Bluff.
Question One: Name the three New Zealand restaurants you think are doing it best right now?
In acknowledgment of those who've been nominated multiple times by their peers, and are clearly held in very high esteem, we've broken it down.
Five nominations plus, in order of popularity:
Pasture
Amisfield
Roots
The French Cafe
Apero
Cassia
One to four nominations, alphabetical:
Bistronomy
Bracken
Cazador
Cibo
Clooney
Cocoro
The Engine Room
Fleurs Place
Gatherings
Hiakai
Hippopotamus
Huka Lodge
Inti (sadly closed, but watch @etxeberria.nz for a new space)
Kinji Japanese Restaurant
Logan Brown
Masu
Memories of Hong Kong
Meredith's (closed but still held in high regard)
Nanam
Orphans Kitchen
Pacifica Restaurant
Phil's Kitchen
Ponsonby Road Bistro
Riverstone Kitchen
Rata
Rita
Salty Pidgin
Sherwood
Shepherd
Sidart
The Grove
The Food Farm
Whitebait
Here are some comments from those who elaborated on their nominations.
Pasture. Laura and Ed's vision is truly inspiring and humbling. It's always great to be able to go somewhere as a chef and geek out. Tom Hishon
Any meal at Amisfield at Lake Hayes is memorable. Vaughan Mabee is undoubtedly one of the great chefs, anywhere. His food just delights and astonishes. The staff, the wine service, the amenities all come together to create a truly spectacular experience. Martin Bosley
Roots. It's not just about the food here, it's a family that allows you to dream with a great team/town/country behind them #lifestyle. Kane Bambery
Apero. We love what Mo and Les do, and for us a special occasion doesn't have to mean set menu dining. To be in their warm buzzy space, enjoying a hand-chosen wine from Mo's cellar, and some of the delicious fare from the kitchen, is actually just perfect. Laura & Ed Verner
Clooney. I have always been a fan of Clooney for its intimacy and sophistication all the way back to when Des was at the helm. Tony Stewart is a smooth operator and a great host and I'm looking forward to taking on Nobu Lee's food too. I have already had a taster of some of his stuff so I am really excited to get more. Gareth Stewart
Memories of Hong Kong is geared towards Chinese visitors. The owner operator Ming is hard case, he's been in the game in NZ for at least 30 years. They serve Cantonese food, but not like I'm used to in New Zealand. It's product driven; really simple, very few spices or herbs, but done to perfection. He cooks Crayfish in a scalding hot wok so you can eat the shell like fish french fries; he shucks, cooks and carves massive paua table side; serves rice with chicken hearts and liver and heaps of chilli. Whenever I eat there it's like a life changing experience, he's cooked me some of the best food I've ever had. And I'm one of the pickiest guys you'll ever meet. Word of advice, if he asks you to drink Chinese Whisky with him say no, he'll put you under the table. Vaughan Mabee
I would love to be sitting at the international table at Angela Clifford's Food Farm one day. Liz Buttimore
I love Sherwood, their philosophy of simple, set against the backdrop of the madness that is Queenstown. It is a breath of fresh air dining at the Sherwood and I love staying there, it becomes even more special as you can make a whole weekend of it. Just staying in one place; be that listening to music (another passion in life due to the nature of my partner's work as a musician), chilling in the gardens, or just tasting Kane's cookery. Alex Davies
Fleurs Place, the restaurant of daydreams and fishing boats, of time gone by. There is nowhere in the world that comes close to the fantasy of sitting at the end of a fishing pier, in a town whose population barely notches a century, in a building made seemingly from the wood washed upon the shore, eating fish straight from the boats overseen by a women who epitomises New Zealand hospitality. Darren Lovell
Cocoro is hands down our favourite. It's impossible to go and not partake in the Seafood Platter. If I was ever in the dog-house with Les, a trip here will definitely help me get out. Hahahaha. Ismo Koski
Question 2: Where is your happy place; the one that you most like to go to at 1am with the munchies? Or for a feed on your day off when the criteria is yum? Or the spot you most like to hit when you're away from home?
Darren Lovell. Fishbone – I would fly to Auckland for a Federal Delicatessen Reuben Sandwich – hands down the best sandwich in New Zealand and the reason I could never give up meat. thefed.co.nz
Kane Bambery. Sherwood – My guilty pleasure at 1am, a ham and cheese toastie on the pot belly, lollies, and anything with boiled pigs feet. For a feed on my day off, The Gibbston Tavern or La Rumbla in Arrowtown, Jay's food always hits the spot. Or Kika in Wanaka which I believe is the most progressive real food in our region. And for a spot away from home you can't beat an Orphans Kitchen crumpet. Every time it takes me back to grandma. Or Rewi Spraggon's Hangi "top of the top". gibbstontavern.co.nz, @larumbla.arrowtown, kika.nz
Vaughan Mabee. Amisfield – Fowler Oysters in Bluff is a little family owned place. It's literally on the water and a stonesthrow from where they park their boat. It's where all the fishermen go. There's a room where they've been shucking for generations and above a hole in the wall restaurant. David is the oyster guy, I like him because everything is old school, even his oyster knife which was his Dads, made from Kauri. He's used it 40 years. They're super proud of what they do. I go there for a feed of live shucked oysters — you have to ask for lemon — and beer battered oysters with heaps of salt. That's it. I always eat too many. facebook.com/fowlersoysters/ Lake and Wood BBQ and Beer. A chef called Jay Sherwood from California who trained in Michelin star restaurants parks his giant bbq at a little cellar door called Wet Jacket on weekends. He serves Southern Style BBQ out of the smoker and beer from his own brewery called Lake and Wood. He does all sorts of interesting beer, like a Saison made with water from Arrow river and foraged Horopito. This is three star style BBQ, the juiciest meat you can eat in the South Island.
James Stapley. Kika – I think this has to be Pembroke Patisserie at Wanaka farmers market. Matt Schmutsch makes the best doughnuts I have ever eaten and incredible pastries and pies. When in Wanaka this is a must. pembrokepatisserie.co.nz @mattschmutsch
Fleur Sullivan. Fleur's Place – Vanessa's Cottage Cafe on the main highway in Hampden. She's made it out of a little old cottage and hand makes all of the pies and cabinet food. I pretty much always have blue cod with chips, peas and an egg on top. I don't even mind if they give me two eggs. She's done a really great job, she collects salt and pepper shakers, so there are different ones on each table. facebook.com/VanessasCottageCafe
Alex Davies. Gatherings – Indos Loveat is based in central Christchurch and is popping up all over the city. It's an amazing little food truck run by the charismatic Steve Tiwa. He will look after you every time you visit and always throw something extra in just because he is a good guy. facebook.com/Indosloveat/
Belinda Donaldson. Pegasus Bay Winery and Restaurant – Foo San in Christchurch. By far the best Yum char in Christchurch – in Ilam near the university. Ed's family has been going there for about 20 years. The kitchen burnt down late last year and is currently being rebuilt. It's run by a lovely Chinese family; the kind of place you can take some delicious old world Rieslings, catch up with a group of friends or family, and feast on deep fried squid, pork buns and the rest. You go there for the food, not the décor. facebook.com/Foo-San-Restaurant
Giulio & Christy Sturla. Roots Restaurant – Hope River Pies in Lyttelton are the best pies. hoperiverpies.co.nz. KC Cafe & Takeaway – There is nothing in Christchurch open that late yet, however, when we were up in Wellington the Roots team went out to KCs at around 2am. It was a delicious late night fill for the time of night/morning. We like taking our kids to Hello Sunday Cafe, they love it; the food is tasty and the coffee is good. hellosundaycafe.co.nz
Liz Buttimore. Arbour – Facebook is busiest on a Sunday morning in Marlborough when locals are trying to find out if the Feast Merchants are cooking at the markets. The Beef Royale is world famous in Blenheim and something visitors wish they could take away with them. People often ask what you would wish for if trapped on a desert island. Well having lived on a desert island where there is no way off except by 2 hour Cessna flight, I know that if our wee Cessnas had flown anywhere near Rory and Fran's food truck, they would have been loaded for the return trip with Beef Royales for the island residents. feastmerchants.com
Asher Boote. Hillside Kitchen and Cellar, The Raman Shop, Tinakori Bistro – Monfoort for Poffertjes — with extra butter. montfoort.co.nz
Martin Bosley – Le Samourai, on Tory Street, Wellington. A tiny place, open all day until late, serving everything from croissants to charcuterie. A lone waiter works hard to serve, play sommelier, cocktail barman, maitre d' and chef. Park up at the window, sip on a Negroni or drink a bottle of something you've never heard of before and watch the world go by. lesamourai.co.nz. I spend a lot of time in Auckland and the spot I always hit is Depot. It's for the oysters, the sliders and the bone marrow. A bunch of small plates that adds up to something substantial. eatatdepot.co.nz
Monique Fiso. Hiakai – The $1 beef skewers at Waitangirua Market on Saturday morning.
James Beck & Amber Linter-Cole – Bistronomy – For me it's the Calzone at Allesandro's in Havelock North. Pizzaiolo Alex is an intriguing mix of Italian and South African. His sourdough pizza base is a two day process, and sitting by his wood fired pizza oven takes me straight back to my time working on Isla D'Elba in Italy. The Calzone is oozing spicy sausage, tomato, basil, and mozzarella goodness and finished with lashings of truffle oil. They say it serves two but I can quite comfortably finish one single handedly. I don't get a lot of spare time but I've spent a fair bit of it eating Alex's Calzone. alessandrospizzeria.co.nz. Ambers guilty pleasure are the apple crumble donuts from Little Black Bird in Hastings. They are very awesome. littleblackbird.co.nz And when we're away from home, any one of a number of the dumpling eateries on Dominion Road. We really lack authentic ethnic food in Hawkes Bay and miss it dearly.
Al Brown – Apple Custard Scroll. From that artisan bake shop – "Bakers Delight"
Damaris Coulter. Coco's Cantina – After work: Cazador when D and Beks make a toastie for me! Ichiban Japanese Restaurant on Albert Street for Ramen, or the good old fashioned The White Lady for a burger and chips. For a feed on my day off: Steam buns from Blue Breeze Inn, sabich and haloumi with sides from Yael at Imas, any sandwich but probably the fish one from Fort Greene, Masala dosa from Ras Vatika Indian Vegetarian Cafe in Balmoral, veggie bibimbap from Bon Ga Ne (Corner of Mayoral and Queen), kebab or pita from Paasha in New Lynn. Madame George are our wonderful neighbours and I love their intimate and well executed food and drink offerings any time of the week but especially on my day off or on the way home. Ralph's for some comfort food. The cheese rolls from Hong Kong Bakery in Mangere Bridge are the best in the world. Try It Out and Sam Woo in Otahuhu for Vietnamese. If I'm out of town there is a modern Vietnamese called Banh mi Caphe in Hamilton which is delicious. The salad bar at the Beachcomber in Kaitaia (especially with Kaianaise dressing), the fish n' chip shop in Ahipara where they also offer a service to cook your catch for you. And Hapi in Napier do the best clean, organic, plant based food! facebook.com/ICHIBANJAPANESERESTAURANT, thewhitelady.co.nz, thebluebreezeinn.co.nz, imacuisine.co.nz, fortgreene.co.nz, paashaturkishkitchen.co.nz, madamegeorge.co.nz, ralphsbarandeatery.wordpress.com, banhmicaphe.co.nz, beachcomber.net.nz, hapi.nz
Des Harris. The Hunting Lodge – Raman Lab in Takapuna is my secret spot. The ultimate comfort food is as delicate or as indulgent as you want it to be. They have all the raman bases covered. This is my favourite eat in Auckland. facebook.com/RAMEN-LAB-Japanese-Noodle-Soup
Gareth Stewart. Euro – When I need a late night feed The White Lady cannot be beaten. The burgers are made quickly, they hit the spot with flavour and they have a great story having been open for so many years. thewhitelady.co.nz. I travel a lot so sometimes I get back to the airport late at night and hungry. Fortunately Sandringham Road is on the way — or at least I make it 'on the way — to my house in Mt Albert. I will always swing past Paradise Restaurant and grab a Dum Ka lamb, garlic naan, half a portion of chicken lollipops and sometimes a Dahl. Do I share it? Not often. paradiseindianfood.co.nz
Javier Carmona – I regularly visit the Avondale Sunday Markets as I live locally, and I love the ethnicity, chaos, produce and energy. One of the things I always get is Youtiao (chinese oil stick) for an on the go snack. It reminds me of my time travelling through China and really typifies the market vibe. It's great lining up with the predominantly Chinese masses and getting into the thick of an arm wrestle/tussle with a diminutive Chinese grandmother. Fun!
Jess Granada. Nanam Eatery – I always take the team to Go Go Music Cafe in Wairau on the North Shore. Like at home in the Philippines, they serve late night BBQ (they are open until 1am), a comfort food for every Filipino. Add a bottle of Tsingtao beer and you will be satisfied after a long day at work. – facebook.com/pages/Go-Go-Music-Cafe
Kazuya Yamauchi. Kazuya Restaurant – Flavor House Chinese Dumpling on Dominion Road and Sake Bar Icco in Kingsland – sakebaricco.co.nz
Kyle Street – Culprit – I'm a donut nut, I've had them all over the states and they seem to be popping up all over NZ at the moment. Doornuts do a great Chocolate Iced with Valrhona Pearls The chocolate has some savouriness to it, they must add some salt. Its delicious and not as sweet as some of their more wild creations. I'd recommend the Classic Box for that americana feel. doornuts.co.nz
Laura & Ed Verner. Pasture – Burger Burger; an ethical establishment and open on our days off. Ed can have his beloved cheeseburger and I can enjoy a vegetarian bunnuce. It meets both of our needs… and then there are those potato skins, oh my god the potato skins. burgerburger.co.nz Masu, because we crave fresh seafood on our days off and we love open kitchens. Sitting at the bar watching the team is great. We also love sake, and they have a great list. skycityauckland.co.nz/restaurants/masu/ Maison Vauron. We are both cheese fiends. These guys do it best, and I love that you can feel like you aren't in Auckland sitting there with a great bottle of wine and a cheese board you craft according to your tastes with their expert advice. mvauron.co.nz Giapo. Best ice-cream ever ever and a curious and engaging experience that is really different. Again, I can go for a not-too-sweet something and Ed can have his rare, but important, caramel-fix. giapo.com
Makoto Tokuyama. Cocoro – The Pork Bun stand at Avondale Sunday Market and Ken Yakitori Bar on Anzac Ave. kenyakitori.co.nz
Mark McAllister – Welcome Eatery – Coo Japanese Kitchen is not fancy but is tasty-as, and easily one of the most consistent restaurants I have ever been to. Plus the plumpest dumplings in the land! facebook.com/pages/Coo-Japanese-Kitchen/548622291855940 Federal Delicatessen for the dessert pies. thefed.co.nz Eden Noodles which will be mentioned a lot I'm sure. edennoodles.business.site
Ismo (MO) Koski. Apero – New Flavour; its open till 4am, it's so tasty and luckily I drive right past it on my way home… basically my week isn't finished on a Sunday night if I don't have New Flavour. new-flavour.com Kati Grill on K Rd is my hangover cure. Super tasty when you just want something naughty. Chicken Tikka Wrap and Chicken Pakoda… oh my God! katigrill.co.nz Satya Spice and Chai Shop. Awesome host, awesome beers and awesome food… K Rd or Sandringham, brilliant! satya.co.nz
Phil Clark. Phil's Kitchen – Beef brisket nachos at Citizen Park, Kingsland. – citizenpark.co.nz
Rebecca Smidt. Cazador – We all just basically want to eat at Apero on our day off. It's the restaurateur's restaurant. – apero.co.nz Shaolin Kung Fu Noodles for the hot and spicy beef kung fu noodles. – kungfunoodle.co.nz Guilin Rice Noodles on Dominion Road. Their traditional noodles have a gorgeous texture and an amazing balance of hot & sour. – guilinricenoodles.co.nz
Samir Allen. Gemmayze Street – Little Turkish Cafe on K Rd is pretty much always open, has gangster pide sandwiches, is always consistent, and you always meet someone buzzy. It was my go to spot for late night feeds after shifts at The Grove when I lived in St Kevin's Arcade – littleturkishcafe.co.nz Lim Chhour Food Court on K Rd, the best Pad Thai, fish ball soup, bento box or super spicy Sichuan chicken – It's all good.
Sid and Chand Sahrawat. Sidart – When all our staff finish work late on a Saturday night/Sunday morning, we head to New Flavour on Dominion Road (or to their new place in Parnell) for a dumpling feast. They are open until 4am so it's perfect for the munchies.
Tom Hishon. Orphans Kitchen – Yummy Korean BBQ in Birkenhead is all about comforting flavours, and the fact that it's run solely by a husband and wife duo makes it feel like you're right at home. The lads at The Bearded Clam definitely know what's up. thebeardedclam.co.nz
Tony Stewart. Clooney – My home fridge, there are always leftovers in there that taste so good after a long night at work. I can also eat banana on toast until the cows come home. Avondale Sunday Markets are my happy place. I can wander up and down those isles for an eternity, picking and choosing with no fuss. It then occupies me for hours as I cook.
Yael Shochat. Ima Cuisine – One of my favorite places, and I travel from Mt Eden to industrial Albany for it, is a Korean called Totoya. It's so good and if my family weren't lazy shits I'd be there at least once a week. It's great, not fancy. I think I'm the only non Korean that goes there. I love Al Volo Pizza, they make the best pizza. My family — the above mentioned — don't eat the crusts. What do they know? So I eat their left overs with good salty butter. – alvolo.co.nz Beijing Duck Restaurant in Panmure, it's amazing and not just the duck. Friday night Middle Eastern buffet at Shefco in Stoddart Road is nice, and extremely good value. I come from the Middle East so my standards are high.
I mean I go to Barilla and all the other Dom Rd places, but everyone knows those.