Category — Recipes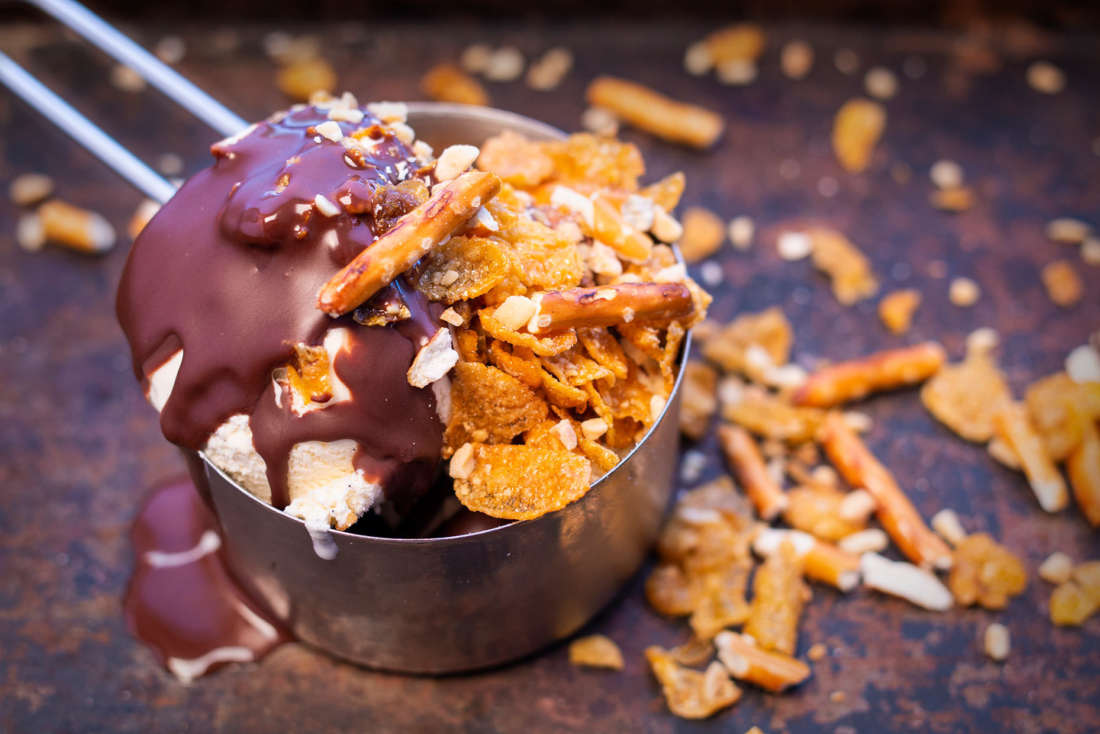 Chef's treat
Chefs don't always eat well, especially after a long shift in a sticky kitchen. I know a fine-dining chef – who I'm sure would rather remain nameless – who dreams of putting his stinky feet up and ordering a trashy chicken pizza from Domino's after service.
Many chefs report wanting to eat breakfast foods late at night to see them through the long sleep until lunchtime, while others just want to get down with a burger from The White Lady.
Sometimes, the things you have lying around the kitchen at the end of service can result in genius combinations you can't believe you've never tried before (the miso butter that dresses the broccoli at Ponsonby Road Bistro is said to make the most amazing sandwich with in-season tomatoes); leftover meats and mise-en-place can be tossed through fried rice; and you can stuff almost anything inside a taco, quesadilla, or grilled cheese.
These dishes are inspired by late-night cravings – they're quick, satisfying and a little bit dirty.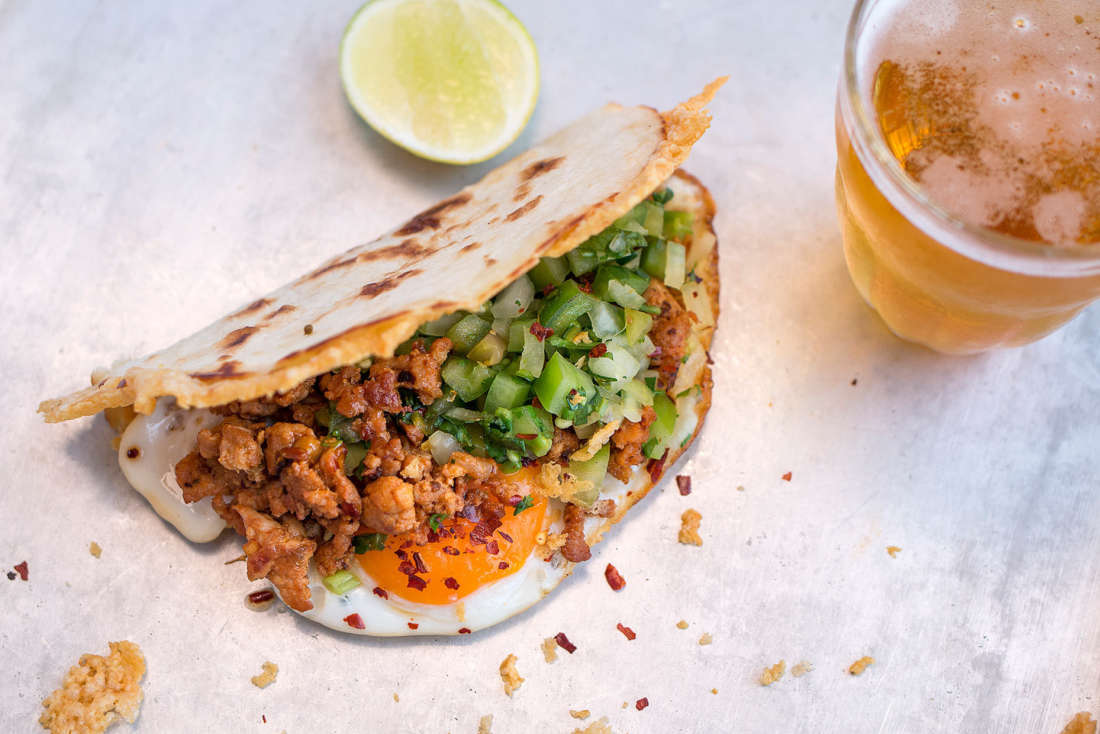 BREAKFAST FRICO TACO
A crispy cheese shell made from melted cheese forms the interior layer of this frico taco – we've gone with breakfast fillings, but you can stuff them with any damn thing you please.
2 eggs
150g fresh chorizo, removed from its casing and crumbled
100g parmesan or cheddar cheese
2 soft flour tortillas
Green tomato salsa
½ onion, finely diced
juice of 1 lime
2 fresh jalapenos, seeded and finely diced
2 green tomatoes, finely diced
1 tablespoon avocado oil
salt
To make the green tomato salsa, cover the diced onion with lime juice and a sprinkle of salt and leave it to sit for a minute before combining with the rest of the salsa ingredients. Set aside.
Fry the eggs to your liking and set aside. In the same pan, fry the crumbled chorizo meat until crispy and set aside.
Now make your frico tacos. Heat a dry, non-stick frying pan to medium and sprinkle half of your cheese over the entire base of the pan. Once it starts to melt and turn golden, place one of your tortillas on top so it sticks to the cheese. Allow to cook for 30 seconds or so to make sure the cheese is adhered to the taco, then remove carefully with a spatula. If all goes well, the cheese should stick to the inside of the taco and come out in one piece. Leave it to cool slightly (tortilla side down, cheese facing up) until the cheese turns crispy. Repeat with the remaining cheese and tortilla.
Fill with fried egg, crispy chorizo and green salsa.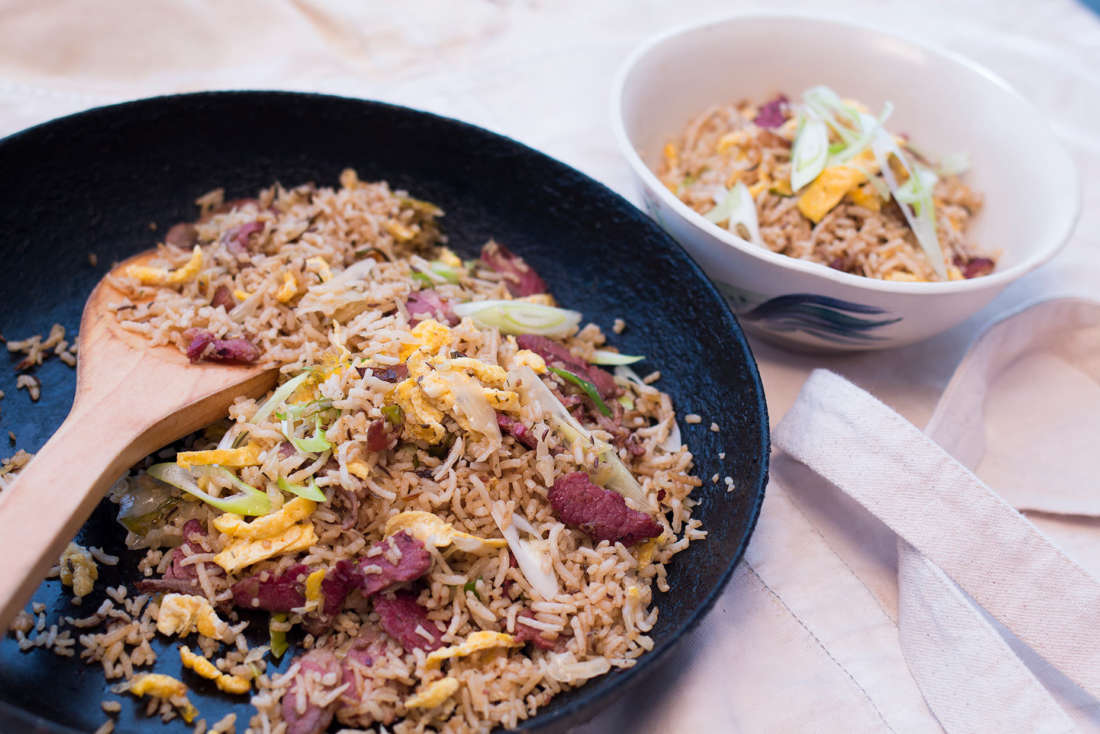 REUBEN FRIED RICE
You can toss anything through a fried rice – this one uses the makings of a Reuben sandwich.
2 tablespoons canola oil
1 egg
1 teaspoon caraway seeds
1 teaspoon chilli flakes
2 spring onions, sliced, green and white parts separated
100g pastrami, shredded (or other deli meats)
3 cups leftover cooked rice
1 tablespoon soy sauce
½ cup sauerkraut
Russian dressing (Russian dressing is similar to Thousand Island and traditionally used on a Reuben sandwich. If you want to make your own, Google it.)
Heat a little of the oil in a wok over high heat. Whisk your egg and cook into a thin omelette. Remove from the pan, roll into a cigar, slice and set aside.
Turn the heat down a little and add the remaining oil. Toast the caraway seeds and chilli flakes. Add the white parts of the spring onion (reserve the green parts for garnish).
Add the shredded pastrami and fry until crisp and golden. Add the rice, soy sauce and sauerkraut and mix until combined. Mix through the egg.
Garnish with spring onions and Russian dressing.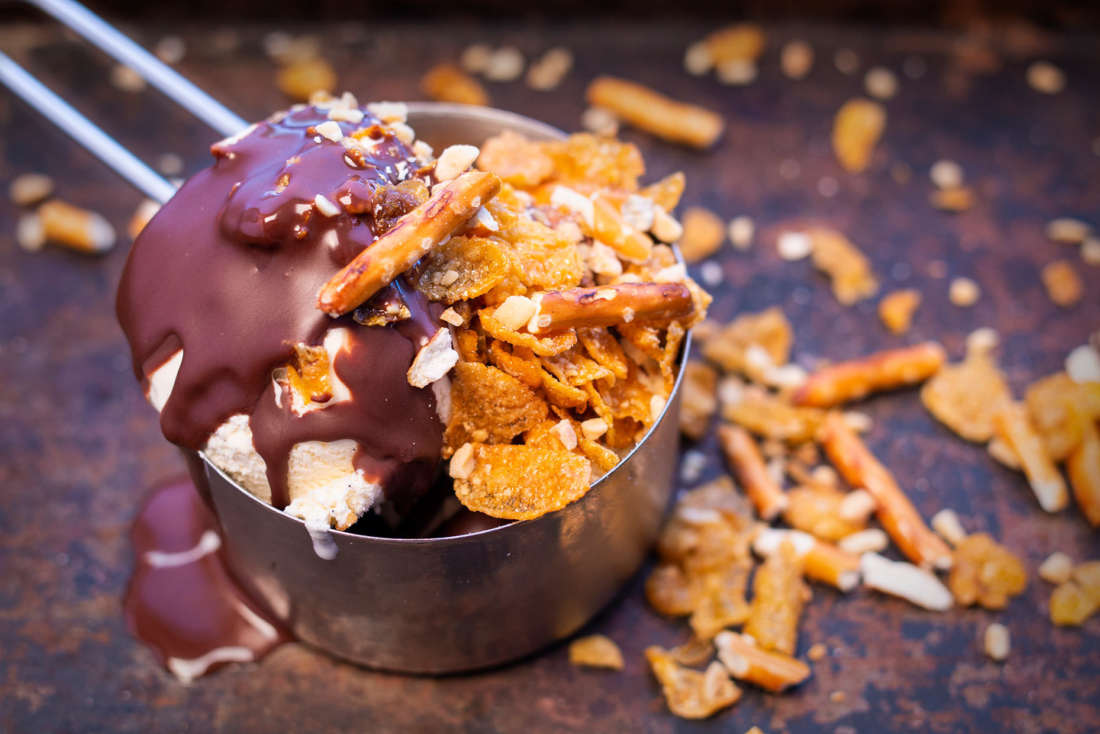 SALTY SUNDAE
vanilla ice cream
Choc Whizz
sweet and salty snacks of your choice (we used Crunchy Nut Cornflakes, pretzel sticks and chopped roasted peanuts. You could also use popcorn, salted potato crisps, smashed peanut M&Ms or Maltesers)
Cover vanilla ice cream scoops with Choc Whizz and make it rain with salty, sweet snacks. Enjoy.