Category — Hospitality/Dining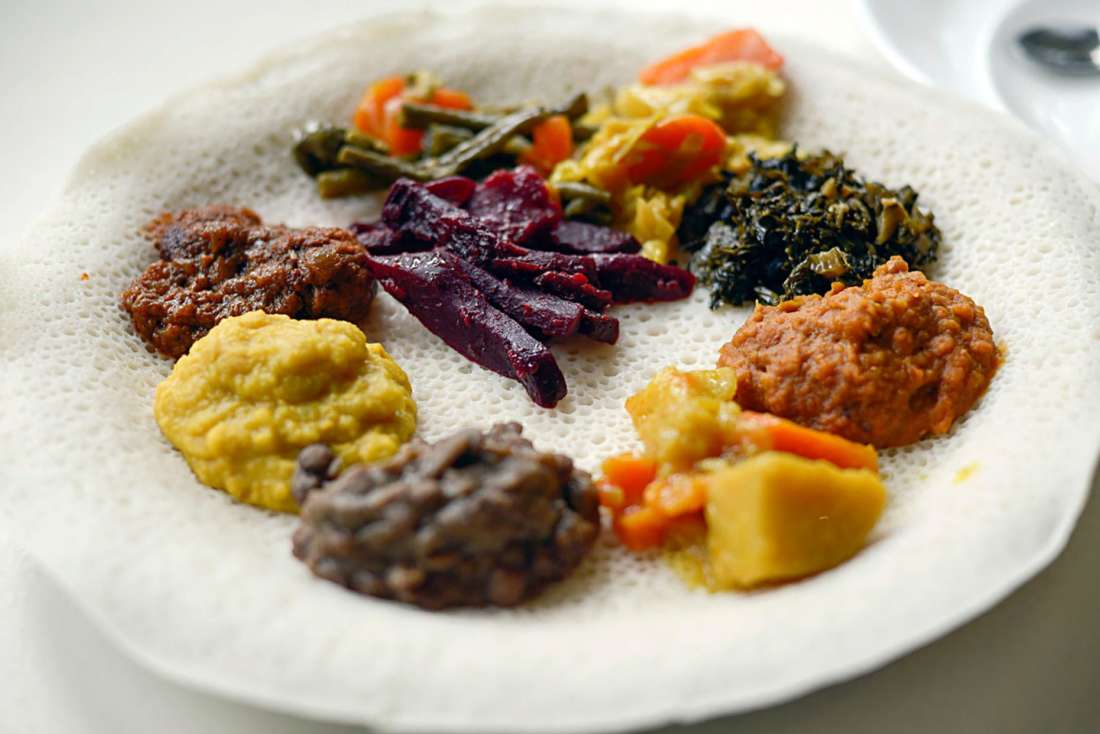 Blue Nile
"When people come here, we want them to feel like they're transported to Ethiopia," explains Iman Mahyup. "We want them to be able to experience traditional Ethiopian cuisine, coffee ceremonies, music, and culture. We're working on growing the experience. It will take time, but we're getting there." Iman is talking about Blue Nile, the Ethiopian restaurant she opened last year in a business partnership with her mother Fathia Sadd and her close friend Almaz Nrea.
Located just off Courtney Place, at 22 Allen Street, it's an oasis for all of the above, bringing the rich history, traditions, and culture of the most populous landlocked country in the world to Wellington. And with local lovers of injera: that most spongy of sourdough flatbreads, vegan wat curries and stews, richly spiced and flavoured meat and chicken, and Ethiopian coffee ceremonies spreading the word, Blue Nile has been building a strong reputation fast. "People are starting to know Ethiopian food here," enthuses Almaz. "Just like Chinese and Indian food, people here know Ethiopian food. This makes me happy, and makes me feel like a winner."
Although Blue Nile only opened in December 2017, it's the logical expression of an idea that has been kicking around inside Almaz's mind since she first arrived in New Zealand from Ethiopia as a refugee in 2011. On a Tuesday afternoon in May, I visited Blue Nile and sat down with Iman, Almaz, and Almaz's teenage daughter, to eat, drink coffee, and talk, while moody Ethio-Jazz music played in the background. From the moment she stepped on the ground here, Almaz had a dream to open a restaurant and introduce New Zealanders to the food of her homeland. One of her uncles in America often encouraged her from afar, but as a solo mother, it took her a few years to get in position to make her first moves. "For me, it was a lot of work," she says. "I had no one to help me and no support network. It's tough to be a single mother and accomplish your dreams."
Eventually, after working odd jobs, she got the resources together to run a food stall at Wellington's Newtown Festival in 2014. The response was remarkable. Emboldened, she took over a weekly spot at a Saturday food market in the same suburb and quickly gained a cult audience by serving up delicious takeaway platters of wat, injera, and doro wot (a spicy chicken dish). One of her first really enthusiastic customers was Iman, who was blown away by Almaz's doro wot. Iman gave her mother a call and told her to try it out. Fathia was equally impressed, and the two women became friends. "Almaz came over one night, cooked for our grandmother and us, and we just started eating like a regular family," Iman remembers. "I had this thought, jumped up, and was like, why don't we open a restaurant?"
At first, Fathia was a bit scared, but when she thought about it, why not? "She loved the idea, loved Almaz's food, and thought, you can't open a restaurant without risk," Iman continues. They made a plan, created a visual language and menu for Blue Nile, began looking for a space, and after finding the spot on Allen Street, opened up. "It's a work-in-progress, and we're still working it out," Iman says. "I love seeing my mother and Almaz working together. We have our disagreements, but who doesn't have disagreements while they're working together?" Although they both have their own cooking skills, Fathia and Almaz are, as Iman puts it, "Very complimentary in what they do."

Back home in Ethiopia, Almaz owned a breakfast cafe/restaurant in Mekelle in northern Ethiopia. Knowing this informed Fathia's decision to get into business with her. But as they quickly found out, doing business in New Zealand and doing business in Ethiopia aren't the same thing. Adjusting to the paperwork and regulations required has been a learning curve. It's not one they're afraid of or shy away from, but sometimes they have a giggle. "In Ethiopia, if you want to open a restaurant, you just do it," laughs Almaz's teenage daughter. "You can just turn your house into a restaurant, and no one says anything."
"Almaz learned how to cook from her mother," Iman says. "Her mother made breakfast food and used to sell it. Almaz was the youngest. She grew up helping out and learning along the way before she decided to be a chef." For reference, Ethiopian breakfast dishes include genfo (a porridge style dish that resembles grits), fried pancakes served with layers of egg and honey, spiced eggs, and bean stews. Although Blue Nile has been focused on lunch and dinner dishes like wat, injera, and curried meats, they're very interested in pursuing the breakfast market as things pick up. "At present, it's more of a family affair than a staff affair," Iman says. '"We love coming here, meeting people, and introducing them to Ethiopian food and culture, but it's not easy."
Although it isn't always easy, introducing Wellingtonians to Ethiopian food has been rewarding. "What is mild or medium to us can be very hot to New Zealanders," Almaz says. Unlike Indian and Mexican cuisine, which have developed bridge dishes like butter chicken and nachos, Ethiopian food remains relatively traditional. "New Zealanders love it," Iman says. "But sometimes there is a lack of understanding… We can't really change how we make foods like wot, but we can give it a twist by including things like yoghurt on the side."
Lately, they've been running a semi-regular buffet evening, to allow customers to sample a wide range of food by taking part in a feast. It's often paired up with music and dance, and Almaz's joy in seeing her culture recognised here is palpable. "When I started at Newtown Festival, it was because I wanted to share this with people so they would know what it is." Four years later, it's happening.
Blue Nile is located at 22 Allen Street, Te Aro, Wellington, (04) 385 7516. If you're interested in the idea of Ethio-Jazz, you might want to look up Hailu Mergia, Mulatu Astatke, Getatchew Mekuria, Mahmoud Ahmed, and Walias Band.