Category — Features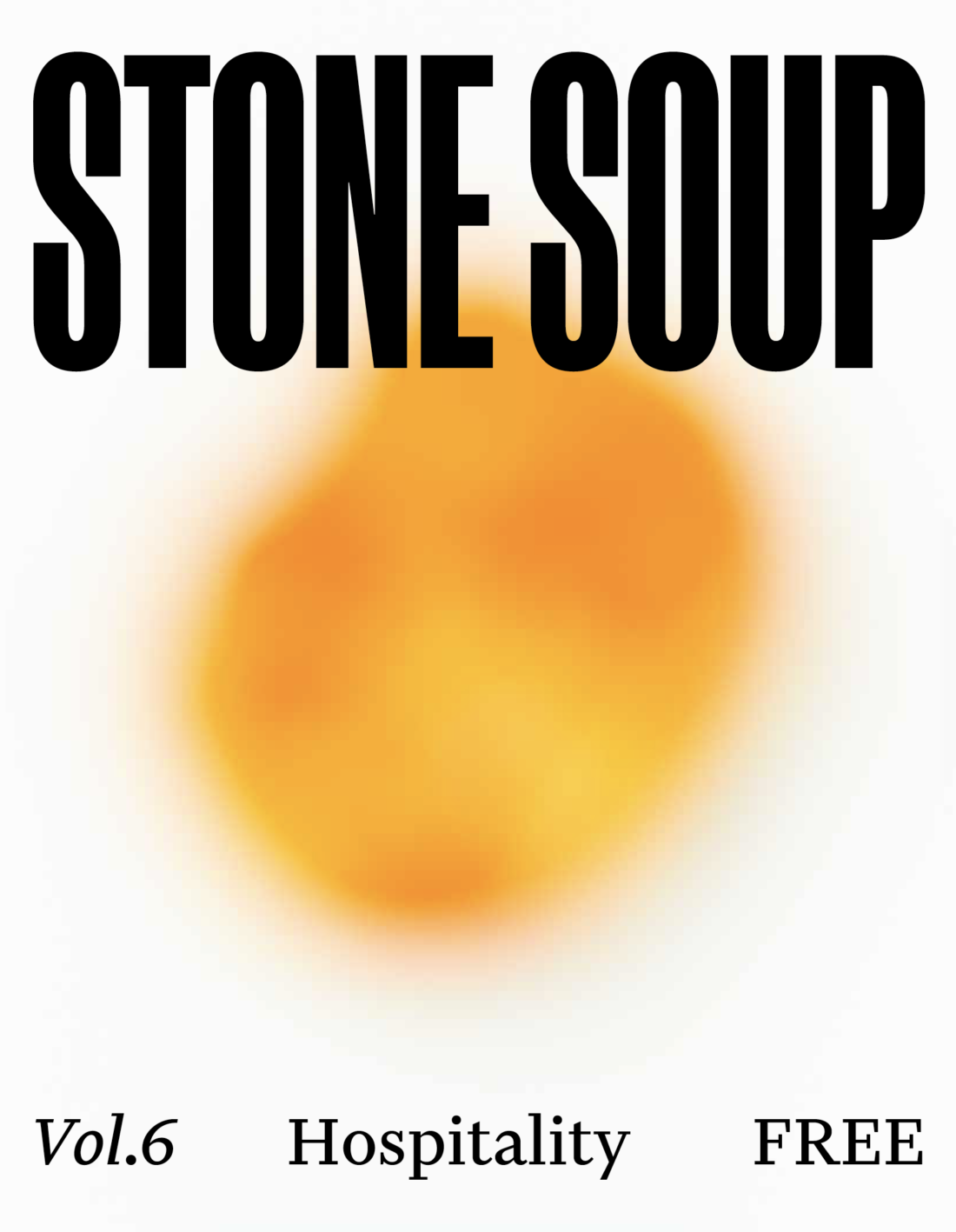 Volume 6 – Hospitality
Stone Soup is an age-old parable in which hungry, itinerant strangers arrive in a town with nothing but an empty pot. The villagers refuse to share any food with them, so they melt snow to fill a pot with water, drop in a stone and bring it to the boil over a fire in the town square. The curious villagers ask the strangers what they're making. "Stone Soup," they explain. "It's delicious, as you'll see, but would taste even better if you could spare a sprig of parsley!"
Eventually somebody contributes a sprig of parsley, then another runs home to fetch some vegetable scraps, somebody throws in a spare onion, someone else a bone. The pot continues to simmer as one villager after another throws a scrap of this or that in the pot until they have a delicious, nourishing soup, which both the villagers and the strangers sit down to feast on together.
This parable is Stone Soup Syndicate's namesake and mission statement. We've dropped a stone into a pot to draw friends and strangers alike to contribute both creatively and financially, and to be nourished by our broth.
We are an evolving community of creatives with a fresh take on food publishing: a free, independent street press and digital platform with a counter-cultural spirit; a space for a robust yet convivial discussion about food and its place in all of our lives.
"Don't tell me what you ate. Tell me who you ate with."
We believe you can have many conversations through the lens of food. Not only cooking it, or finding the most interesting places to eat it, we also want to meet and talk to the people who pass your coffee across the counter, our immigrant communities about their contribution to our culture and our most innovative chefs and farmers about their passion for real ingredients. We want to show you how to forage or grow some of what you eat and how to preserve it. And we endeavour to look at the environmental, societal and ethical aspects of food.
Food is something family, friends and communities have always congregated around, and we're very grateful so many of you have already gathered around us, and some of you are very generously contributing to our production costs.
Our financial supporters listed below help ensure a sustainable, advertising-free, reader-funded future for the whole Stone Soup platform – in print and online. Their support helps provide a platform to empower our creators with the freedom to speak with conviction and in their own voice, one with integrity that you can trust. When we communicate on behalf of our funders, we want that to mean on behalf of you – our readers.
No advertisements. No targeting. No data collection. No commodification of our readers.
Andrew Soriano – Nanam, The Piha Store, Fort Greene, Kathy Paterson, Sarah Meikle, Nicholas Loosley, Helen Flitcroft, Simon Morrison Deaker, Sam Lee, Giulio Sturla, Apero, Delaney Mes, Asher Boote, Laura,Verner, Ben Lenart, Kate Underwood, Yael Shochat, Jennifer Collinson, Becky Nunes, Greta van der Star, Angela Clifford, Ruth Heath, Sophie Johnson, Claire Aldous, Ben Bostock,Callum MacBain, Caitlin MacColl, John Collins, Jerome Ozich, Lani Inverarity, Leslie Hottiaux, Janice Tan, Thomas Loosley, Sophie Lee, Jane Lyons, Beth Brash, Susan Farrelly, Holly Girven Russell, Lois Fletcher-Cush, Brodie Rowse, Lindsay Tallman, Steve Rickerby, Lou and Cam, Liz Leckie, Siobhan McCarthy, Joe Prisk, Anna Paterson, Nat Keane, Sophie,Carroll, Vivienne Stone, Jason Aldous, Sarah Wall, Sacha Campbell Josie Blackshaw, Shelly Drader, Blair Duncan, Suzanne Kendrick, Antonina Elliott, Reuben Osborne, Sarah Young, Raych Bell, Georgia Cowie, Parkby Projects, Johanna Kenkel, Ewen Yu, Alice Neville, Claris Jones-White, Lexie Clare, Sarita Giles, Michael Hautus, Dustin Lindale, Mike Carroll, Talia Richardson, Eliot Thomas, Alexandra Murray-Leslie, Charles Nikolas, Rebecca Harris, Charles Buenconsejo, Hilary Pearson, Mark Mcallister, Felicity Donaldson, Alanna + Anthony, Jules Radford-Poupard, Lexie Sandano, Alex Clark, Lauraine Jacobs, Niva Kay, Laura Dillon, Andrew Buckley, Florence Isaacs, Nicki,Williams, Shelley McConaughy, Lucy Pearce, Adam Wright, Logan Birch, Jane Ruck- Doyle, Kimberley Lee, Danielle Maynard, Sooze Harris, Sophie Gilmour, Levi Patel, Lillian Kuan, Chloe Geoghegan, Debalina Rose (thanks sis), Hannah Spyksma, Angela Bell, George Lyons, Stephen Kirkby, Jonti Griffin, Ginny Grant, Maya Jones, Tink Stephenson, Briar Hardy-Hesson, Timothy Yamat, James Thomas, Auriga Martin, Baron Hasselhoff's, Richard Klein, Angus de Lange, Maxine Kelly, Rebecca Smidt, Virginia Braun, David Bowers, M Bremner, Jenny Loosley, Bernard Neate, Denise Cush, Clea Marshall
And many thanks also to all of our anonymous supporters.
If you aren't already, please consider becoming part of Stone Soup Syndicate by signing up as a patron at stonesoupsyndicate.com/supporters