Category — Recipes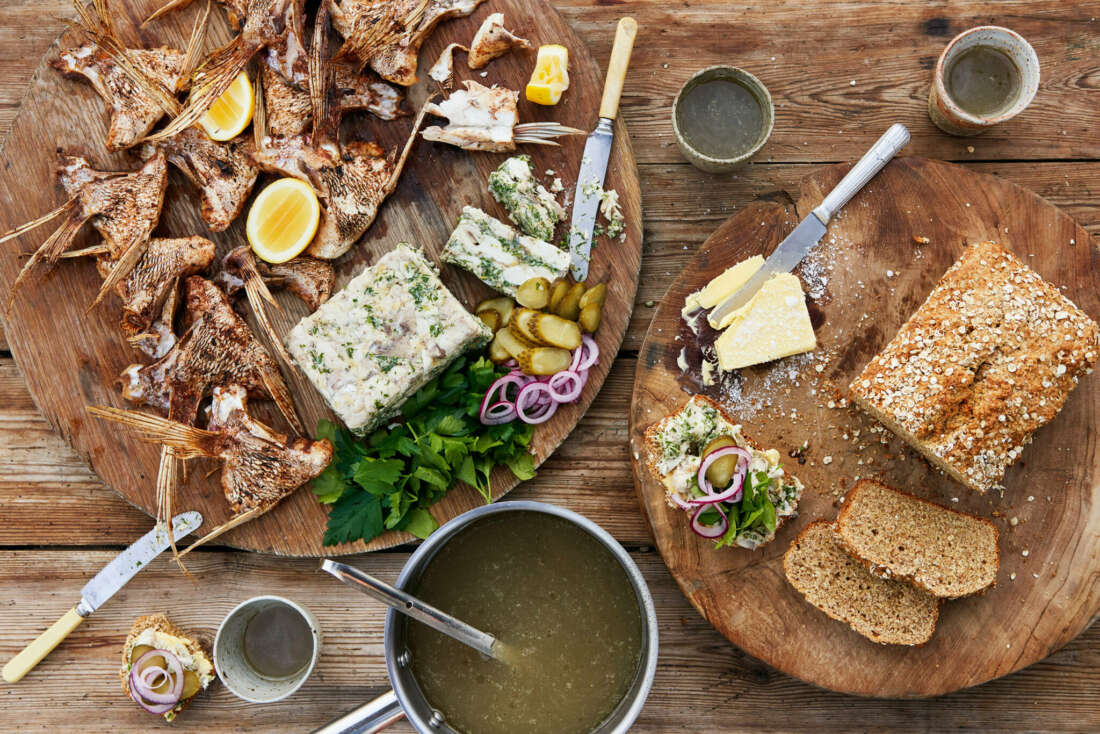 Waste not want not
I think we can all agree that food waste is a massive problem, about which we can all do much more. No matter how small the action I believe it makes a difference, and it encourages those around us to be better too.
An area we urgently need to address is the fish we eat, or more to the point, don't eat. There are so many issues that frustrate me around the subject of fish in New Zealand: lack of good independent fishmongers, lack of available variety of fish species, the pillaging of our oceans to near extinction, and exporting it for the best price to the global market, thus forcing Kiwis whose waters are being fished to pay the same price.
I am not going to prescribe the species we should or should not be eating. I will just say, try something different rather than hammering the same species, and ask questions. How was it caught? Where was it caught? Who caught it?
What we ask for will determine what is.
Snapper is one of New Zealand's most in demand fish, and although we urgently need to stop overfishing it, while we continue we should make sure to eat every part of it. Please stop throwing away half of what you buy or catch — when buying, always try to buy whole fish. If you take just the fillets, not only have you thrown away half of your money, you've also wasted some of the best and most nutritious parts, with which you could have made more delicious food. Next time you ask for it to be filleted at the market, ask to keep the heads and bones.
I've always found it interesting that all other Pacific Island nations consider the head to be the most highly prized part of the fish, which an honoured guest will be offered at the table, yet in New Zealand, we are often still reluctant to serve it up.
Snapper head terrine, grilled snapper wings and snapper frame broth.
Here is a process which creates three very inexpensive recipes out of heads and frames: bone broth/stock, snapper head terrine, and grilled snapper wings. They can either be served as a three course meal, or together as one feasting centerpiece as I've done. I've used six snapper frames (weighing about 5kg) and it was enough to feed 10 people very well. You can follow the same steps with whatever quantity you have at hand. Snapper have a very large head, you'll be amazed at how much meat there is in the cheek, skull and wings. You can ask your fishmonger to prepare, clean, (remove guts and gills) and scale your fish if you have access to one and are not confident with a knife, or a quick search on youtube could teach you a new skill.
I kept these recipes as simple as possible in the hope that you'll give them a crack, but preparing the fish for cooking and picking the head meat for the terrine does require a little bit of effort. Trust me, it's worth it, and if you prepare it the day before, meal time will be both delicious and super easy.
6 Snapper frames with heads and wings
2 onions, roughly chopped
2 celery sticks, roughly chopped
1 leek, washed and roughly chopped
2 bay leaf
Handful of Italian parsley, chopped
Handful of dill, chopped
2 lemons
Flaky sea salt
A terrine mould (or you can use jars or ramekins)
Neutral vegetable oil
Good quality cajun spice or bbq meat rub
Prep:
Begin by removing the gills and rinsing thoroughly under cold water. Descale the heads and wings using a fish scaler or the back of a kitchen knife. Be very thorough and try to remove all of the scales. Rinse again. Cut away the wings (the pectoral fin and frontal part of the belly that is still attached after filleting) They will be triangular in shape. Refrigerate the prepared wings.
Put the bones, heads, onion, celery, leek and bay leaf into a pot big enough to accommodate them and add just enough cold water to cover everything. Slowly bring up to the boil (but don't allow a rapid boil) then simmer gently for 20-25 mins.
Carefully remove the heads (they will break apart easily now) with a slotted spoon and leave on a tray to cool. Strain the remaining stock into a clean pot, return it to the heat and reduce to half of its volume, skim off any impurities that rise to the surface, then set aside.
Once the fish heads have cooled down to a temperature you can handle, pick the meat using your hands. I recommend using three bowls: one for chunks of tasty meat, one for bones, and one for any fats, lips, eye balls and sockets (minus the cornea and lens) and any other soft matter. This is not only very tasty but also very nutritious and full of omega 3 and collagen. Make sure to get into every little crevice and watch out for stray scales and tiny bones. Any liquid that has drained onto the tray should be returned to the pot of broth — this is liquid gold.
Discard the bowl of bones, empty the bowl of soft tissue onto a chopping board and chop into the consistency of a paste. Return paste to the bowl and add the chopped herbs, zest from the lemon and season with sea salt. The fats will bind and set your terrine when it cools. Add the juice from the lemons to the bowl of white meat and season with sea salt.
Line your terrine mould with cling wrap allowing a little bit of overlap from the edges (skip this step if using jars/ramekins as you can eat it straight out of these), this will make removing it easier. Start with a layer of herby binding mix on the bottom, then a layer of meat, then repeat until the mould is full or you have used everything in your bowls. You can be pretty rustic, no need for perfect layers.
Fold over the excess cling wrap and place the fridge overnight with weight on top to press it.
Tip: Cut a piece of cardboard to the size of your mold and wrap it with tin foil, place onto your terrine (making sure any weight added will press the meat) and put something heavy on top (a couple of cans of food or a stack of plates).
Time to serve:
Rub the wings with a little oil and season well with salt and your chosen spice. BBQ or roast in a hot oven, skin side up at 190 degrees for 10-15 mins depending on size. If they are different sizes, you can take the smaller ones out as they are cooked. If some are quite large, allow a little more time.
Meanwhile, gently reheat the broth and season with sea salt to taste. You can serve individually in cups or place the whole pot on the table with a ladle for people to help themselves to, as I have. It can be accompanied by a bowl of chopped chives or spring onion.
Turn your terrine out onto a serving board or platter, remove cling wrap and accompany with some nice pickles and greens, with brown soda bread (recipe below ) or a fresh sourdough and lashings of butter.
Arrange the wings on a platter and eat like you would chicken wings.
Get stuck in and enjoy with family and friends!
Cook's notes:
If you want to serve as a three course meal, follow the same steps but serve the soup as an aperitif, terrine and bread as entree and wings as main accompanied by greens.
If you are looking for an easier way to eat fish with minimal waste, cook it whole and eat every single morsel, not forgetting the delicious heads, saving all the bones to make broth to use later.
The broth can be used to make beautiful soups of many kinds, like a clear Asian soup with ginger, pak choy, spring onion and any left over cheek and wing meat, or as a liquid in a classic chowder or fish stew.
You can and should also eat the offal from fish (heart, liver and roe). Save them or ask the monger so you can give them a try.
IRISH BROWN SODA BREAD
When I first came to New Zealand from Ireland I wanted to make this bread from home but I could not find the flour I needed anywhere. Wholemeal flours were all milled too fine. You can't buy coarse brown flour in New Zealand like you can in Ireland. Long story short, after lots of hunting I found Wholegrain Organics in Palmerston North, where Robert Hall agreed to work with me to get the perfect texture. We ended up using two settings on the mill and mixing them — coarse and kibbled.
If you give Rob a shout via email (rob@wholegrainorganics.co.nz) he will happily send you some, 2kg is the minimum order, which is enough to make this recipe about three times, so that's all good. I've sorted it so you can just tell him you want flour for the brown soda bread recipe in Stone Soup.
Makes 3 loaves
670g coarse wholemeal flour, plus extra for dusting the loaf tins.
160g soft butter, plus extra for greasing the loaf tins.
340g plain flour
130g brown sugar
11g baking soda
Handful of quick oats
4 eggs
650ml buttermilk
Preheat oven at 160 degrees and grease loaf tins with butter and dust with some of the brown flour.
In a large bowl rub together the flours, sugar, baking soda and butter until evenly mixed and a sandy texture. Add the eggs and buttermilk, mix well. Divide evenly into loaf tins. Sprinkle the tops with the oats.
Bake right away for 20 – 30 mins (depends on oven) check the middle with a skewer. When it comes out clean it's ready. Turn out on a cooling rack and allow to cool.
Best to eat same day but leave for a few hours if you can resist before eating as it may crumble if too fresh. Delicious the next day toasted for breakfast with leftover terrine, smoked fish or with butter and jam for afternoon tea.
Cook's tip:
Wholegrain Organics do all sorts of great organic New Zealand grains and they mill everything to order. Try the organic New Zealand polenta if they have it in stock, it's far superior to the mass produced stuff from Europe. They also have a shop and bakery in Palmerston North and a cooking school for kids. All the profits from the bakery go back into this scheme to teach kids about real food.
Brilliant! Check out their website.
Photography: Aaron McLean