Category — Features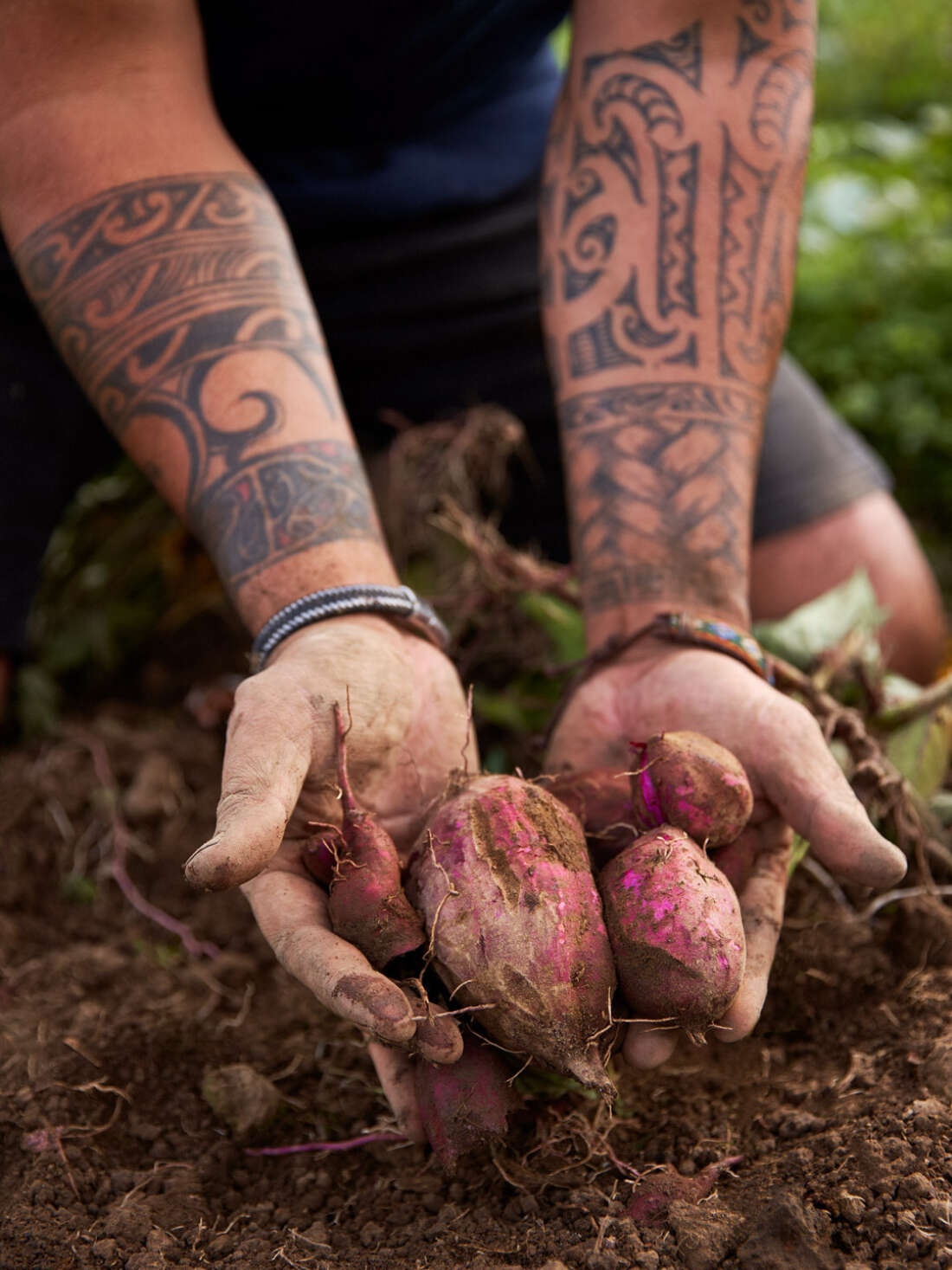 Bring the kai back
Lionel Hotene (Ngāti Awa) emits a deep sadness when he speaks about the food options in his hood, a combination of confusion and anger. Fast food giants selling cheap hollow food on every corner, lamb flaps more affordable than kūmara, and a community who quite simply can't afford to put real nutritious food on their tables.
He's quick to make the connection with the overflowing diabetes ward just down the road at Middlemore Hospital, and with depression and crime rates. "Our people get so down" he despairs, "there's prejudice against us and we're belittled. People think we're no good; we're lazy, we're all on the benefit, we're all in prison, we're all fat. I'm over that." Accompanying Lionel's frustration is an infectious laugh, a spark in his eye and a readiness to "mahi up" and turn it all on its head. "We're the total opposite of what you think we are," he proudly states, and he's proving it.
"When I say we're feeding the whānau people are like, oh, he's just feeding his own family, but when we say whānau, we mean the community."
Papatūānuku Kōkiri Marae is an urban marae in Mangere, Auckland. A space to provide Māori migrating to Mangere in the mid 1900's tūrangawaewae – a place to stand and express cultural identity. "The land was occupied in the early 1970's" Lionel explains, "and in 1977 it was made official, but it was just a garden shed where they held meetings. In 1984 they tendered for the council land to establish the marae and received funding to build the wharenui."
You won't spend more than two minutes in Lionel's presence without hearing the word Nan. A title given to all of his female elders, but almost exclusively used to refer to 'Nanny Mere Knight', a founding member and the longstanding matriarch of the marae, whose influence continues to infuse its kaupapa. "Nan was part of The Maori Women's Welfare League (Te Ropu Wahine Maori Toko i te Ora)" explains Lionel, "she looked after mental health patients at Mangere hospital, she was a weaver – that's why we have so much harakeke – and she was a kūmara grower."
Lionel spent a lot of time at Papatūānuku Kōkiri Marae growing up and his early experiences were on the receiving end of it's hospitality. "We'd go to nan's for a feed" he fondly reminisces. However he was like any other child confronted with getting his hands dirty: "part of us staying there was to do some work" he explains, "we'd sleep here, get up, Nan would say, do this or that, and we'd say, we're just going toilet Nan, and then take off and run away." Lionel was destined for a period of mischief, the marae was quite a different space to his home life and eventually he would become a gang member. "I was pretty selfish" he recalls, "Dad was a Black Power member, my cousins were all living that gangster life, I suppose I was repeating what was familiar. It was pretty rough, we had nothing, that's where we came from."
Lionel returned to Mangere as a young father in search of work. He landed his first job as a caregiver at The Mason Clinic in Mangere Hospital, looking after mental health patients. "I didn't know what I was in for" he laughs, "they just chucked me in there with the little cups of meds, closed the door behind me and told me to hand them out." Lionel had re-entered the sphere of Nan who had a lot to do with the hospital transitioning people back into the community. He was soon taking patients on outings to the marae.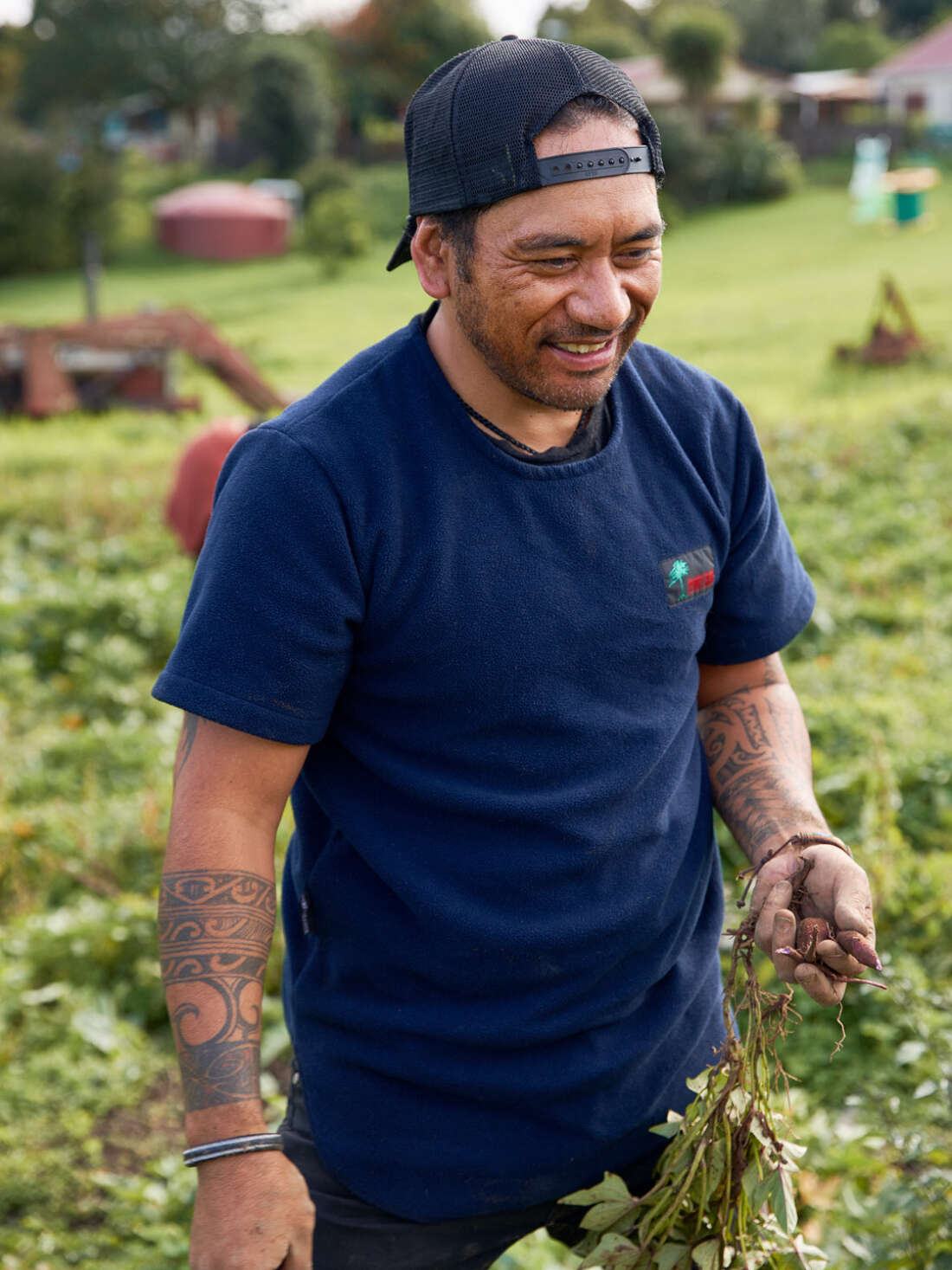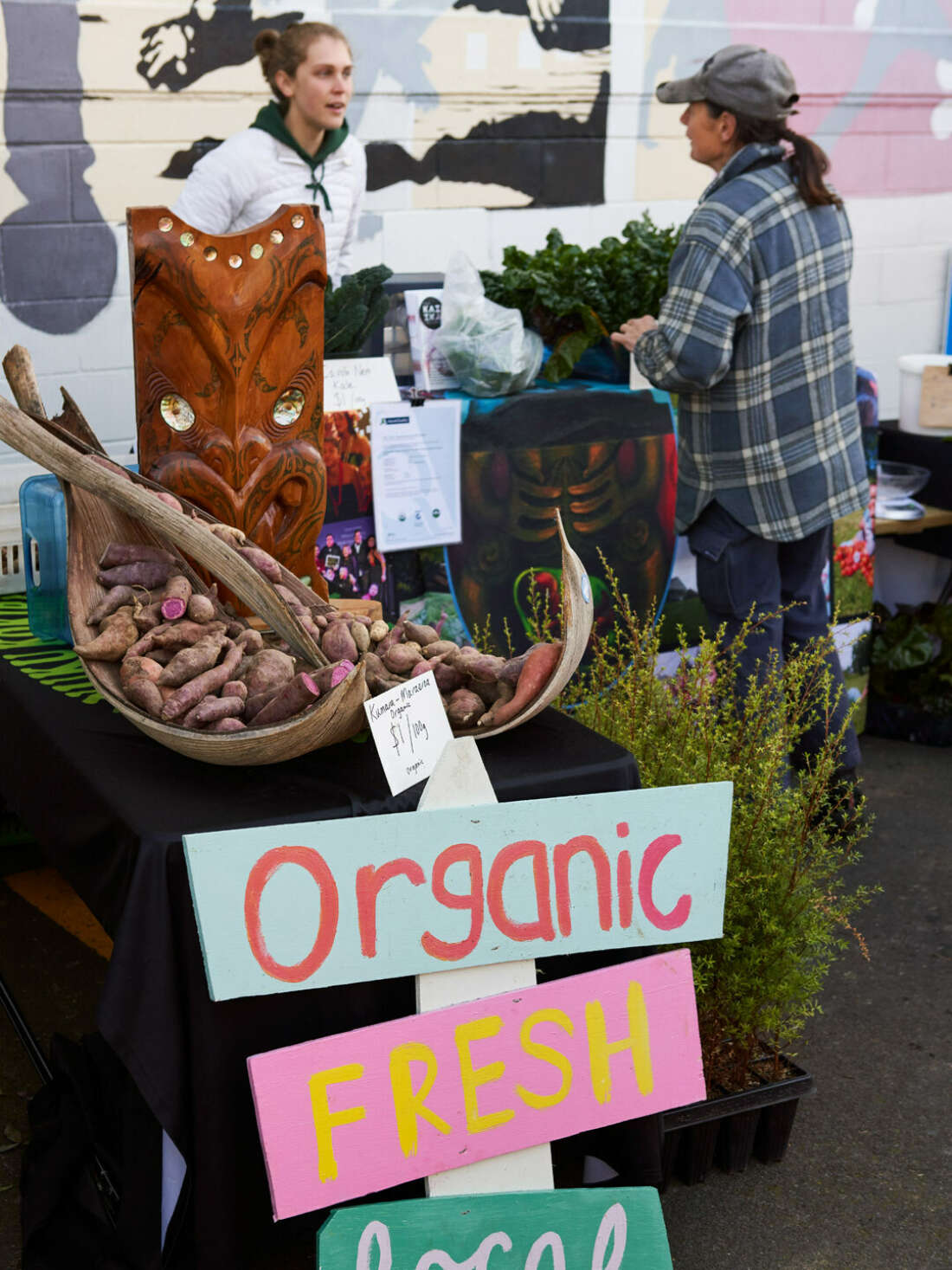 It was a personal wakeup however that established Lionel permanently at the marae. Stresses in his life led him to join his wife Valerie Teraitua (of Ngapuhi, Ngati Whatua and Cook Islands descent) there, who was already doing pro bono administrative work. "It was simple, this is where we are going" he recalls. Lionel was going to be the maintenance guy so he quickly got to work tidying up a large part of the property that had been left derelict for about five years. "I found a brand new mower that we had been given by the probation board" he recalls, "and spent a whole week mowing weeds; eight hours a day, sweating, keeping the mind and body busy. I had some time to reflect… what are you up to Lionel, sort ya shit out bro! I knew what I had to do and I'm still on it today."
There was a community garden along one side of the property which Lionel started "helping some of the Aunties with." This is where Percy Tipene (Ngāti Hine) came into Lionel's life. "Uncle Percy was the head of the Hua Parakore Movement*" Lionel explains, "he was on a tour showing marae the kaupapa and started talking to us about how we should validate good food." "Boom!" he claps his hands to emphasis the epiphany, "that was the moment." Lionel had been mowing lawns and helping in the garden, "but after Uncle Percy's korero, that was the light bulb that made me think, we did kūmara before and we've got to do it again – I wanted to bring the kai back."
It turns out that Lionel's epiphany had occured on fertile soil; hiding in plain sight were people at the marae who could help guide him along his new found path. "When I started doing the research I found all of these other aunties at the marae like Hema Wihongii and her mother Dell Wihongi, who were part of Pu Hao Rangi Trust (guardians of the early kūmara) and the WAI 262 movement** who had been to Japan to retrieve our lost varieties of kūmara."
Lionel got back to mowing with these conversations in mind and then borrowed a tractor from a Tongan friend; a couple of months later he was planting kūmara seed Uncle Percy had shared with him. Lionel had grown flowers before, inspired by his mother, but never food, from which he had been disconnected. So he started small-ish, six approximately twelve by nine foot beds. Then the next season he decided to plant the whole field: "that was a big slap in the face" he says, "it humbled me; weeds came up, seeds died – failed crop." He'd been too keen. The following year Lionel knew he had to scale it back and that he needed more hands, so he started recruiting help from friends and started taking "the probation boys doing community service." The people doing Community Service at the marae were all Mangere locals, a lot of whom didn't know the marae was there. "We've had a lot of Māori come back and bring their children" he says proudly. Lionel had gone full circle, getting his life together with his hands in the dirt at the marae, now he was helping others do the same.
Lionel has now been growing multiple varieties of kūmara as the garden manager of Papatūānuku Kōkiri Marae for nine years. And they're not mucking around, some years they plant as many as 30,000 kūmara seeds. More than half of each harvest is gifted to families and organisations in the community, some is for market and the rest is kept as next year's seed. "When I say we're feeding the whānau" Lionel jokes, "people are like, oh… he's just feeding his own family. But when we say whānau, we mean the community." Lionel is quick to distance himself from any notion that this was his idea. "Nan already did that, it wasn't me, it wouldn't be the marae otherwise." Yet he's visibly honoured to state that when Nan's daughters came to visit they said "If Nanny Mere was here, she'd be so proud."
Kūmara is not where the story ends at Papatūānuku Kōkiri Marae. In 2016 the stars aligned and put a NZ Herald article about how the marae was distributing food in front of Scott Macindoe. "I was on the korero around Hua Parakore and fast food and Scott saw it and had a brain explosion" Lional laughs. Scott was soon at the marae with a proposition, the Kai Ika project; "I thought he was a probation officer or a debt collector" jokes Lionel, "but he was coming to bring the good news." Scott was a recreational fisherman with a passionate distaste for all that was wasted in pursuit of a snapper fillet, and he knew that the Polynesian and Māori community cherished the whole fish. In the article he'd found a conduit through which to distribute the heads, frames and offal that he would convince his fellow fishers to leave in a fridge at the marina rather than throw overboard. "I was a little skeptical" admits Lionel, "but when he said go and look for a van, this is the budget, I realised it was the real deal." Soon after Scott donated some fridges "then the marae whānau said, this is real, and when I started turning up with fish heads they said kia ora Lionel, thank you."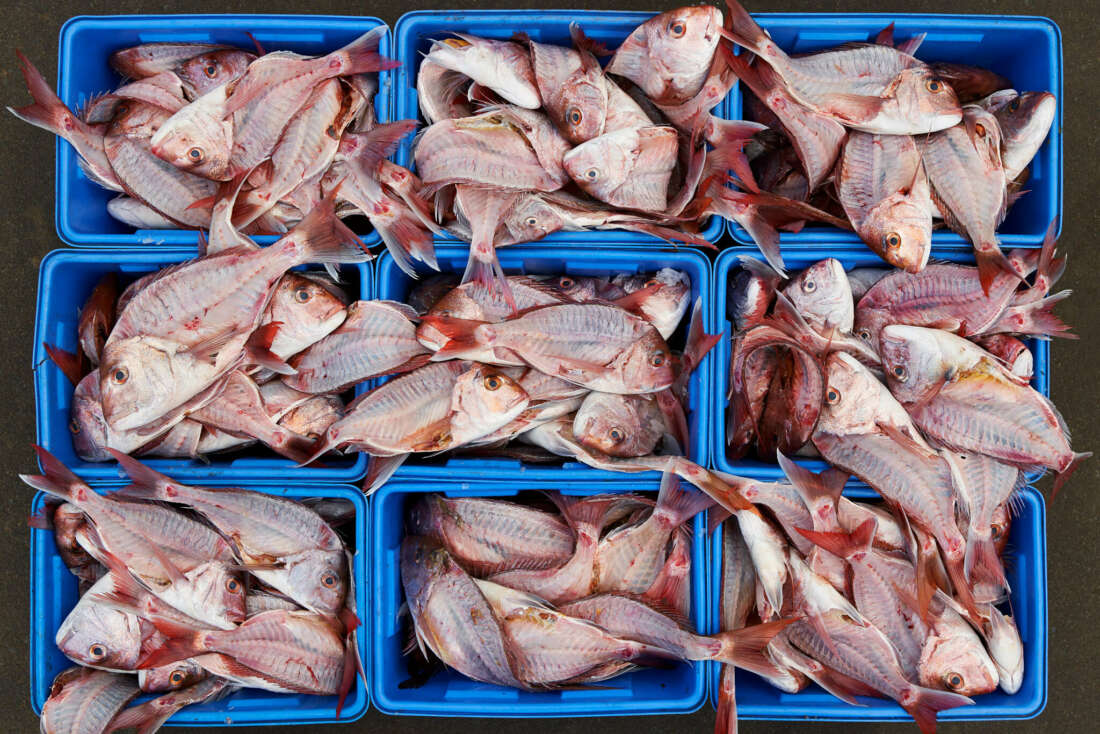 Lionel already knew people who wanted fish heads, all he had to do was commit some time. "There was no money in it" he explains, "but we were going to feed more people. I know what it's like to have no kai, so when I saw the Outboard Boating Club, it was like a spiritual intervention, a sign to work harder." Three years later the marae have gifted "36 tonne and climbing" Lionel proudly states. Aproximately 85% of that 36 tonne have come from the Outboard Boating Club of Auckland. One marina, in three years. Extrapolate that across every marina in the country and you can start to build a picture of the potential of this project. The rest is coming from Z Pier Charter Fleet and the Manukau Sport Fishing Club, who for the last two years have gifted the catch from their competitions. Now a fish shop has also come on board, which has changed the game; bringing the potential to make the project financially sustainable. Having access to commercially caught fish on this scale means they can legally create products to take to market, which they are working on with the help of Nick Loosley from Everybody Eats and Angela of A & J's Broth. (You can read about this in Nick's accompanying article.)
Lionel is also working towards growing and selling a lot more food as a market garden – Papatūānuku Kōkiri Marae is now certified organic by AsureQuality. A contact from the Auckland Kindergarten Association who had attended a Māori horticulture course at the marae recently suggested they start selling produce at the Grey Lynn Farmers Market; "I asked her if she could take care of it and book us in" Lionel grins, "she said, no sweat." You can now find Papatūānuku Kōkiri Marae at the market most Sundays. She also organised for WWOOFers to start coming to stay and work at the marae. Lionel wants to become a social enterprise to sell more food – both from the garden and Kai Ika – so as to make all of this gifting of food more sustainable. In order to employ people in his community and to be better resourced, last year's vegetable seed was provided by a $600 donation by one of the Aunties at the marae.
"We believe good food is a right, it shouldn't be a privilege."
Papatūānuku Kōkiri Marae has already generated an inspiring legacy, so what does the future hold? "Keep true to our values" Lionel states quickly, "I want to hold a food festival in Mangere to promote the indigenous food kaupapa and I want accessibility to good food. That's part of the problem in our hood, it's easier to get three dollar lamb flaps than six dollar kūmara. We want to turn that on its head. We believe good food is a right, it shouldn't be a privilege. We want to make people healthy, we want to connect more people and celebrate our culture using kūmara as the vehicle. We want to go back to how a marae used to be. A lot of people use marae in an emergency, but I don't want to wait for the disaster, I want our marae to be a living breathing hub – for everybody."
*Hua Parakore is an indigenous verification and validation system for mahinga kai (food and product production) driven by Te Waka Kai Ora (National Māori Organics Authority of Aotearoa).
**WAI 262 is a claim lodged with the Waitangi Tribunal to protect and preserve indigenous flora and fauna and embed cultural and intellectual heritage in their management.
Stone Soup is committed to being advertising free, but Papatūānuku Kōkiri Marae is looking to step up its market garden game, so if any of you chefs is Auckland want to support making their generosity sustainable, get in touch for some direct trade. They'll probably even grow varieties on request. Find them on Facebook or Instagram @kokirimarae
Photography by Aaron McLean