Category — Features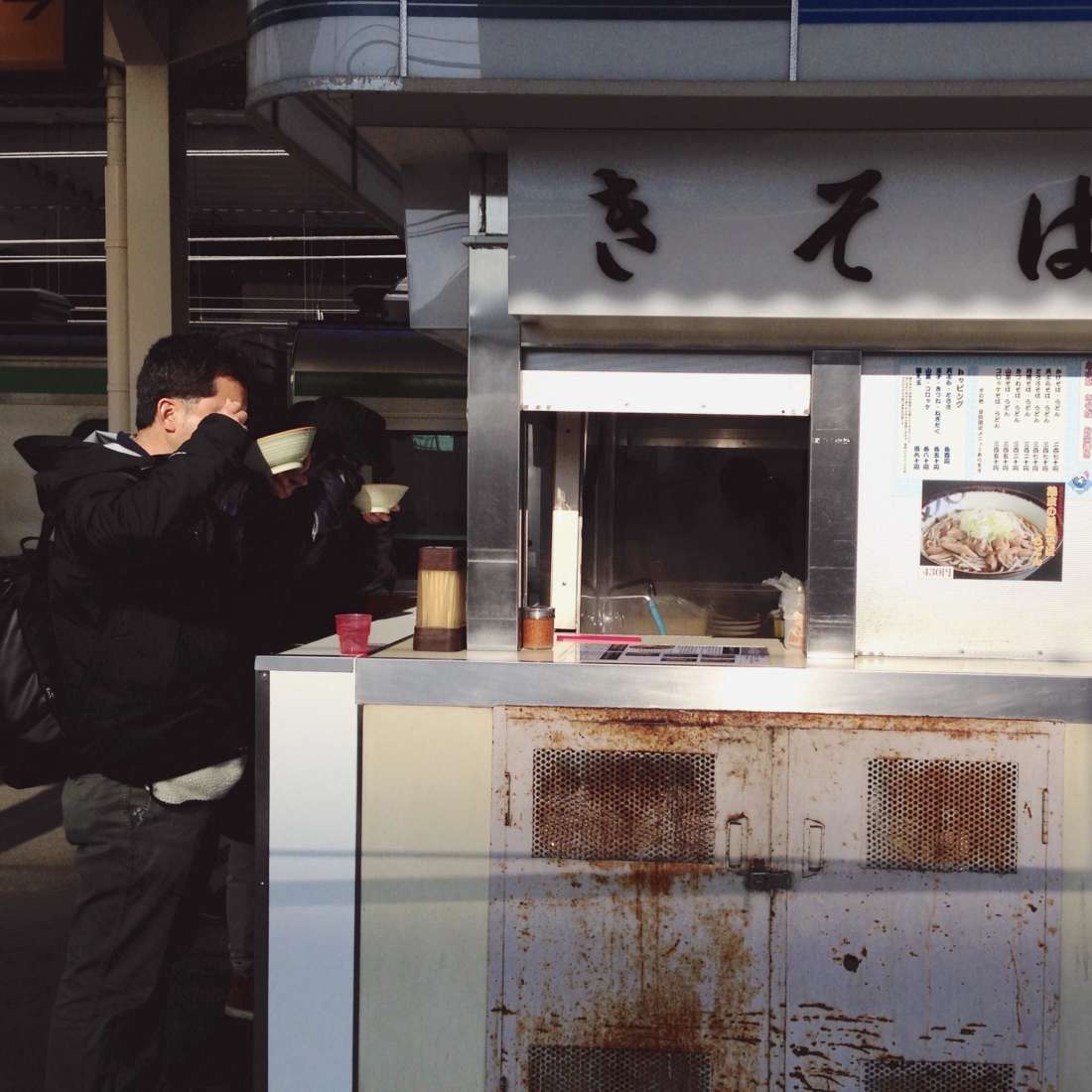 Tokyo – Train Station Food
Tokyo is a superlative city by many measures – most populous urban area in the world, biggest metropolitan economy of all the world's cities, home to the world's busiest train station – but anyone who's been to Tokyo knows there are two things the city does particularly well: food, and public transportation, and food in public transportation.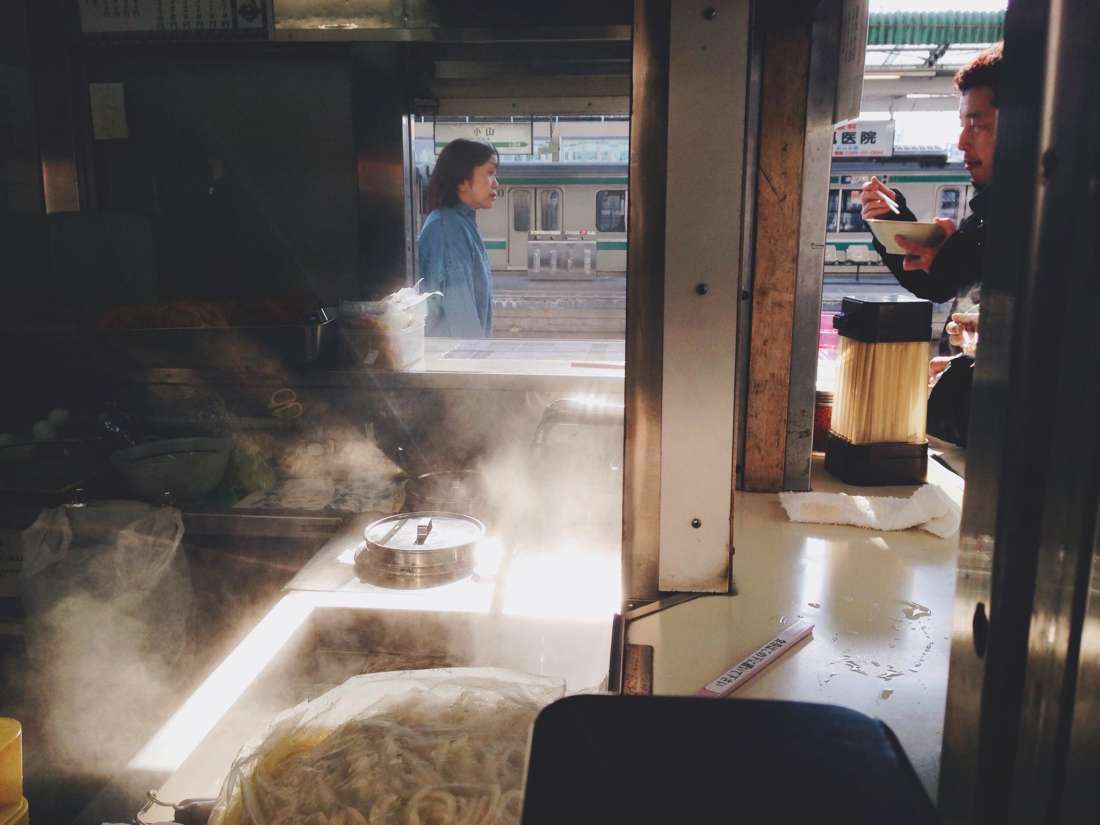 The dense cluster of restaurants, izakaya and fast-food shops found outside almost any of Tokyo's 290-odd train stations are a given: it's true for any city, in the most basic sense. Where people go, food will follow. A well-developed transportation system attracts restaurants, which attract people, which reinforces the use of public transport: a symbiotic relationship, of sorts. And just like in Tokyo, major train stations around the world have fast food and restaurants in the building, or in the vicinity. Plenty of places, too, offer meals you can eat without ever leaving the train station itself: past the ticket gates, wedged in underground passageways and on train platforms themselves, snack foods and concession stands offer food to the hurried traveller.
This is not unique to Japan, but the sheer quality and scale of it, perhaps, is. The most famous, of course, are the warrens of restaurants clustered in underground passageways of major hubs like Tokyo Station or Ueno, where city metro lines converge with long-distance bullet trains and a dwindling number of overnight sleepers. These stations have food for serious travellers: people with long journeys ahead of them, people on holidays and business trips who have a bit of time to kill. Any ramen aficionado will have heard of Tokyo Ramen Street, a narrow hallway in the basement of Tokyo Station with a carefully curated concentration of satellite branches of top ramen shops from around Tokyo and beyond; ramen junkies easily queue for an hour or more outside Rokurinsha to eat their famed tsukemen noodles dipped into a thick, intense soup; the glassy, clear shio ramen broth at Hirugao is still one of the best I've had after years of living in Tokyo. You'll find Chicago popcorn stands and Gundam themed burgers; chocolate-covered waffle chips being churned out hot and fresh behind a glass display window; high-end fruit parlours selling not only hundred-dollar melons to take away in exquisite gift wrapping but also fruit sando – perfect specimens of ripe strawberries, mango or melon in pillowy whipped cream, sandwiched between fluffy, crustless white bread. You have the sit-down places: fancy yakiniku restaurants with enticing glass cases displaying plastic versions of the marbled beef you could be grilling over charcoal if you have 30 minutes to spare; you have standing sushi bars; you have sake shops selling limited edition craft beer that can only be bought in Tokyo Station. I haven't even mentioned the array of bento boxes you can get to takeaway on your shinkansen speeding to the far north or deep west of Japan. You could spend an entire day eating your way through the station and not once come up for air.
But let's dig down a step deeper: what if you're not on a grand journey on a bullet train? What about the everyday, the mundane, the commuter trains hauling millions of Tokyo workers in and out of the sprawling megapolis?
Aside from the usual snack kiosks there's one type of eatery in particular, tachigui-soba shops, that (along with train station bentos) serves one of the archetypal foods of train travel in Japan. These are standing soba bars that hark back to days when train journeys were longer, slower, with more transfers, and local bento sellers set up stands directly on the train platform churning out countless bowls of steaming hot soba and udon topped with tempura, croquettes, or nothing at all, filling the empty stomachs of the weary masses. In recent decades, as the Japanese train system modernized and transfers grew fewer and quicker, the old, independently run soba stands started to slowly disappear. Times change, of course.
But look out for them, they're still here and there: squat, squarish stalls plonked on the middle of a train platform, office workers or hungry students or just about anyone with five minutes and a few coins to spare huddled around loudly slurping from bowls of steaming hot soba noodles. They're cheap – usually you'll have change to spare from a 500 yen coin – and the toppings are, for the most part, your basic tempura, inari (fried tofu), or just plain with a smattering of chopped green onion. You buy a ticket from a vending machine, hand it to the person behind the counter, who in no time at all will hand you back a bowl of noodles in hot broth. Park yourself at an empty space at the counter, or if it's busy, just do like everyone else and hold the bowl in one hand while you slurp.
I won't lie, you can, and should, find better soba elsewhere. But in a pinch, in a hurry, when you're cold and hungry and waiting for a train, there really isn't anything better. Go on, miss your train. The beauty of Tokyo's public transportation system is that the next one will be coming in a few minutes anyway.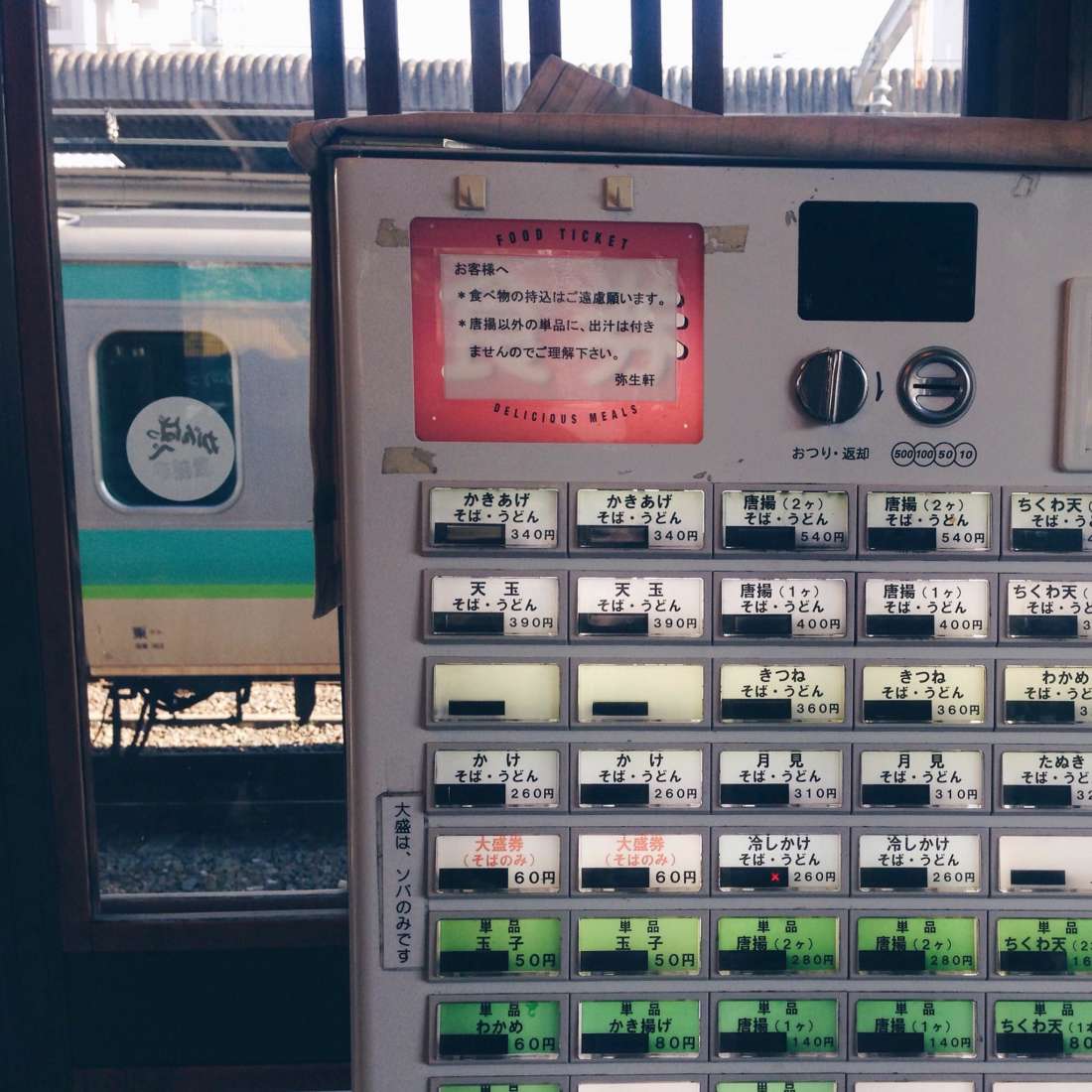 The OG noodle bars of Tokyo area train platforms
One thing about the train system here is that you can ride as far or as long as you want for pocket change – as long as you stay within the same rail network, don't exit the ticket gates, and return to a different station than where you started. This practice is officially sanctioned by Japan Rail, which defines a few other rules. For example, you aren't allowed to traverse the same route twice, but instead have to use the tangled web of train lines and transfer points to make your way back in a big loop. These transfer points are usually where you'll find the most train station food, and are your best bet for hunting down some of the old-school soba joints. Here are a few to get you started.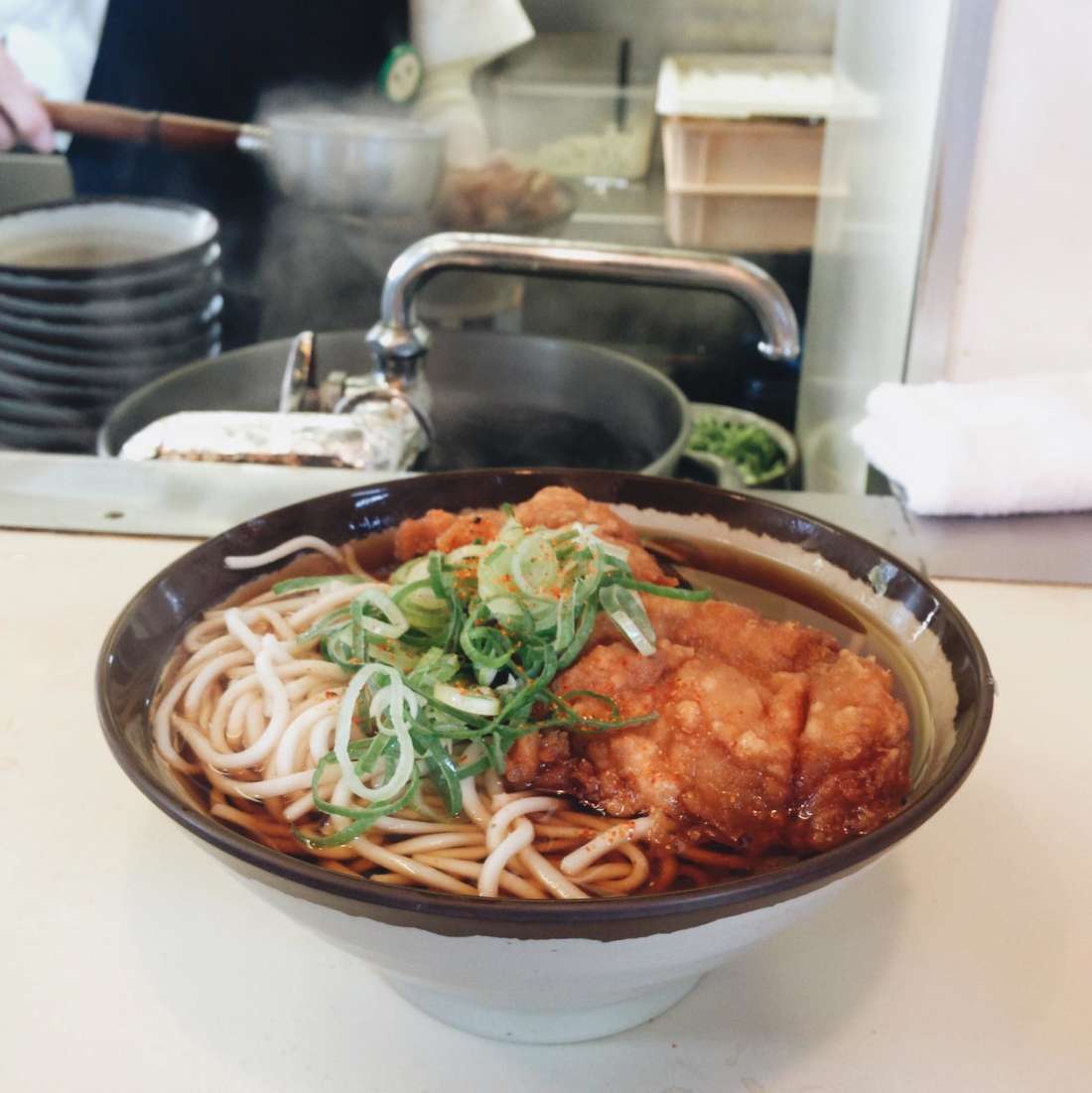 Yayoi-ken, Abiko Station (JR Joban Line, Narita Line)
Location: Inbound and outbound Joban Line platforms
Try this: Karaage soba (1 piece 400 yen, 2 pieces 540 yen)
Originally a bento retailer from the Taisho period (1912-1926), this string of stand-up eateries along the platforms of Abiko Station in Chiba Prefecture started selling soba during the mid-twentieth century when the post-war economic boom and accompanying expansion of the train network led to a spike of commuters in and out of Tokyo. Yayoi-ken became something of a cult favourite in the last couple of decades with its karaage soba. If you're hungry or brave you can order the 2-piece – a bowl of soba noodles topped with pieces of fried chicken so big they practically spill out over the sides of the bowl. There's probably half a chicken in there. Even the 1-piece is more than enough to satisfy your fried meat quota for the day. Afterwards you may not want to eat karaage again for a long time. Don't worry, it's worth it.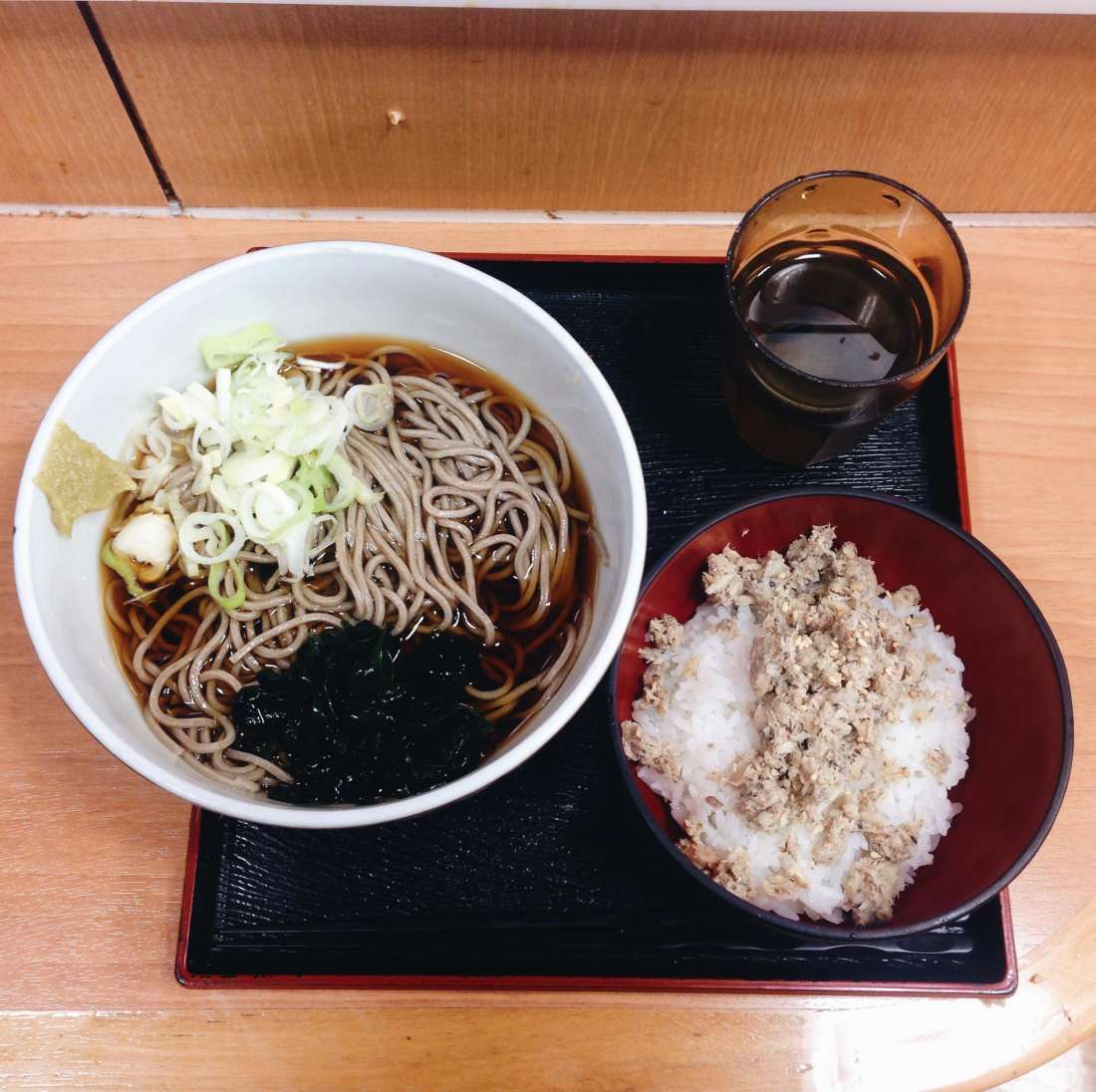 Meidai-mae Station (Keio Line, Keio Inokashira Line)
Location: Ground floor transfer hallway, inside the ticket gates
Try this: Aji gohan soba set (hot or cold noodles, 490 yen)
Much loved over the years by Keio Line commuters, this soba shop tucked underneath the platforms where the Keio Line and Inokashira Lines intersect fits about 10 or 12 people standing along its tiny counters. They have all the standard soba offerings: plain, tempura, inari fried tofu, along with a number of more interesting toppings like takoyaki, croquettes, or gobo-ten (a tempura-battered disc of shredded burdock root). If you're hungry, though, you're in luck. Japanese food does not shy away from carb on carb action and my recommendation here is the aji gohan set. A bowl of basic soba topped with wakame seaweed and a bit of green onion with a small bowl of rice and salted mackerel on the side. The noodles, while not made in-house, have an earthy buckwheat flavour and are firm to the bite; the hot rice topped with salted, flaked bits of aji (salted mackerel) crumbled with sesame seeds and edible bits of bone is filling in a home-style, nourishing way.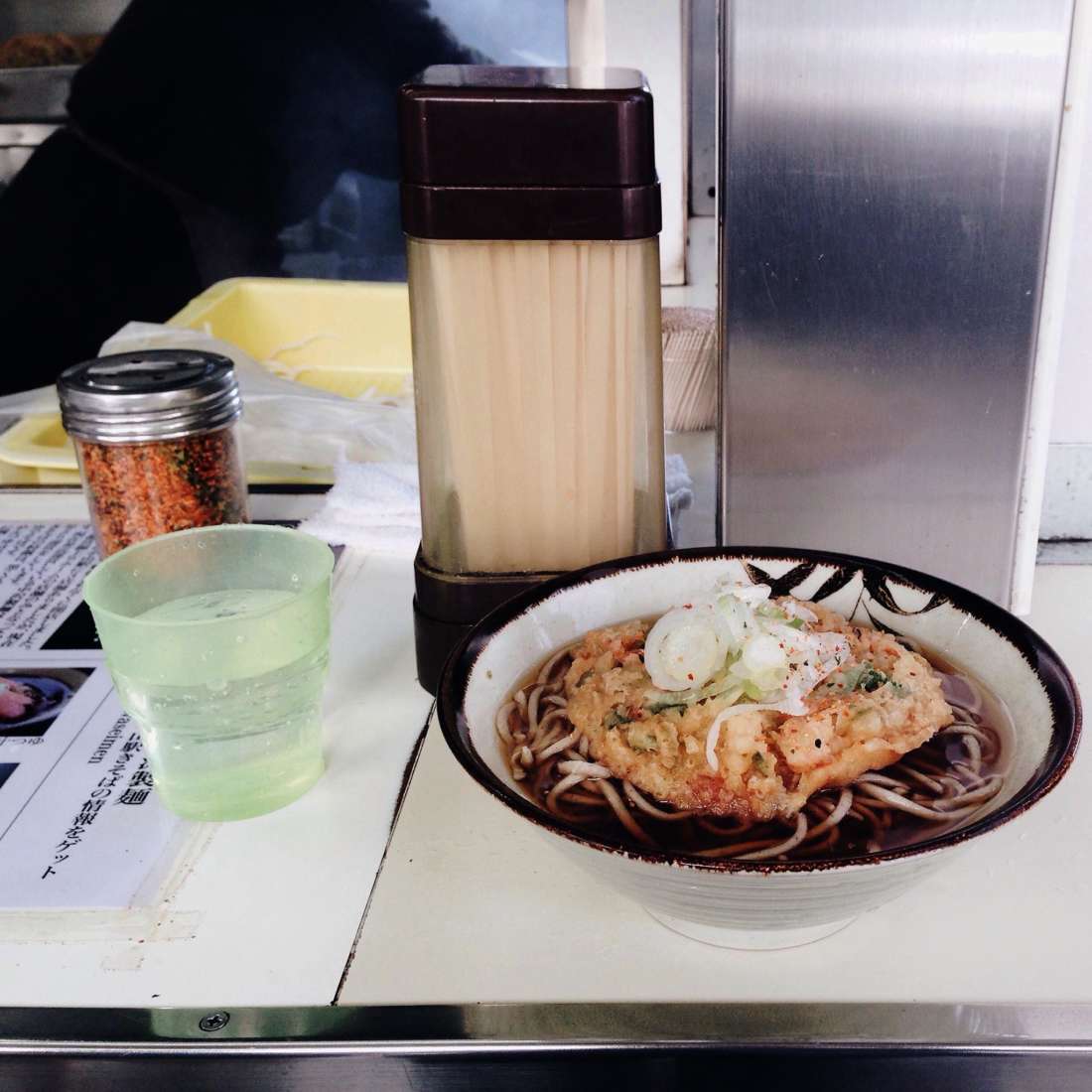 Kisoba, Oyama Station (JR Utsunomiya Line, Tohoku Main Line, Shonan-Shinjuku Line, Mito Line, Ryomo Line, Tohoku Shinkansen)
Location: Utsunomiya Line platform
Try this: Chicken skin soba (430 yen)
This tiny shop on the Utsunomiya Line platform of a station connecting six train lines in the outer reaches of the greater Tokyo region has a history dating back to the 1940s. At its peak, there was a stand on every platform in Oyama Station, and although the number has dwindled to one, it's still churning out bowls of piping hot udon and soba in a heady shoyu-based broth. They've got all the standards but if you're lucky enough to come during the colder months you might spot some unique options like their chicken skin soba (hot noodles topped with chicken skin simmered in a sweet soy-based sauce), or fresh baby ginger and sea bream nyumen (thin, delicate angel hair-like somen noodles served in hot broth). Oyama is a long train ride out of the city but there's something special about standing outside in the middle of nowhere slurping noodles surrounded by a bunch of hungry strangers.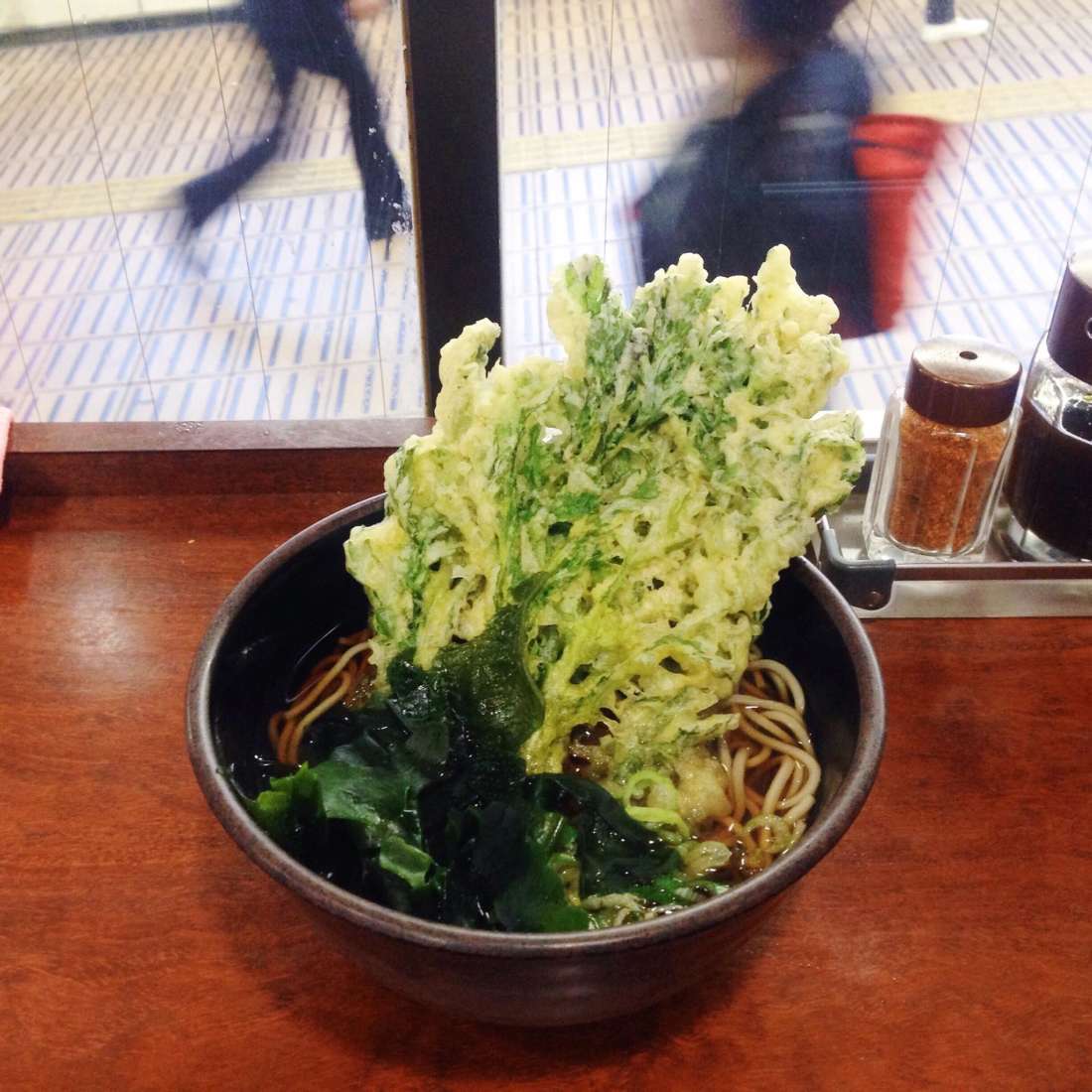 Shin-Tagoto, Akihabara Station (JR Keihin-Tohoku Line, Yamanote Line Chūō-Sōbu Line)
Location: Upper levels, just off the Chuo-Sobu Line platform
Try this: Shungiku-ten soba (430 yen)
Founded in 1968, this soba stand in bustling Akihabara Station in central Tokyo is said to serve over 1000 customers a day. Since it's not directly on the platform, but instead tucked in a little corner of an overpass connecting the Chuo-Sobu Line to the rest of the station, there is a bit more room here, with stools lining part of the counter. The soba here is all under 500 yen and cooked fresh in batches that vary according to the rush hour – five servings at a time when it's quiet, twenty when it's busy. One of their more unique menu items is the soba topped with tempura shungiku, a bitter leafy green. If you're lucky you'll get there when the tempura's been freshly fried but if, like me, you go on a quiet Sunday afternoon when it's been sitting around for a while, no matter – soften it up bit by bit in the soba broth, the batter and greens gathering flavor as you go. It's not tempura as you know it but it's an addictive hit of bitter and oily that pairs excellently with the straightforward, no-nonsense noodles.
(Here's a bonus tip: on Tuesdays, Thursdays, and weekends they do a half price steak curry for 690 yen – a big bowl of Japanese curry rice with a sliced 80cgcam sirloin steak lopped on top – that B-grade food lovers travel from all over Tokyo to eat. It's good.)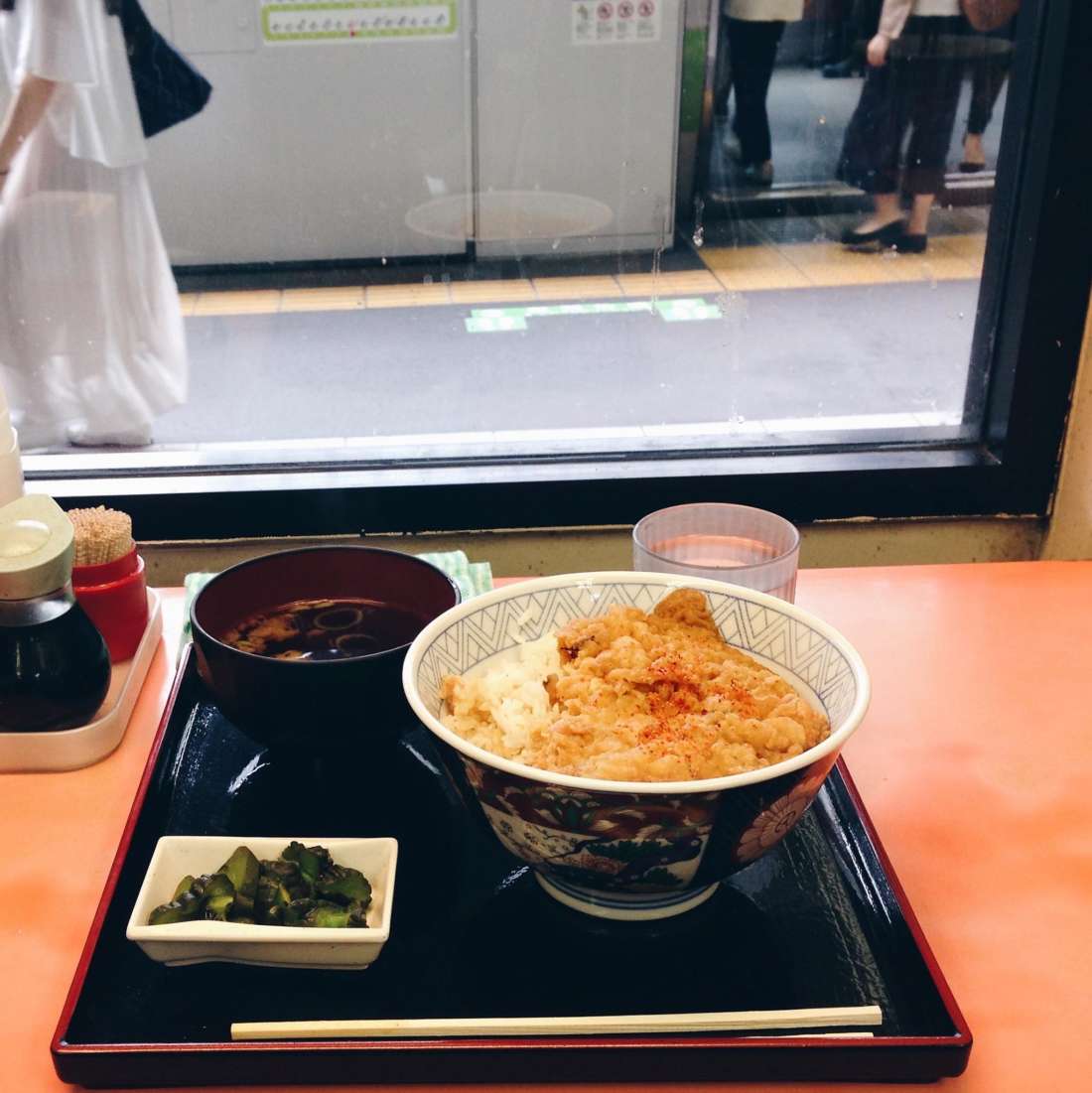 Tokiwa-ken, Shinagawa Station (JR Yamanote Line, Keihin-Tohoku Line, Tokaido Main Line, Yokosuka Line, Tokaido Shinkansen)
Location: Yamanote Line, Keihin-Tohoku Line, Sobu Yokosuka Line platforms
Try this: Shinagawa-don (470 yen)
This is your basic soba stand, with all the usual menu items. The thing that differentiates this place, though, is it's one of the few places where you can get a Shinagawa-don, a deep bowl of rice topped with a circular piece of unidentifiable tempura bits all fried together and soaked in a sweet soy-based broth – usually there's squid, maybe octopus or sakura-ebi shrimp, maybe some vegetables, but a lot of it is a mystery. It supposedly has its origins back before Shinagawa was a hub of gleaming office towers, when it was still a fishing town, and the Shinagawa-don, with its bits of fried seafood and whatever was available that day, was a quick, filling feed for hungry fishermen off to a day's work. It's by no gourmet standards good – but for the brave or the hungover it's a special kind of thrill.