Category — Features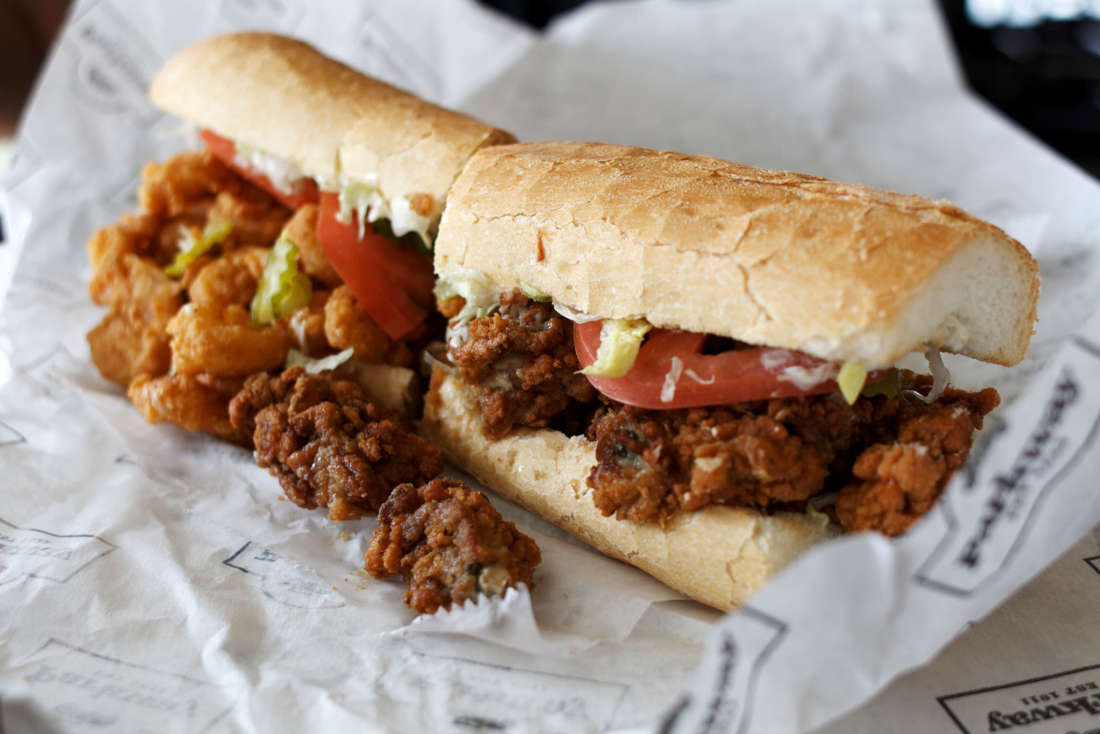 Searching for soul
Bourbon Street in New Orleans is the kind of place you have to see at least once in your life, but once is probably enough. The long, wide street is lined with bars all trying to out-sell each other with offers of huge beers, free refill drinks, and three-for-one shots. The loose liquor laws in the city mean you can buy a drink at any time of the day, some bars stay open all night, and everywhere you go you'll be offered a to-go cup so you can cruise the streets with your cocktail.
It's a picture of excess – not always a pretty one – that attracts throngs of grown-ass men wearing goblets filled with rainbow-hued alcoholic slushies slung around their necks on strings. Girls with their lack of dignity on display line the balconies above, throwing plastic necklaces at sweaty bachelor parties in exchange for a flash of nip. You slip and slide on broken beads underfoot, while avoiding puddles of piss and regurgitated hurricane and zombie drinks that splatter the streets.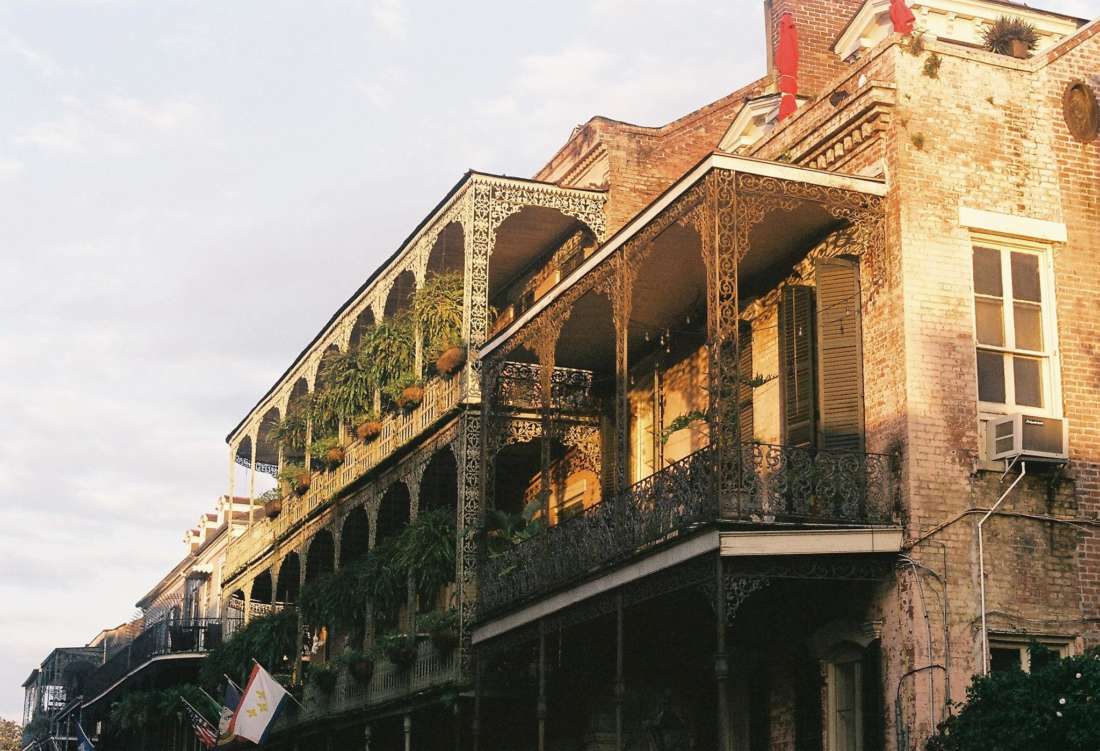 At first, we were disenchanted, even a little horrified. Had we dreamt all these years of coming to a New Orleans that no longer existed? We took a turn away from the fermenting stench of Bourbon Street towards the French Quarter, an immediate sigh of relief for all the senses. In a small shop selling African jewellery and tribal mumus, I tell the shopkeeper I am from New Zealand, it's my first day here and we just walked to her shop by way of Bourbon Street. "Oh, honey," she sympathises with a slow shake of her head. "We don't go anywhere near that place." She voices her concern that if everybody sticks to the main tourist drags, they'll never discover the real New Orleans, and go home to tell people that the city is a shit hole. She tells me that if we want to go where the locals go to party, we should go to Frenchmen Street, and we should go on a Monday night, when the food and drinks are on special, there is no cover charge and the bars will be filled with locals. Heeding her advice, we go that night and have the time of our lives. Every bar that lines the street has a band playing a different genre of music, from swampy blues to a badass Chinese lady on a clarinet. We end up dancing in the streets to a brass band with hotdogs and beer in our hands. Things were definitely looking up.
Before visiting New Orleans, a friend warned me that we shouldn't go expecting to just stumble across good-quality Southern classics like gumbo, po'boys and boudin. The city is full of sub-par food and hour-long queues outside archaic institutions like Cafe du Monde and Central Grocery. A quick Google search is not likely to do you any good either, leading to useless TripAdvisor reviews written by people with no food expertise, and "must do" lists compiled by people of a similar ilk – rather than people with a passion for seeking out the best. You can Google all you want, but nothing really compares to being there, getting off your phone, and finding out where the locals go by talking to the people around you: the bellboy at your hotel; the man mixing your drink; or the guy you hire your bike from.
We stay at the Ace Hotel, and while shopping next door at a small store selling local designer goods, we tell the shop keep we are here to eat. He tells us we should go to Cochon for our first taste of Southern fare. It's a meat-centric restaurant where you can try local dishes such as fried alligator, seafood from the gulf, and pork cooked every way you can imagine – all accompanied by a whiskey and rye offering that spans the entire back wall of the bar. They're famous for their wood-fired oysters, topped with chilli garlic butter that melts into vibrant spicy red pools within the shell. Next door is Cochon Butcher, the restaurant's more relaxed sandwich shop where they cure all their own meats, cook sweets sprinkled with bacon and serve a muffaletta that kicks Central Grocery's ass. The sandwiches here are so good we return three times to try to make our way through the menu.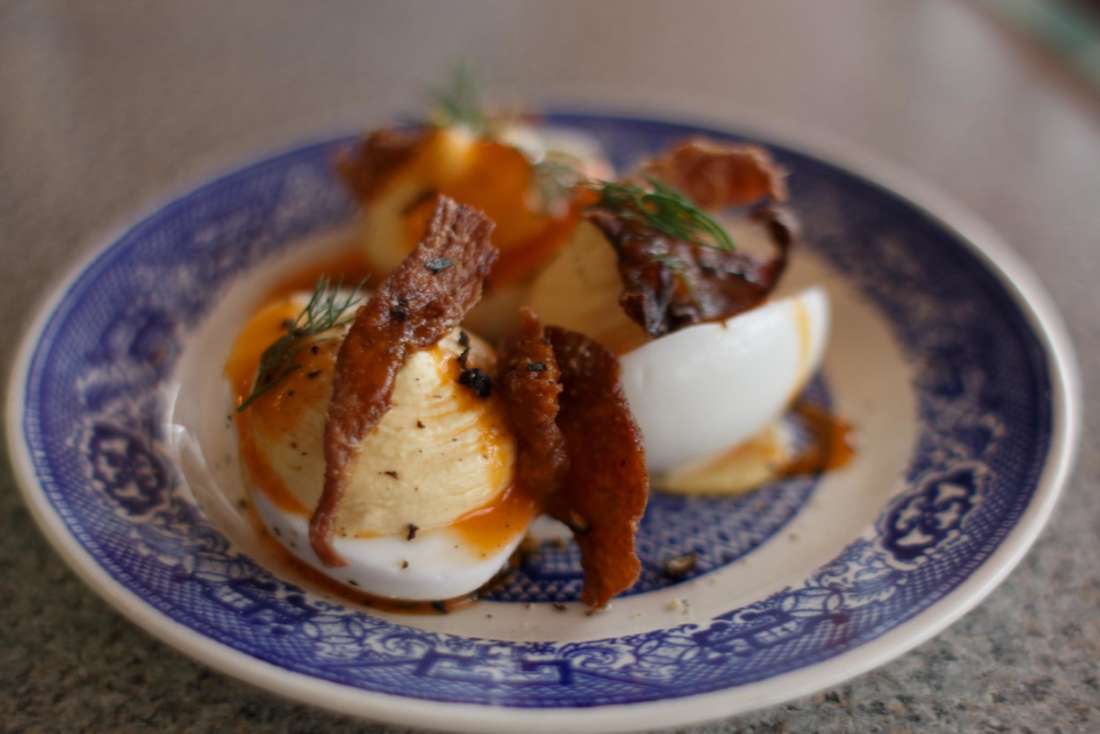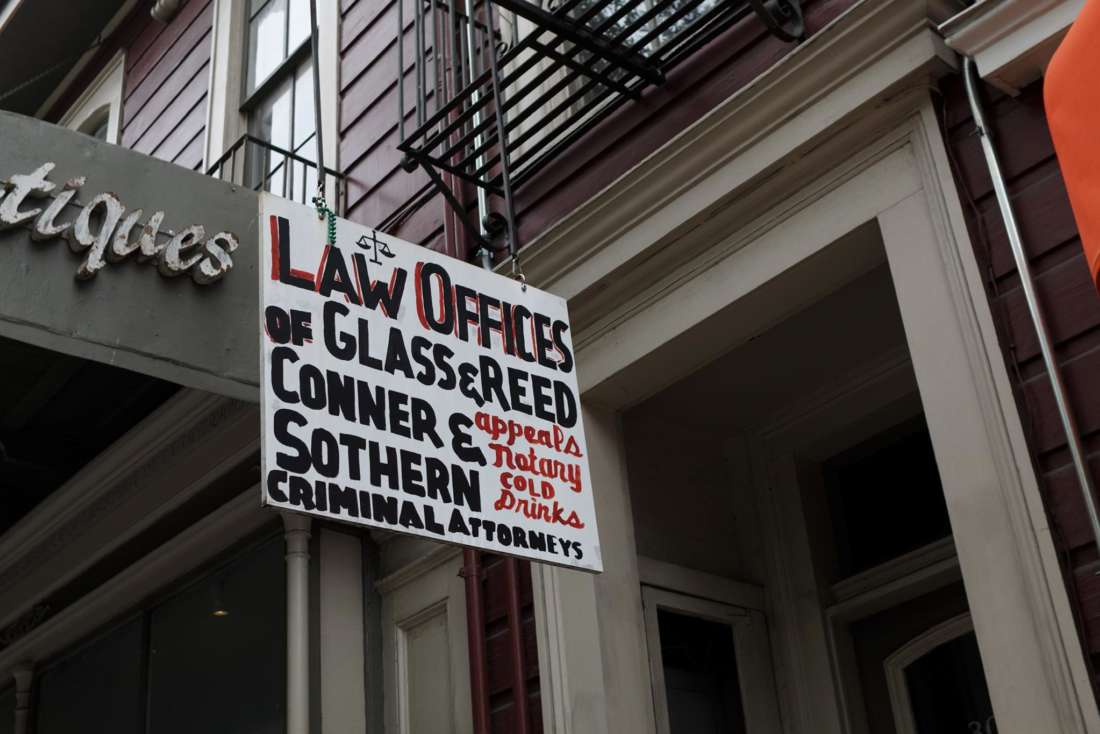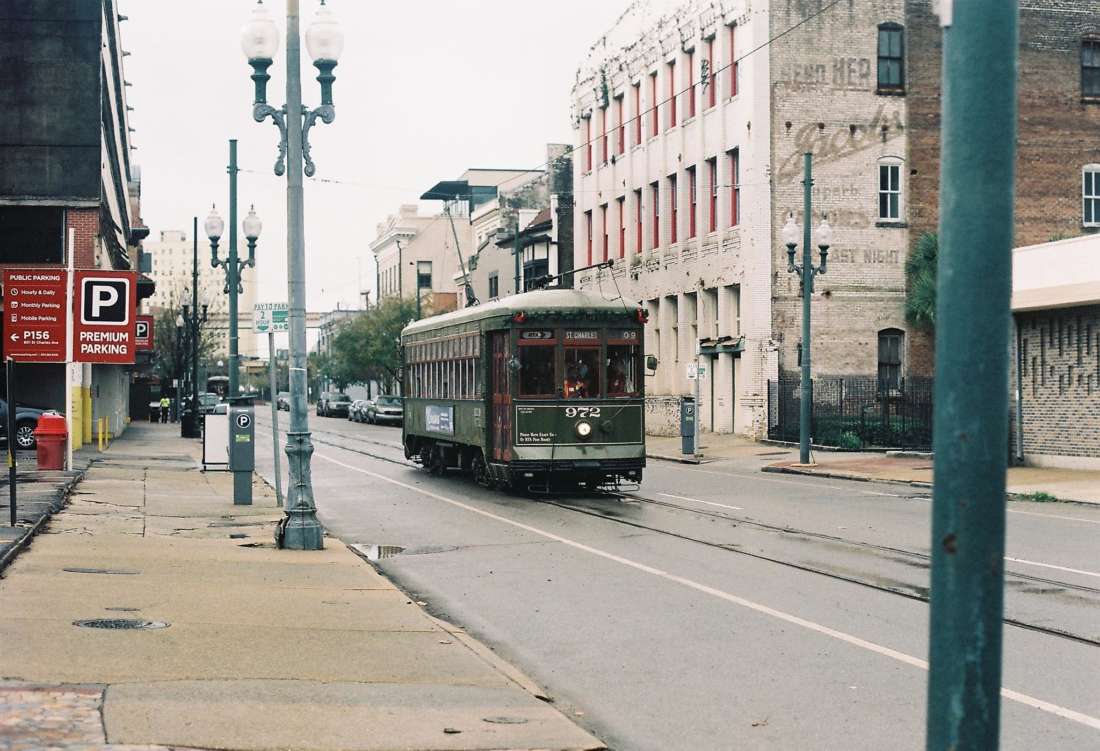 At St. Roch Market, the guy making my andouille sausage banh mi is wearing a hat with the name of a restaurant I recognise, Turkey and The Wolf. I ask him if it's any good and he tells me it's a "total gut bomb". I'm pretty sure he means it as a compliment, so we go to check it out. This place is a stoner's paradise. They've got soft serve sprinkled with salty snack foods; huge sandwiches on toasted slabs of trashy white bread, stuffed with meatloaf, fried bologna, potato chips and melted American cheese; and inauthentic tacos that get showered with Dorito dust. We get devilled eggs topped with crispy chicken skin and drizzled with chilli oil; slow-cooked lamb neck curry served on buttery roti with yoghurt, pickles and herbs; and a cabbage salad stripped of all its virtuous qualities by the addition of fried garlic, roasted chilli vinaigrette and crispy pig ear crackling. Seeing as we've already bombed our guts we make our way home via District, a shop that sells three things: donuts, sliders and beer. What more could a girl ask for?
The outlying suburbs of New Orleans are eerily enchanting. The second stories of the pillared houses sag under the burden of standing so long; mossy grasses grow through the cracks of the uneven sidewalks; and when the rain stops, the sun shines through the weeping trees that bow overhead, making the dew drops sparkle. To take it all in, we hire bikes from a pony-tailed man who sends us in the direction of City Park, where he tells us we can get beignets that are better than Café du Monde at Morning Call Coffee Stand. Our unhurried cruise gets us to Parkway Bakery & Tavern just in time for happy hour. This old-school po'boy restaurant is no frills in the best possible way – if you ask for a plate to share your sandwich, you'll gruffly be given another piece of sandwich wrap paper. Oysters from the gulf come in only on Wednesdays and Fridays, so we go for half oyster, half shrimp fully dressed with iceberg, tomatoes, pickles and mayo. It's a simple, delicious sandwich, and I'm glad we waited till we were on the outskirts of town to try it.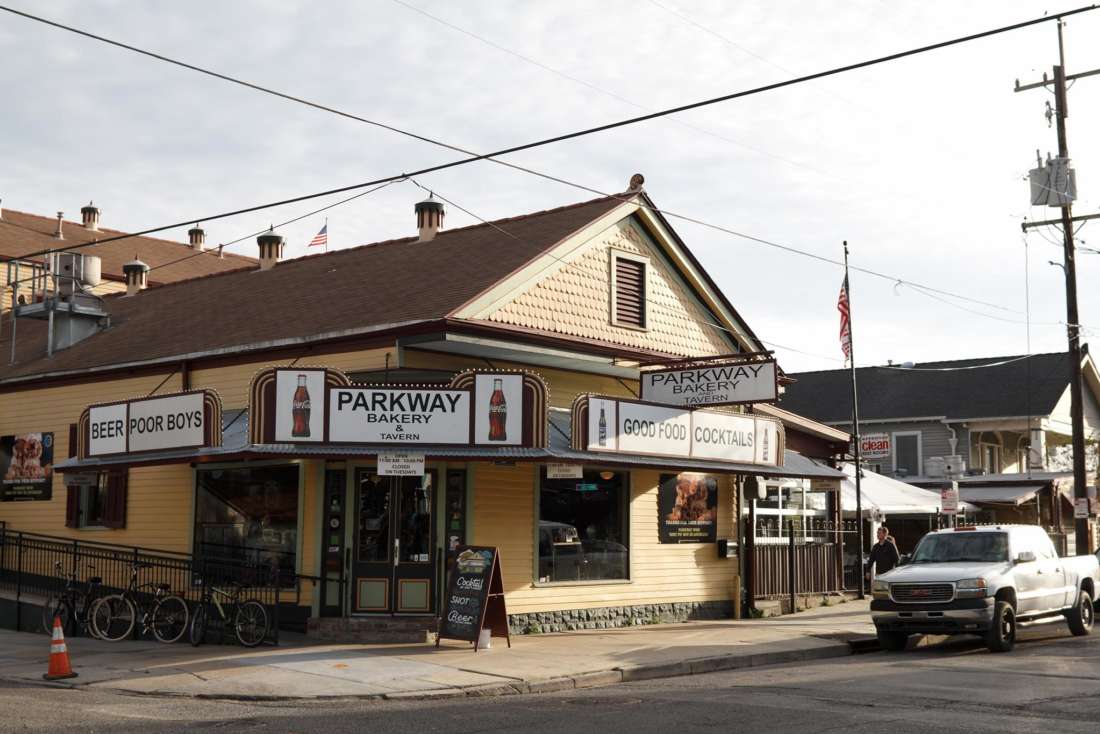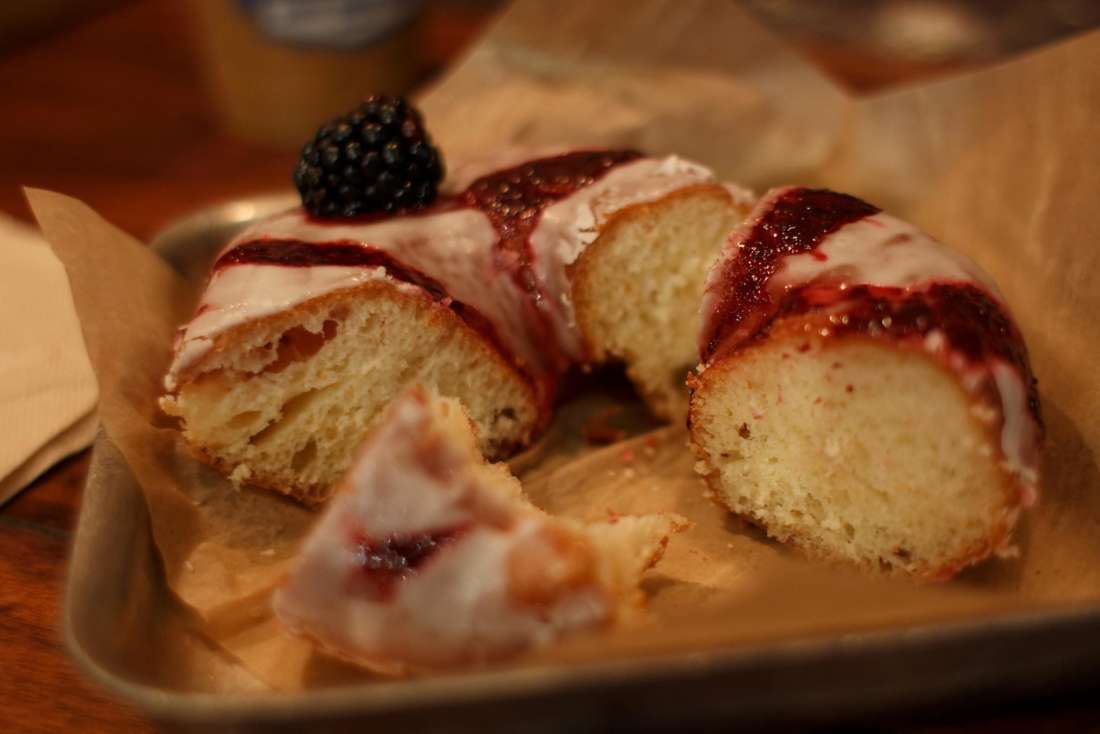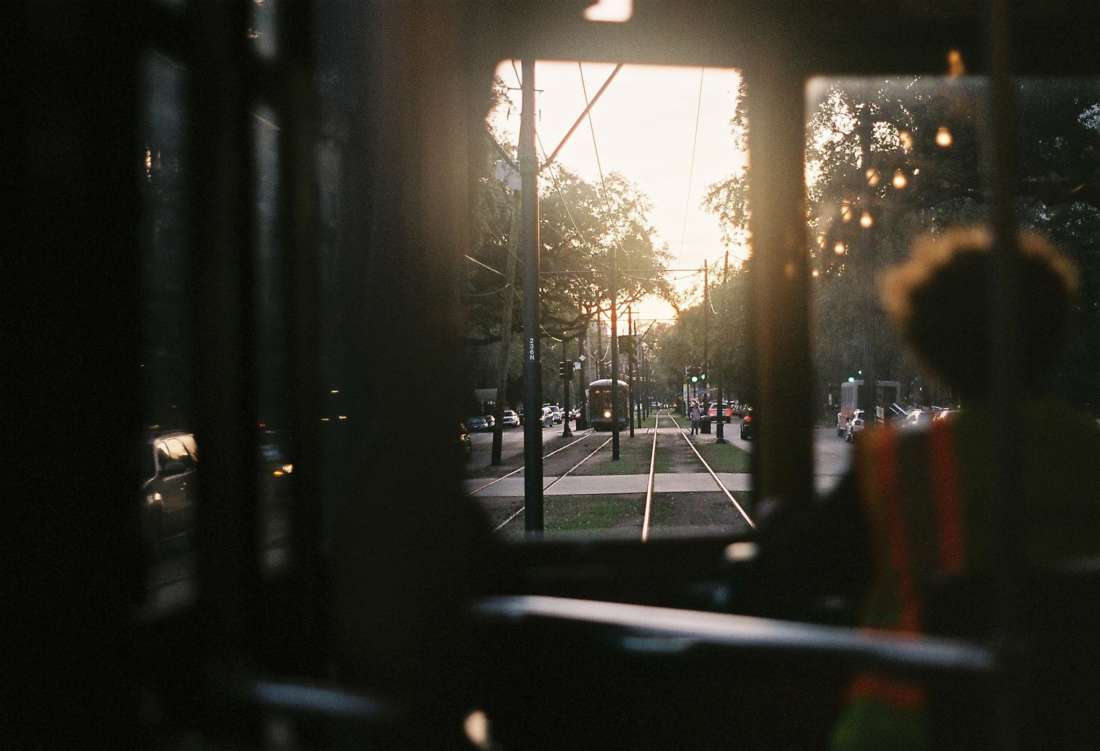 That night, I insist we go to check out a restaurant the man making my Irish iced coffee that morning told me about. It's called Number 7 and has no website, no social media presence, and there's very little information about it online. We search for it down a shady side street filled with desolate car yards – the kind of place where you might expect a pick-up truck to slowly pull up next to you, roll down the window and say, "You don't look like you're from around these parts". I start to wonder if maybe the man mixing my drink this morning had led us here so he could kidnap and kill us, and we are almost about to give up when I see a tiny "N7" spray-painted on a wooden fence. It's hard to believe such a charming and delightful restaurant resides on this street. It's owned by a husband and wife – he French, she Japanese – and the menu reflects their marriage, with dishes like tempura escargot and seared scallops with wasabi pomme puree. The wine list is unusual and exciting, the blooming courtyard is glowing with candles and they're playing Japanese funk music. I couldn't be happier we risked our lives to get here.
After dinner we head to Bacchanal Wine, a place recommended by a friend, and again find ourselves wondering if we have arrived at the wrong address when we pull up to the base of a tired old house in the middle of get-yo-self-murdered nowhere. The guy standing at the door looms over us with his stone-cold demeanour and asks, "Ya'll been here before?". We sheepishly say no, scared that he is screening us and might not let us in. His expression lightens into a wide smile as he explains to us how everything works and wishes us a pleasant evening. Just inside the door there is a wine shop with welcoming staff who help us choose a bottle of wine and direct us to a fine selection of cheeses in the fridge. They keep the cheese and tell us they will make up a board and deliver it to us when we have found a seat, and that we can help ourselves to wine glasses, ice buckets and anything else we need out back.
Stepping into the courtyard you feel as though you have stumbled across a private backyard party. Strangers share tables and splashes of wine, the drooping trees are bound together by strings of rainbow lights, and a rickety stage up the front plays host to eclectic musical acts – tonight it's a local French lady who plays her cello like it is a three-piece band, plucking it, bowing it and using it as a drum. Later, we order another bottle of red and move to the balcony on the top floor of the house. Overlooking the glittering lights of the courtyard below we feel loved-up on New Orleans magic. We spy on a sloppy couple to our right who are one drink away from going all the way in the corner of the bar, and a pack of dudes to our left assists their friend down the stairs as he announces he's just hurled all over the wall in the crapper – reminding us that we're not that far away from Bourbon Street after all.