Category — Features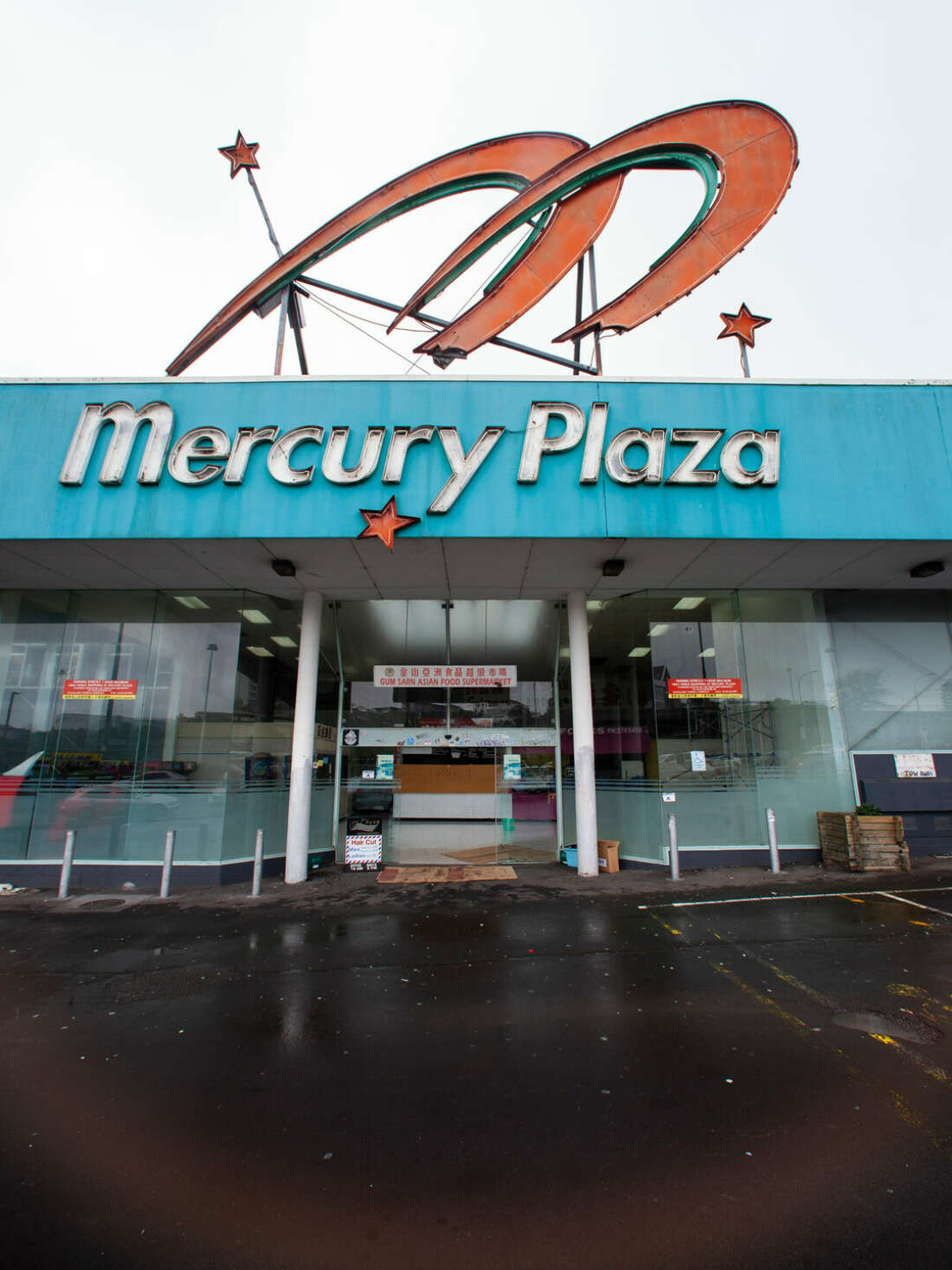 Thanks Mercs
When I first met TimD at Mercury Plaza to talk about this story, Mercs was about to close to make way for the future Karangahape Station transport hub. It was countdown time – we reminisced a bit, and noticed the emptiness already.

At midday, every echelon of society and ethnicity sat huddled together cheek by jowl — office workers, local folk and school boys in uniform — canteen style, on blue plastic chairs across neat rows of tables. I wonder where the heck they're all eating now.
I recall in its heyday it was the place we'd go in for wontons or char kway teow… long before Canton Café, Eden Noodles and the clusters of affordable and real Asian eating spots in Balmoral or Khyber Pass became popular haunts.
I hung around the Plaza during the months preceding the closing date of 20th October 2019. I went and ate there, talked to patrons and to the vendors, whose stories— and new locations —I share below. By the time this goes to print the landscape may have turned to rubble, teaming with men in high vis and hard hats.
Chinese Cuisine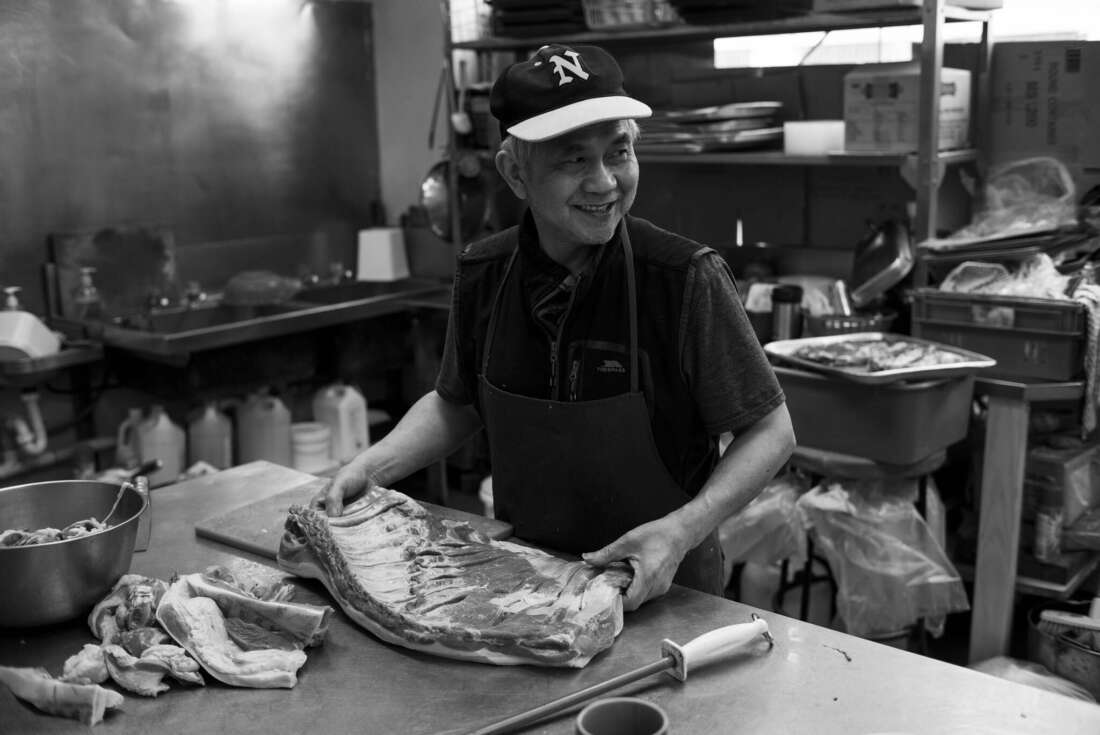 I watched chef Tony preparing the minced pork filling for Chinese Cuisine's legendary wontons through the window. His young side-kick beside a mountain of pork mince, filling them deftly and neatly arranging them on trays, going from wrapping wontons to serving customers as the lunch trade started to stream in. Late another night, I peered through the same window and he was running solo, preparing wontons for the next day after closing. I remember doing the same during University holidays for my own folks' business with a constant reminder to study hard for my exams or I would be doing this permanently.
The owners of Chinese Cuisine, long standing residents, had announced their last day would be Sunday 13th October, after twenty-five years of serving their menu of Cantonese favourites on the upper floor of the Norman Ng Building. Customers have been slurping bowls of handmade wonton noodle soup all of those years for six dollars, with no price increase until 2016!
Tony's Cantonese surname is Chan. I trace the pictograms in my mind forming the word. I stop speaking kiwi English to him and tune my brain to my Chinese dialect. Ming and Tony were both born in 1955 and he's from the same Guangdong, Taishan county as my paternal grandparents.
Why had he been here for so long? His offspring are all daughters, there are seven grandchildren, two of which live in Hong Kong. "Why? As a father with a young family to take care of, you have to keep going", he explains. It wasn't until 2005 that he took his first vacation, 11 years after opening. He recalls the other years that he has managed to take a break – in 2009, 2013 and 2015. Otherwise it's been a 7-day week, 365 days a year, cooking meals for the many regulars he has gotten to know.
Ming, his wife, goes to the temple every Sunday from 8am until 3-4pm, then comes home and cooks dinner. She ran the business at Mercs while he ran the Chinatown yum char restaurant in Lorne Street for years. One daughter is an optometrist. She's been constantly telling him he doesn't have to work anymore, "I can look after you, why don't you take a holiday?" repeats Tony, but "when you don't have qualifications you have to use your hands to make money," he concludes.
It's the Thursday before their closing date and Tony tells me they are doing three days turnover in one day. In the last weeks, Katie has been starting work well before her folks arrive to complete the prep for the lunch trade. It's a brief moment of solitude before the rush. Katie's at the counter taking orders, her determined face shows she's got everything under control, as the plates and bowls and takeaways land on the servery, she bellows out each order. She places my take-outs on the counter and repeats the order "wonton soup noodles with roast duck, with roast pork belly and char siu on dry noodles. Miss, your orders ready". Before I've collected my meals, Katie is calling out the next order, with an eye on the queue to the counter now snaking out the door onto Mercury Lane.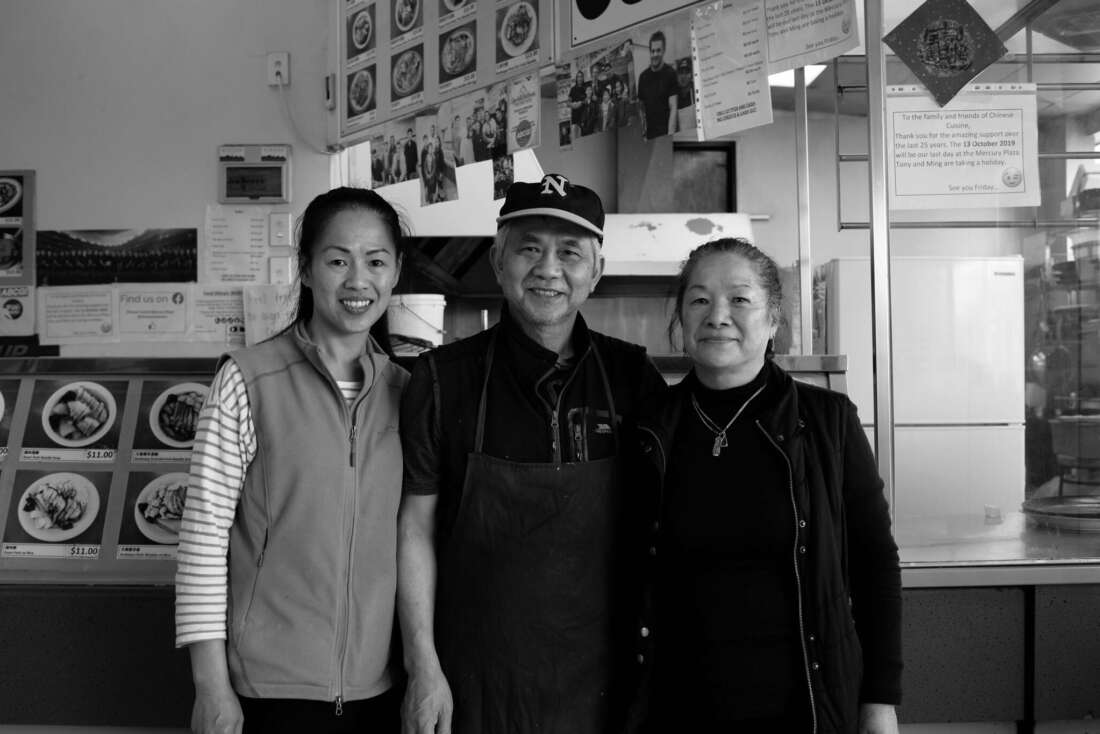 Soon, it will be up to Katie to start something new for herself. She has ideas for a simpler menu, she doesn't want such labour intensive work, and she will have a team to help her. She tells me she's a solo mum, the black sheep in the family, she's been in and out of the family business but now the future is in her hands.
A few days after they close, I pop by the Plaza. Katie and her dad are making wontons, but this time it's to stock the freezer for the family. She's subdued and wistful, and in the days ahead, she will be helping Tony dismantle the kitchen and its equipment. It must feel pretty strange after so long not to have people waiting for their orders of wonton noodle soup, calling out orders for their roast pork on rice, "it certainly feels different".
The Kitchen God that has watched over the Chan family and their kitchen from the very beginning will go with them. She tells me that it should never be cleaned to preserve the protection and good fortune that it brings to them. When the time is right, Katie Chan will be running Chinese Cuisine her way, managing a new kitchen crew, downsizing the menu, giving it a new breath of wok hei. May the Kitchen God continue to watch over her. We know her parents Tony and Ming will always have her back.
Maruten Ramen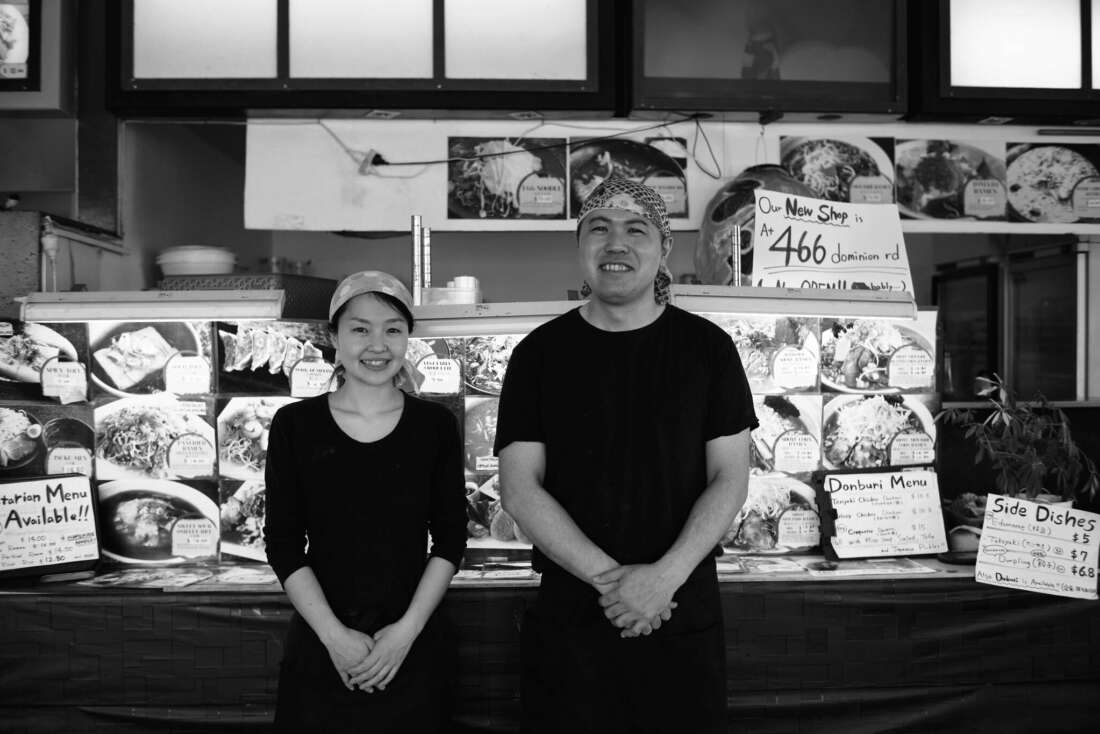 Takeshi Mizuta left a career in the IT/computer industry to make ramen. The day he opened Maruten Ramen, he sold just one meal. For the first three years he didn't turn a profit, they were long 13-15 hour days, 364 days a year with only one day off. But he was encouraged by returning customers, and the fact that people were happy with his food kept him going. Some of his regulars are other Japanese chefs – Makota from Cocoro and the chefs from Nishiki sake bar — who all encouraged him and gave him tips on how he could promote his business. He was open for six years.
Aya Ota is the attentive young woman front of house at Maruten who provides the best table service on the upper floor. She asks how salty you want your ramen broth, then when the order is fixed, she delivers your butter corn ramen with a genuine smile. She asks that if the soup is not to your taste, please let them know for next time. She then plucks empty bowls and cutlery from nearby tables and asks if everything is OK. When I go up and pay, she mentions that they are waiting for the council to give the thumbs up on the premise they will be relocating to on Dominion Road. I ask if I can take a photo of her. She's embarrassed that there is a basket of washed bowls and cups on the counter, but I don't mind the clutter. She then asks if I'd like a selfie with her. I manage to get a photo of her by herself and not missing a beat, she helpfully holds up their logo like a pro.
Takeshi tells me there used to be two shops selling Japanese food, and so as not to offer the same dishes, their own focus had to be ramen. At his new business, he will offer a more extensive menu including homemade tofu as well as sushi.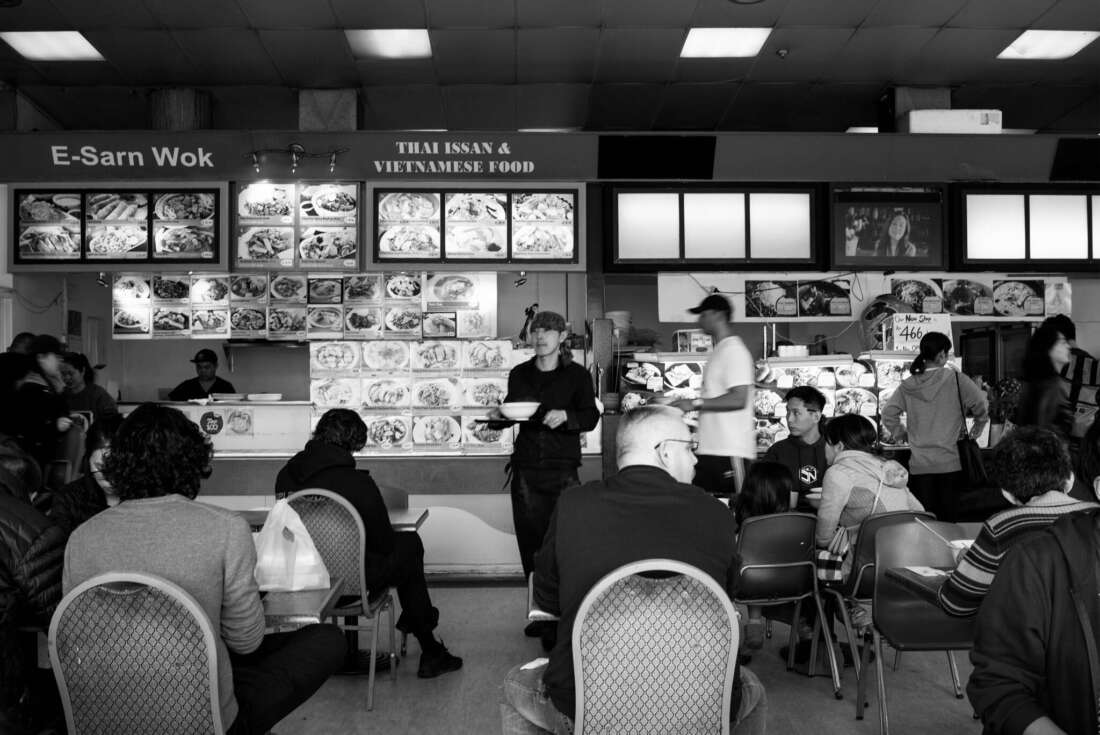 Tim D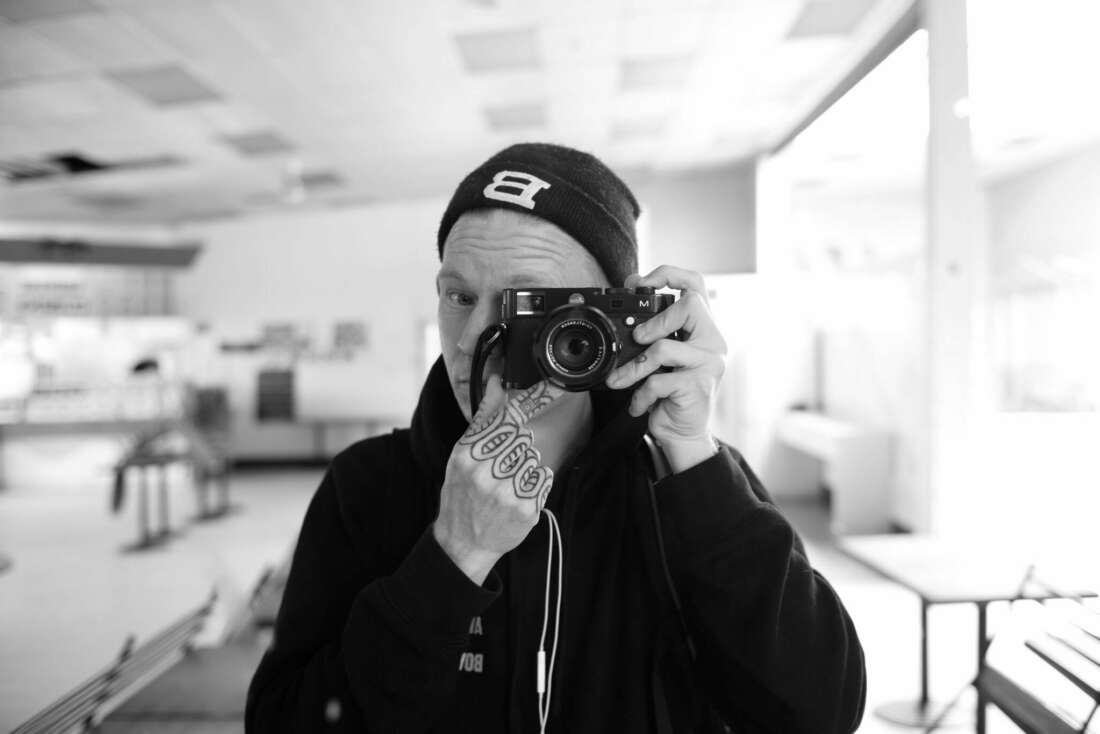 Photographer Tim D illustrated this article. He has the Mercs sign tattooed on one leg and an ode to Ruang Thong Thai on the other. He started coming to Mercs with his dad when he was a lad, and he's been a regular ever since. He says he was a wild child, skateboarding down the internal stairs, hanging out the back playing arcade games. "My first memory of Mercury Plaza was going to New Gum Sarn with my dad and him buying mi goreng by the cardboard box full, before they were readily available at every supermarket in NZ. Also being the only Europeans in the place. We returned from living in Indonesia in 1995 and I don't think Westerners had embraced food outside of the meat and three vege palate yet". He use to have a studio up the road, so Mercs has always been his local. Being vegetarian, he gravitated to Ruang Thong Thai, "I ate everything on the menu at Ruang Thong, it was so good for vegetarians because practically anything on the menu could be done with tofu instead of animals".
The owner remembers Tim coming in with his baby daughter 16 years ago. For Tim, it's going to be the environment that he will miss the most, "It felt like the family home in there". I asked him how he felt now that Mercs has closed for good, and soon even the building will be gone forever, "It's another huge loss for the culture of the central city and another blow for K' Road which has been striped of all its appeal to me now. The creativity and art side of the area is gone."
Tim has been documenting Mercs almost as long as he's been eating there, including portraits of his daughter in their favourite place, and will be releasing a book on it in January 2020 (theplazastore.com).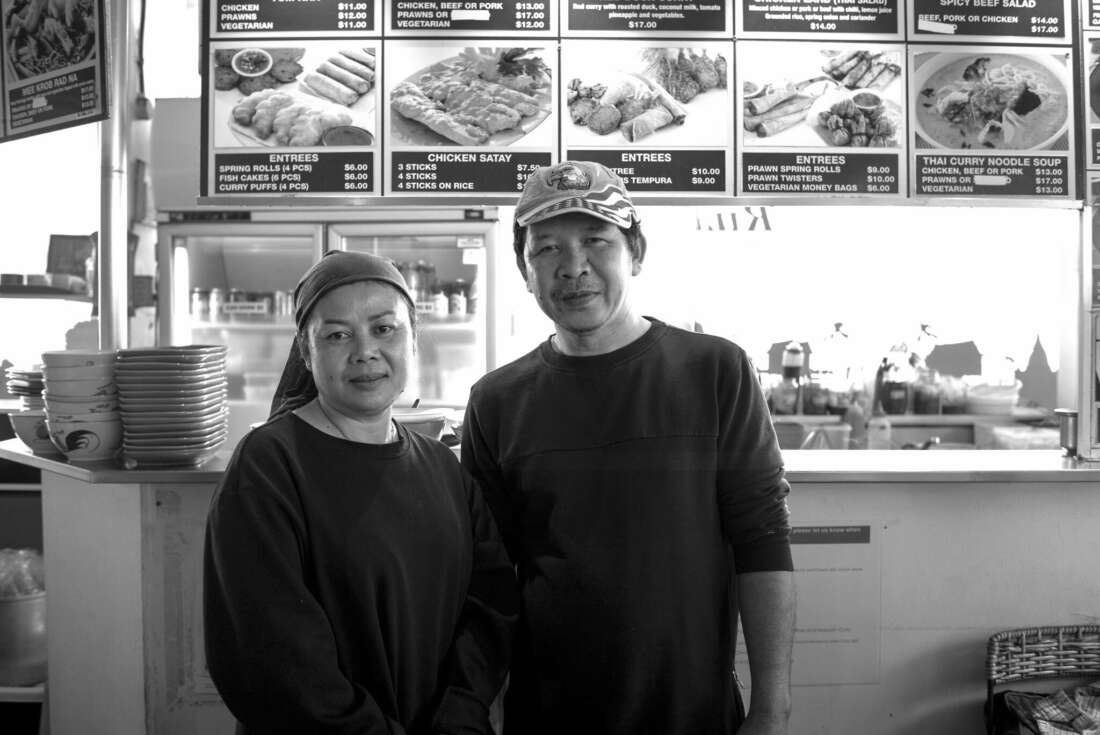 Ruang Thong Thai
Chef Cyaowapa Chompooppuek has been cooking here on and off over the last 10 years. Owner, Ophas Phetbamrung has been operating from their new Mt. Albert restaurant since 29 July.
If you want to hang with them, there is the option of the train which stops right opposite the shop in the Mt Albert village. The sizzling beef laden on a hotplate that the Mercs crowd have eaten joyfully is the No. 40 and at 15 buckaroos, it's only one dollar more than at Mercs. There is no longer an open kitchen where you can see the cooks busying themselves with your meals, but it is in a row alongside other good Asian eateries like Taste in Memory. Same, same but indeed different.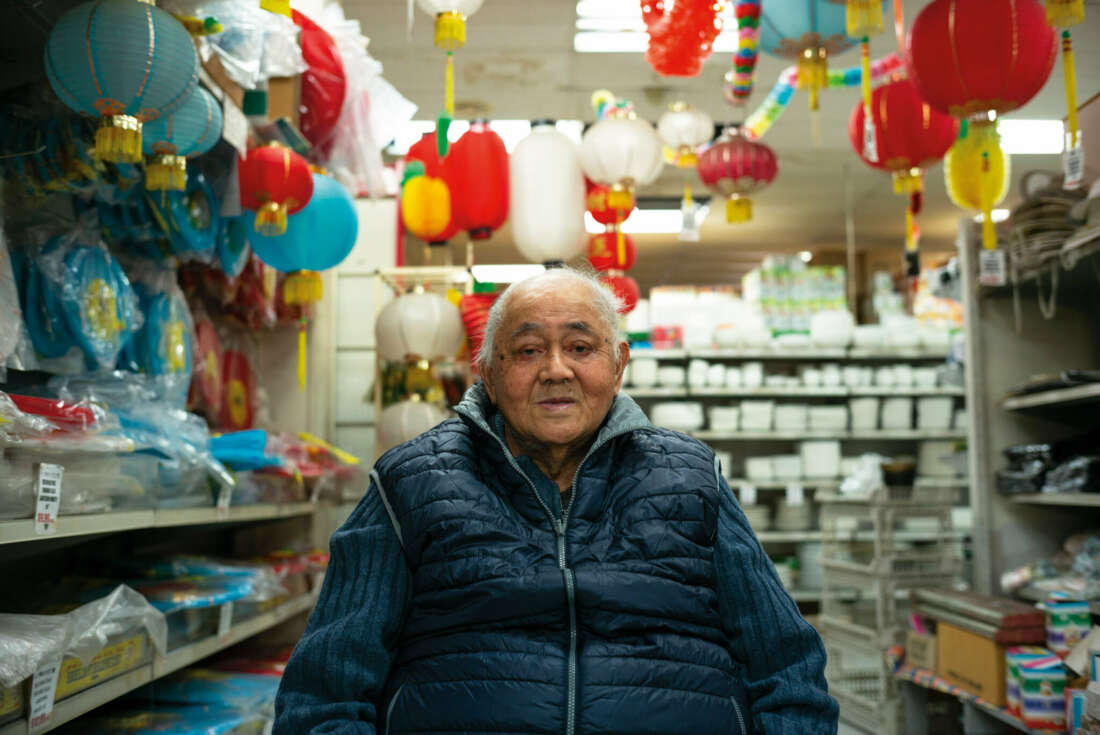 New Gum Sarn
My last receipt from New Gum Sarn included a perky cauliflower, some meat hooks (for the hell of it), a small stainless steel sauce ladle, whole coriander and cumin seeds, sesame seeds, Himalayan pink salt, cinnamon quills, some small white bowls with a blue fish design and a 'To Do list' notepad. I will miss browsing the aisles and the Chinese New Year visits to find joss sticks, red lanterns and lucky red envelopes. Locals, chefs, food writers and stylists who've frequented the store for provisions, kitchen battery and props will surely lament its departure and its inner city convenience. The shop assistant who served me says that it will take a team of people to pack up the store once it closes. She's looking forward to a bit of a break and hopes to be re-employed in the new store when it opens its doors.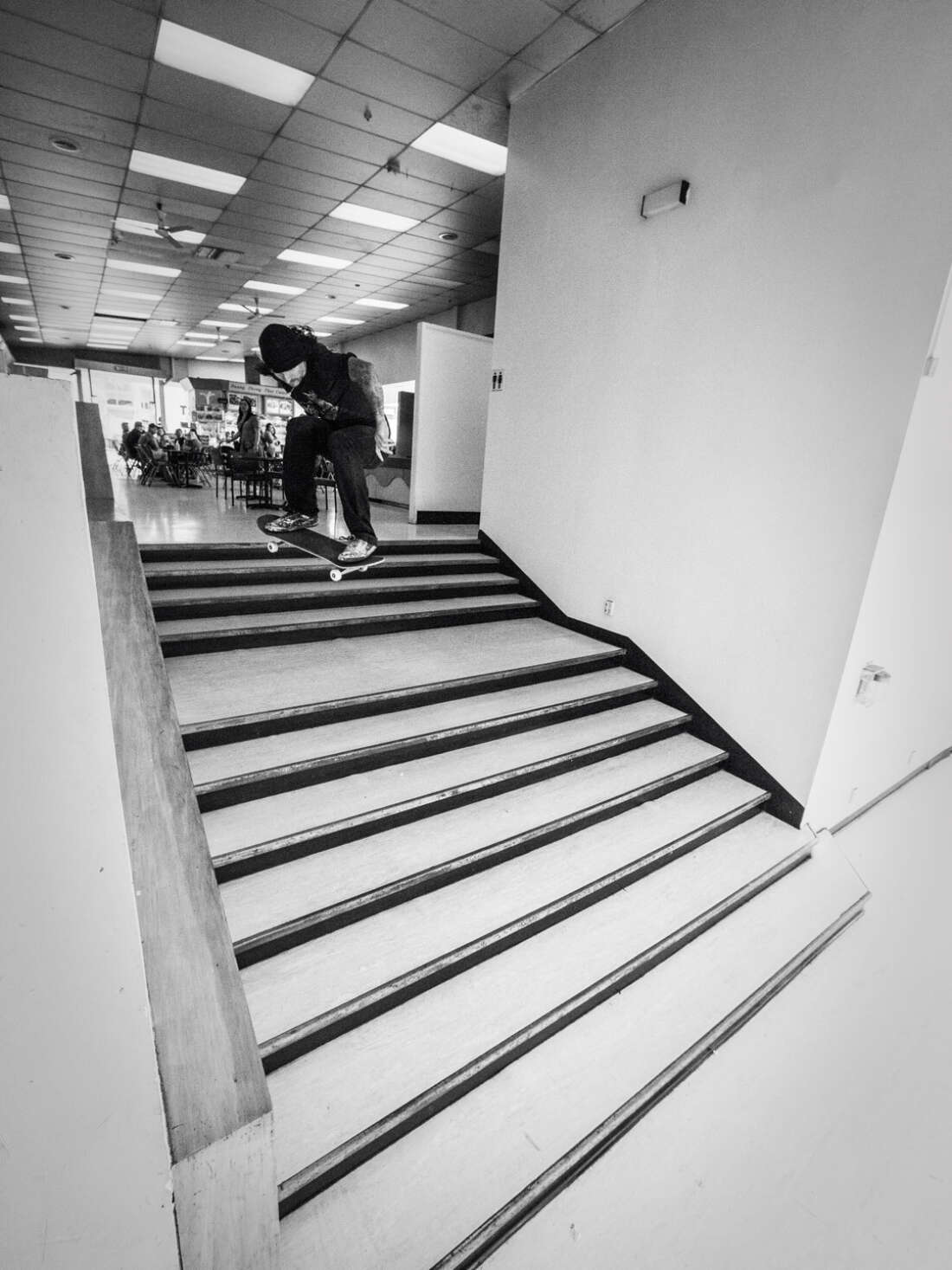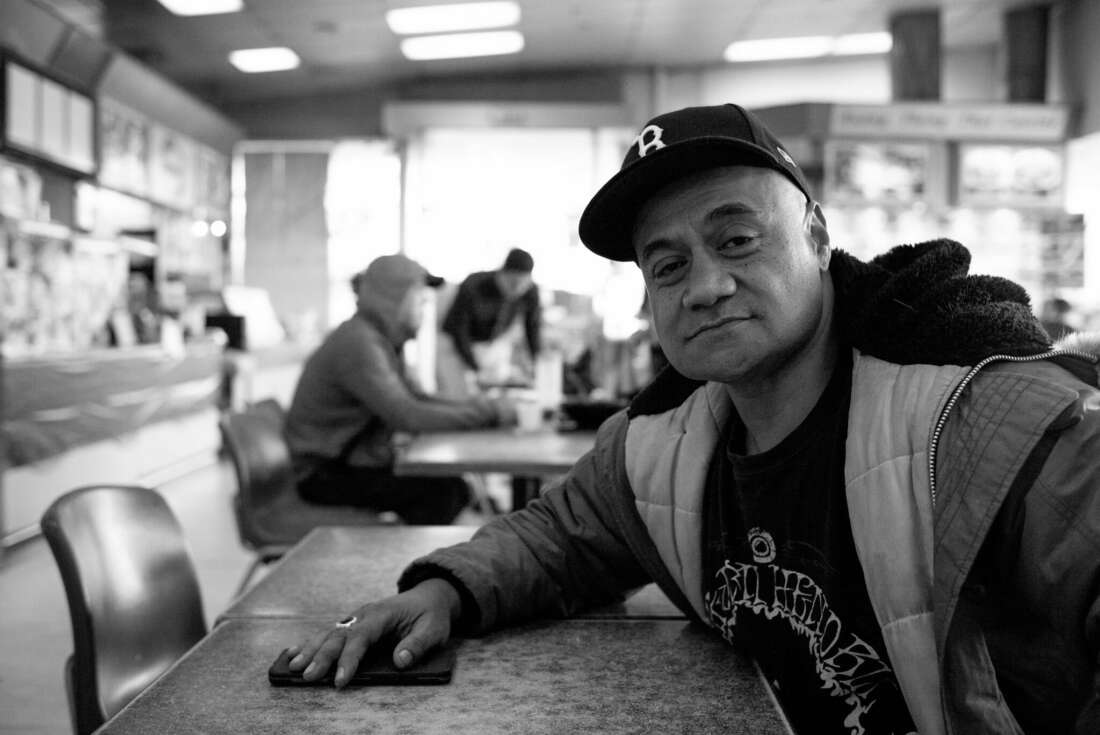 It's late in the afternoon when Tim and I arrive at the Mercury Plaza for a catch up, actor Oscar Knightly, another regular at Mercs, sits waiting for his meal from E-Sarn Wok. He's saddened with the pending closure and doesn't want to see some soulless station hub with ubiquitous stores in its place. "Not everyone here has much money to spend on a decent feed. This will be such a loss to the community".
I also meet Tāmanuhiri Russell, moko artist, a former local who's now based in Hastings. Chinese Cuisine is where he always brings his whanau for wonton noodles whenever he returns to the big-smoke. That day they all gathered around Tony for a final photo before having their last Plaza meal.
Tony Chan welcomes us into his kitchen where he's been prepping pork bellies for their final weekend service. He's still happy to show us his tools of trade despite the increased workload to cover pre-orders. He makes a joke about the device which has been customized with closely spaced nails to pierce the pork skin with hundreds of fine holes to create the perfect crackling. Will he miss all this? He's going to miss his regulars, especially those he's seen grow up and bring their extended families. He will miss cooking for many of the All Blacks. It's going to be quiet when it's over.
7pm. 20 October 2019.
I stand on the pink cycleway and look beyond the flax at golden hour. Mercs is lit with a yesteryears glow. I'm a bit hesitant to walk across the road. Even the mere thought of going there for the last time seems like a dare and perhaps, just perhaps if I don't see it happen, it won't…close.
New Gum Sarn has already shut its roller doors. It's only a few remaining hours before the food court, it's shops, cooks, servers, table clearer uppers and punters will be all gone.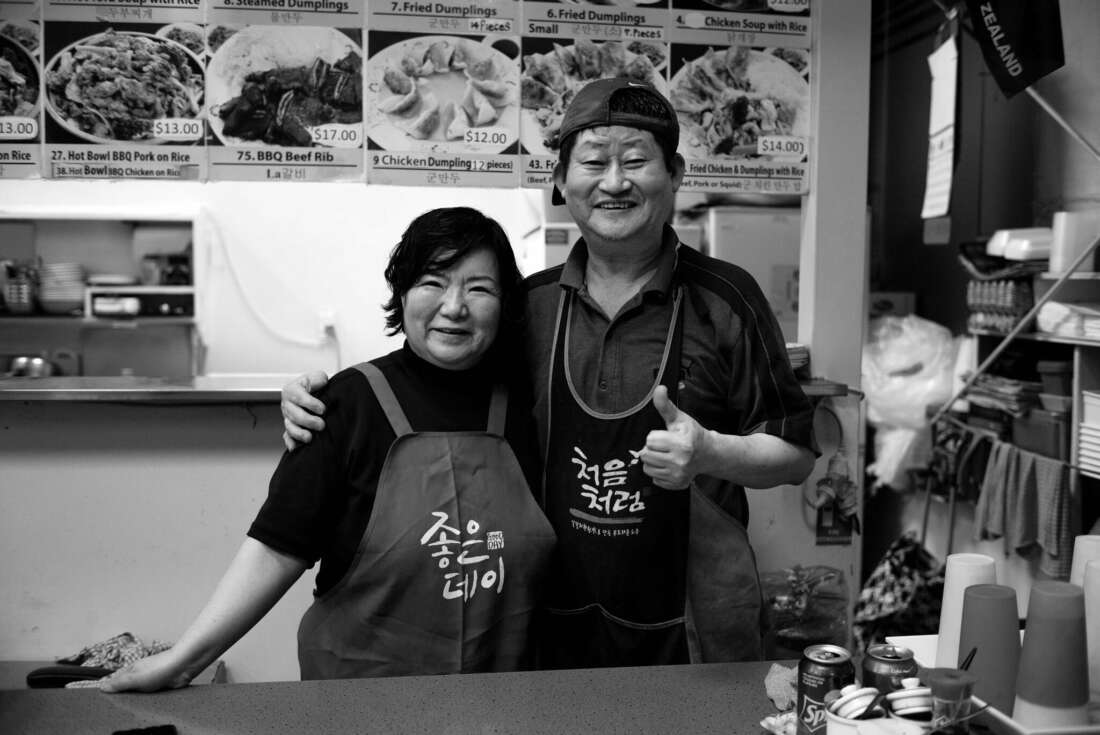 For this last meal, I order bibimbap from the couple that have owned Koreaunts. Kelly Xu and Arong Piao are hardworking, shy and reserved. Their lack of English hasn't stopped them from running their business. Kelly waves when my order is ready and as I go to pick up my tray, her flawless cheeks glow with warmth as she smiles and pushes a complementary side of fried dumplings towards me. Many of their regulars have also come to wish them well. It's taken weeks for them to finally agree to have their photo taken and this too is our last chance. They're not planning to open up a new store anytime soon. They're closing for good. We exchange hugs and handshakes and well-wishes.
It seems like everyone who has come to eat their last Mercs supper is also hoping for a photo, and the owners of Maruten Ramen are asking their customers if they can have pics taken with them for their Instagram wall.
I meet the new generation of ownership of the plaza, Jason Ng, Norman Ng's son, as he poses with the owner and chef of Ruang Thong Thai Cuisine. Ng is detached from the emotions we feel. Diplomatically he says "at long last there is some certainty for the shop owners, it's [closure has] been anticipated for a long time". He's happy that they have all been able to establish businesses in the plaza and people have come to support them in the final months.
When I return a few days after closing, the glass double doors at the Mercury Lane entrance are chained and it's the service guy for the arcade machines who lets me in for one last look. He's there to give them a once over before they too disappear. The shops are now empty shells bar a couple of old refrigerators with their doors ajar. In the corner of the Chinese Cuisine kitchen, there's a gaping hole where the three-piece roasting oven once stood and only the stainless steel benches and empty racking remain. The shelf where the brass pot for incense and the Kitchen God once resided now lies abandoned and bare. Pushed hard against the back of the shelf below is a red and gold calendar cover with the Chinese calligraphy symbol for Good Fortune. I hope this blessing follows them all.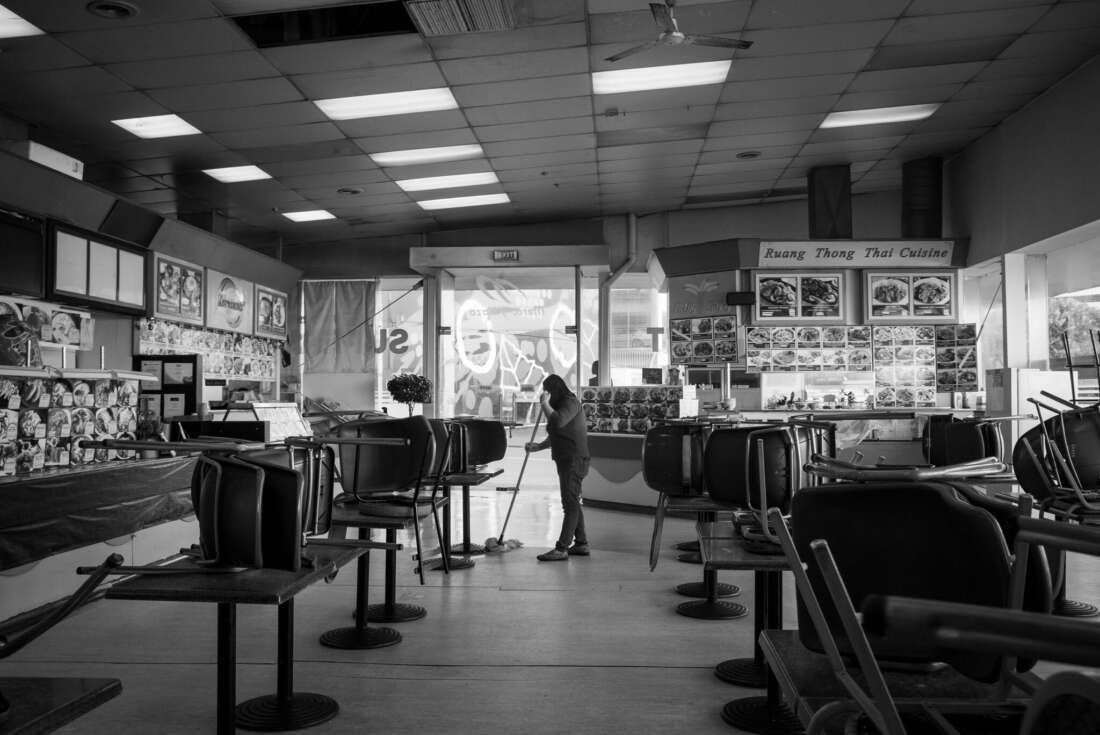 Where to find your fave Mercs food vendors:
Chinese Cuisine
Owners: Katie, Tony and Ming Chan
Facebook Chinese Cuisine Mercury Plaza
E-Sarn Wok Mission Bay
35 Tamaki Drive, Mission Bay
T 09 528 8999
Owners: Khwankruethai Thivonruk (Nancy) & Chris
Staff: Kate, Tong and Toon have all moved to Mission Bay
Maruten Ramen
New Address: 466 Dominion Road, Mt Eden
T 09 214 8504
Owner: Takeshi Mizuta
@marutenramen010 or FB page for opening hours.
New Gum Sarn, Importers and Exporters
151 Pilkington Road, Point England, Auckland 1072
T 09 302 2157
E info@newgumsarn.co.nz
newgumsarn.co.nz
Ruang Thong Thai
942 New North Road, Mt Albert
T 09 846 7374
Owner: Ophas Phetbamrung
ruangthongthai.co.nz
By Jennifer Yee Collinson