Category — Features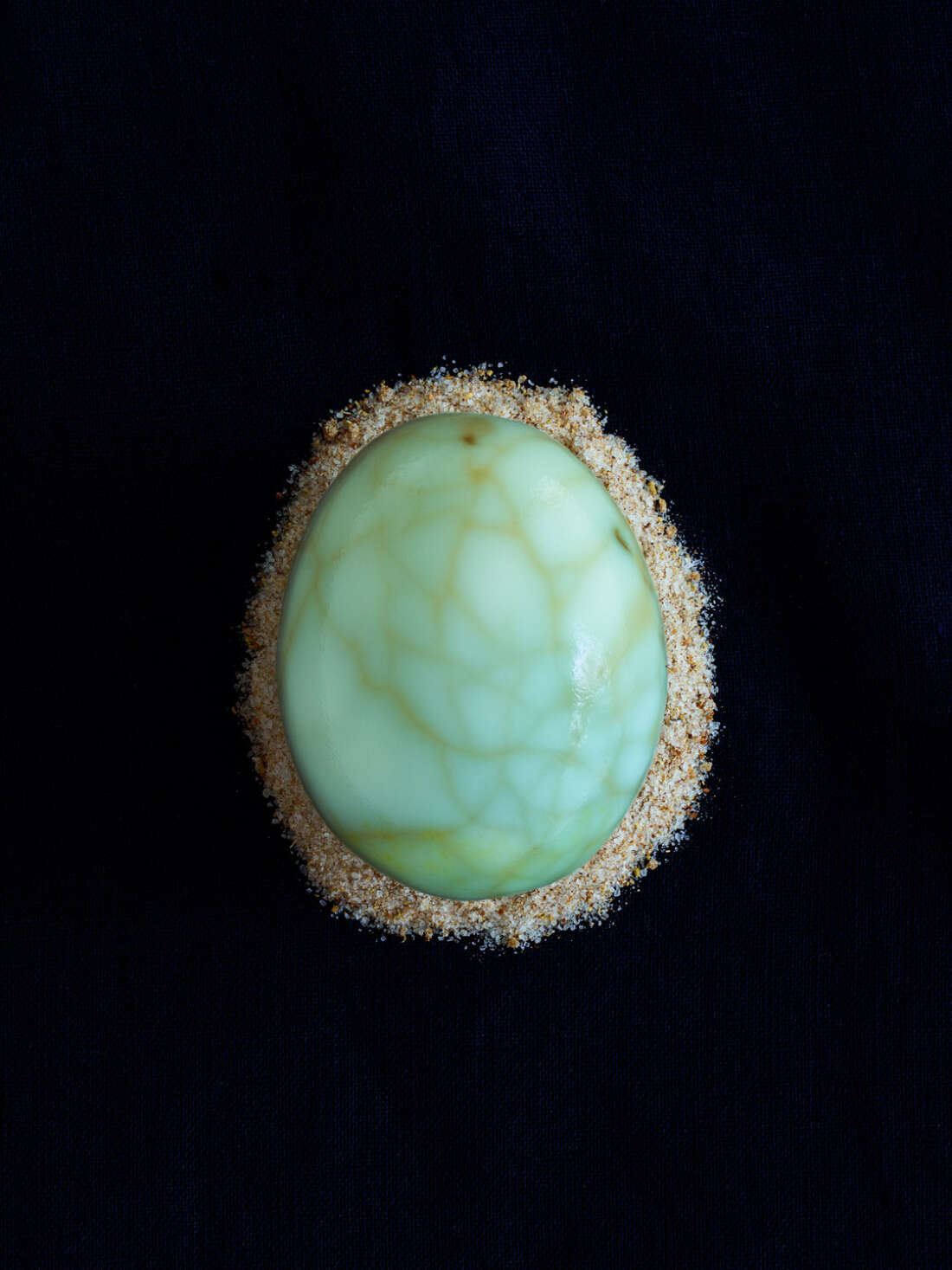 Chinoiserie Eggs
Eggs are Nutrient
Eggs are Fertility
Eggs are Cosmopolitan
Eggs are Existential.
A recipe for Chinoiserie Eggs
500ml water
1/3 cup butterfly-pea flower, Clitoria ternatea
3 tsp lapsang souchong
6 eggs
Bring water to boil in pot.
Add everything into the water and boil for 6 minutes.
Remove eggs from the water, crack shells all over and add back into the pot.
Boil for a further 2 minutes.
Pour everything into a container and cool to room temperature.
Once cool store in the fridge and leave for one to two days.
Peel shells before eating. Serve with five spice salt.
50g salt
10g sugar
6g five spice: water, fire, wood, metal, earth
Toast five spice in a dry pan.
Mix with salt and sugar.
This Egg is not Exotic
This Egg is not Fantasy
This Egg is not Asian
This Egg is Balanced.
By Ruby 嫦潔 White
雞蛋是營養物
雞蛋是生殖力的象徵
雞蛋是四海為家的
雞蛋是存在的。
青花茶葉蛋食譜
五百毫升水
三份一杯蓝蝴蝶,蝶豆
三茶匙熏茶
六隻雞蛋
將水放入鍋裡開滾。
把雞蛋和材料都放進鍋裡,滾約六分鐘。
然後把蛋拿出,將蛋殼敲出讓表面有裂痕但不脫落,放回鍋裡。
再滾約兩分鐘。
所有東西放進另一容器待涼。
然後放進雪櫃待一至兩天。
將蛋殼剝掉。跟五香粉一起食用。
五十克鹽
十克糖
六克五香粉:水,火,木,金属,土
將五香粉放入鍋裡燒香。
加鹽混合。
這蛋是有異國情調
這蛋是梦幻的
這蛋不是亞洲人
這蛋是剛好的。
Translation by Cammy Luk 陸穎芯
The Chinoiserie Eggs 青花茶葉蛋 are informed by elements of eastern medicine, food philosophy and gender identity. This egg is not culturally authentic but rather culturally aesthetic, steeped in Chinese tradition and collective histories.
They are muse on the classic tea egg, soaked in smoky lapsang souchong and stained blue from the alleged aphrodisiac, Clitoria ternatea, aka Asian Pigeonwings. A flower commonly used in South East Asian cuisine, it was "discovered" by a male colonial botanist, Georg Rumphius, of the Dutch East India Company. The Western name is due to its visual affinity to the *clit*.
The eggs were born from the larger installation Meridian, 經絡 (2019) I did as part of Nectar, a group show at Māngere Art Centre. Artists were instructed to select a Goddess, I settled on the patriarchal absurdity of the 'Domestic Goddess'.
Nectar shower at the Māngere Arts Centre, 7 December 2019 – 15 February 2020.
Photography: Aaron McLean