Category — Features
Say it with pasta
I'm not quite sure where my dad acquired his love of all things Italian. It could be because he grew up in a small town in Toronto where there was a large Italian immigrant population; or it could just be that he liked the idea of siestas, shared family meals and drinking wine with lunch every day. I'm assuming it's the latter.
I have happy, hazy memories of a long family holiday spent travelling the Italian coastline. Eating outside, wet and salty from the ocean, we shared mountainous plates of seafood spaghetti and laughed louder than anyone else. Clinking glasses every chance we got as we drank litres (and litres) of vino del casa until the sun started to lose its midday heat.
He still drinks wine with lunch every day and only a year ago was still baking a loaf of bread a few times a week. At 90 years old, it's understandable that he had become a little rusty on the tools. Shuffling from one side of the kitchen to the other, cursing while he searched for the spoons (which were always in the same place) and making a hell of a mess in the process.
Now that cooking for himself has become a bit of a chore, the role of preparing his meals belongs to us – my mum, my sister and I. Sometimes he craves homely, uncomplicated dishes he recalls from childhood during The Great Depression that resemble prison gruel: mince cooked in gravy and served with boiled potatoes and balls of dough stuffed with fish and poached in fish stock. But I never see his eyes shine brighter than when he's sitting in front of a bowl of pasta.
For me, there is peace to be found in making handmade pasta. It's laborious, but making something that takes time and effort is a great expression of love. Kneading and rolling the dough is a therapeutic process that keeps my hands busy and my mind quiet, and I find calm in standing over a bubbling pot of sauce as it fills the house with the scent of sizzling garlic and crushed tomatoes.
Some days, my dad eats in his robe and our meals are shared in complete silence. Others, he'll top up his wine, look up from his bowl and say, "Did I ever tell you about…" and I'll listen to stories I may have heard before as if he's telling them for the first time. On those days, we laugh and talk and clink glasses just like we are back in the Italian seaside – content and a little bit tipsy. And while he doesn't always have the words to express his gratitude, watching him enjoy a bowl of pasta with child-like gusto, his lips and shirt smattered with sauce, is the only thanks I need.
Handmade pasta with sauce semplice
Serves 4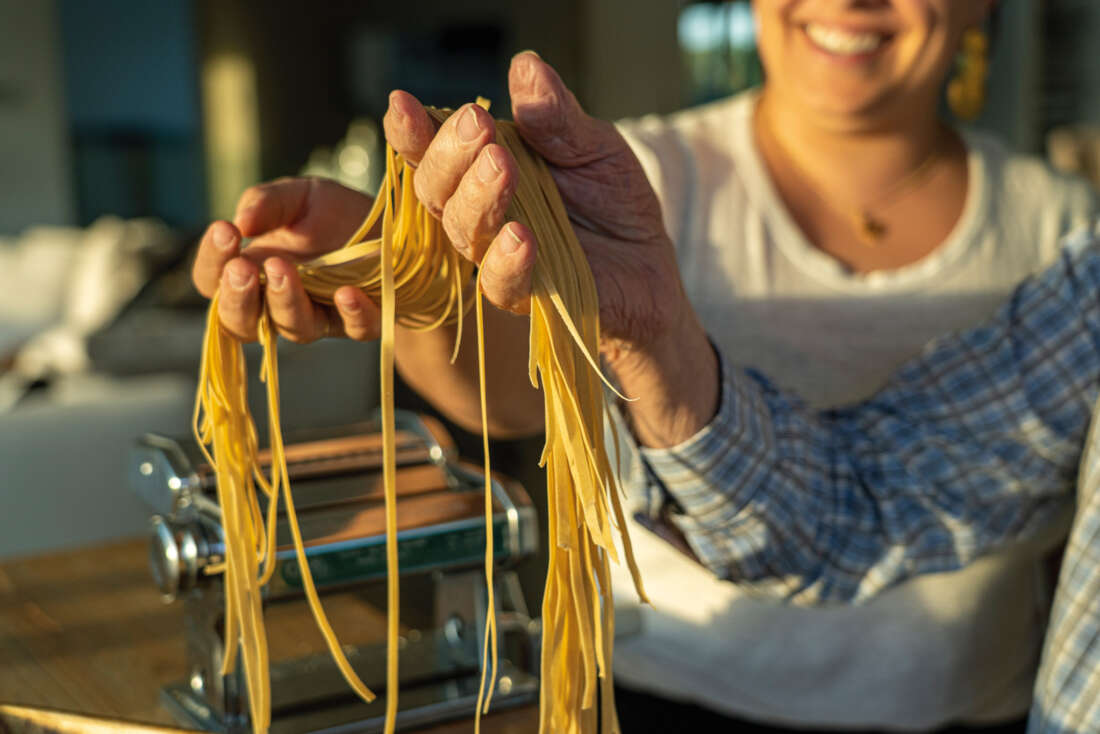 This three-ingredient pasta sauce is beautiful in its simplicity. It is best served with fresh, handmade pasta and enjoyed with wine and someone you love.
For the pasta
300 grams 00 flour
Pinch of salt
2 large eggs and 2 large egg yolks, always free range
1 tsp olive oil
1 tsp cold water
For the sauce
1 large onion, finely diced
2 cloves garlic, crushed
2 tins of good quality tinned tomatoes
100 grams of butter
Salt and pepper
To Serve
A handful of fresh basil
Ricotta cheese
Parmesan
Olive oil
To make the sauce
Melt half the butter in a frying pan on medium heat, then add the onion and garlic cook gently until translucent. Add both tins of tomatoes and crush with a wooden spoon. Season with salt and pepper, add the remaining butter and cook on a gentle simmer for about 45 minutes.
I like to blend the sauce with a stick blender when it is ready, but you can also leave it chunky if you prefer.
To make the pasta
Sieve the flour into a bowl and add the salt. Make a well in the centre, add the eggs (no need to whisk them beforehand), oil and water. Mix into a dough with your hand. The pasta should just come together but shouldn't stick to your hands. If it does, add a little more flour (if it is too dry, add a little extra egg white). Stretch and knead for 10 minutes until it becomes smooth, silky and elastic. This should be hard work – the drier the pasta, the better it is when cooked. After kneading, wrap in cling film and rest in the fridge for 20 minutes.
Divide the dough into quarters, keeping the remaining dough you are not working with covered. Flatten one piece of dough, then roll through the pasta machine's widest setting twice, continue rolling the dough through each of the machine's settings twice, until you have a very thin sheet that you are able to read the print on a newspaper through. Hang to dry or lay between tea towels. Repeat with the remaining dough.
Allow the pasta to dry for 30 minutes until it feels dry to the touch. You can hang it over coat hangers or on a clothes horse. Roll each sheet into a flat roll and cut into whatever thickness you desire. Unfold the strands by letting it run through your fingers. Use immediately or allow to dry on a lightly floured tray. You can also use the pasta machine to cut the pasta.
Bring a large pot of water to the boil and salt liberally. Cook the pasta for 1 to 2 minutes depending on thickness. Drain (reserving at least a cup of the pasta water) and toss immediately in pasta sauce. Use the reserved pasta water to loosen the sauce if necessary.
Transfer to a hot serving dish. Dollop with a few blobs of ricotta, shower with Parmesan, drizzle with olive oil and scatter with fresh basil leaves.
Photography: Malcolm Campbell