Category — Features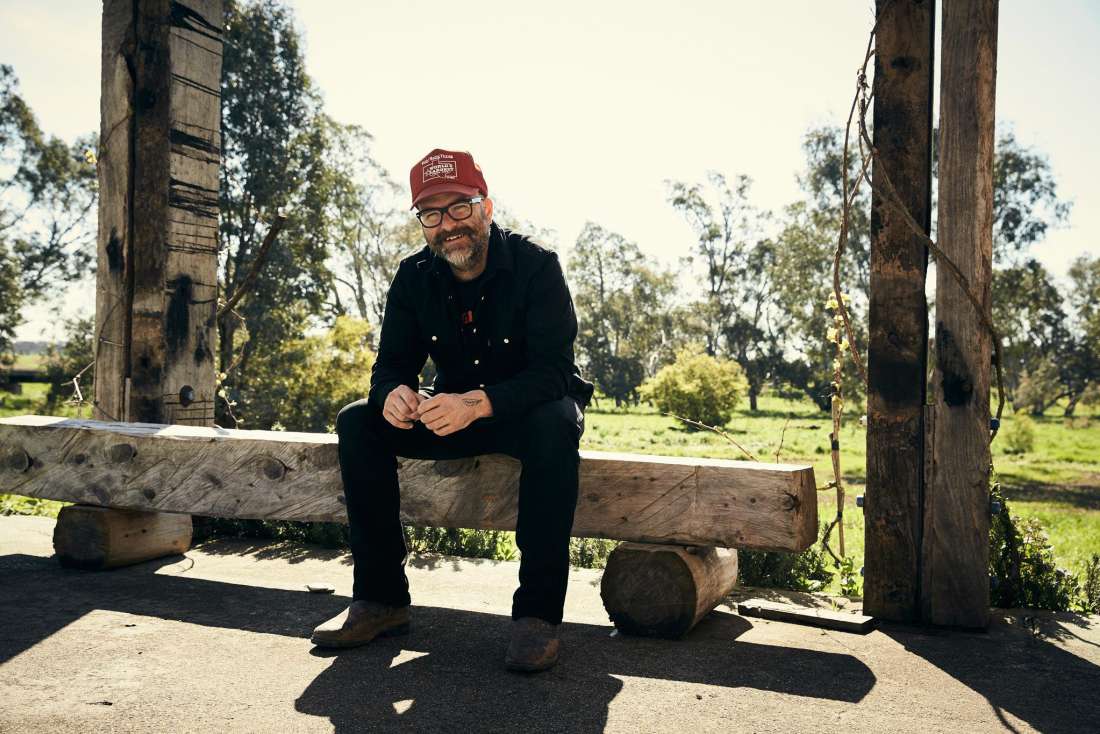 Rohan Anderson – Life of an Ethical Omnivore
Over the past eight years, Rohan Anderson has been on a food journey that he's documented on his website Whole Larder Love. Hailing from Victoria, Australia, Rohan has shared his stories, often in brutally honest fashion, and been a true champion of real food; food that has been grown, raised and hunted on the land.
Along the way he has written two cookbooks, Whole Larder Love (Penguin Random House) and A Year of Practiculture (Hardie Grant), contributed to The Guardian, and is currently working on his first novel, along with a variety of other projects.
So how did Whole Larder Love come about?
It was when I bought a little miner's cottage in a regional city called Ballarat. I kind of wanted to create a lifestyle that I wanted to live on a country property, but I wanted to create that in an urban environment. So I renovated the house but I also jackhammered up all the concrete and started growing all this food in the backyard, to kind of create this oasis-getaway place in the city and replicate my dream of living simply, living off the land, that type of stuff. It was a big life experiment of growing food and just seeing what happened. Then it just kind of led to a whole lot of other things. Initially when I started growing tomatoes and zucchinis in the backyard I was still eating factory farm chicken, chicken nuggets and frozen chips and that type of food. Little did I know that growing veges in my backyard would take me down this whole path of wanting to know more about where my food came from, and what impact my food has on many different levels, whether it be ethical, nutritional or any of those types of things. I really had no ambitions to do anything other than to grow some food in my backyard, and that just led me down this rabbit warren of learning a whole lot of stuff that I was complete naïvely about, and I've ended up being quite passionate about it.
Was there a catalyst that sparked you into changing your lifestyle?
There were many, actually. I was pretty miserable in my relationship. I didn't like my job; I didn't find much fulfilment in it. My kids came along and I was pretty unhealthy. So I wanted to eat better food. A couple years before that I had been on a trip to regional Italy for six weeks and had seen how important food culture was in Europe, and I wanted to integrate that into my life. So there were loads of catalysts; being overworked, being unhealthy and wanting to be a healthier dad, and wanting to slow down. I wanted to have a peaceful oasis in my backyard. When I got home from work I'd crack open a beer, water my vege garden in summer and just be at peace.
Did you have any background in writing prior to starting the blog?
No, no background in writing. In fact, I couldn't even spell properly. I kind of credit blogging for teaching me how to write and in learning grammar and spelling. I think that's the beauty of blogging, the whole process kind of forced me to make improvements. Then when a publishing company said "can you write us a book?", I suddenly became an author and I thought I should probably pick up my act a little bit. So I ended up putting a lot more effort into learning how to write a little bit better.
I just love communicating a message, sharing good stories, and sharing the human element behind the stuff that's going on in my mind.
Why do you think it's important to communicate where food comes from?
The really frustrating reality is that we're not really, in Western culture, ready for a massive change. And whatever change happens, it's going to be very slow. The amount of foodies that I come in contact with that will talk about an amazing chicken or pork dish that they had at a restaurant, which was factory farmed. That's great, and that's one thing that we should celebrate and be excited about – the taste, the texture, the aromatics – but we should also be considering what the environmental impact is, and what the ethical realities of that food are. Once we get all those things right then we can celebrate food on multiple levels. For example, a lot of people talk about Italian prosciutto as this amazing thing. But a lot of Italian prosciutto comes from pork factory farmed in Denmark, whereas the Spanish jamón is mostly free range. And that's a good analogy to talk about, the fact that both taste amazing but one has ethical standards and one doesn't.
Who do you look to for inspiration in the food world who communicate in a similar way?
Certain people do certain things really well. So Anna Jones, who is a great chef from the UK, is completely vegetarian but writes amazing cookbooks that don't say they're vegetarian, they say they're just food. I love that about Anna Jones, because I might cook something that might meet all the parameters of being vegan or paleo, for example, but I wouldn't call it a paleo dish or a vegan dish, I'd just call it food. And that's what I love about Anna Jones, she's breaking down those barriers. From a foodie point of view, I love Ottolenghi's food. I love a lot of Middle Eastern food. Having Mediterranean heritage, I've been very interested in discovering that type of food. And as much as this annoys people, I actually really do admire Jamie Oliver. Twenty odd years ago he was the one that started me cooking. He gets people cooking and excited about food. I can't actually watch any of his TV shows because he says 'pukka' too much. But he convinces people that cooking food is so simple and you can get delicious results from it, and I think that's really admirable.
How has your relationship to food changed over time?
I guess I was fortunate growing up on a beef cattle farm, where each year at calving time we would have new cows that we would call 'T-bone' and 'chuck steak'. So I knew where meat came from… I was also very fortunate that my mum was a keen vege gardener and so I helped her plant veges and grow fruit trees. One of the most significant things for me though was when my mum gave me a fishing rod and taught me how to put a worm on the end of a hook. I literally got hooked on fishing trout! And when I'd catch a fish I'd have to dispatch it, so in grade six I was donking fish over the head. So I guess pretty much all of my life I've had an understanding that a lot of the food that I eat, I've seen it roam, I've seen it been raised, or I've killed it and it's come from nature. So those basic fundamentals of where our food comes from were ingrained in me from a very young age.
When I started on this Whole Larder Love journey, I guess I wanted to revisit that lifestyle I had as a child. In wanting to revisit that idealistic lifestyle, I had to reteach myself and come to terms with everything as a fully grown adult. That has completely changed my perspective of where food comes from. It also made me realise that most people haven't had these experiences. If you've never held a chicken and broken its neck, then you can quite easily go to Subway or KFC and buy chicken products without a second thought. You become so distant from the reality of the fact that an animal has been killed for that meat that you'll just eat as much meat as you like. That's one of the things I've been trying to promote, the idea that at least once in your life, if you're going to be a meat eater, then maybe you should have a hand in killing something to see if you like the experience, because if you don't like it then you should probably stop outsourcing it to someone who will do it for you. That's the great irony of being an ethical omnivore: just because you eat animals doesn't mean you don't care about them, it just means that you've realised the realities of the process.
Grilled zucchini and fennel.
How exciting is it when the first zucchini appear in summer? I always get too excited and start cooking with them when they're obviously prepubescent in size. It's almost like I'm doing my best to encourage summer to really take hold.
In my garden fennel grows like mad, as does rocket. This salad makes good use of easy-to-grow food and it actually tastes good. It's fresh and full of flavour. The jamón is totally unnecessary but so were flares and bell bottoms, but everyone loved them!
You can toast the sesame seeds; you can use nuts if you like, almonds work really well. I always run out of time and forget to toast the seeds – you may be better organised. But either way, it's another simple meal made from food I can grow in the backyard. Zucchini, fennel, rocket, garlic all come from my patch. I cure my own jamón and pancetta and, well, you could call my pork leg a prosciutto if you like. It won't change the level of deliciousness.
What you need:
2 medium zucchini
3 garlic cloves
olive oil
4 thick-cut rashers of jamón cut into chunks (or use prosciutto or pancetta)
1 cup cooked couscous
handful of fennel fronds, chopped
handful of fresh garden rocket
balsamic vinegar
marinated goat's feta
1 tablespoon sesame seeds.
How to make it:
Slice the zucchini lengthwise to make long strips for grilling. Put the sliced zucchini in a large bowl, add a pinch of salt and toss through. Leave the zucchini in the salt for an hour (this will reduce the moisture content of the zucchini and make it grill better).
While the zucchini is draining, mash the garlic cloves using a mortar and pestle until a paste forms. Add a generous glug of olive oil and mix with the garlic.
After the zucchini has been draining in the salt for an hour, pour over the garlic-infused olive oil and toss well to ensure an even coating.
Heat a griddle pan and grill the zucchini evenly on both sides. When cooked, transfer to a large mixing bowl.
In a frying pan, heat a glug of olive oil and lightly fry the jamón until it is slightly crispy. Remove and rest on paper towel to remove excess oil.
Add the fried jamón, couscous, fennel fronds and rocket to the zucchini with a glug of olive oil and a splash of balsamic vinegar. Toss well.
Serve with a generous few spoons of melty soft marinated goat's feta and a sprinkle of sesame seeds.
By Marty Jones.