Category — Features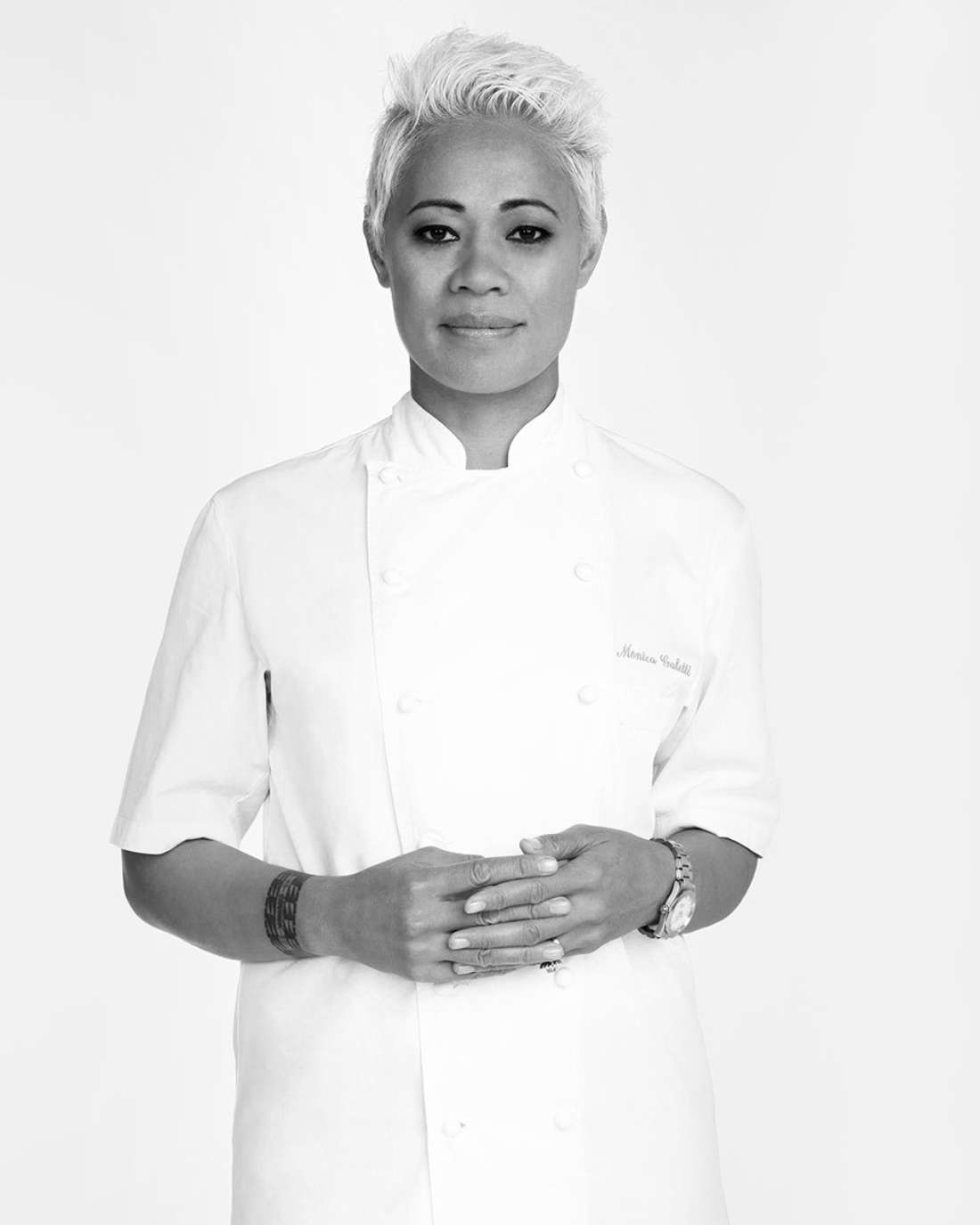 Monica Galetti – MERE
The first impression of MERE restaurant is one of precision. It is a space that precipitates the idea of a journey; each moment, area, movement through the restaurant is carefully thought through.
It is hard not to project an idea of travel and infusions of identity on to MERE, as chef and co-owner Monica Galetti traces her roots from Samoa and New Zealand, through to French classical cooking in Michelin-starred restaurants and a London base. Although not well-known back home in New Zealand, for many years Monica worked as senior sous chef for Michel Roux Jr at the two-Michelin-starred Le Gavroche, and became a household name in the UK when she appeared alongside him on MasterChef. She now hosts her own food and travel shows. All of these identities are hinted at throughout the restaurant.
Because of her successful TV career, the story of Monica's background is present in a public sphere in a way that might not be so prominent for other chefs, and the idea of professional and personal is also delicately balanced throughout MERE.
Monica captures so truly what it means to be both a Londoner and a New Zealander, seemingly opposite identities. But both places are made of people who travel, come from elsewhere, create spaces of belonging; those who dream, work and succeed. When we travel and move through spaces and create home as we go, we pick up pieces of places, store them in our pockets and add them to our story. This weaving of home, of finesse, of travel and journeys is what makes MERE a restaurant to truly enjoy.
It starts with the heavy door at 74 Charlotte Street, London.
"I've always been enamoured with these big doors [at] restaurants, it's something about the mystery behind these doors and into another world."
Monica wants people to walk through the doors and forget everything that is on the outside, and the weight of the doors is part of that. Her aim is for you to push through, to be able to unwind "and chill" in the bar, and then let her staff spoil you for a few hours with food and wine. The essence of hospitality, to ensure that you are well looked after in her home-away-from-home.
In the bar, golden pieces of artwork hang on the walls, giving a textured vibrancy. It was the artist, Warren Kerley, who interested Monica; how he worked and where he got his inspiration. The pieces that have come out of their collaboration centre on her favourite drink, champagne. Using the hundreds of champagne caps that Monica collected from her champagne maker, the piece gives an impression of looking down at a glass of champagne, as the bubbles rise to the top.
If the start of the journey feels very European and 'now', with champagne art on the walls of the bar, then the heart of the restaurant gives you an idea of beginnings. The dining room has two pieces of art by Monica's cousin, Solomon Daniel, each telling a different story. One features three large triangles that represent Monica, her mother and father. The other is Monica, her husband David and their daughter Anais. Within each triangle is a story told in Samoan tribal patterns; one depicts a kava cup pouring into a kava bowl, overflowing into a canoe to symbolise the passing and sharing of knowledge. There is also a Samoan tapa cloth across the wall, the geometric patterns echoing the ordered space and the texture of the cloth softening the room and matching the grains of wood on the wine boxes that line the courtyard walls. (The wine boxes come from the Monicas' cellar).
The art and design feel like a conversation between space and person, and this idea of conversation expands beyond the physical. It's important to note that this is a joint venture between Monica and her sommelier husband, David, and the synergy between front of house and the kitchen is paramount in the restaurant's ethos. Monica explains that the food is a story of who she is, but how head sommelier Sandra Bein interprets the menu, to create the wine list, is equally as important in the process of creating a fully rounded restaurant. It is a matter of harmony for Monica. MERE is an expression of what home can mean, and home is about the people.
The menu development is a process that can start with Monica knowing she wants to use a certain ingredient (based on seasonal availability) and the team develop and work in conversation around the idea. It takes two months for the dishes to be finalised, therefore they have a month off, embedding a menu before starting the development process all over again for the next season.
Menus read like imprints of a personal journey. For a Kiwi who is used to the heavy influence of Asian and European flavour profiles in food, there is a familiarity to the menu, but the ingredients and pairing of techniques are fun and surprising and tells so clearly of Monica's classic French training, her London home and European travels. Ox tongue with a brined cabbage, pickled celeriac, kohlrabi and a traditional French mayonnaise-style egg sauce gribiche dressing speaks of a mouthful of flavour balancing sharp and salty, and the silky comfort of egg mayonnaise. Tortellini with wild mushroom and marmite is nothing short of an umami explosion that feels equally anchored in Asia and New Zealand. Black curry (traditionally a Sri Lanka curry) is a dish Galetti's mother used to make and it finds its way on to the menus in different guises.
With an understanding of harmony comes the balance of being a public figure and a chef. The kitchen is not an open kitchen; because of Galetti's public profile it's important for her to have a space that is separate and private. If everything is going smoothly and service has quietened down, she will come out to the dining room and see how guests are doing (which she does see as being important) but most often, it's a busy restaurant and she doesn't have time to leave her work spot. This is a clear demonstration of an attitude around getting the work done, of being extremely focused. There is no misunderstanding that this is a restaurant that serves the guest, and that the guest is to get the best that the restaurant can offer.
Over Easter weekend Monica was very concerned that the plants outside the restaurant would die, but struggled to find a gardener. Therefore, hoodie-clad and armed with gardening tools, Monica Galetti tended to her plants on the Charlotte Street pavement. She forgot that she was a 'famous face' (and she was, naturally, recognised) because she saw a job that needed to be done. With this story she does admit that she is learning her own sense of balance, to be more patient, but that it will take a while as she likes to know everything, from what's in the bar fridges to the state of the outdoor pot plants.
And so, even the small details outside those heavy doors are important, to hint to a space, allude to the place that weaves ideas of home with refined excellence to provide the guest a few hours of simple enjoyment and escape.