Category — Features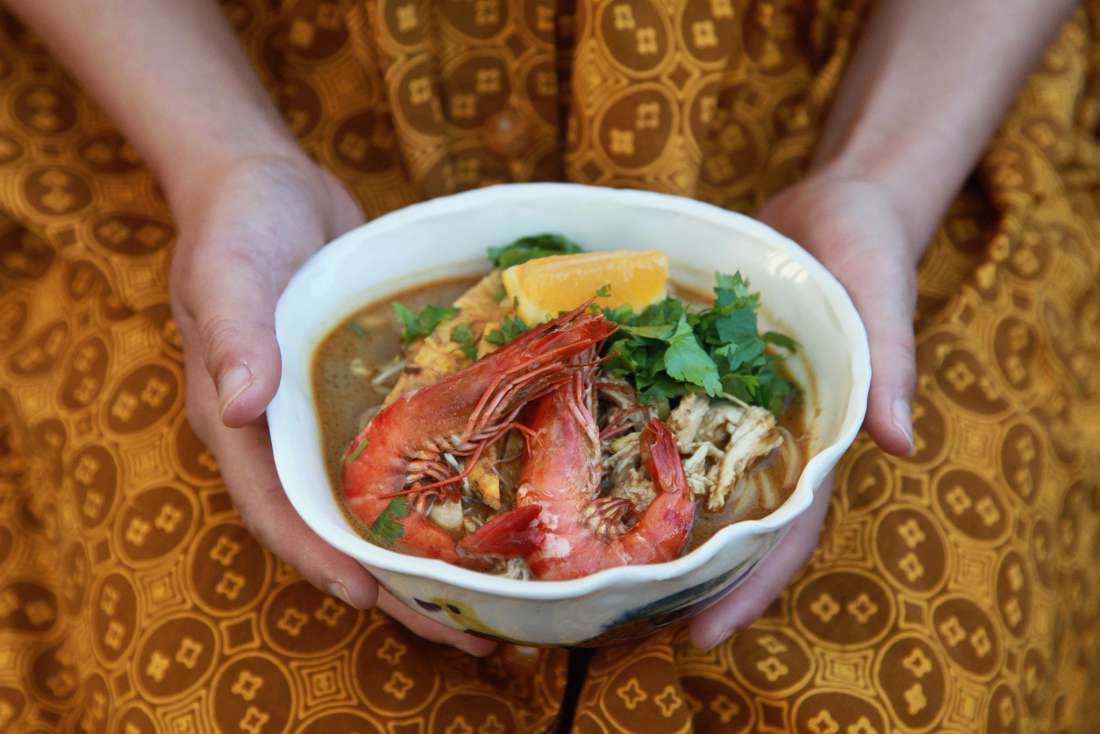 Miss Changy's Sarawak Laksa
A brief rant on laziness, loss and The Man.
Sarawak laksa is one of my favourite Malaysian foods. It's only found in Kuching, Borneo. People travel to this place just to eat it. But the strangest thing is, nobody actually knows how to make it any more. Not even the old aunties. Not even the old aunties' aunties… If you Google "Sarawak laksa recipe" you'll find nothing authentic. Trust me, I've trawled.
What exists in Sarawak are instant packet pastes produced by a handful of family-run corporations. NCL Golden Tribe, one of the leading manufacturers of the pastes, claims that they supply 60 per cent of local restaurants and hawker stalls! That's crazy, right?
How did the monopolisation, if not theft, of an entire culture's national dish happen? Was it purely due to a socialised complacency and need to outsource laborious work? Is Sarawak laksa a prophecy, foretelling the collapse of cooking in our modern world?
To an extent, Sarawak laksa is akin to McDonald's Big Mac… a multi-billion-dollar corporation that has become one of America's most globally recognised cultural icons of the 21st century. Food, culture and humans have all become separate entities. Simply by association and consumption are we linked, rather than through any meaningful engagement with the creation process. A lot of us don't really know where our food comes from anymore; and for some people, their home-cooked "satisfaction" simply comes from watching MasterChef.
I have some grandiose ideas in my head about sharing this laksa recipe with you all. A tiny Miss Changy shaking her fists at the capitalist structures that are accountable for such a crime. Who robbed a culture, yet commodified its legacy. This is my attempt at recreating a dish from my mother's homeland. It's still going through an evolution, and it will probably continue to change. But here it is, in its 2016 spicy-as-funk glory.
This recipe feeds about 10 people and all the ingredients can be found at Asian supermarkets. My go-to in Auckland is Tai Ping on Dominion Road. I have used curry powder in the paste… a lot of people are quick to say that what differentiates Sarawak laksa from other laksas is that it doesn't use curry powder. But I wouldn't put it past any business-savvy person to lie about a key ingredient.
Sarawak Laksa
For the paste:
1/4 cup white sesame seeds
pinch of fennel seeds
25g ground coriander
1 teaspoon ground nutmeg
pinch of clove powder
Toast all of the above in a dry pan until fragrant.
small handful (5g) dried whole chilli, soaked in a splash of boiling water
1 teaspoon white peppercorns
15g candlenuts
¾ teaspoon curry powder
100g onion, roughly chopped (about 1 large onion or 5 shallots)
20g garlic – 6-7 whole cloves
15g ginger, sliced (about half a lady's thumb)
30g galangal, sliced (double the size of the ginger)
10g fresh or frozen red chillies
20g lemongrass
5g belacan (THE FUNK. Glad-wrap, triple zip-lock bag, box up, refrigerate once opened. Probably the most important ingredient of the paste – it will change the flavour profile dramatically. DO NOT omit this plz.)
Blend everything above into a paste.
Heat 150ml of oil in a wok and fry the paste over a low heat for about 20 minutes, making sure it doesn't burn.
After 20 minutes, add to the wok:
50g tamarind, soaked in a small bowl of boiling water (just enough to cover)
3 heaped teaspoons salt
¼ circle palm sugar
Continue cooking over a low heat for about another 30 minutes until the paste is starting to really brown up.
For the stock:
1 whole chicken
1kg of prawns (shells and heads intact) – 3-4 prawns per person type thing
500ml coconut cream (an extra can spare won't hurt, just in case you want to adjust the flavour and or spiciness. You can use coconut milk but the cream gives a fuller body and smooth mouthfeel)
Poach the chicken in 2 litres water for about an hour, until fully cooked. Reserve the poaching liquid. Remove all the meat from the chicken, shredding it up as you go, and set to one side.
While the chicken is poaching, preheat the oven to 180C. Remove the prawn shells and heads and devein the bodies. Discard the poo shoots, hold on to the heads and shells.
Once you've separated the meat from the chicken bones, roast the bones and the prawn shells/heads in the oven until starting to brown up – about 45 minutes. Add these roasted bones and shells back into the reserved poaching liquid and continue to cook for another 45 minutes. The longer they infuse, the better the flavour.
Strain the stock, discard the bones and shells. Return the stock to the heat and add in the paste. Leave to simmer for another 45 minutes. Strain the stock again, return to the heat and add in the coconut cream. Season to taste. Go heavy on the salt as you will need the extra hit once all the noodles and toppings are in. If it's too sour, add a bit more sugar; if it's not sour enough, squeeze in a lemon.
To serve:

5 eggs (half egg per person, adjust accordingly)
reserved prawn meat
bean sprouts, lightly blanched in the soup
rice vermicelli noodles, soaked in hot water (1 packet will feed about 8 people)
shredded chicken*
coriander, roughly chopped*
lemon or lime wedges*
Whisk up the eggs with a few pinches of salt and cook in batches in a pan to make thin egg omelettes. Once cooked, slice into 5mm strips (or whatever thickness you like, really).
Poach the prawns in the laksa soup until cooked.
To serve, portion out the noodles, add the bean sprouts, pile in the chicken, egg and prawns and ladle the boiling soup over. Garnish with coriander and citrus wedges on the side. Eat immediately!
*Traditionally chicken breast is used. You could just by bones and meat separately if you prefer. Baby coriander fronds are a more traditional garnish as well, if you can get your hands on some. Kumquats are the citrus garnish that's used in Malaysia… if you have access to these, then use them. They have a wonderful flavour.
PS I have attempted a vegetarian option in the past but it's really, really tame. The meat and seafood provide a layer of flavour that can't be replicated by mushrooms, seaweed or Vegemite. But if you uncover something brilliant, I'd love to hear about it.
See what I'm up to on Instagram @misschangy