Category — Hospitality/Dining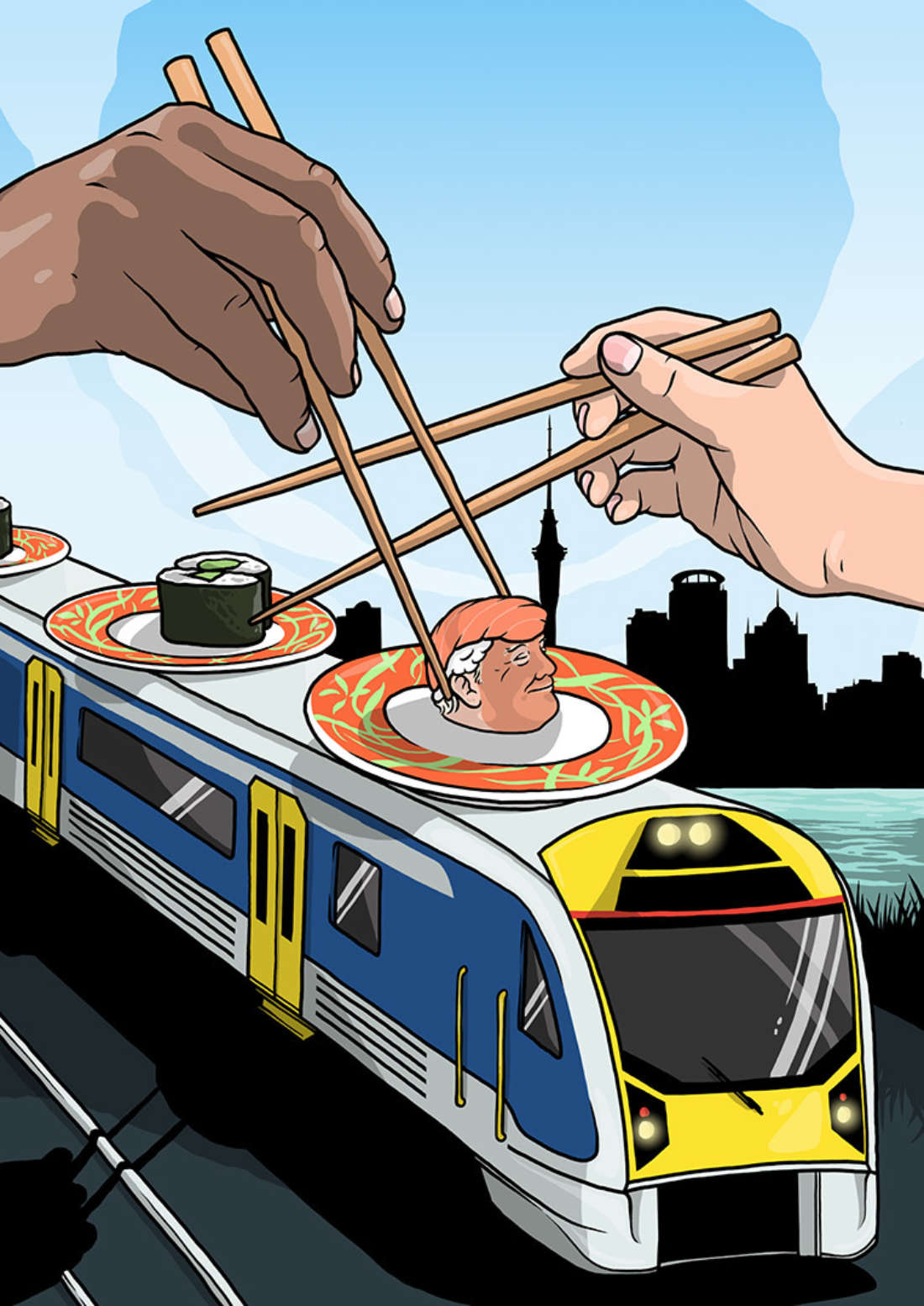 Get on the train Auckland
Had enough of traffic? Sick of Ponsonby? Feel terrible about using Uber? Want to have more than two drinks with your dinner?
In larger, perhaps better planned cities, proximity to public transport is often something one considers when deciding where to live, but what about restaurants and bars? Could it matter how close they are to a train station, ferry terminal or bus stop?
With more and more fun and interesting places to eat and drink continuing to pop up city wide, and Aucklanders enthusiastically embracing our constantly evolving food culture, there is a case for exploring Auckland proper, beyond the usual city and city fringe haunts.
Although our public transport system doesn't compare to Tokyo or London, it's much better than many of us realise, so let's ditch the car and go on a bit of an adventure to get something good to eat – enjoy a drink or two without worrying about who's driving, what the traffic is doing or whether or not that pesky surge is surging.

Bunga Raya
2a/3062 Great North Rd, New Lynn
09 827 8666
BYO

Auckland is lucky to have a handful of great, reasonably-priced Malaysian restaurants. One of the best is in the heart of New Lynn, only a hundred or so metres from the train station – and it's been there for years. Like many of our city's best and most authentic Asian restaurants, it is simply decorated with an emphasis on function over aesthetics. There are the big round tables you'd expect, full of families, but also two and four tops for smaller groups.

I took Viv Teo, founder of Breakbread, who with a Chinese-Malay father knows her way around these menus. The lunch offering is relatively short, priced between $13 – $17, and is geared toward eating alone; it features all the usual suspects like Hainanese chicken rice, nasi lemak (coconut rice served with various sides such as boiled egg, dried anchovies, peanuts and curry) and beef rendang. For dinner, things get more serious, it's family style and designed for sharing so ideally you've got a bit of a crew, because you'll want to try as many things as you can; whole chickens, ducks and a fish head curry can be ordered in advance.

We were very boring with our order, going for char kway teow, beef rendang and roti – options we decided would give a good indication of what the rest of the menu was like. And let's face it, who can resist the smoky complexity of wok fried flat noodles or fresh and flaky roti dipped into a richly aromatic rendang.

The food came so swiftly we'd barely had a chance to pour the fresh pot of jasmine tea that was plonked down immediately on arrival. It was all on point. The noodles were so elastic they were verging on rubbery, making each bite want another, in the same way fresh pasta does. According to Viv the aim is to get a glossy sheen on the noodles, and to "taste the wok". Bunga Raya nailed it, the char kway teow here could easily come from a hawker stall in Kuala Lumpur or Singapore

The rendang was delicious with plenty of kaffir lime, it's served with slightly green coconut rice which you'll smell immediately, and an onion and tomato sambal which I found a bit heavy on the shrimp paste. The roti looked slightly overdone and a lot dryer than those I'd had elsewhere, but it was super tasty – slightly burnt, a bit like a good wood fired pizza.

It's family run, which means the service is familiar and friendly – it's loud and cheery and all the punters seem really happy.

Sake Bar Icco
601 New North Rd, Morningside
09 849 7268
Licensed

This cosy little restaurant in an unassuming set of shops on New North Rd does authentic Japanese. A step up from your regular sushi spots, come here for quality without the price tag or pretense of Auckland's most acclaimed Japanese restaurants.

The lunch menu offers serious value, featuring rice bowls and what they call "choice & choice" a bento of sorts, where you choose two mains from options like sashimi and karaage chicken for only $18.

For dinner things are more expensive (around $30 to $50 per person) and it's best to book as it's not huge and quite popular. Sit up at the counter if you're alone or want to watch the chefs slicing and dicing. The fresh fish offering on the night was King Salmon, Snapper, Kingfish, Tarakihi and Yellow Fin Tuna – we really are blessed here in New Zealand. The sushi, sashimi and nigiri are bang on, they're really the main reason you'd make the trip. Their miso is rich and quite hearty, ideal for winter, with no shortage of bits to chew on at the bottom.

The rest of the menu is fairly traditional with noodles, tempura and mains like Wakanui beef; miso King Salmon and teriyaki tofu. For us the beef was the standout; the grain finished piece of scotch was cooked just past medium rare which gave it a nice bit of texture and allowed the fat to melt through. Served with cauliflower, beetroot crisps and a soy reduction, it was the most interesting thing we tried, with a nice balance of texture and acidity.

As the name suggests they do sake, but also wine, and beer from Grey Lynn's Funk Estate. The staff are cheerful and obliging, they squeezed four of us in when we'd only booked for two on a Saturday night. If you do make the trip, check out the newly opened brewery Urbanaut just up the road, or Flight 605 two doors down.

Barcelona Kingsland
484 New North Rd, Kingsland
09 815 8057
Licensed

A slightly more upmarket offering in an area that has typically been geared towards those after something cheap, cheerful and often BYO. It is set up in a similar fashion to a Spanish tapas bar, with a long counter down one side, half for food preparation, the other for drinks, and a long banquet down the other.

If this was Barcelona on a Thursday night, it would be full, noisy and everyone would be standing. Kiwis don't have quite the same approach to eating and drinking out as the Spanish, so what the website suggests is a bar is rather what we know as a restaurant, where people are seated and waited on.

All the staff are Spanish – bar a Colombian chef – which is refreshing, the service is friendly and quick. The menu is half tapas, half platillos (small plates) and alongside the mostly Spanish music (minus the Cody Chesnut) the place feels genuine.

Iberico Ham cut to order with tomato bread "the best friend of the jamon" is a must. The Barcelona style seafood paella was different to any we'd had before, without chorizo or prawns. Instead there's whole baby octopus, calamari and fresh fish. The wine list is short and an almost entirely Spanish affair with plenty on offer by the glass. If you like Sav or Pinot Gris try the Albariño, or the Mencia if lighter reds are more your thing.

Bird on a Wire Orakei
234 Orakei Road, Remuera
09 320 0134
Licensed

In a restored garden shed, under the cloak of a prolific ficus creeper, Bird on a Wire now have a foot in the Eastern Suburbs. The interior fit out features plenty of timber and a natural palette of green and olive, creating an atmosphere to match their free-range offering. Extending the building with a 40-seater, north-west facing deck will likely prove to be a great shout come spring when there's sure to be good vibes only.

The food offering doesn't need much introduction, they've been around five years now and have three stores, but the menu has expanded since the early days. Favourites like the Korean BBQ and Bánh mì baguettes remain, while specials which change according to season ensure there's something for everyone and regulars are kept happy.

These guys don't cut corners, they use quality ingredients and all their sauces and dressings are made in house, impressive considering the price tag ($10 to $20) isn't too far off a feed at Maccas. It's healthier too – the organic tofu in sesame, ginger and chili is a nice alternative to pulled chicken if you're having salad, which is what they're most famous for.

You'll find a rotating selection of six fresh seasonal salads in the cabinet at Bird, which always include a slaw, green and potato option. They're packed with flavour, with plenty of herbs, seeds, nuts and other tasty bits. If you're not feeling so healthy, hit their buttermilk fried chicken, it's certainly a step up. They do breakfast and good coffee too if a morning outing is more your thing.

A short, but well curated drinks list ticks most boxes. They've got Batchwell Kombucha on tap, beers from Garage Project and a nice selection of boutique New Zealand wines.

It gets pretty packed on weekends, especially when the sun's out, but the table service is slick so you won't wait long. It's literally right beside the Orakei train station, an eight minute ride from Britomart, so it's pretty handy if you live or work in town.

Beijing Duck
38 Queens Rd, Panmure
09 527 8862
BYO

This unassuming, low-key spot on Queens Rd, Panmure has been around for 12 years. As the name suggests they serve duck, known to most as Peking duck (Peking was the name given to Beijing by French missionaries a couple hundred centuries back). The ducks, which must be ordered in advance, are cooked for only 45 minutes and carved at your table. To watch a chef from Beijing, complete with a towering white chef's hat, take apart these birds with the utmost precision and create this famous Chinese Imperial dish, is reason enough to go.

The chef carves the meat – mostly from the breasts – off in small pieces, leaving the perfect amount of crunchy skin attached. Only the best bits make the grade with the rest added to a pile that is later joined by the juicy, less uniform pieces dragged from closer to the bone. The first course is served with pancakes, spring onions and hoisin sauce. By no means the best you'll ever have, but for the price and experience it's a winner. The second course: a cloudy soup made from cooking the carcasses for three to four hours is fairly plain, but by the time it arrives you're full anyway.

In a leafy suburb on the other side of the city two courses of Peking Duck will cost you $75, and the most you'll see of your bird before it's plated is a quick glimpse from the hurried wait staff as they mumble, "This is your duck", before rushing it back to the kitchen. In Panmure, you'll pay only $48 and be pleased with the rest of the menu with dishes ranging between $16 to $22 (apart from seafood).

I was dining with Sue, originally from Guangzhou, so ordering off the a la carte menu was left to her. Green beans with tofu was simple and tasty, if a little oily. Sizzling beef with black bean was tender, salty and satisfying. The sautéed eggplant with potato and capsicum was particularly good, the thinner more colourful Chinese aubergine soak up the perfect amount of flavour to be tasty, but not heavy and overpowering. Somehow, we also ended up with the biggest pancake you've ever seen that looked like a pizza but was in fact layered flaky pastry like an Indian paratha.

It was fairly busy on a Thursday night, with most people having duck, although we did see a whole fish being cooked at the table on what looked like a portable camp stove…Next time!

By Nick Loosley