Category — Features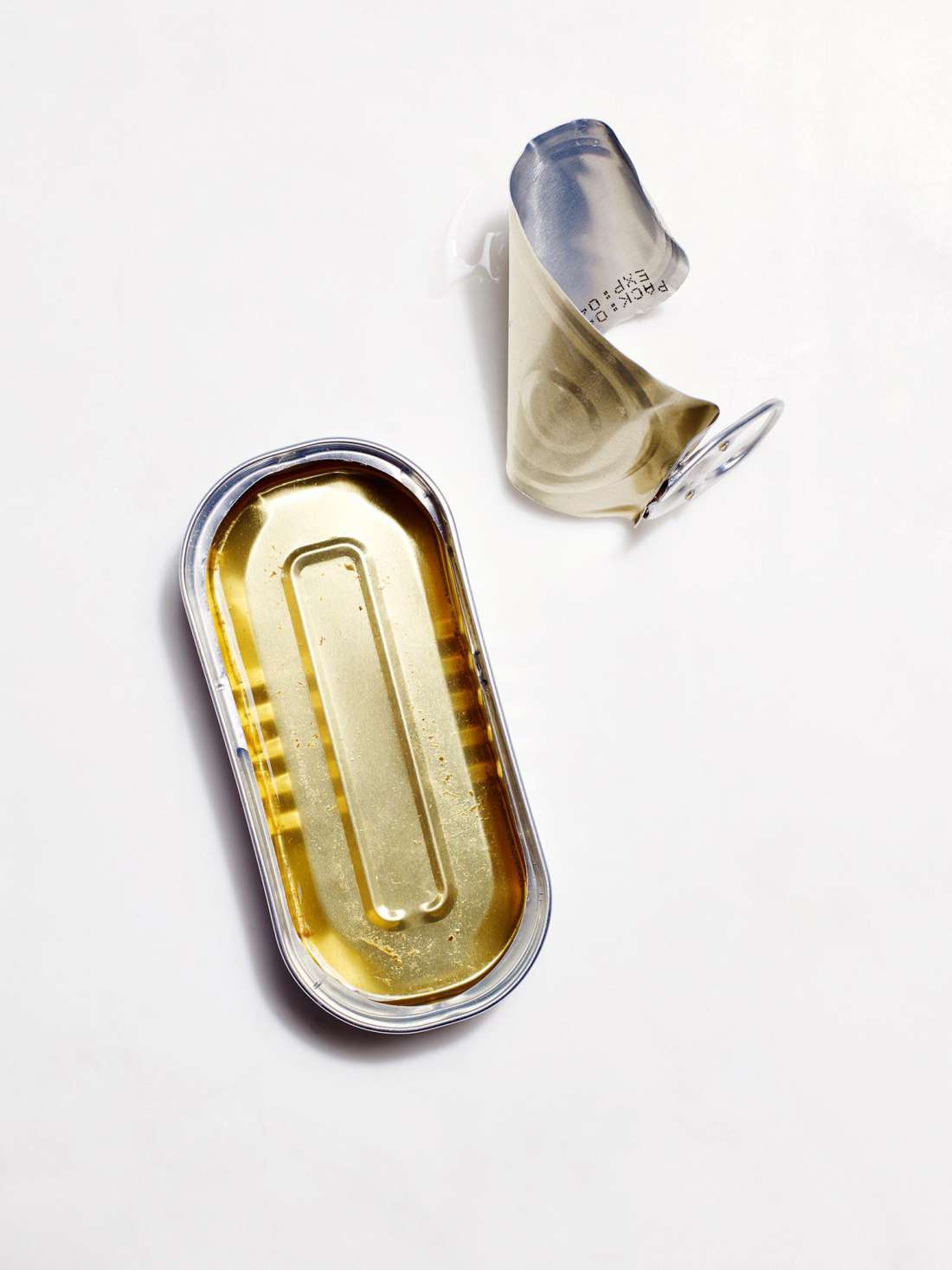 Don't throw it away
We keep being told there is a lot of food wastage in the Western world. I don't know about you, but I am guilty as charged. I have too many veges that don't get eaten and I tip half-eaten tins/jars of things that have spent too long in the fridge down the sink. On the bright side, I basically ignore best before dates, relying instead on my own sense of smell, taste and good sense. Here are a few other things you can do at home to reduce food waste.
Bones and vege scraps – make stock. This is a big and easy one in my book, once you get your head around it. Vege scraps can be collected in a container over the week then added to a pot along with anything festering (not literally!) in the fridge. Add flavoursome extras such as the last couple of sundried tomatoes or an olive or six. A spoon of miso paste will really up the flavour too. Bones can be collected in the freezer to make stock at your convenience.
The woody ends of vegetables, such as broccoli stems and asparagus ends, are the tastiest part – they just need to be peeled to remove the tough outer layer, which you can keep for stock. Use the stems as you would the rest of the vegetable, or pureed in dips and spreads.
Older vegetables can be made into pickles such as kimchi. I always have bits of faded cabbage in my fridge and these are perfect for a spicy pickle.
In his All Taste, No Waste menu for last year's Wellington on a Plate, Ti Kouka chef Shepherd Elliot made a most delicious onion skin salt by smoking and roasting the outer layers of onions and grinding them to a flavourful condiment.
The liquid (brine) from cooked chickpeas, other legumes and tofu is called aquafaba (water bean) and can be used in place of eggs in many recipes. It can be used for whisking, foaming, emulsifying, binding and thickening. It should be the same consistency as egg white, so the liquid from canned beans and peas is perfect – and easy. Chickpea brine is the best performer with tofu at the other end, so pick the brine that's best for the job. Chickpea is popular for meringues etc that need a firm hold, whereas you could add a bit of the tofu brine to thicken a sauce. Aquafaba has been a hit with vegans as it whisks perfectly to make meringues, pavlova, mousses and so on, but if that all seems a bit weird, try it in savoury cooking where eggs are needed such as fluffy omelettes, soufflés, Yorkshire puddings and mayonnaise.
Oil left in jars can be turned into salad dressings and mayonnaise. Or used in cooking – start by frying your onions etc in sundried tomato oil or anchovy oil for extra flavour, or drizzle some on at the end.
The vinegar left in a jar of gherkins or other pickles can be used for fresh pickles. Toss your vegetables in salt and leave for 10 minutes then pour over the leftover vinegar. Or soak boiled eggs in the vinegar overnight for quick pickled eggs.
Stale bread can be moistened with water and reheated to become hot fresh bread; made into breadcrumbs and frozen or baked for dry breadcrumbs; baked or fried for croutons, crostini or even reworked into crackers; cut into chunks and tossed in salads such as Italy's panzanella; used in desserts such as bread and butter and summer puddings; even ice cream…
Hard cheese ends can be thrown into soups, pasta sauces, risottos and so on to add umami flavour.
Leftover heated milk from coffee machines etc can be used in soups and cooked in milky desserts.
Beef & parmesan broth
Makes about 3 litres of broth
2kg beef bones
3 cups vegetable scraps (supplement with chopped onion, carrot, celery etc if needed)
1 halved head of garlic
50g hard end piece of parmesan cheese, chopped roughly
small bunch flat-leafed parsley stems
2 large sprigs thyme
2 bay leaves
1/4 teaspoon black peppercorns
Preheat the oven to 200C. Put the bones in a roasting pan, sprinkle liberally with salt and roast, turning occasionally, for 40 minutes or until browned.
Add the vege scraps to the pan along with the garlic and sprinkle with more salt. Roast, turning occasionally, until the vegetables are brown – about 30 minutes.
Put all this into a large stock pot. Add 1/2 cup of water to the roasting dish and stir, scraping up the browned bits (you can heat this over an element to help). Add to the pot along with the parmesan end, parsley, thyme, bay leaves and peppercorns and add cold water to cover.
Bring to the boil, reduce the heat, and simmer for 4 hours, occasionally skimming the foam and fat from the surface and adding water as needed. Strain then refrigerate. The fat will harden on the top and you can simply remove and discard. The broth can be frozen, if desired.
Anchovy mayo
To make the flavour stronger, add a few mashed anchovies to the egg yolks etc. This mayo goes really well with lamb, chicken, fish and vegetables.
2 egg yolks
1 teaspoon white wine vinegar
1/4 teaspoon salt
1/4 teaspoon Dijon mustard
1 clove garlic, crushed
50ml oil collected from cans and jars of anchovies
100ml light-flavoured oil such as grapeseed or vegetable
Whisk the egg yolks, vinegar, salt, mustard and garlic together. Add the oil, drop by drop, whisking continuously until thick. Refrigerate until needed. Will keep in the fridge for a week.
Quick kimchi
Not traditional but easy and fun. If you're short on time, you can eat the pickles after mixing with the garlic etc (just leave out the kombucha step) – still delicious.
Makes 2 cups
4 tablespoons rock salt
1/4 red cabbage
1/4 green cabbage
2 cloves garlic, crushed
5cm piece fresh ginger, peeled, grated
2 tablespoons fish sauce
1 teaspoon dried chilli flakes
400ml plain or ginger kombucha
In a small saucepan, bring the salt and 500ml water to the boil to dissolve the salt then leave to cool.
Separate the cabbage leaves, cut out and discard the thick stem. Cut into 1cm x 4cm strips. Place these in a non-reactive bowl and pour over the brine. Put a small plate on top that can be weighed down to press the cabbage. Put a full tin or something heavy on top to keep the cabbage submerged.
Leave for about an hour, then, if the brine hasn't covered the cabbage, top up with water. Leave at room temperature for 4 hours (6 if it's cold). Drain.
In a bowl, toss the cabbage with the garlic, ginger, fish sauce and chilli then pour over the kombucha. Place the plate and weight back on top to press the cabbage, cover and refrigerate for 1-4 days. Drain before using.
Aquafaba popovers with spicy beans
Serves 2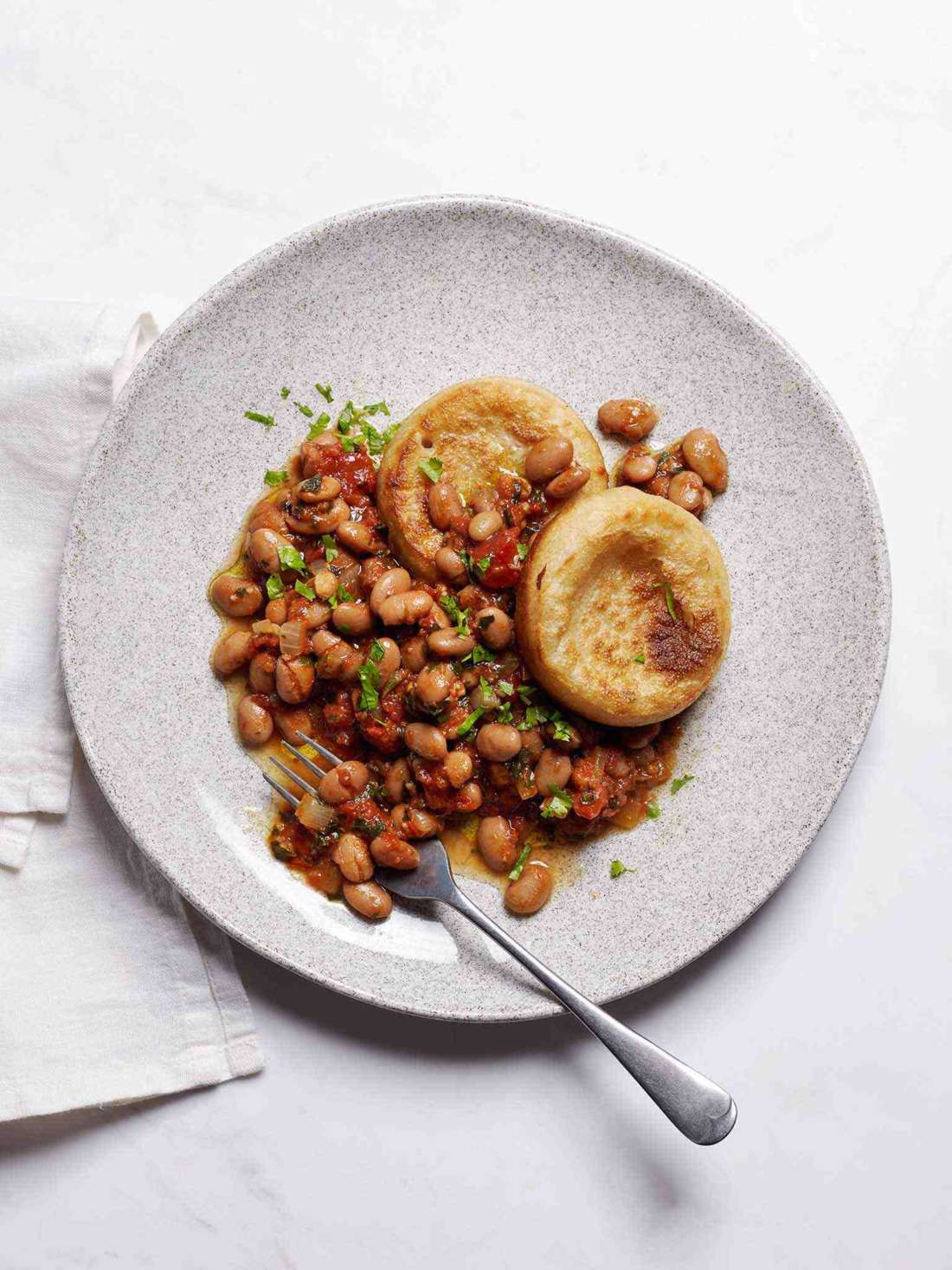 Photography: Aaron McLean
The aquafaba popovers need to be eaten straight away or they lose their crunch, but the beans can be made in advance and reheated.
2 tablespoons olive oil, plus extra for the tin
1 onion, chopped
2 cloves garlic, chopped
¼ cup chopped parsley
½ teaspoon each ground cumin, ground coriander, smoked paprika
¼ teaspoon chilli flakes
400g can chopped tomatoes
400g can beans (I used pinto) or chickpeas
¾ cup/125g flour
½ teaspoon salt
60ml milk (can be soy, nut etc)
60ml ice water
Heat the olive oil in a frying pan over medium heat and cook the onion for 10 minutes until soft. Add the garlic, parsley and spices and cook for another 5 minutes. Add the tomatoes, bring to the boil and cook for 8 minutes, stirring regularly until thickened.
Drain the beans or chickpeas and reserve the brine (aquafaba). Add the beans to the sauce and heat through. Season to taste with salt.
Preheat the oven to very hot (225°C fan bake is good).
Sift the flour and salt into a bowl and make a well in the middle. Mix together the milk and water. Whisk the aquafaba until very fluffy (it should look like meringue and take about 5 minutes).
Stir the milk mix into the flour with a spoonful of the aquafaba and mix to a smooth batter, then carefully fold in the remaining aquafaba to make a light, airy batter. Set aside for 15 minutes.
Heat a six-hole muffin tin in the oven then add about a teaspoon of oil to each hole. Put back in the oven again to heat the oil until very hot and smoking. Pour in the batter, put back in the oven and cook for 15-18 minutes until golden and risen. Serve with the spicy beans.