Category — Recipes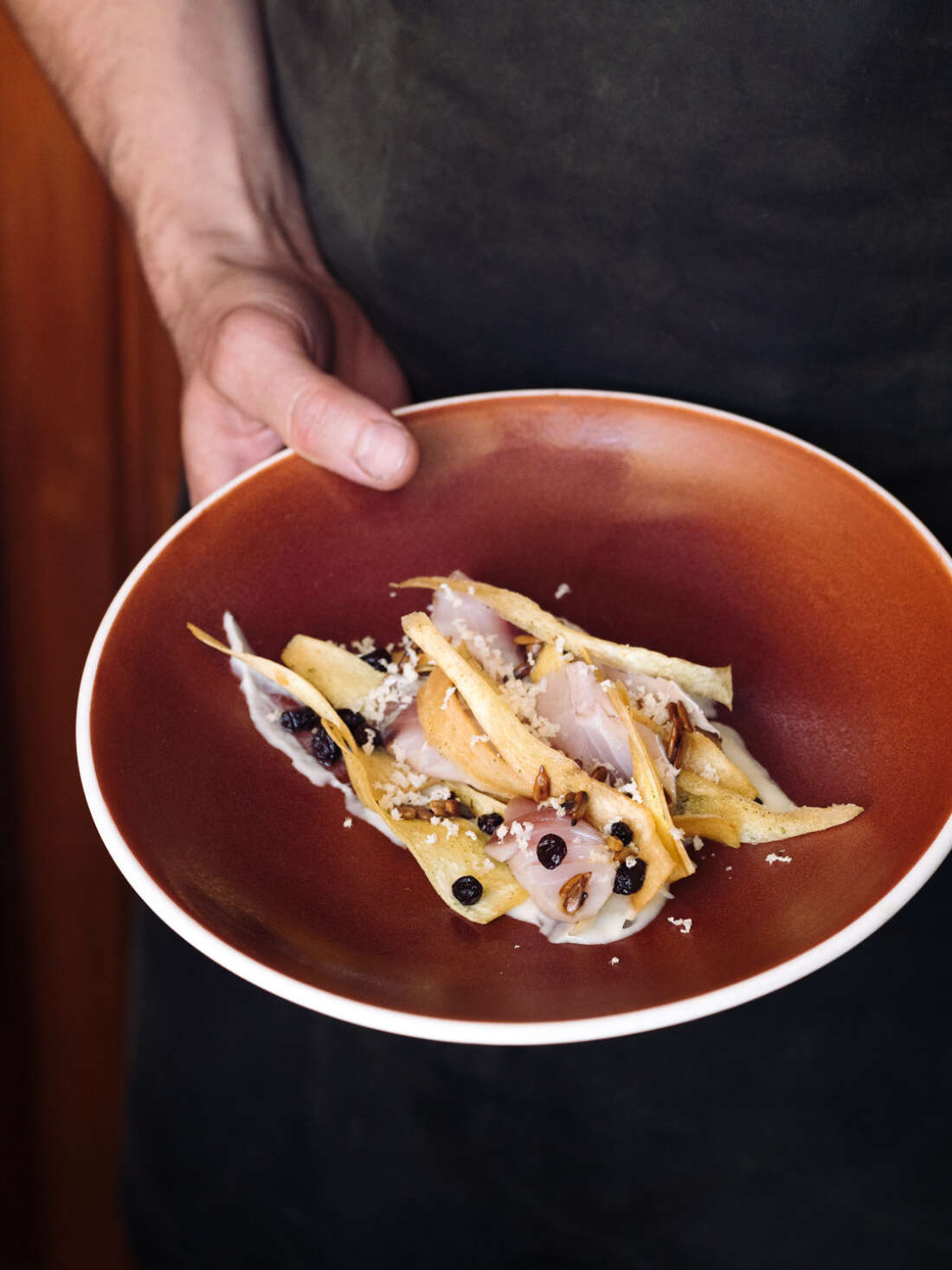 Catch 22
I first left New Zealand in my early twenties to explore a world with an endless culinary horizon. One of the things that I would continue to seek out in my travels to different towns and cities over many countries and continents would be my growing interest in local fish markets. It was the commonalities of variety, cultural diversity, small scale fishing vessels and just general vitality and freshness that drew me in. Something that I had yet to experience back home.
One lunch in particular had a lasting and profound impact on me and would for years to come. I was traveling through Morocco by train when I met up with my English friend Dan (also a chef) in a tiny village called Esouria. The locals told us that the best place to eat was down at the fishing docks. We found ourselves there just before midday, as the small fishing boats unloaded their morning catch.
There were a dozen or more stalls, and the kitchen facilities were limited to say the least. All of them cooked on charcoal using wire racks propped up by bricks. We held back at first to observe how the different operators were enticing bystanders. We settled for the one with the most variety and least aggressive sales techniques, and where the locals were eating. We ordered, then made our way to the plastic tables and chairs where our 'sommelier' brought over two glass bottles of ice-cold coke. Our order arrived one after another: a whole Atlantic squid, king crab (or stone crab) and a butterflied blue mackerel, all accompanied with a side salad and some wedges of lemon. We were in food heaven. We were so happy with ourselves that we proceeded to have our picture taken with all of the staff and returned to eat there again the next day.
It was at these fishing docks where my love for blue mackerel began, and why I now sing its praises on the menu at my restaurant, Orphans Kitchen. Here in New Zealand, it is widely considered to be a less desirable species of fish and is tragically referred to as "bait fish".
Yet, as a chef, it's the most wonderful fish to work with. Blue mackerel's dark, lean, oily but odorless flesh lends itself perfectly to dry aging. It can be sliced thinly or diced and eaten raw. It's excellent when seared over the wood fire (to no more than rare), and it's great pickled (which is how I've treated it in the accompanying recipe). The health benefits are just as heavy weight: rich in omega 3 with nearly x700 your daily intake of B12, which lowers blood sugar levels and has scientifically proven links to longevity.
Unfortunately, this fish is remarkably hard to get in New Zealand, even as a chef with access to the country's best and most ethical fishermen. It's almost impossible to access for your average home cook. This isn't because our waters aren't home to this friendly species – they are in fact abundant. Last year alone over 7,500,000 kilos of blue mackerel were exported from our waters at an average price of $1.85/kilo. In other words, 7,500 ton or nearly eight million kilos of a single species of fish was removed from our waters in the space of 12 months for less than $2 a kilo.
Let's compare this to a per kilo price of snapper at the supermarket. At the time of writing, Countdown sells skinned and boned snapper fillets at $46.00/kilo. You could buy 23 kilos of omega rich, tasty blue mackerel for the price of a kilo of snapper. Sadly though, you can't. It's impossible to find in our supermarkets, and we can't buy fish direct from a boat at the dock like I could on my travels. Alternatively, you could keep an eye out on Alibaba.com for a container of frozen blue mackerel or skipjack tuna, hake, yellow eyed mullet or even the nearly extinct orange roughy.
I don't want to be pointing fingers here as this is a systemic issue largely caused by the current structure of the Quota Management System (QMS). Most fishermen targeting these particular species are only doing it so that they can keep their jobs in their off season. After over a decade working as a chef, I've had a valuable insight into New Zealand food systems and our natural resources. Despite its reputation, the government's QMS needs serious and urgent attention. Just because a species is tarred with the "baitfish" brush, doesn't mean we should strip our oceans of it and send it around the world by the container for $1.85/kilo. Our waters are being stripped of species like blue mackerel and many others just to be shipped offshore. Yet these smaller fish species are vital parts of the ecosystem. If you like to eat kingfish or tuna, take a moment to think: what do they eat for dinner?
I dream of the day when every New Zealander can access a wide variety of wild caught fish, all of which are sustainably caught. I would like to see a larger variety of fish species valued, appropriately managed and understood by both customers and industry. Rather than the current status quo, which is to target a handful of species using harvesting techniques such as trawling or "precision seafood harvesting" (as the big three have coined it). Making these species available to everyone in the country, while highlighting their key qualities and educating the general public, is a step in the right direction to help an ecosystem that is currently under extreme pressure. These changes must happen at a government level in order to have a lasting impact for future generations of New Zealanders.
Pickled Blue Mackerel
Serves 6 – 8
I've written this recipe for mackerel, which you may just be lucky enough to find. But if you can only find it by the tonne on Alibaba, and you don't have a thousand people to feed, use kahawai.
Kahawai has similar qualities to Blue mackerel, and was also once an undervalued species. In fact, when I opened Orphans five years ago and put kahawai on the menu, the price was less than half of where it now deservedly sits (at around $15 per kilo). It comes down to something I learnt back in 4th form economics from Mr Wes Melvin: supply and demand.
Kahawai works well for this preparation as being a hot blooded (endothermic) fish, it lends itself perfectly to pickling. Just make sure to check with your fishmonger that it is line caught and bled.
1 whole mackerel or kahawai – gilled, gutted and scaled
sea salt
1 shallot, finely sliced
1220 mls filtered water
260 mls sherry vinegar
120 mls red wine vinegar
2 bay leaves
3 cloves
Fillet the mackerel into its four fillets, removing the centre bones but leaving the skin on. Place it into a high sided baking dish skin side down. Salt the flesh generously with fine sea salt then place the thinly sliced shallot on top of the fish. Place in the chiller for one hour.
Add the water, vinegars, bay leaves and cloves to a stainless steel pot and place on the heat. Warm the liquid to 60°C degrees, remove from the heat, let it sit for 5 minutes, then gracefully pour over the mackerel making sure it is fully submerged (or use a smaller dish if need be).
Place back in the chiller for at least 6 hours or overnight before slicing.
80g currants
80 mls red wine vinegar
340 mls filtered water
1 bay leaf
120g butter
120g sunflower seeds, toasted
4 parsnips
80 mls grapeseed oil
100 mls coconut cream
Sea salt
Sprig of rosemary, very finely chopped
In a small saucepan, bring the currants, sherry vinegar, 240mls filtered water and the bay leaf to a simmer with a lid on for 10 minutes. Set aside and let the liquor seep into the currants.
Melt the butter in a cast iron pan. Once it starts foaming, add the toasted sunflower seeds, reduce the heat, and stir the seeds until they're nutty and golden brown in colour, then season. Remove from pan and store in a ceramic dish.
Wash the parsnips thoroughly, peel (keep peelings) and remove the core from three of them and grate. Heat a large saucepan to a medium to high heat, add 20mls grapeseed oil and the three grated parsnips, stir, season with sea salt and place a lid on to steam for 3 to 4 minutes. Add the coconut cream and 100 mls of filtered water, place the lid back on and continue cooking on a low to medium heat. Once the parsnip is cooked and tender, add to a blender and blitz until smooth. If the puree is too thick add a touch of water to loosen, season with salt and chill.
For the crisps, preheat oven to 180°C degrees, peel the last remaining parsnip into ribbons. Then in a large bowl mix through the remaining grapeseed oil with the peeled parsnip skins / flesh. Add the rosemary, arrange on an oven tray lined with baking paper, roast in the oven until crisp and caramelised.
Before you serve, remove the pickled fish from the liquid and pat dry. Slice the fish against the grain, but so thin that it falls apart in your mouth, but just thick enough that when you bite into it there is a good meatiness to it. You will need 5 pieces per person. After slicing, season each piece lightly with fine salt.
THE PLATE UP:
This is how I build the dish to highlight the star ingredient, but feel free to freestyle it how you like. This is a chilled dish so no need to heat the plates or puree before serving. Any extra fish can be kept in its pickle for up to 4 days. It's great on a piece of sourdough toast with loads of butter, fresh herbs and pepper, too.
To build the dish, start by spooning a few quenelles of puree on to the plate, giving them some room apart. Place a small handful of the parsnip crisps in between the puree. Arrange 5 slices of your pickled mackerel on top of this. Add a spoonful of the currants around the dish, then a spoonful of the toasted sunflower seeds, placing some on the fish to coat with the burnt butter. And a few more crisps.
By Thomas Hishon. Photography by Josh Griggs