Category — Recipes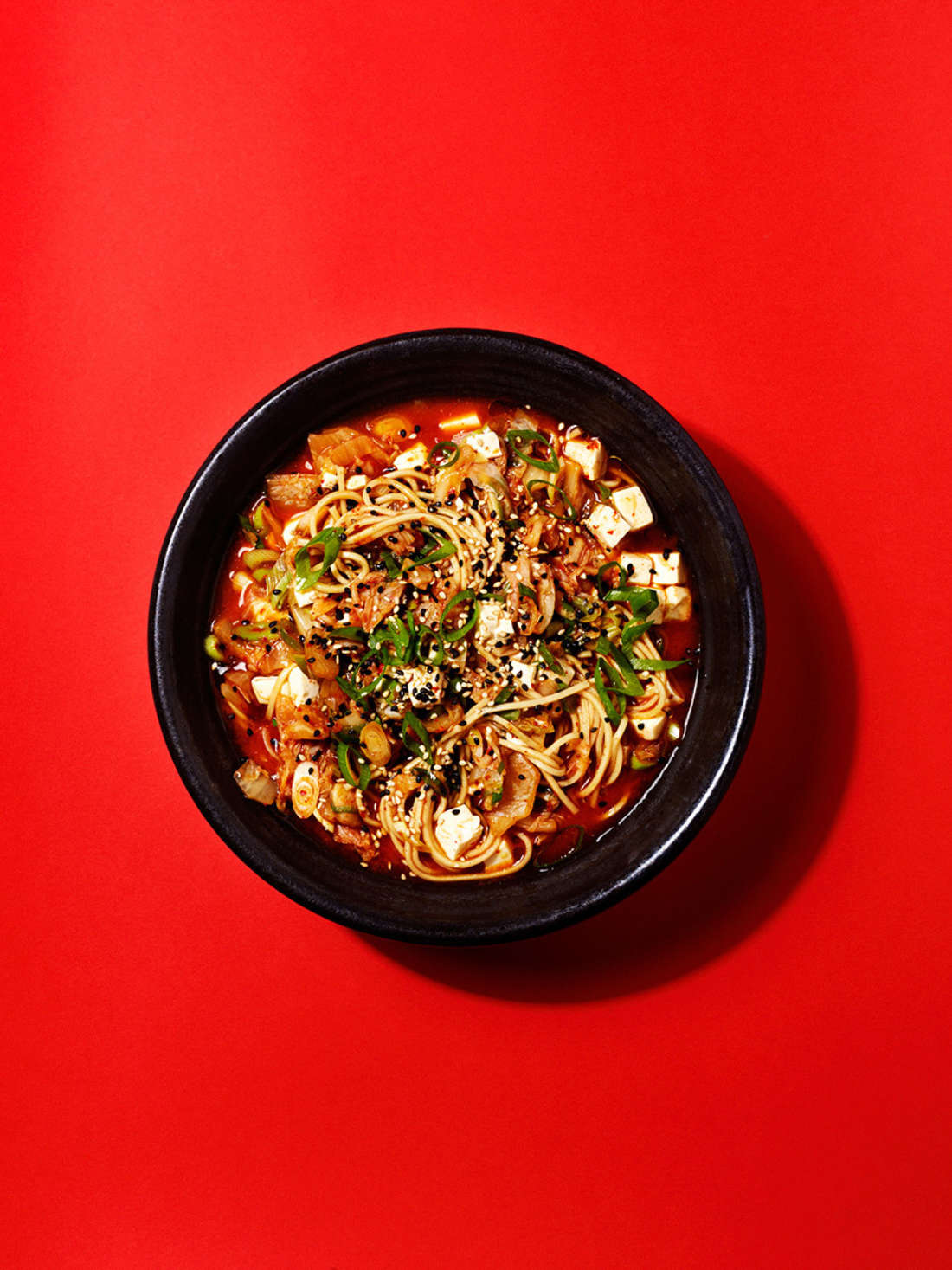 5 minute noodles
Use your noodle.

Fiona Smith & Ginny Grant share a couple of instant noodle alternatives that are almost as quick and way more tasty.
Fiona Smith
I would say instant noodles are one of my guilty pleasures because I love them, but I've refused to eat them for years now because they contain palm oil. So here are a couple of my super-easy go-to noodle recipes for those times when you just can't cook any more.
The key is getting a fast flavour punch, so some good bean and chilli pastes are essential. My favourites are the Chinese doubanjiang or toban-djan, the Korean gochujang, Japanese miso (I use New Zealand-made Urban Hippie) and Thai nam prik pao.
I also make sure I've got plenty of dashi stock powder (basically bonito and MSG – yum), dried seaweed, chilli oil and sesame oil, sriracha, soy sauce and fish sauce.
Noodle-wise, I like a classic dried wheat or rice. I love egg noodles but it's impossible to find any made with free-range eggs. If I'm feeling virtuous, I might even go with kelp or yam noodles. Fresh are great, but not always lying around when you need an instant fix. Cooking times will vary according to the noodles you choose.
You can add protein to any of these – an egg is quick and easy, or go for some pan-fried tofu or fish or shredded leftover chicken, pork or similar.
Spicy peanut cold noodles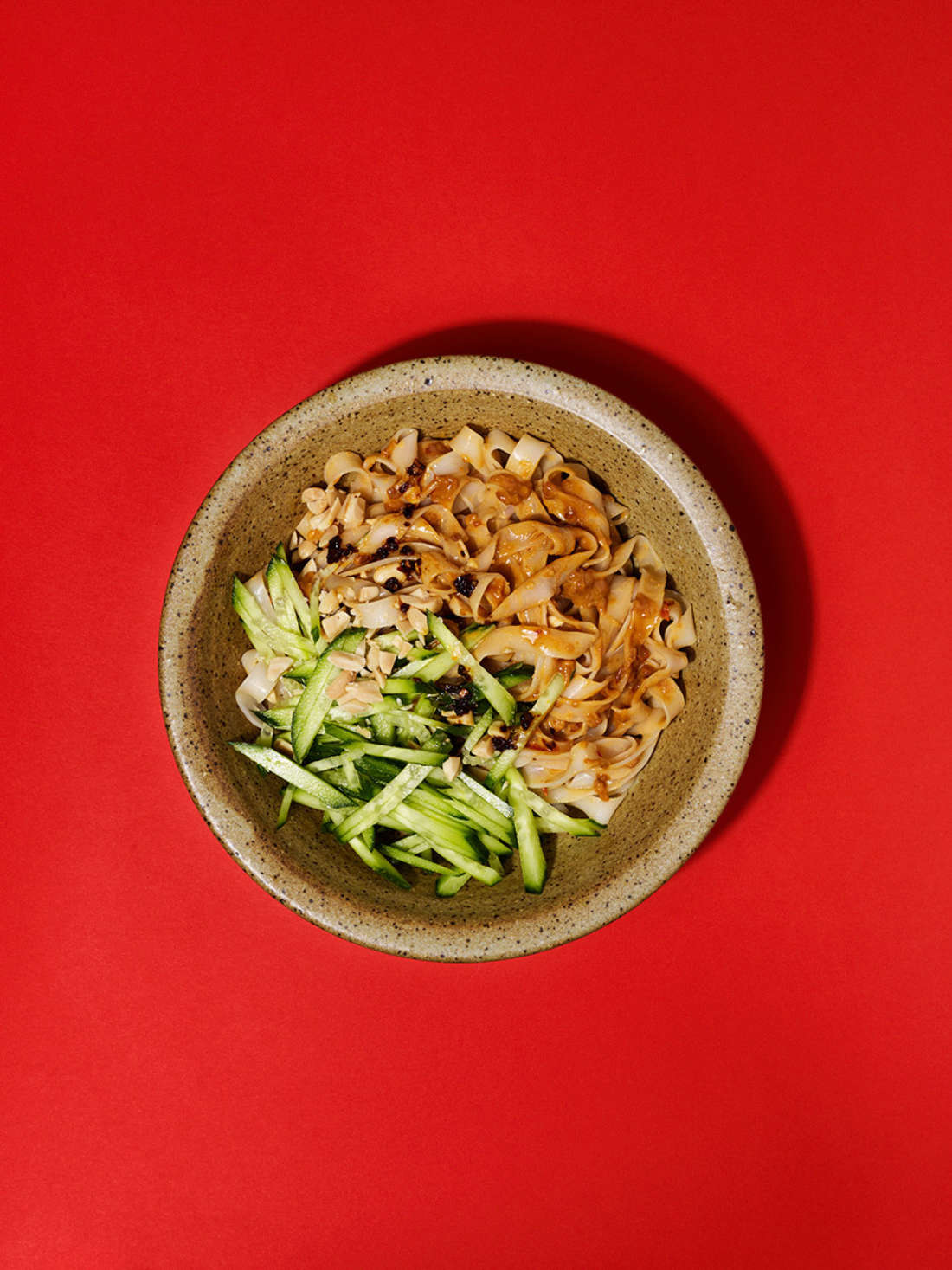 Serves 1
100g-125g noodles (I used fresh rice)
a splash of sesame oil
1 teaspoon finely grated ginger
1 tablespoon peanut butter
1 teaspoon sesame paste (Chinese or tahini), optional
1 teaspoon chilli bean paste, such as doubanjiang or toban-djan
2 teaspoons soy sauce
1 teaspoon rice vinegar
½ teaspoon sugar
chilli oil
½ cup matchstick-size slices of cucumber
1 tablespoon chopped roasted peanuts, optional
Bring a saucepan of water to the boil, add the noodles and cook until tender, then drain and rinse well in cold water. Combine with a splash of sesame oil and set aside.
Combine the ginger, peanut butter, sesame paste, if using, chilli bean paste, soy sauce, rice vinegar and sugar in a bowl. Add the noodles and toss to coat. Spoon over chilli oil to taste and scatter with cucumber and peanuts, if using.
Miso & seaweed ramen noodles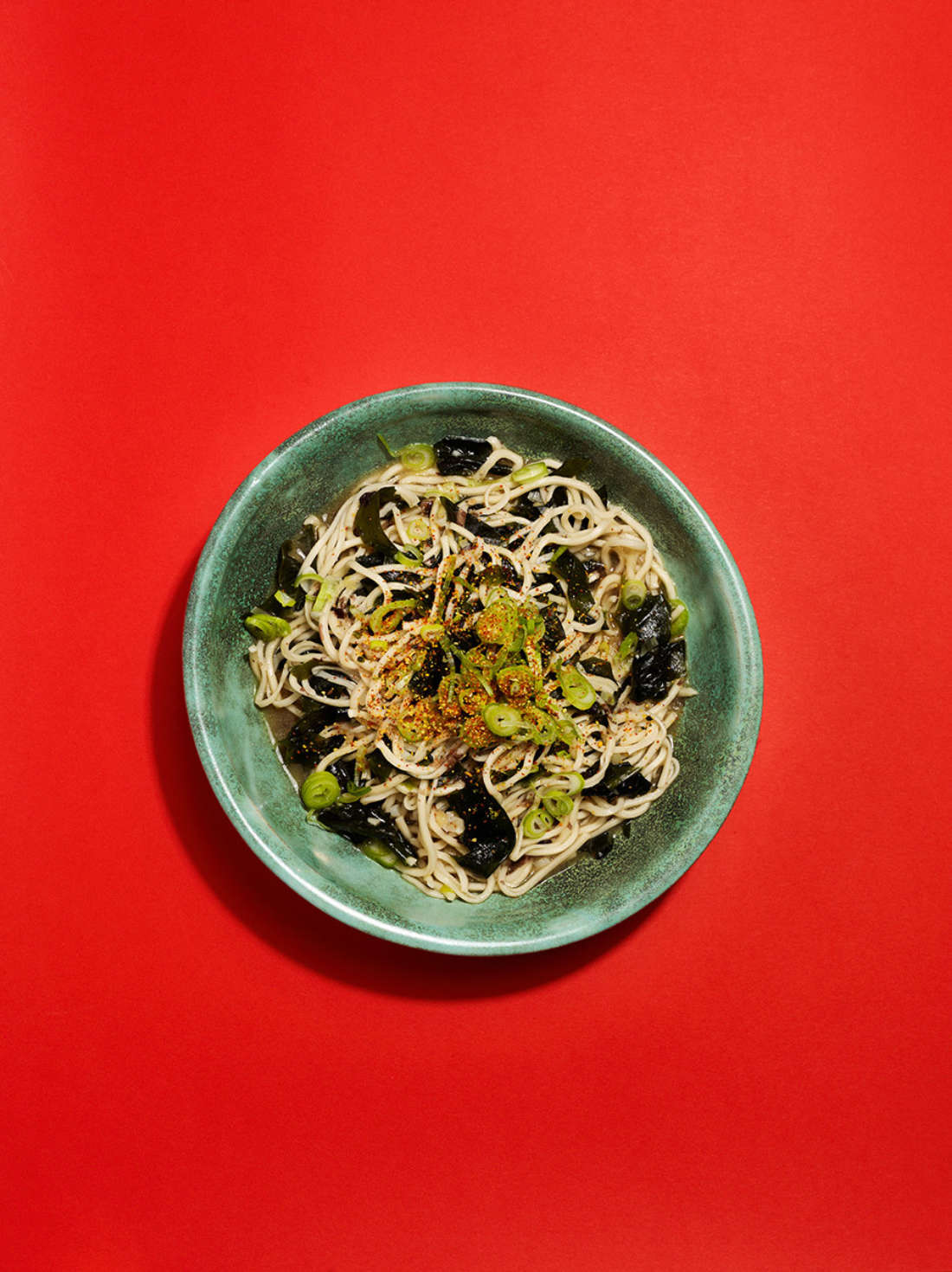 Serves 1
2 teaspoons oil (sunflower, peanut, avocado or similar)
1 clove garlic, finely chopped
2 teaspoons finely chopped ginger
2 spring onions, greens and whites separated and finely chopped
100g-125g dried noodles (I used wheat)
2 tablespoons dried seaweed such as wakame or karengo
2 cups (250ml) boiling water
1 sachet dashi stock powder
1 heaped teaspoon miso paste
1 teaspoon soy sauce
1 teaspoon mirin, optional
togarashi seasoning, optional
Have all the ingredients chopped and ready to go.
Heat the oil in medium saucepan (that has a lid) and sizzle off the garlic, ginger and spring onion whites for 1 minute, stirring them around with a fork.
Add the noodles, seaweed and boiling water, cover and cook for 1-4 minutes until the noodles are tender, stirring with your fork every so often to separate the noodles.
Remove from the heat and stir in the miso paste, soy sauce and mirin, if you have it. Heap into a bowl and scatter over the spring onion greens then season with togarashi as you like.
Ginny Grant
Instant noodles. We all love them. We know they are so, so bad, but also so, so delicious. I really try not to eat them – all that damn palm oil – so instead I tend to go for packets of Japanese-style soba, udon or ramen, then pimp them up. I often chuck whatever vegetables are lurking in the fridge in with the noodles to cook, and I'm partial to frozen peas or edamame in the mix somewhere. Leftovers are always awesome too.
Kimchi ramen with silken tofu
Serves 1 | Cooks in 5 minutes
1 bundle ramen noodles (Hakubaku brand are excellent)
1-2 tablespoons gochujang paste (depending on how spicy you want it)
½ cup kimchi, roughly chopped
75g (roughly a quarter of a packet) silken tofu, cut into cubes
2 spring onions, thinly sliced
a splash of sesame oil and some toasted sesame seeds if you have them
Cook the noodles in just simmering water for 4 minutes (or according to packet instructions), drain but reserve 250ml of the cooking water. Rinse the noodles so they don't stick together and put into a large bowl. Return the reserved water to the pan, add the gochujang paste and kimchi and bring up to a simmer. Season to taste and add the tofu and spring onions. Pour over the noodles add the sesame oil and toasted sesame seeds.
Udon & fish stir-fry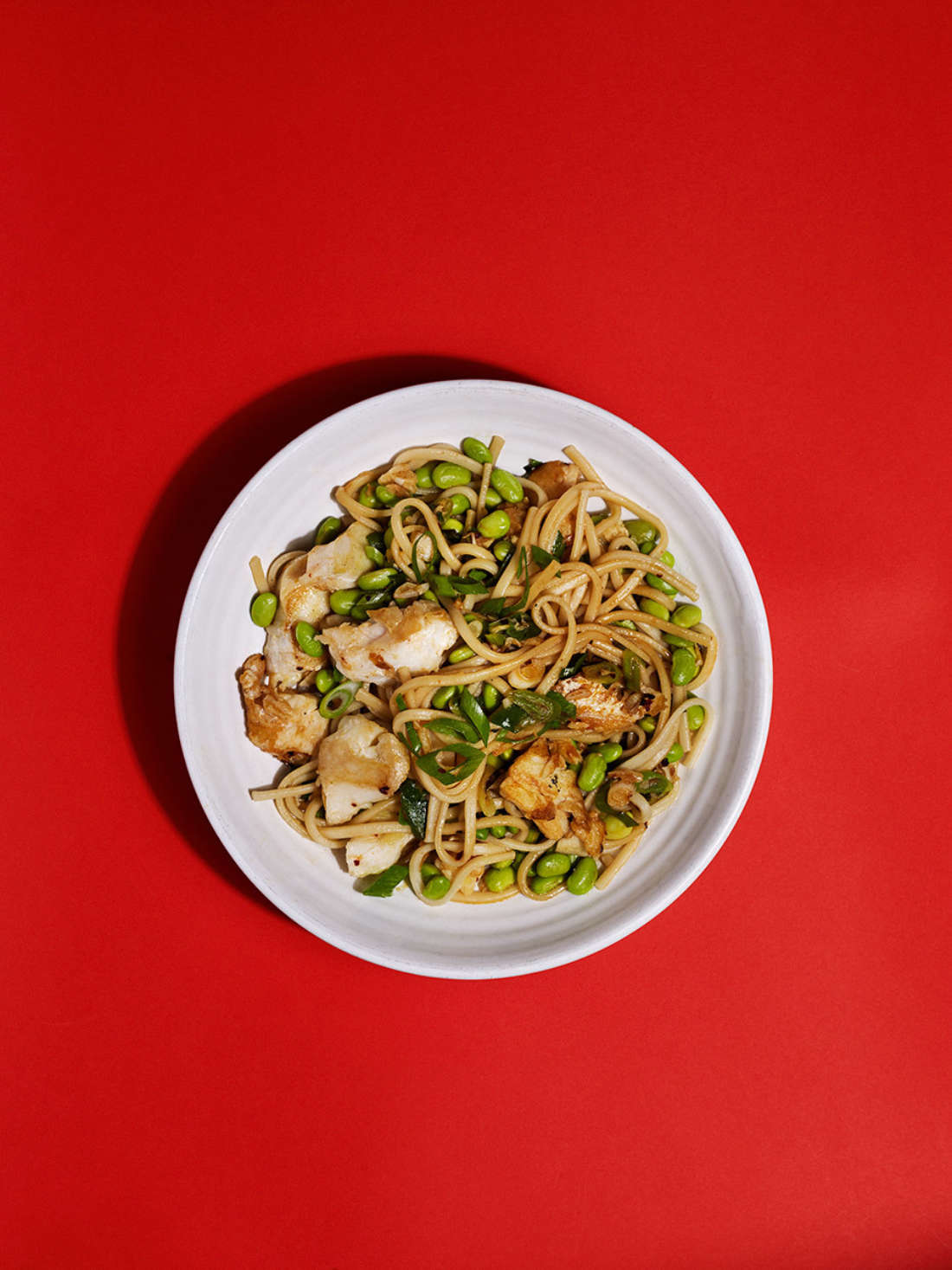 Serves 1 | Cooks in 10 minutes
1 bundle dried udon noodles (Hakubaku brand) or use a packet pre-cooked udon
½ cup frozen edamame, corn or peas
1 tablespoon sunflower oil
1 clove garlic, finely sliced
2cm piece ginger, finely grated
1 spring onion, thinly sliced, green and white parts separated
100g piece of fish cut into 3cm pieces (you could use tinned fish here instead, but add it with the noodles to the pan)
pinch of chilli flakes
2 teaspoons soy sauce
1 teaspoon rice vinegar
1 teaspoon sriracha (add more if you like)
1 teaspoon sesame oil
Boil the dried udon for 8 minutes, adding the edamame halfway through. (If using pre-cooked noodles, they'll only need a minute). Drain and rinse under cold water. Heat the oil in a frying pan, add the garlic, ginger and white parts of the spring onion and fry for a minute. Add the fish and fry until almost cooked through then add the chilli flakes. Add the cooked udon and vegetables to the pan along with the greens of the spring onion. Toss gently and drizzle with the soy sauce, rice vinegar, sriracha and sesame oil until heated through.
Photography by Aaron McLean.