Category — Features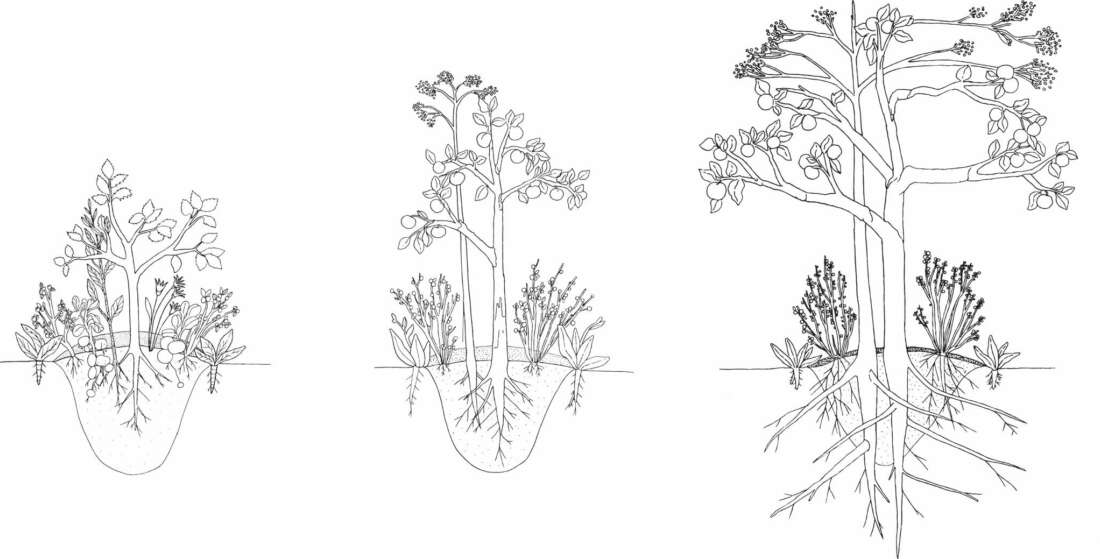 The Guild Method at PermaDynamics for intergenerational food resilience
A guild is a community of plants working together in harmony over space and time. By placing plants together in a specific configuration we create an interdependent ecosystem where the needs of one plant are provided for by the existence of others.
When designing a guild we want to identify what will be our primary plant, then choose supporting plants that cater to and benefit from each other's presence. Beneficial relationship traits to orchestrate within your guild could include nutrients, wind shelter, soil cover, possible frost or sun protection, ventilation, pollination, as well as a diversity of crops from which we can harvest from prior to, or on alternate seasons to, the primary plant. In this way, the area of land an apple tree inhabits could also be supported by and supporting a variety of plants that offer a resilient ecosystem from which a diversity of production would thrive.
It is important to understand that competition between plants for nutrients, water, or sunlight, when orchestrated to their right needs, is not a factor to avoid but regulate through designing your guild to interlock the varying niches of each plant. In this way, the density of plants does not create competition. Instead, higher diversity and density of plants together increases soil fertility with more roots feeding the soil life with plant sugars through photosynthesis. It also increases pollination because of the diversity of bloom that attracts a diversity of pollinators. Guilds also increase biomass growth as plants capture sunlight at varying heights and also retain moisture through ground covers or mulch producing support plants.
A guild is a resilient system in which the individual production of each crop may be reduced by 10%, but the overall productivity of all the crops in that one space combine to net productivity higher than a monoculture. They also provide disease, pest and climate resilience which offers stability in times of economic, social and environmental flux.
Another beneficial aspect of planting a guild with our primary plant is that we are able to gain feedback, be that food, pollination and or mulch from the first few months of establishing the guild to 40+ years on. So the initial input we place in establishing our primary apple tree can give seasonal annuals the first year, bi-annuals the next and an array of supporting perennials beyond that.
To summarise, a guild is a community of plants cultivated in a way that allows you to enjoy homegrown potatoes from the base of a three month-old apple tree, from which your great-grandchildren may one day enjoy an apple.
Steps to designing a guild:
1. Identify your site, soil, climate and vegetation.
2. Choose a suitable primary plant for the identified location. I've used an apple tree in my illustrations, but by learning about succession and the relationships between various species and strata, you can design your own guild based on the same principle.
3. Orchestrate supporting and supplementing plants to benefit from that location in symbiosis with your primary plant.
4. Dig and prepare the area well: add compost, sand and any other amendments the soil needs. This is your one opportunity to manually address the soil below, where the roots of the plants in the guild are going to grow.
5. Place your primary plant in its most ideal location. Then identify its needs at the stage of establishment as well as at maturity, place supporting plants around to cater for these. This will include an initial crop to support soil life and give you a crop, biomass plants for in situ mulching and under and overstory plants.
6. Space out and plant your guild accordingly. Remember, embrace density and diversity. Just don't grow multiple plants on the same strata.
7. Sow or transplant seasonal vegetables and/or flowers into the loose, amended soil surrounding the chosen plants to utilise the space (dug soil and sunlight) as a way of getting a first return for your work, protect the soil from exposure and feed it through photosynthesis.
8. As the months, seasons and years progress, keep orchestrating the diversity and density of plants to maintain a symbiotic ecosystem. Removing plants that start to compromise your primary plants or add plants where you see the potential to occupy a niche.
PermaDynamics offer a range of workshops and courses where you can see these principles executed in practice. www.permadynamics.net
You can also watch a short doco on the by Happen Films happenfilms.com/film/the-food-forest-farmers (including a full length interview with Klaus)
Or on Country Calender via TVNZ OnDemand.
By Frida Lotz-Keegan. Diagram: Lilly Paris West