Category — Recipes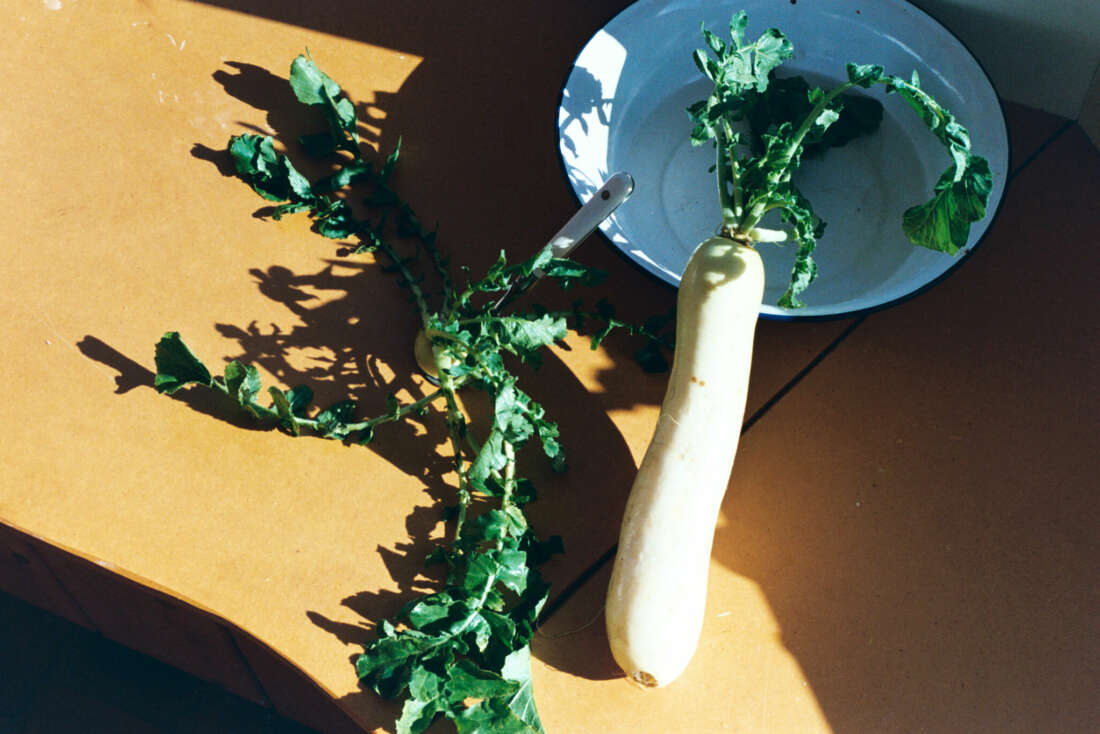 Saving the seasons
As we write this, it's early April and the country is in level four lockdown to fight the COVID-19 pandemic. The leaves have turned golden and everything feels a bit weird, but hopeful.
We're living in a little place in the Greta Valley, about 80 minutes north of Christchurch. We don't have our own vegetables growing and the nearest supermarket is a bit of a trek but we're lucky to have a fortnightly vegetable delivery from Little Owl Farm in Gore Bay. We've always loved playing around with pickles and ferments but preserving is proving extra handy for us at the moment – it's helped us save limp beets we'd forgotten about, transform a big daikon radish into our favourite spicy condiment and given new life to a bulb of fennel that accidentally froze in our dodgy fridge.
Though an amazing life-extending tool for tackling a glut of a particular fruit or vegetables, you don't need heaps of one thing, or heaps of anything to enjoy preserving. And although the feeling of preserving your own produce (even a few tomatoes grown in a pot) is a very special thing, preserving what someone else has grown – whether it be a neighbour, local grower, anonymous supermarket supplier – is a beautiful and rewarding process. Watching the transformation of flavours, textures and smells is pretty exciting, as is the satisfaction of eating or gifting your own homemade preserves. Plus, the pleasantly surprising thing with preserving – like other fermentation processes such as sourdough bread making or winemaking, is that the produce kind of does all the work itself, you're just there to help guide it in the right direction.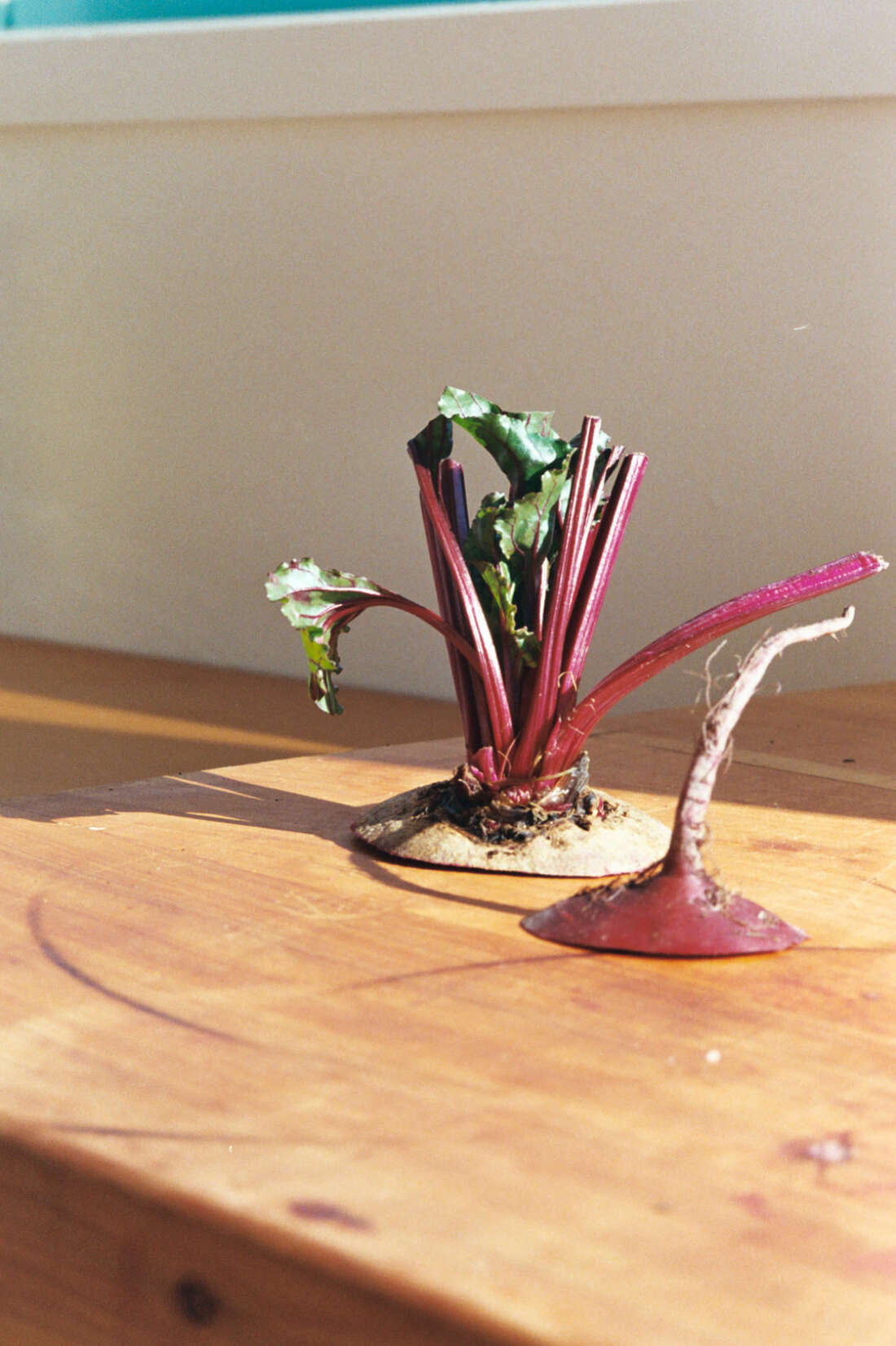 The recipes below can be doubled, quadrupled, halved and adapted to what you've got on hand. They make for handy fridge staples to add a bit of punch to meals as well as being nice edible gifts for friends and family to share in the harvest – whatever and wherever that may be.
Daikon kimchi-ish

Other vegetables that would work: carrots, other radishes, cabbage
Approx 600 grams daikon, cubed
10 grams salt
5 grams sugar
2 cloves garlic, grated
1 tablespoon grated ginger
4 tablespoons Korean red pepper flakes (gochugaru)
Mix together daikon, salt and sugar and leave for 20 minutes. Add remaining ingredients and mix until well combined. Pack mixture into a sterilised jar, cover with a lid and leave for 4-6 days. Check the jar each day – there should be bubbly activity within a day. After a few days of fermentation the daikon should start to become sour and kimchi-ish. Once you're happy with the taste, store the ferment in the fridge.
Serving ideas: with steamed rice and a fried egg, noodles, with avo on toast, in toasties, dumpling filling, straight from the jar.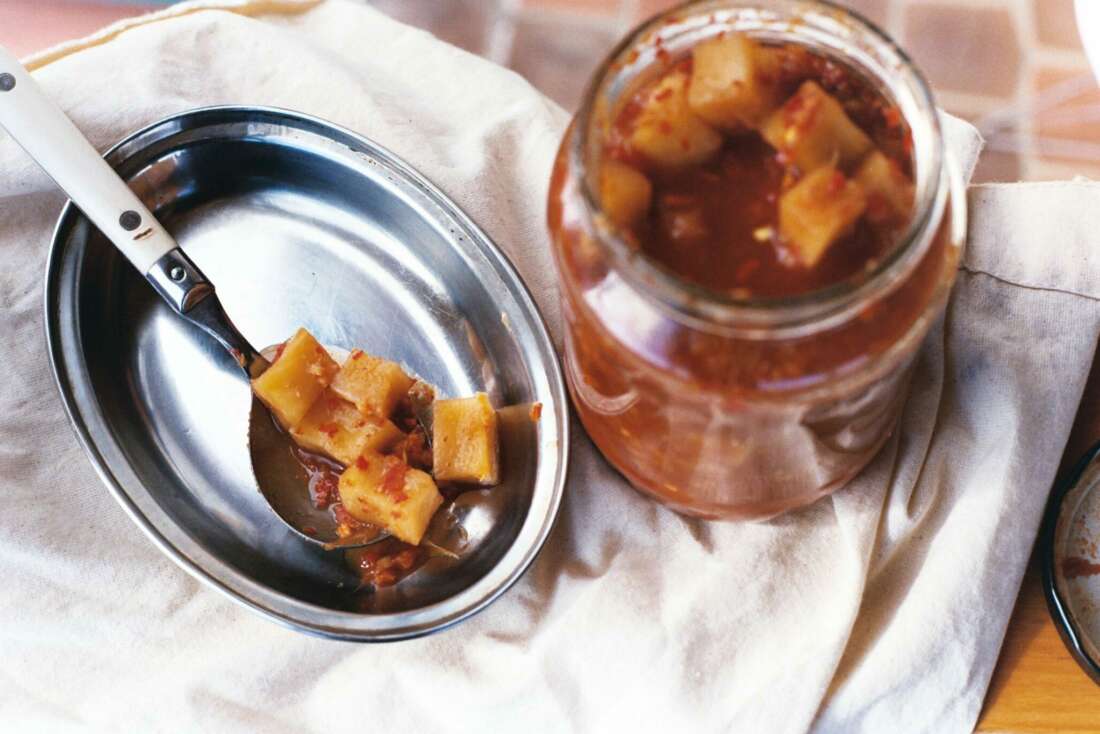 Dilly beets

Taste as you go – you might like your pickle liquid a bit sweeter, some fresh chilli for more heat or a couple of cloves of garlic.
Other vegetables that would work: zucchini, carrots, cucumbers (salt cucumbers and drain first to remove excess liquid)
Approx 400 grams beetroot, finely sliced into rounds or batons
1 tablespoon dried dill seeds or fronds
1 teaspoon dried chilli flakes (optional)
300 ml vinegar (white or ACV)
150ml water
40 grams sugar
10 grams salt
Pack beetroot into a sterilised jar (500ml capacity should be good but you can divide between smaller jars). Heat together vinegar, water, sugar and salt in a saucepan, stirring to dissolve sugar and salt. Bring to a simmer, then remove from heat and pour hot liquid over beets. Leave to cool with the jar lid off, then once cooled, wipe the rim of the jar and seal.
Serving ideas: good condiment with flatbreads + yoghurt + falafel, on toast with labneh and herbs, in burgers, through salads, whenever you need a bit of zing.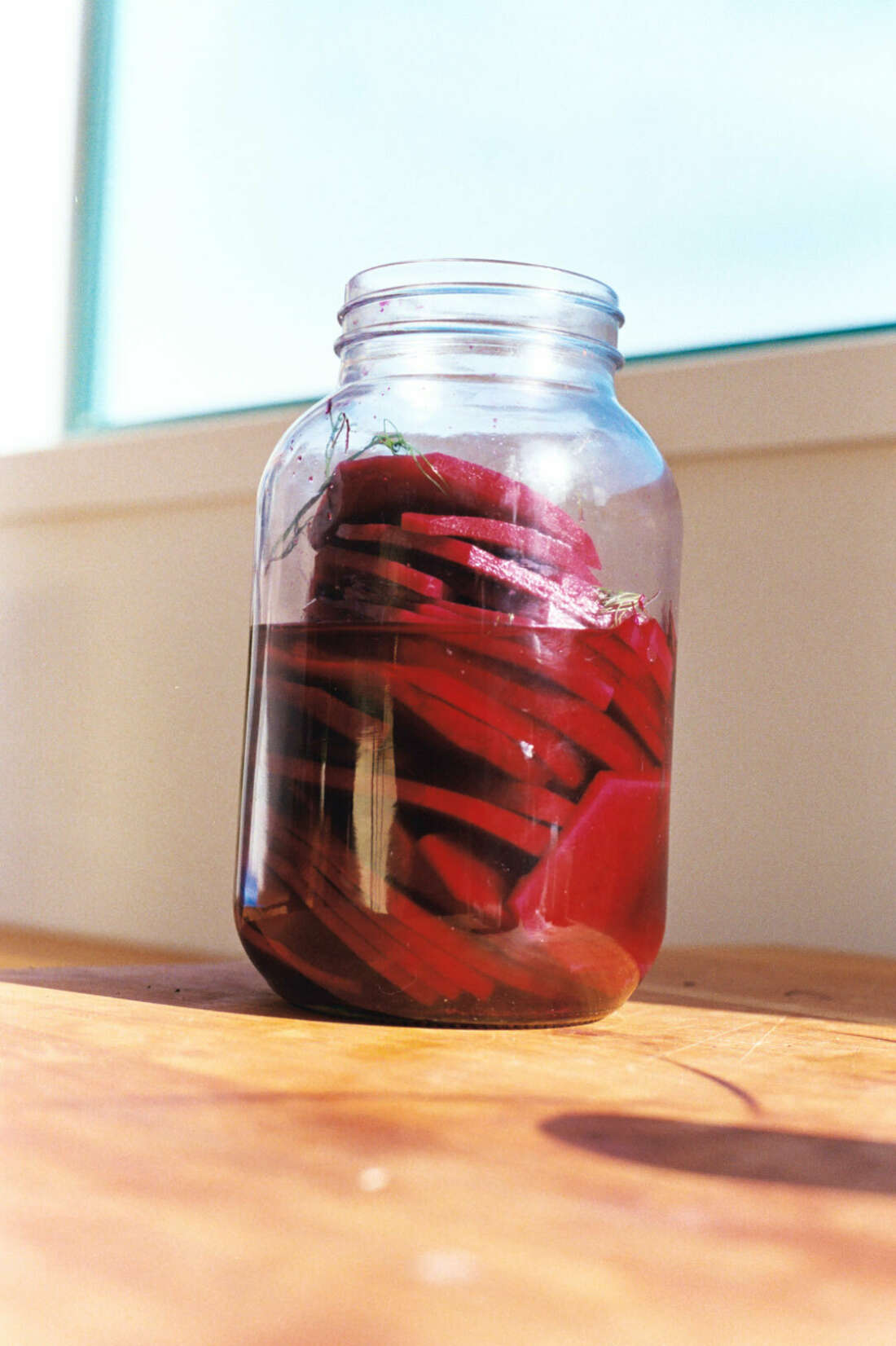 Sweet and sour fennel sott'olio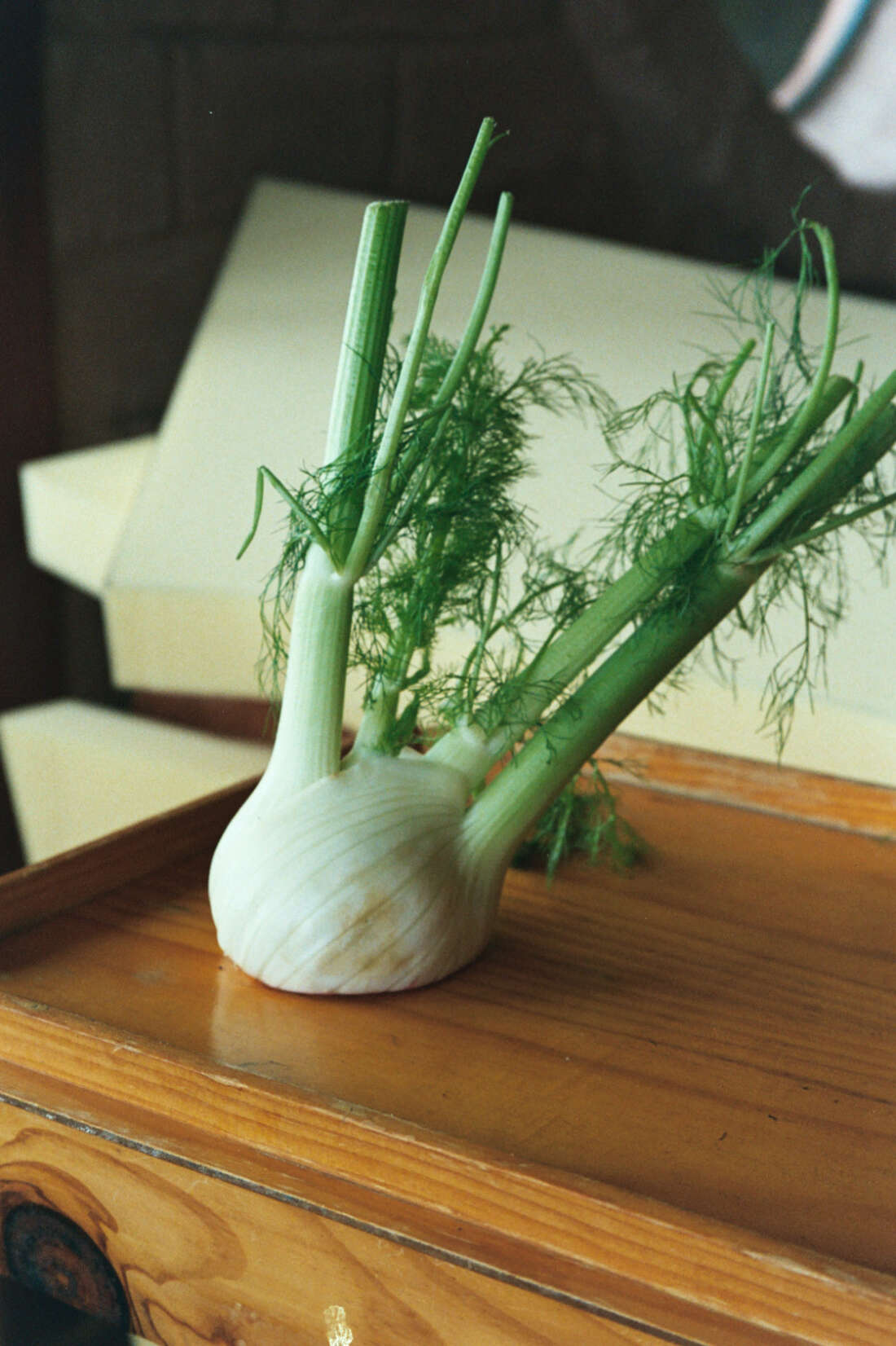 Sott'olio means "under oil" in italian. This is more of an eat-sooner-rather-than-later preserve and a great gift.
Other vegetables that would work: leeks, zucchini, eggplant, artichokes
2 tablespoons extra virgin olive oil
Approx 400 grams fennel, cut into 1 cm slices
1 teaspoon salt
1 teaspoon cracked black pepper
2 garlic cloves, crushed
100ml apple cider or white wine vinegar
2 tablespoons raw sugar
Olive oil, to cover fennel
Heat oil in a large pan. Add fennel, salt, pepper and garlic and cook for a couple of minutes, stirring occasionally. Sprinkle over sugar and pour in vinegar, stir to make sure the fennel is coated in the vinegar. Cook for a further 10 minutes or until fennel is just tender. Remove from heat and place fennel in a sterilised jar or glass container. Cover fennel with olive oil until it is 1cm covered. Leave to cool before closing the lid.
Serving ideas: tossed through pasta with pecorino, sliced on top of cooked white beans with a swig of olive oil, on garlicky rubbed toast, in salads, on pizza.