Category — Recipes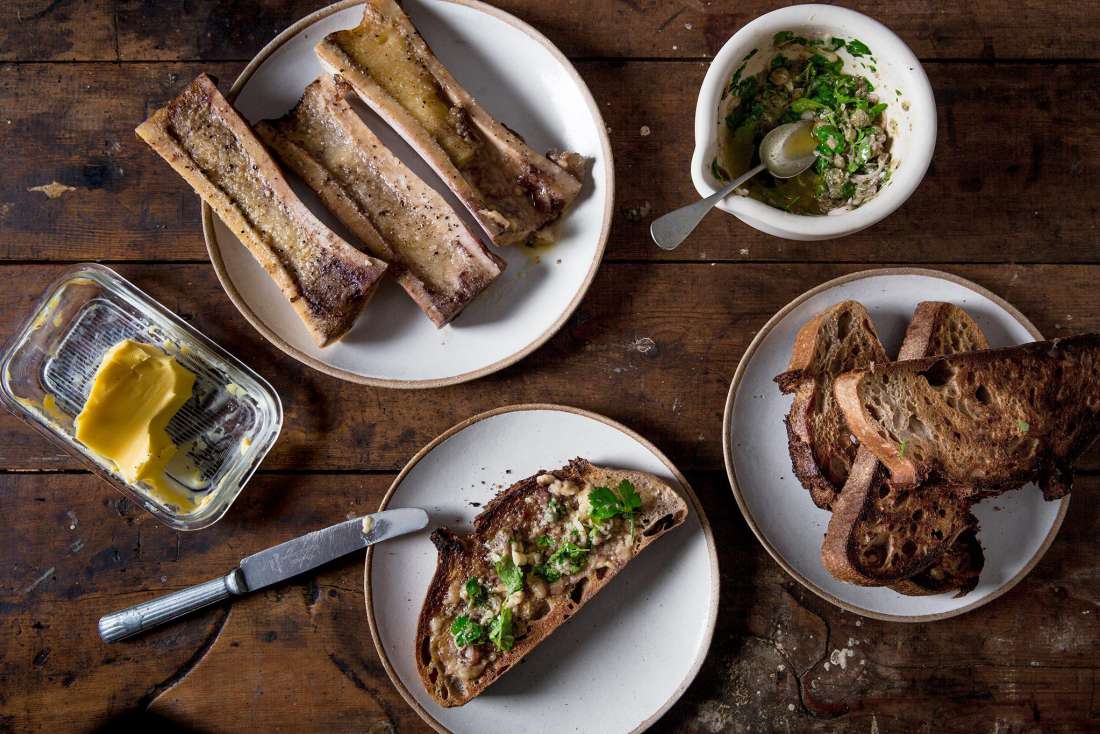 Roasted Bone Marrow on Toast
This dish, while not a rip-off, is definitely an homage to the classic Fergus Henderson bone marrow on toast with parsley salad from the St John cookbook Nose to Tail Eating: A Kind of British Cooking.
The cooking process is the same but instead of a parsley salad, I've made an anchovy salsa verde, which is a staple accompaniment to a broad range of dishes throughout Europe. Simple, salty and zesty, it's enough to cut through the rich bone marrow.
Serves 4 as a snack
3 veal or beef bones cut down the middle (a butcher will do this for you. If you buy your meat from a supermarket, stop it. Go to a butcher. Support small business. Supermarkets suck.)
Maldon sea salt
Black pepper

Preheat the oven to 200°C. Lay your bones on a tray, marrow facing up. Season with salt and pepper – not too much as the sauce is quite salty. Roast in the oven for about 20 minutes. The tops should start to brown and the marrow start to pull away from the bone slightly.

Remove and cover with a tea towel.
For the salsa verde:
2 cloves garlic
1 good pinch of Maldon salt
5 anchovy fillets plus 1 teaspoon of their oil
handful of parsley, coarsely chopped (don't be afraid to use some stalk too)
1 tablespoon capers, chopped (go on, throw in a splash of the caper brine)
1 shallot, halved, thinly sliced
1 tablespoon red wine or sherry vinegar
2-3 tablespoons olive oil (start with 2 and if it feels too dry, add more)

Chop the garlic coarsely and work into a paste in a mortar and pestle with the salt. Add the anchovies and bash some more, then add the rest of the ingredients and continue to smash and grind until you have a rustic sauce.
To serve:
1 loaf good-quality sourdough
1 block salty butter, French style with salt crystals if possible

Toast thick slices of bread and apply butter liberally. Spread bone marrow on top of the butter and drizzle salsa verde over to your taste. If you're drinking with this snack, make it something with good acidity to cut through the richness of the bone marrow.
Offal & off-cuts.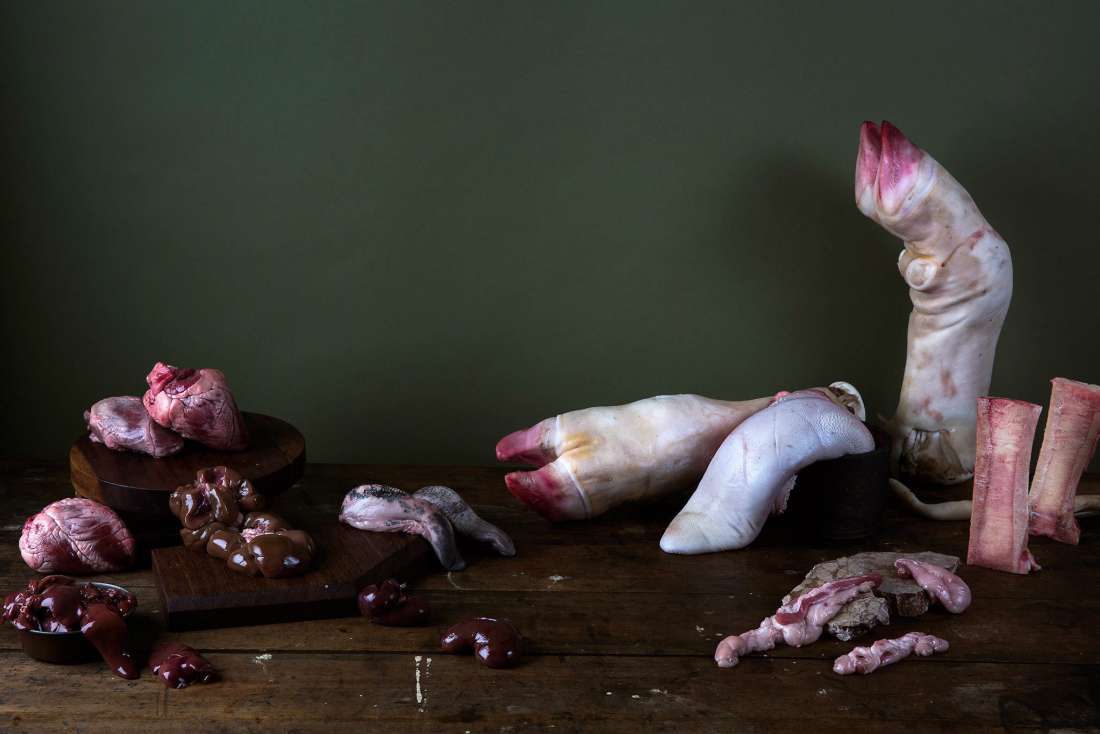 FROM LEFT
1 Lamb's heart. As with most muscles that endure heavy use, the heart should either be seared quickly over terrifyingly high heat (served rare) or cooked for a very long time at a low temperature. Stuffed in the UK, stewed in Morocco, skewered in China.
2. Veal kidney. It needs to be deveined and ideally soaked in buttermilk or yoghurt for about an hour before cooking, but then can be stewed, braised, sautéed or cooked in a pie. A popular French/Belgian combination is veal kidney, mushrooms and mustard cream sauce.
3. Lamb kidneys (front). As with veal kidney, this is often used in pies, stews and is regularly cooked with some sort of liquor (madeira, sherry etc). For obvious reasons, the lamb's kidney is also used in India where the bovine variety isn't considered.
4. Lamb's tongue. See ox tongue.
5. Chicken livers. Pate, parfait, sauté. Chicken livers are a great entry-level offal. They require minimal removal of sinew and produce amazing results with the greatest of ease. Excellent sautéed with shallots and sherry and served with Tahini. Mix tahini with water, salt, pepper and lemon juice to integrate, spread a layer of the mix on a plate, chuck the livers and their sauce on top. Good with some pide to mop up the goodness.
6. Ox tongue (applies to other tongues too). Brine this guy for a day or so, then braise for a few hours. Maybe 5 hours with a braising liquid of your choice. Peel. Slice. This will give you super tender roundels of rich meat that can be served as-is or further grilled, barbecued, crumbed, deep-fried…
7. Lamb sweetbreads (front). They may look a bit gross, but for me give foie gras a run for its money. They first need to be blanched for 30 seconds and plunged into ice water, then all of the membrane and sinew removed. From that point they can be fried, sautéed, turned into beignets. Think of them like you would a scallop.
8. Cow's foot. The most notable use of the cow's foot is in the Jamaican cow's foot soup. While it might look pretty impenetrable, once cooked for a few hours the foot (and, let's be honest, there's a fair bit of leg there) will release delicious fats, meats and marrow that will produce a full-flavoured beef broth.
9. Bone marrow. You'll need to get your bones cut down the middle for this, otherwise you'll be digging the raw marrow out of the bones from each end, which is a terrible job. Season the marrow and roast in the oven for about 20 minutes at 200°C as in the recipe above.
Words and photography by Charlie McKay, styling by Jess Murphy.