Category — Recipes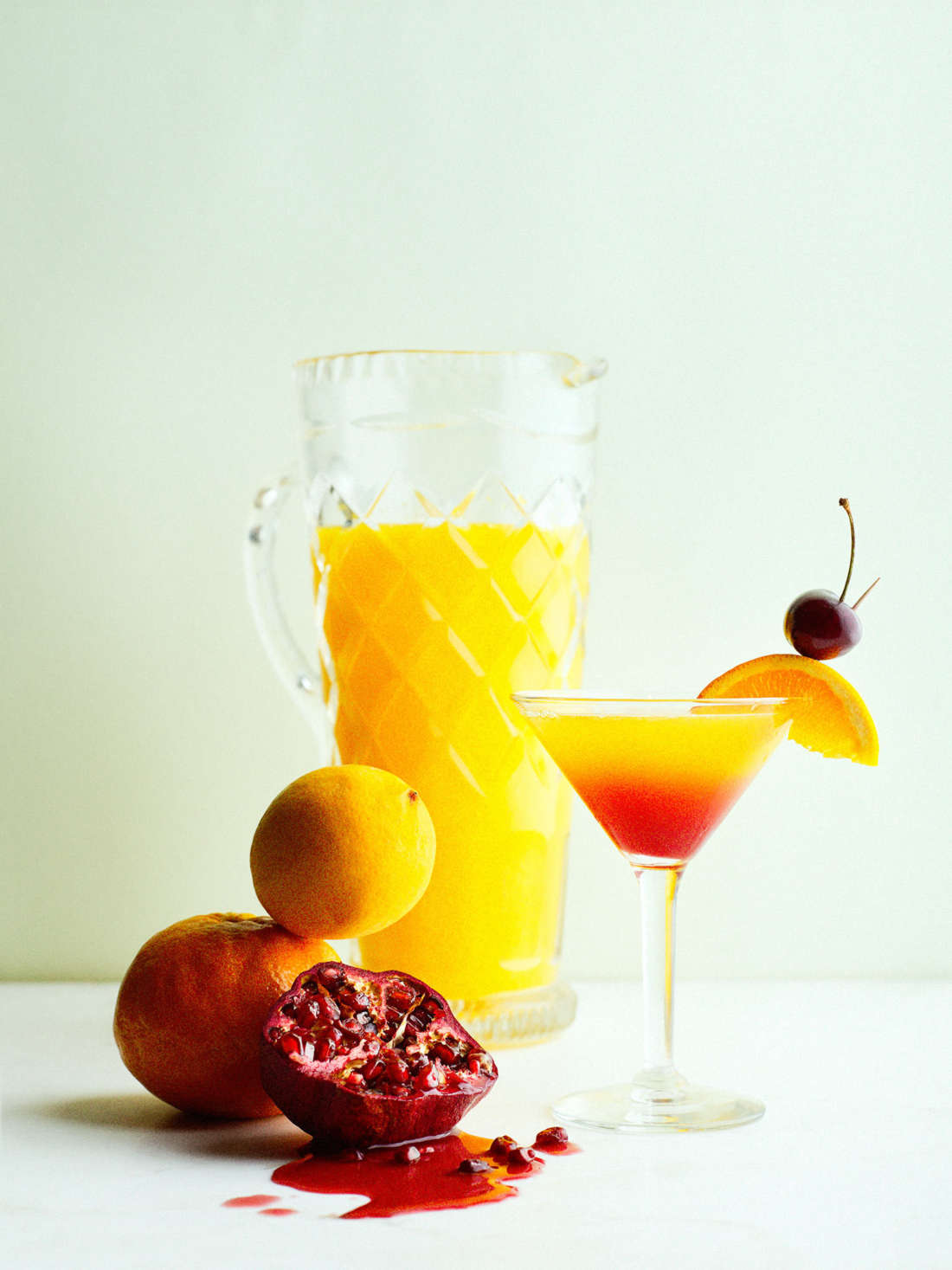 Pomegranate Tequila Sunset
Tequila, it gets a bad wrap a lot of the time. I reckon for the same reason that people turn their nose up at foods they dislike, they've just had a bad experience with it. Too often tequila cocktails are served in bars using cheap tequila, sickly sweet syrups and mass produced packet juices. Enter hangover, and an inevitable bad experience.
It's time for a good experience with my fresh, light and elegant version of the classic summer cocktail, tequila sunrise. It tastes clean and delicious, perhaps a little too easy to drink. First rule of tequila club, spend the extra few bucks on a good one, it's worth it. It tastes better and rarely results in that hangover.
This recipe uses fresh pomegranate juice and Chambord (raspberry liqueur) instead of sugary grenadine syrup. And instead of made-from-concentrate OJ, let's squeeze our own and add fresh lemon to cut the sweetness a bit.

1 round for 4 mates

You need

4 mates
two bowls
old school citrus squeezer (with moat tray to collect juices)
sieve
measuring jug
small jug
large cocktail shaker (1L is perfect)
ice
4 classic Martini glasses

Ingredients

juice of 4 large oranges
juice of 2 large lemons
good silver tequila (Patron, 1800, or Herradura are all great for this)
Chambord raspberry liqueur
one pomegranate, halved
4 fresh cherries and extra orange for garnish (optional)

Method

Mix together the orange and lemon juice and set aside.
For red mix, use the squeezer to juice the pomegranate and its seeds, squeezing out the last few drops by hand, and strain through the sieve into a clean bowl.
Add enough Chambord to the strained pomegranate juice to double the volume
(for example 100ml juice and 100ml Chambord)
Pour your red mix into the small jug.
Fill the shaker with ice
Measure out 200ml of citrus mix and 150 ml of tequila and add to the shaker.
Replace lid tightly and shake well.
Pour this into your glasses until 80% full.
Then trickle the red mix from the small jug down the side slope of the glasses to fill it up.
This red mix should sink to the bottom and create the sunset effect.

If you like, pimp up the presentation with a thin wedge of orange and an NZ summer cherry together on a cocktail stick. Slit the orange a little and slide onto the rim

You can tweak the recipe to your liking. I love tequila so I do equal parts tequila and citrus. Or if you want it sweeter, add more orange juice to your citrus mix or use only orange juice.

Prepare all the juices for a few rounds before your mates arrive. Then all you gotta do is shake and drink. Have a practice one for yourself beforehand of course.

A few rounds of these and you will be raring to go…

Salud!
Photo: Aaron McLean.