Category — Recipes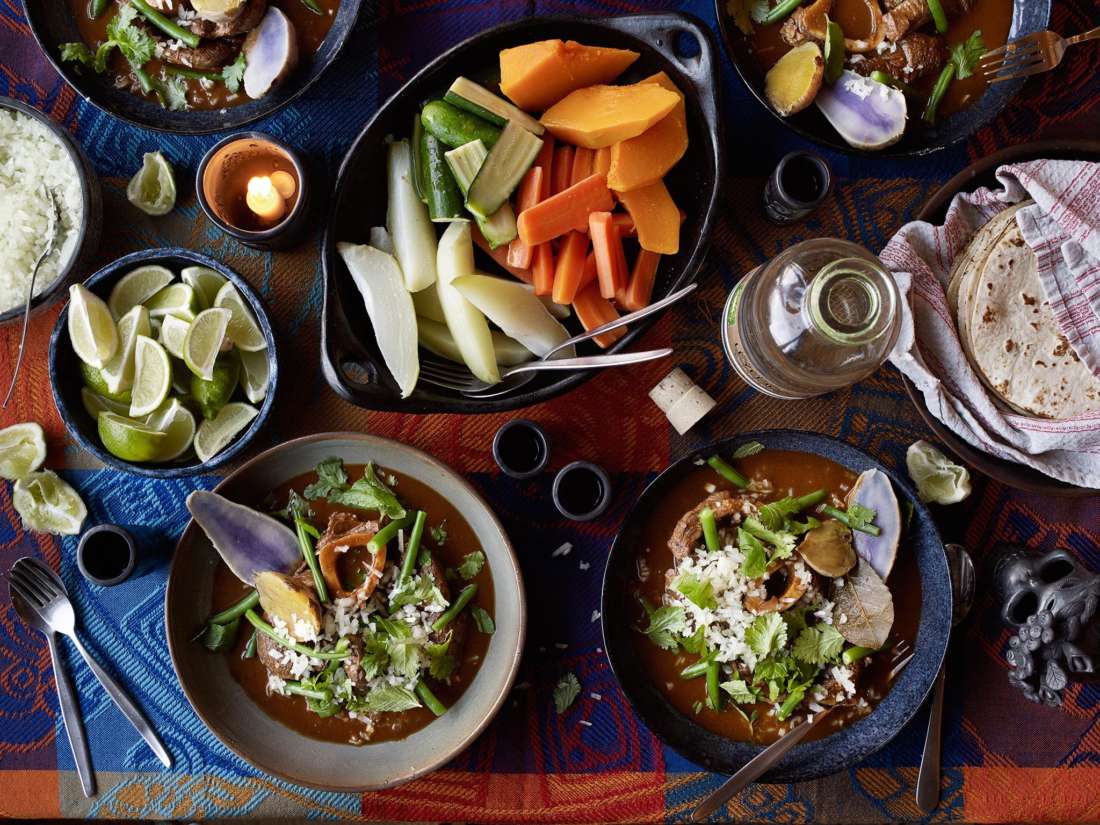 Mole De Olla
Mole de olla translates to pot of mole. It is eaten all over Mexico, the recipe and style varying from region to region and from cook to cook. Like all the best classic dishes, I reckon it was born out of necessity and whatever ingredients were to hand back in the day. It is a thin mole and is easy to make compared with a thick mole poblano, with its chocolate and long list of ingredients. I thought it qualified as a mole because of the addition of chilies but a bit of research tells me that the word "mole" comes from the Nahuatl (Aztec language) word "molli" meaning sauce, stew or concoction.
I was served this dish totally by chance, on a lunch hunt while leaving Ciudad del Carmen in the state of Campeche. We passed a little joint with no name, heaving with locals. I had to see what was so good about the place, so we turned around, parked up and headed in. With not another tourist in sight, I was the undisputed gringo for sure – some of the little kids looked at me like I was from another planet. Luckily my friend Juan was there to translate. The kitchen was full of massive simmering pots and little angry women.
The place was flat-out busy. There were a few choices on a little chalkboard hanging on the wall, but a feisty little Mexican lady told me what I was getting to eat and I didn't argue. I love places that don't give you a menu.
When she served me I asked what it was and she said mole de olla. While I was eating I thought to myself "I grew up eating this stuff" – a very tasty meat-on-the-bone stew with big wack's of spuds and lots of vegetables. Just like Mum used to make at home in Ireland – the only difference was the flavors of chili and lime, not common ingredients in an Irish stew.
I enjoyed it so much I had to try to recreate it, so this is my NZ via Ireland version of mole de olla. I used beef shin instead of veal and subbed out some of the Mexican ingredients for similar ones available here (see notes). It's cheap to make and perfect for a group, sharing around the table with a few beers, or better still Mezcal!
Millions of Mexicans eat this in 40-degree heat, so it's not just a winter dish, and as the chilies used are mild, it is not a spicy dish either. You could serve it with a hot salsa for people to amp it up as they please. Enjoy.
Mole de olla

Serves 4 (generously)
Prep and cook time 2 ½ hours
4 x 180g slices beef shin, bone in
2 medium white onions
1 bay leaf
8 cloves garlic, peeled
8 sprigs thyme
3 liters beef stock
3 tablespoons sesame seeds
2 tablespoon pumpkin seeds
4 dried ancho chilies, stemmed, deseeded
3 dried pasilla chilies, stemmed, deseeded
3 very ripe tomatoes (about 300g), halved
2 ripe tamarillos, halved
2 tablespoon tomato paste
1kg (2-3) kumara, peeled, quartered
1kg pumpkin, skinned, seeded, cut in even chunks
1 choko, peeled, cut into eight wedges (choko season is April-July)
2 medium carrots, peeled, cut into thick slices
400g green beans, trimmed, cut in half
2 zucchini, cut into thick slices
3-4 limes, cut into wedges
1 cup coriander, torn
1 cup mint, torn
First, get the beef on the go, then prep everything else as it cooks. Rinse the shins in cold water then pat dry with paper towel. Place the meat in a large, heavy-bottomed pot and cover with the stock or water. Roughly chop one of the onions and add to the pot with the bay leaf, garlic and thyme. Bring to the boil then reduce the heat to a simmer, skimming any foam or fats from the surface. Cover with a lid and keep an eye on the stock level as it cooks – the meat needs to be submerged throughout, top it up with stock or water as needed. The meat will take about 2- 2½ hours to cook until tender.

While the meat is cooking, toast the sesame and pumpkin seeds in a dry non stick pan then set aside. In the same pan, toast the chilies for about 1 minute, turning and watching them carefully to ensure they don't burn, or they will taste bitter. Once toasted, put the chilies in a bowl and cover with boiling water to rehydrate for 10 minutes.

Next, in the same dry pan, add the tomatoes, tamarillos and the rest of the garlic and stir until charred and brown, but not black. The garlic will take less time than the tomatoes. Remove the rehydrated chilies from the water, reserving the water, roughly chop and put in a blender with the sesame and pumpkin seeds, tomato, garlic, tamarillo and tomato paste. Add a few spoons of the chili water and blend everything to a very smooth puree, then strain the puree through a sieve, making sure you push everything through, and set aside, discarding what's left in the sieve.

Cook the vegetables separately. A stove-top steamer works well, removing each vegetable as it is ready. Or you can just boil the kumara, pumpkin, choko and carrots until tender, and blanch the beans and zucchini in salted boiling water for 1 minute.

Check the meat – you want it to be very tender but not falling apart. Carefully remove the meat to a plate while you strain the broth into a clean pot, discarding the cooked onion, garlic and thyme. Skim any excess fats from the surface. Put the meat back into the pot with the strained broth, add the chilli puree and continue to simmer for another 20-30 minutes. Season with sea salt to taste.

To serve, finely chop the remaining onion. Divide the meat among large bowls with plenty of the sauce, and add the green beans, coriander and mint to each bowl. Serve the assorted vegetables on a platter in the middle of the table accompanied by bowls of lime wedges and the finely chopped white onion. Instruct your mates to squeeze the lime and add onion to their taste. There is no right or wrong way to eat it, just get stuck in! Throw in some warm tortillas for good measure if you're feeding a hungry crew.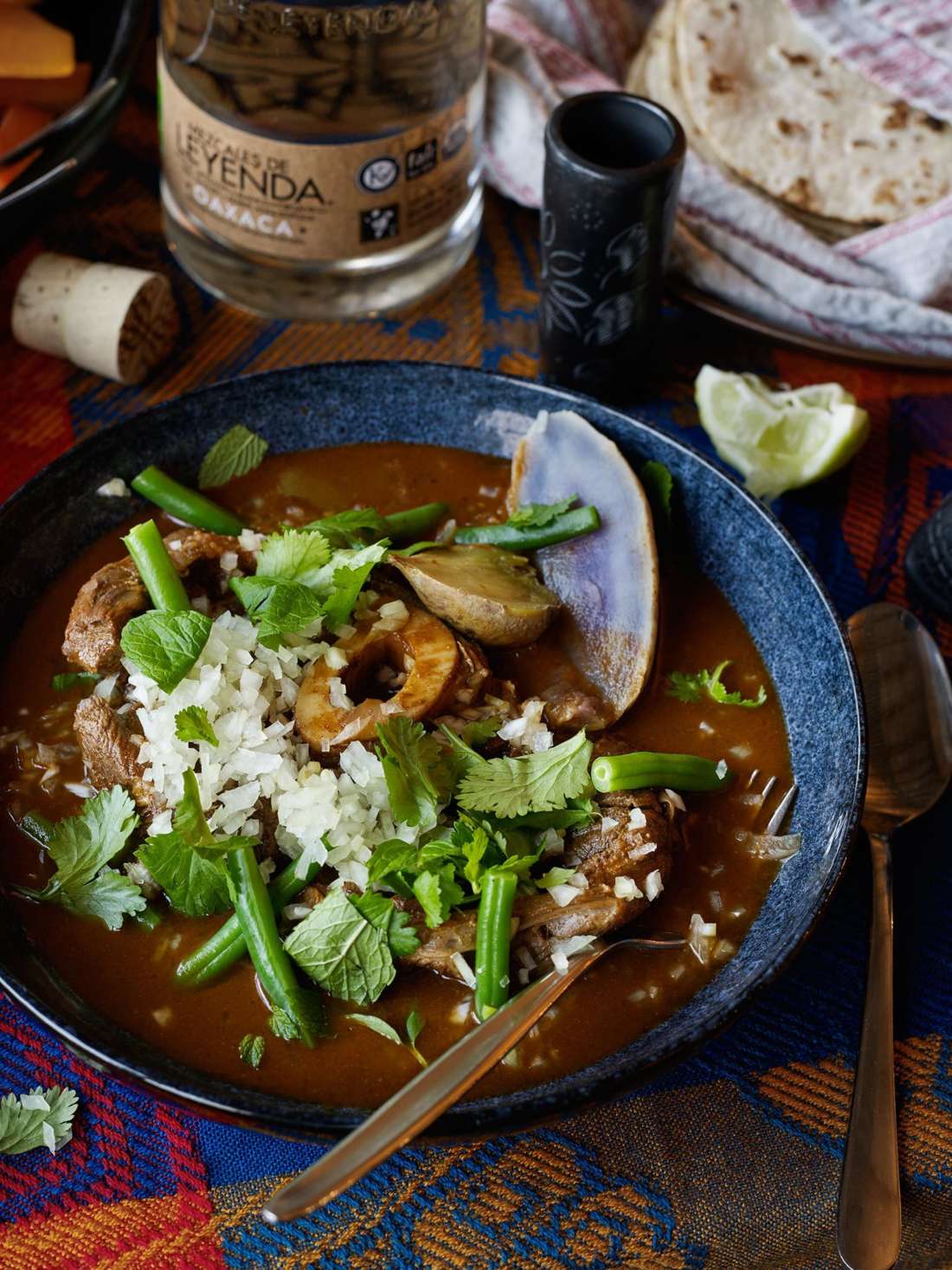 Chef tip:
You could stew your beef and have the sauce made a day before you need it.
Refrigerate then reheat and cook your vegetables when it's time. Dishes like this taste even better the next day.
Ingredient notes:
Ancho and pasilla dried chilies should be stocked in any grocery that sells Mexican ingredients, or you can get them online at tiopablo.co.nz
In Mexico this dish is usually served with corn and potato. I have used kumara in place of potato and pumpkin, as corn is out of season. Make the dish year round and accompany with your preference of in-season vegetables.
Instead of epazote, a Mexican tea-style herb, I added thyme and mint.
If you can't get choko, just do a little extra of the other vegetables.
Instead of xoconostle, a type of cactus fruit, I have used tamarillo as it has the same tart flavor. If tamarillo are out of season you can use 1 tablespoon of tamarind paste.
Photoography: Aaron McLean