Category — Recipes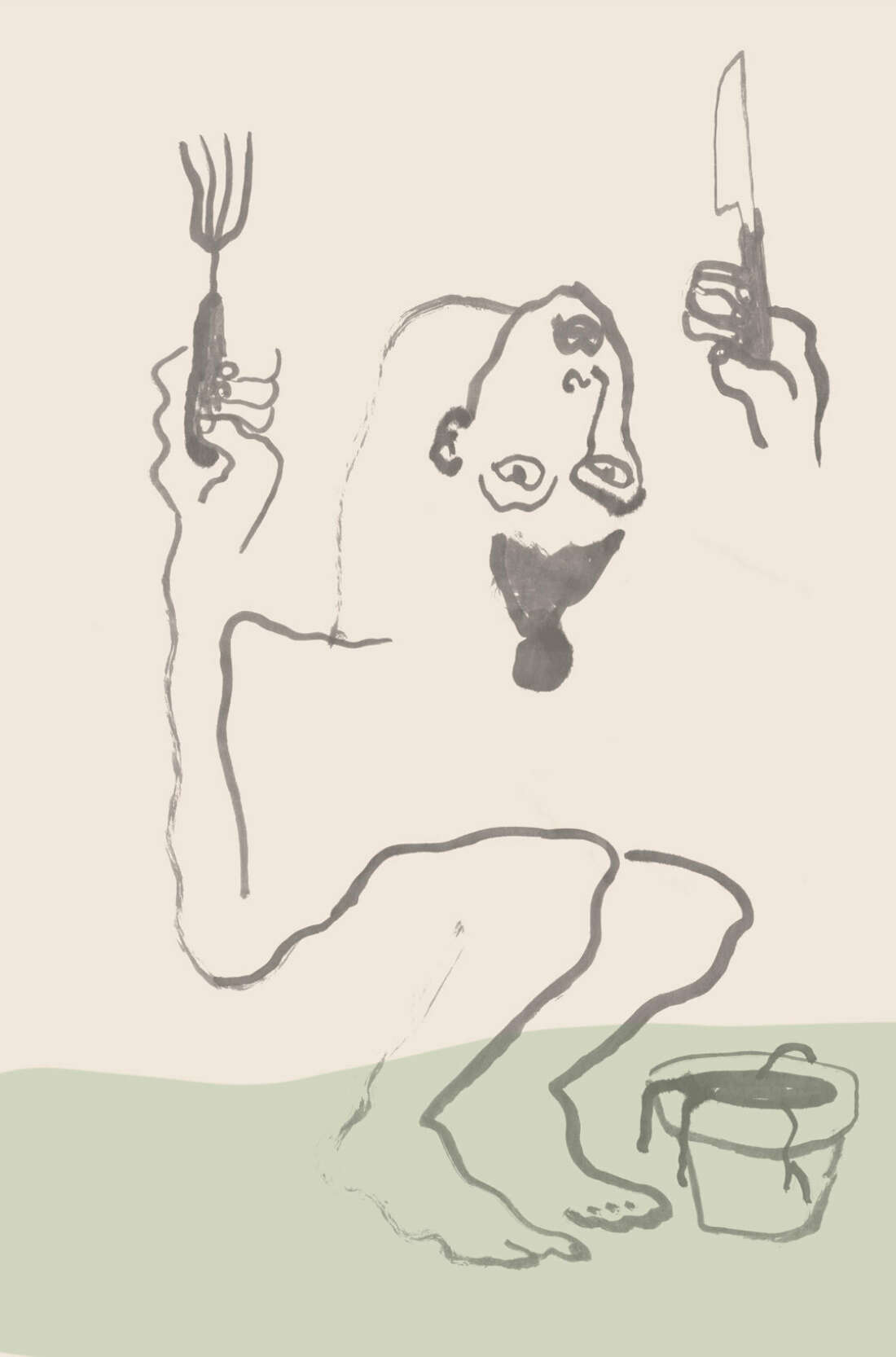 Journey to self-sufficiency
I grew up on the North Shore of Auckland. My two brothers and I are kids of the 80's. We roamed the streets with the neighbour's kids, we tramped in the Waitakere Ranges and spent many a dreamy summer under our big canvas tent beside the sea.
We shopped at the local supermarket. We ate Chocolate Chippies and Snax Crackers and occasionally boysenberry ice cream and K-bars, too. Our fruit and veg came off the shelves of that same supermarket and I don't think I ever once gave thought to how they were grown. But a memory that does stick is the sprawling garden of the house I lived in before I turned seven, where the best strawberries, peas and plums grew, thanks to my Mum, an avid gardener. She is a clever cook who turned those harvests into preserves to stock the pantry and share with our lucky neighbours.
When I was 13, my parents decided to give life a shake-up. We winged our way north-west to a tiny country called Brunei, a melting pot of culture and food. It was here that my love of food and locally grown produce took its hold. Mum and I became regular visitors to the local markets where we'd load our baskets with eggplants of all shapes and colours, as well as snake beans and purple mangosteen whose sweet creamy flesh we'd snack on later. We'd watch on in wonder as locals carefully picked out live chooks which were wrapped in newspaper to be carried home to await their fate. The wet markets were also a riot of colours and smells. I remember the white tiled floors and vendor stalls which were frequently hosed down, blood snaking its way towards drains in the floor. Crates of crabs stood in stacks, and seafood of all the colours of the rainbow vied for our attention.
It was at this time that a neighbour from London introduced me to the River Cafe cookbooks, and after our market visits I would spend long stretches in the kitchen. I made fresh pasta that dried on broomsticks, in between chairs. The morning's market haul then became pasta sauce, sides and decadent desserts, which I served to my parents and their friends whilst they poured themselves another G&T and talked politics. We lived in a compound which backed onto the rainforest. Monkeys, snakes and scorpions were familiar visitors, and when the monsoon rains hit and the storm drains swelled, we'd find sizable fish swimming through our backyard. Natural beauty and immense biodiversity surrounded us, and along with this new love for food I developed a deep love of and appreciation for the environment– both its energy and its fragility.
A move to boarding school in Auckland before I turned 15 did little to foster these new passions. The food was unmemorable and the closest we got to nature was walking along the tree-lined streets of Epsom and into Newmarket. It wasn't until I hit my twenties and headed south to Wellington to study Industrial Design that I felt an urge to connect with the earth. In my fourth year of study I designed a worm farm, spurred on by the frustrations I had with flatmates binning kitchen scraps. Making compost naturally led to wanting to grow vegetables and in our sunny elevated flat in Newtown I began to plant my first seedlings, brassicas I think. I vividly remember making an attempt at cultivating the earth which was dry and dusty, a red-brown colour. I'm not sure that it contained a whole lot of life and — come to think of it — I don't recall that the seedlings actually amounted to much.
Things in the gardening department progressed slowly from then on, overshadowed by a drive to pursue a career. I graduated and returned to Auckland in early 2007 and was lucky enough to be accepted into the graduate program at Fisher & Paykel where I worked for 6 years. There my love of cooking soon spilled over into my work when a group of like-minded foodies and I started Our Kitchen, Fisher & Paykel's very own food blog. It was that opportunity that enabled me to explore what I loved most about food and cooking, learning that seasonal, organic, locally grown produce was what spoke to me.
Meanwhile, in our modest sized yard at home my partner Nick and I built 3 macrocarpa garden beds and began to grow things. I planted seedlings and experimented with raising seed myself with very limited success. We had a compost bin and worm farm and we got 6 chooks which we ran down the side of the house. What we grew supplemented what we bought from the supermarket and this began to bother me. I felt angry and frustrated that the majority of the produce that was available at the supermarket had been grown using synthetic inputs, while organic produce was prohibitively expensive. So we joined an organic co-op making dry-goods affordable and subscribed to an organic fruit and veg delivery service.
But soon that too didn't feel like enough. We were renting our home on a small piece of land in a big city. We longed for a place we could call our own. Nick, who was born and raised in Eltham, could no longer dull the call of Taranaki Maunga and so we began to look for land. Five or 10 acres we thought would do us. Enough for an orchard, vegetable gardens and then some, so that we could raise a beast or two to fill the ubiquitous deep freeze found in the garage of every rural kiwi.
We looked for land for a good year, making offers on a handful places which fell through. Then 30 weeks into my third pregnancy we became homeowners at last. Not the acreage we had hoped for, but in many other ways much more. We were to be the owners of two-thirds of an acre of land flanked by a babbling stream, 50 established fruit trees lots and vegetable gardens on the outskirts of town.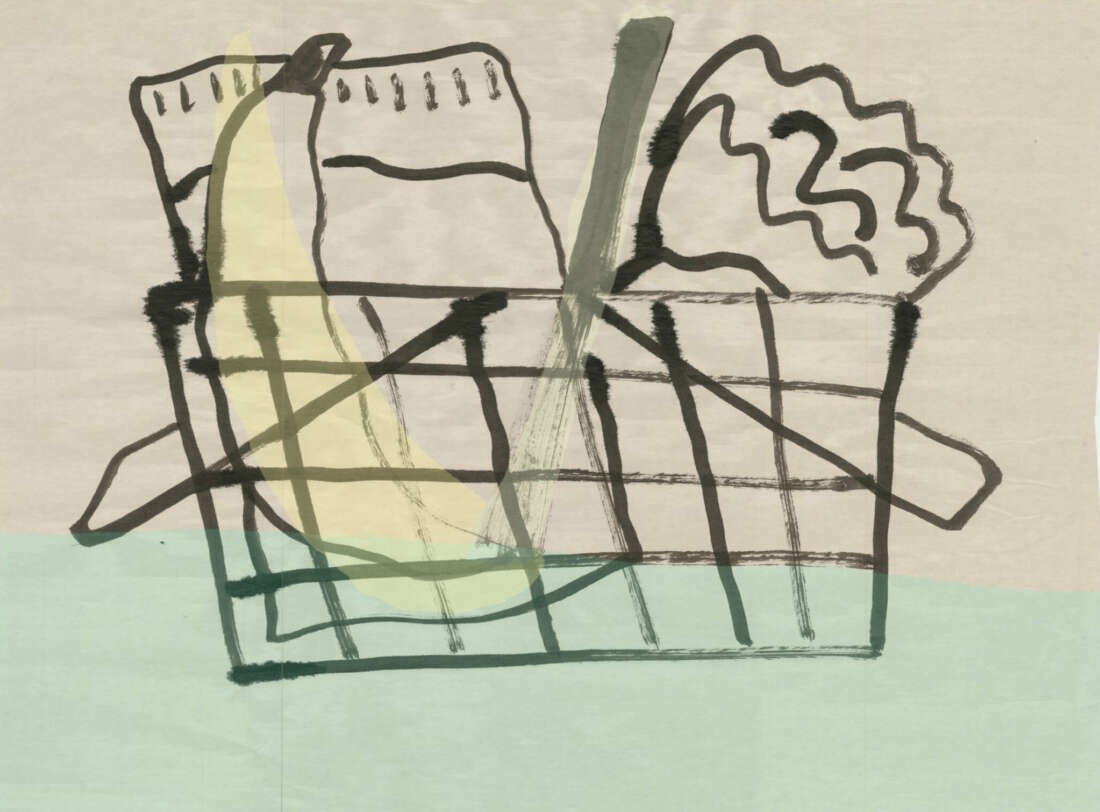 We arrived in Inglewood one week before Christmas and six weeks later our third baby was born and life on our small but beautiful piece of earth began. Our first year here passed in a blur with a new baby and two spirited pre-school boys keeping us busy. I grew some things in the garden but mostly relied on the spray-free vege stand just a stone's throw from our front door. As our wee girl grew and became more mobile I found myself spending more and more time out in the garden. Initially I remember standing between our raised beds feeling a sense of paralysis which arose from inexperience and a lack of knowledge. I had never before grown on such a scale. Had never raised seeds, thought about crop rotation, or what to plant and when to plant it. Now I stand between those same beds and feel a real sense of pride. In order to overcome that initial lack of inertia it simply required that I put one foot in front of the other, taking on small projects, being pragmatic about the mistakes that naturally came, and reflective about the progress I was making.
The four garden beds that were here when we arrived have now expanded to 11 (and there are plans for more) and this year it meant that at the height of summer I was growing all of the vegetables we were eating, aside from onions and garlic – both crops I am yet to master. I've had to be experimental about what we grow here. Living on the side of a mountain means that our growing season is shorter and wetter than it might be elsewhere in the country, so growing things like tomatoes, capsicums and eggplant which need a long hot summer can be a challenge. In addition to the plants I raise from seed are those, such as rocket, kale, coriander, parsley and lettuce, which I let go to seed to germinate in situ when the conditions are right. I now have a long list of such plants which bring me such joy when I see their little green shoots break through the earth to start the cycle again.
Half of the 50 or so trees that dot our property are feijoas, so autumn's bounty is a generous one. What we don't preserve or share gets turned into feijoa cider which is fast becoming sought-after round these parts. Under several of our stone fruit trees I've begun experimenting with herbal leys which support the health of the trees whilst providing more space to grow productive food. In these patches comfrey, rhubarb, wild strawberries, apple mint, nasturtium, and yarrow abound and look so pretty in the height of summer in full flower. We planted a fig tree last year and its slender branches are now covered in deep purple figs which blush pink inside and are just days away from being perfectly ripe. I suspect that, like the broad beans, peas and feijoas, they too will be devoured on the spot before they can even make it into the kitchen! An orange and mandarin tree, just juvenile when we arrived here, for the first time this year are covered in fruit and ready to deliver a healthy dose of vitamin C in the depths of winter when we need it most.
In addition to what we actively cultivate, I take great pleasure from foraging for food. More recently I have taken an interest in weeds, those plants brought here by our ancestors for their medicinal properties or because they, like the stoats and rats, were accidental stow-aways. In my cooking I am enjoying experimenting with dandelion, chickweed, plantain, dock and herb Robert, among others. As well as (mostly) tasting great, they grow in abundance, are nutrient-dense and add variety to our diet. If we venture further from home we find flushes of flat brown mushrooms and barberries on local farms and further out still, along dusty back country roads, are more blackberries than you'd ever know what to do with. This year we picked and froze 22kg to get us through the winter. Little reminders of the summer sun as the days shorten and the mountain puts on her snowy white korowai.
And then when the foraging is done, at this time of the year we're busy preserving the last of summer's bounty and planting the crops that will feed us through the winter. The Jerusalem artichoke flowers, whose heads once stood tall and tilted towards the sun, are withered now and a trip to the back of the garden to dig their pale knobbly tubers filled 3 buckets weighing in at 15.5kg. Plenty to make soup (see recipe below) to freeze, some to share and the rest to preserve. The other day I dug the self-seeded potato plants that are dotted around the garden and returned with a big bucket of beautiful dark purple Māori potatoes. I've stewed the last of the apples and have several kilos of tomatoes ripening on the windowsill which soon I'll turn into tomato sauce. All this abundance feeds and nourishes not only our family, but those of our friends and neighbours and this for me is one of gardening's greatest joys.
The food which comes from our garden nourishes us in a way that no other food could. It feeds not only us but also the birds, bees, bugs and insects that form an invaluable part of our wee ecosystem, which shifts and changes with the seasons. Living on this land has changed me. I have become more present, more resilient and more observant. Our kids have, too. They bring to this journey a wonderful curiosity and a depth of knowledge which is always a wonderful reminder of what we have all learnt and how far we have all come. We don't own this land, we are merely kaitiaki, lucky to grow alongside it for a time; to care for it so that in turn it can care for us.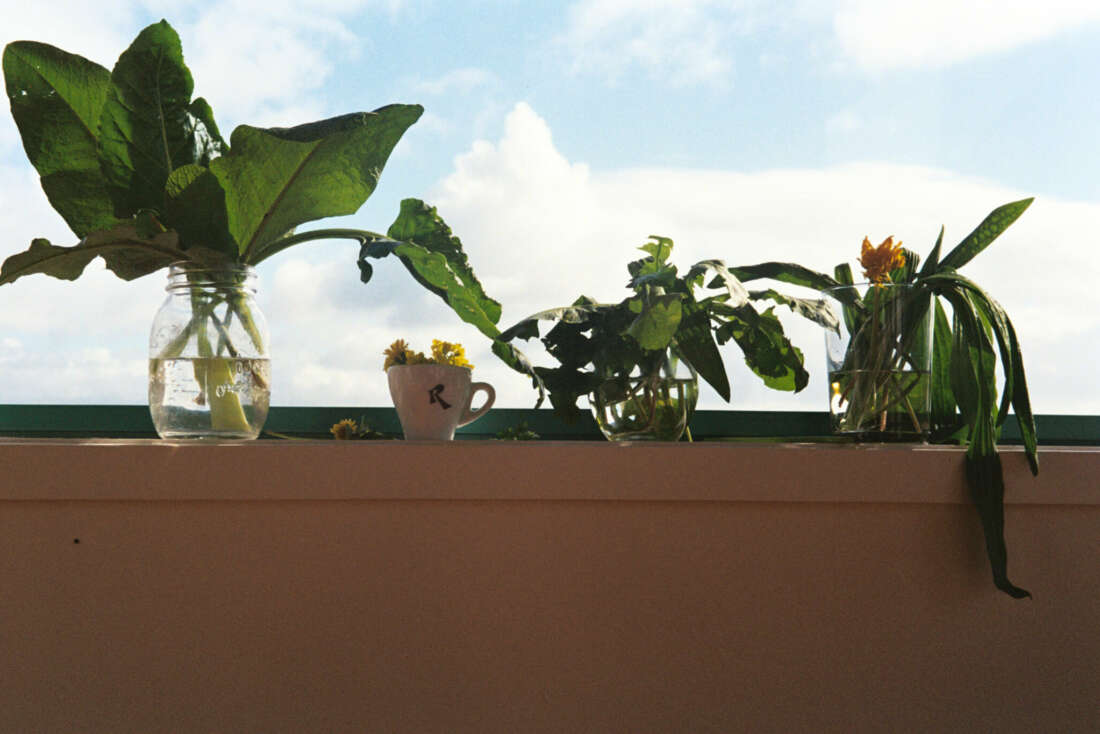 Weed Pesto

Makes 2 cups
15 dandelion leaves
15 herb Robert leaves
15 sprigs chickweed
5 young dock leaves
10 borage leaves
5 clover flowers
10 plantain leaves
10 kumara leaves (or substitute with 10 smaller kale or spinach leaves)
1 cup pumpkin seeds, toasted
75g parmesan cheese, grated
2 cloves garlic
zest and juice 1 lemon
½ teaspoon salt
If your leaves have lots of dirt on them then give them a quick wash and then pat them dry. Put them into a food processor along with the remaining ingredients and blend until desired consistency is reached. I like my pesto to have a bit of texture so I stopped it before it got too uniform. Serve with crackers and cheese or stirred through a roast vegetable salad. It would also be delicious thinned down with cream and poured over fresh pasta. If you don't have access to the weeds listed in the recipe then swap them for edible weeds that you can find. Juliasedibleweeds.com is a wonderful resource for learning about and identifying edible weeds.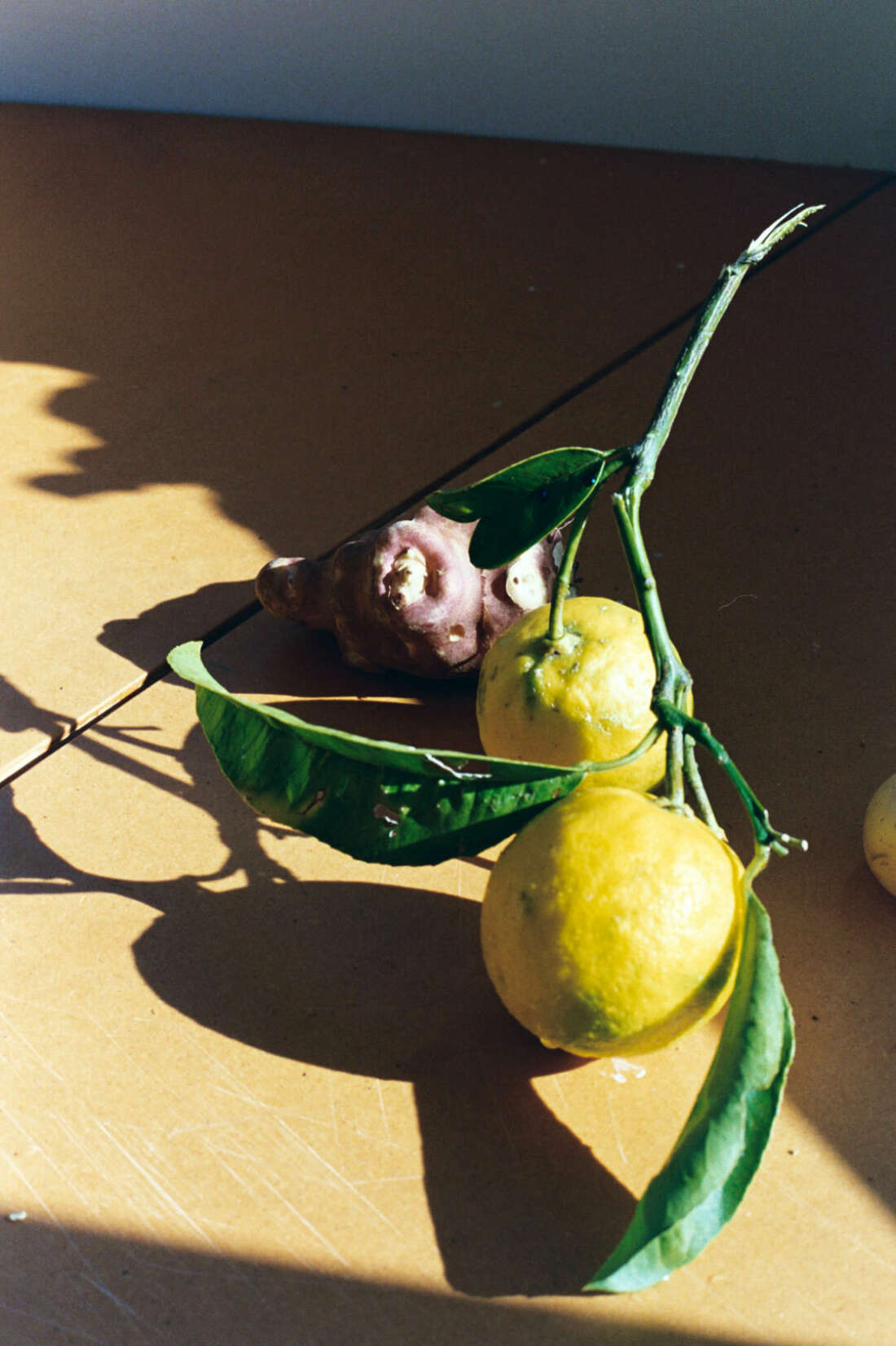 Jerusalem Artichoke Soup
Serves 4-6
3 tablespoons ghee, or whatever oil you roast and fry with
1 kg jerusalem artichokes, scrubbed clean, cut into 2-3cm pieces
225g potato (or thereabouts), cut into 2-3cm cubes
1 onion, finely chopped
2 cloves garlic, finely sliced
3 cups chicken or vegetable stock
75ml cream (or full cream milk)
3 tablespoons butter (or use ghee again)
2/3 cup breadcrumbs
zest 1 lemon
sage leaves (more is always better with sage leaves fried in butter so 3-5 per person is a good start)
Pre-heat the oven to 180ºC fan bake. While preparing the vegetables put 2 tablespoons of the ghee into a large roasting pan and put it in the oven to melt. Keep an eye on it to ensure it doesn't burn, it will only take a minute or two once the oven is hot. Once the ghee has melted, add the Jerusalem Artichokes and potatoes and roast for about an hour or until golden brown and really soft. Every 15 minutes or so as they cook, give them a good shake so that they don't stick to the bottom of the roasting dish and so that they brown evenly. While they roast, heat the remaining 1 tablespoon of ghee and fry the onion and garlic over a medium heat until soft and translucent. Add the roasted vegetables and the stock, bring to the boil then reduce the heat to simmer, with the lid on, for 10 minutes. Add the cream or milk and puree using a stick blender. Season with sea salt and freshly ground black pepper to taste. While the soup simmers, heat 1 tablespoon of the butter in a heavy-bottomed frying pan over a medium heat and fry the breadcrumbs until golden and crunchy. Remove from the heat, transfer to a small bowl, stir in the lemon zest and season with sea salt. Wipe the frying pan clean and heat the remaining 2 tablespoons butter and over a medium heat fry the sage leaves until crispy. Spoon the soup out into hot bowls, top with the breadcrumbs and then the sage leaves, being sure to drizzle over any remaining butter that might be left in the frying pan.