Category — Hospitality/Dining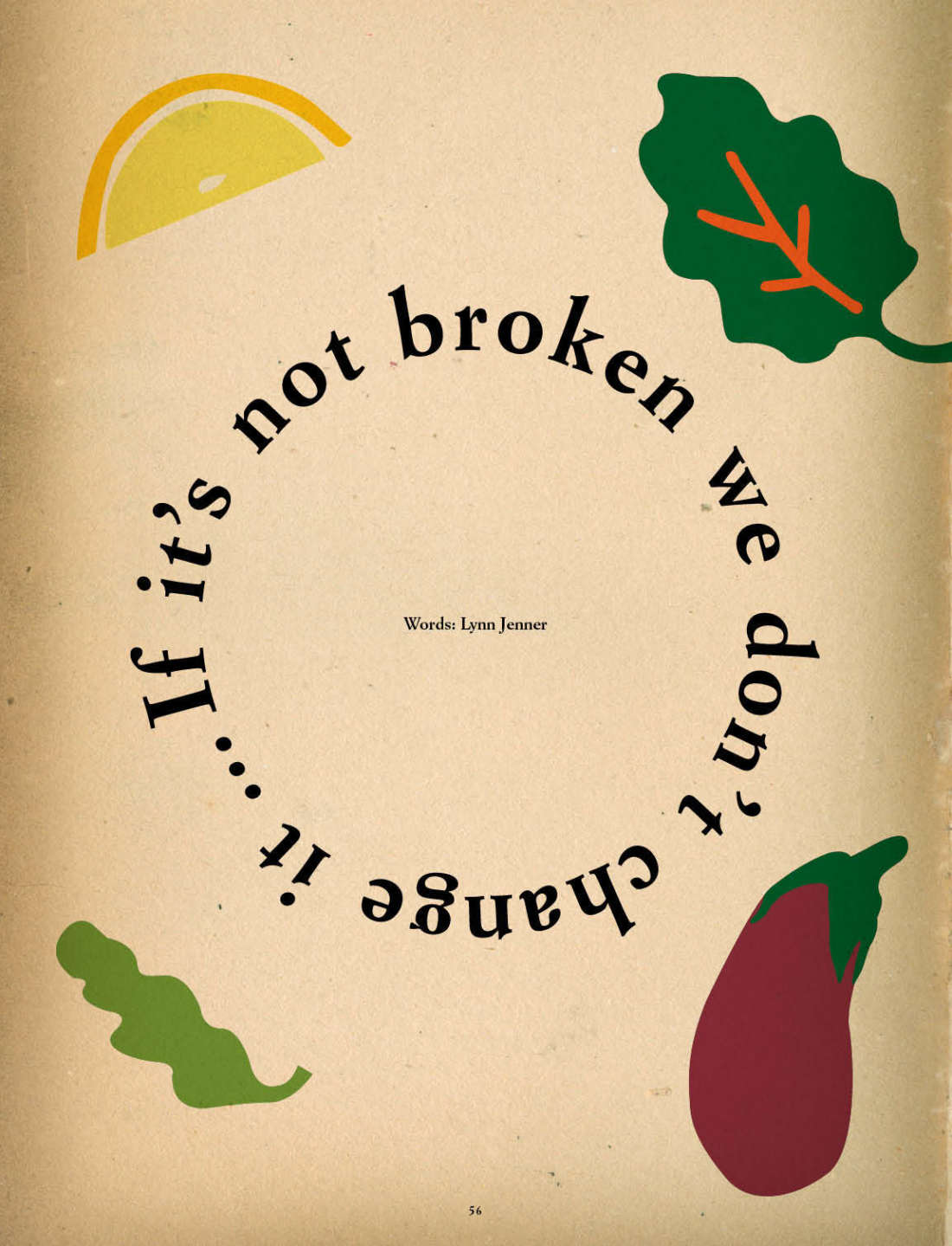 If it's not broken we don't change it
They say if you can remember the 70's you weren't there, but that isn't entirely true. I have proof. Ever since I left Dunedin in 1983 I've kept great taste and texture memories of the whole-wheat salad, coleslaw and cottage cheese at Pot Pourri Vegetarian Café in lower Stewart Street.
I remember too how it felt to walk into the brightly lit café on a dark evening, and how the wooden walls and the stained glass made me feel as if I was at home, but somewhere nicer than my own home. Over the years I have tried many times to recreate that perfect combination of salty toothsome wheat and tart crunchy slaw, but mine has never quite hit the mark. It's been one of those quiet disappointments of my kitchen life.
While preparing for my recent trip to Dunedin I spotted Pot Pourri in an online list of vegetarian cafes and my curiosity was sparked. How would the cafe be after more than thirty years? How would anything be after that long? At the first possible moment I made a beeline for the Pot Pourri and ordered the wheat salad and coleslaw combo. Most things you return to after many years are disappointing, but not this. The 2017 salad bar had more options, including the brightest orange and red, most enticing, winter roast veggie salad I have ever seen, a fresh and bouncy-looking green leaf salad, some hummus to stick it all together, and what turned out to be a very tangy tabbouleh, as well as the original wheat salad with soy dressing and slaw. The wheat salad and slaw was still a cracking combination and with the sweet fluoro orange pumpkin and all the rest of the newer salads, I felt as if I was doing my body a favour with every bite. On my next visit, with that thirty-year longing satisfied, I relaxed a bit, looked at the rest of the menu and ordered the bagel, banana and honey, and a flat white. It was another perfect combo. After that, with the runny honey still sticky on my fingers, I started to think about how a café can survive for forty years when the world has changed so much and what people want from their food has changed too.

In an industry where the average café is sold or re-branded about every two years, forty years is a l-o-o-ng time. When the café opened in the late 1970's the fall of Saigon was fairly recent news, a consortium backed by the government was talking about building an aluminium smelter at Aramoana right at the entrance to Otago harbour, and most restaurants pretended they hadn't heard of vegetarians. In those forty-odd years since the café opened climate change has come in from the fringes and become the topic we are all too scared to talk about. These days eighty odd cruise ships a year dock at Port Chalmers and send tourists into the city to enjoy the stone buildings of the gold rush days. For a while there those buildings were seen as too big and too old fashioned and plans were made to demolish them, but these days those old stone buildings are being loved, restored and given their rightful place as buildings to be proud of.

And all this time Dunedin's harbour has stayed its heart-stopping, beautiful self, and the Pot Pourri Vegetarian café has been serving stuffed potatoes, coleslaw, whole wheat salad, green salad, savouries like spinach tart, sweet treats with a healthy twist, and tea and coffee of course. These days there are new things on the menu too, like those big chewy bagels and the obligatory green smoothies, but the old iconic dishes are still doing their bit to keep the till happy day after day.

The passage of time can be seen in other ways too. The original owners used rimu from the old Little Sisters of the Poor home for the elderly to make four tables which were screwed into the wall. The present owners, Hilary and Craig Procter, had to unscrew the tables from the wall and move them further apart because customers were getting stuck and irritable with each other. Turns out New Zealanders have got bigger and taller in the last thirty years and we need more space for our seats than we used to.

I sat down with current owners Hilary and Craig Procter one Saturday morning in late May to talk about the food, their suppliers, and how they keep the standard up and the vibe friendly day after day, year after year. We sat in a cosy corner and chatted while snow fell outside.

I found out that Hilary and Craig have owned the Pot Pourri for seven years. Like café people everywhere they work long hours. Craig bakes all the bread, makes the pastry, the falafels and is the only chef. They make everything from scratch except the bagels. To do this Craig starts work at 3.00 am six days a week. Hilary starts a bit later, once the kids are at school. After school they take their kids to sport and after the kids are in bed they do their book-keeping and ordering. Hilary and Craig are proud of their café; the food they serve, the warm and welcoming atmosphere they and their staff create and the growth in the business since they took over. I jumped in at the deep end.
LJ: What is your food philosophy?

Hilary: We provide healthy tasty food with local fresh ingredients. There will be something that everyone will enjoy – you certainly don't have to be a strict vegetarian to enjoy our food. We love getting to know the people who supply us. We pick up all the salad greens on our way to school in the mornings from a local family who grow them hydroponically. We grow a lot of herbs ourselves. We have visited the place that supplies our free-range eggs and are meeting new people all the time who grow and produce wonderful fresh ingredients.
Craig: Right now we have a boot full of pumpkins that we brought back from Central Otago last week. (LJ: That explains the colour and sweetness of the veggie salad!)

LJ : What made you decide to buy the Pot Pourri rather than any other café?

Hilary: While working as an Auto Electrician Craig had done a part time certificate in cookery and not long after finishing this he saw that Pot Pourri was for sale. We had used to go there a lot when we were younger on a Friday night for dinner – back then it was open 8am to 8pm. We always loved it as it was somewhere to go that was a bit different and had a comfortable feel about it.

We purchased the cafe in January 2010. We were looking for a change in direction, with a young family we didn't want to be tied to 9-5 hours and wanted a bit more flexibility. We wanted to be able to be there for the children after school etc. It certainly wasn't about making a fortune, we just wanted to make enough to have a good life and to be able to teach the children about working hard and something that we could all do together. From a young age they have helped with lots of things from boxing up eggs, picking herbs, stamping bags, filling up the drinks fridge, painting and dishes. Unusually for cafes these days we are not open on Sundays. Sunday is our home day and hopefully we can continue just being open Monday to Saturday.
Craig: I'm a bit of a perfectionist. I learned that from my first boss when I was an apprentice and I still think that way. It's a fine line between efficiency and quality. For example I make small batches of things because you get a better product that way. It takes more time but I'd rather do it that way. I really work on consistency too.

LJ: How do you keep going with all the hours you do?

Craig: We hang in there because we like what we do.

LJ: What do you know about the café's history?

Hilary: It was started by a group of people who used to attend yoga at a nearby leisure centre and were looking for somewhere to go for a healthy meal afterwards. The exact date of when Potpourri first opened is a bit of a mystery. Everybody we talk to has a different story and can remember where they were working or what they were doing around that time. It's definitely around the 40 year mark!

Potpourri has had many owners since then. We regularly have people come in saying they used to work here while at university or know of someone who worked here. Just recently a man bought his elderly mother in while visiting from Australia and she had worked here 30 years ago and enjoyed having a look around the kitchen etc. Oddly many people come in and say they used to attend parties in the basement under the cafe back in the late seventies.(LJ: They also remember the 70's!)

Apparently the original owners found all the church fittings and the stained glass window at a local demolition yard and purchased it all for $200! It was all from the Little Sisters of the Poor chapel when it was relocated across town in 1978. Many of the bent wood chairs are still the original chairs.

LJ: Are you vegetarian yourselves?

Hilary: Neither of us were vegetarian when we first bought the cafe, in fact my Dad owned a butcher's shop when I was growing up so as a child I had very few meals that didn't contain meat. I am now vegetarian and don't miss eating meat at all. The children can make up their own minds when they are a bit older. They certainly eat a lot less meat and fish than they used to.

LJ: When customers come into Pot Pourri how important do you think it is for them that the food is all vegetarian?

Hilary: It's hard to know how many of our customers are vegetarian. We guess 30% of our local customers are vegetarian, but we have a high percentage of tourists from backpackers to cruise ship visitors that come in because we offer only vegetarian food. We are also lucky to be situated so close to the iconic Dunedin railway station which is popular with tourists.

LJ: I notice you cater a lot for vegan and dairy free and gluten free customers. How important is that side of the café these days?

Hilary: Catering for people with different dietary requirements has become a big part of our business . Gluten free, vegan, dairy free and more recently refined sugar free and raw are very popular at the moment. We try to have a variety to suit everyone.

LJ: Where do you think vegetarian food is at these days? Is it growing, shrinking, only popular in certain age groups?

Hilary: Vegetarianism is definitely on the increase, whether or not people choose it for the health benefits of eating a plant based diet or for the protection of animal rights. We have noticed that becoming vegan is growing at a faster rate, especially people in their twenties, so we have had to adjust our menu accordingly.

LJ: What are the best-selling items or dishes at Pot Pourri?

Craig: Our vegan date scones are huge sellers. They are one of the original recipes.
Hilary: Baked jacket potatoes with toppings and the fresh salads sell well. From the original Pot Pourri recipe book we still serve organic whole wheat salad and coleslaw. Our famous Chilli Sauce for our vegan pies and baked potatoes is also from the old days. I think the smell of this sauce is ingrained in the wood of the cafe!

LJ: Do your customers seem to like change or do they like to find their favourites on the menu when they come in?

Craig: Some people come in every day and buy the same thing. So if it's not broken, we don't change it. At the same time we don't want it to get boring so we do research new recipes as well as the ones people know.
Hilary: Customers can definitely get upset if we don't have their favourite item but our staff are great at talking them into some new to try!

LJ: Is there a popular Pot Pourri recipe you would be willing to share?

Craig: A very well-known chef who has a restaurant up the road comes in for our Spinach & Feta Tarts. Here is the recipe:
7 large potatoes, peeled and cut into 1cm dice
2 cups grated cheese
4 eggs
2 cloves garlic finely chopped
1/2 teaspoon of salt
Good pinch ground black pepper
2 cups of spinach shredded
1 cup of feta chopped into small cubes 
Red pepper cut into strips (optional)
Preheat oven to 180 degrees Celsius.
Boil potato cubes in lightly salted water until just cooked through. Drain well and leave to cool. Once cool mix all the ingredients, except the feta, together. Once mixed gently fold through the feta, taking care not to break it up.
Grease 12 large muffin tins, then line with rolled savoury pastry. Add large spoonfuls of the mixture to the pastry cases, mounding up the mixture quite high as it will cook down. Add strips of red pepper to the top to garnish (optional).
Bake at 180 degrees Celsius for 35 minutes or until golden and serve with your favourite chutney.

LJ: Tell me about your suppliers…

Hilary: Our gorgeous bagels come from Beam Me Up Bagels. They are local and a family business like us. beammeupbagels.co.nz
We're lucky to have two good hydraponic veggie suppliers near where we live, Saddleview Greens Ltd and Janefield Hydraponics facebook.com/janefieldpaeonieshydroponics
And we get the sweetest freshest hazel nuts from Crayz N Nuts, Balclutha. The nuts go into our Triple Nut Triple Chocolate Slice.
stuff.co.nz