Category — Features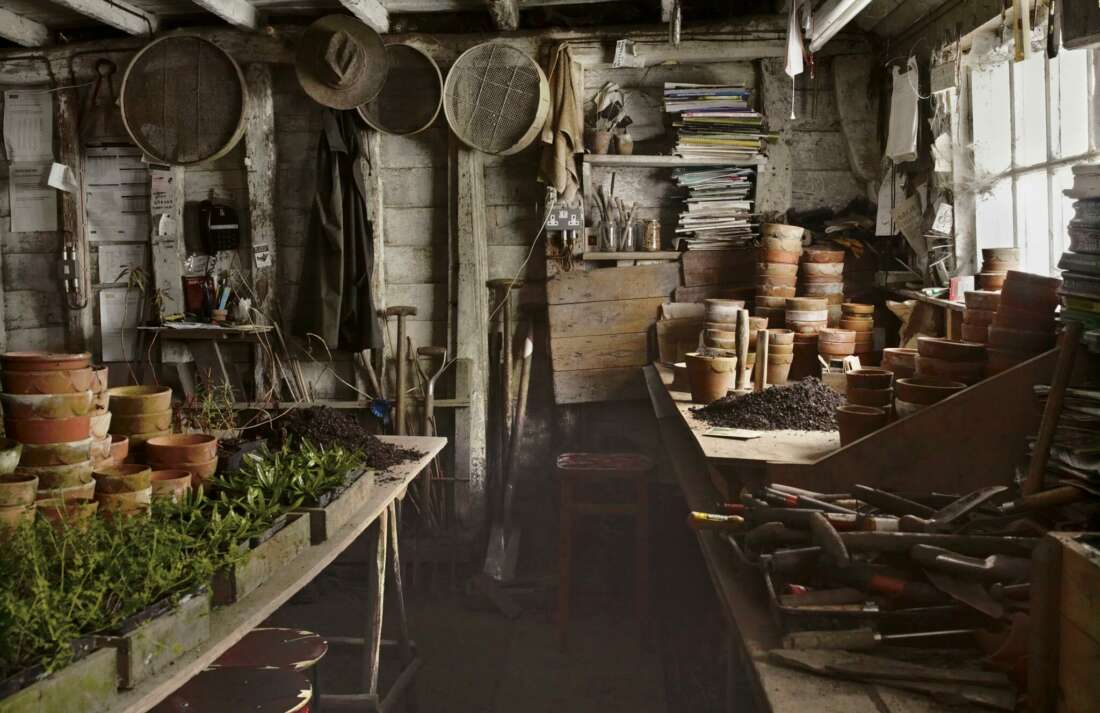 Growing fruit and vegetables in pots at the Great Dixter
Growing up in New Zealand, Aaron Bertelsen's first taste of gardening was with his grandfather on the West Coast beaches of Auckland.
Then, in 1996, following seeing distinguished gardener and author Christopher Lloyd OBE on a speaking tour of New Zealand, Bertelsen left Aotearoa to volunteer in Lloyd's gardens at Great Dixter. Following this initial stint at the Great Dixter, Bertelsen studied Horticulture at Kew Gardens and then spent two years at Jerusalem Botanical Gardens in Israel. Bertelsen returned to Great Dixter in 2005 becoming the vegetable gardener and cook in 2007, working alongside head gardener Fergus Garrett, and has been there since.
Situated in the South East of England, the Great Dixter, a heritage house and gardens site, was the family home of Christopher Lloyd. Lloyd, who passed away in 2006, was an innovative and passionate gardener with a sublime talent for horticultural writing. Lloyd's writing and teachings would make him one of the most renowned gardeners of the 20th century. His joy of gardening also saw him write about the rewards of cooking and eating homegrown fruit and vegetables.
Bertelsen has continued to share this love and knowledge, writing his first book 'The Great Dixter Cookbook' (Phaidon, 2017) and now 'Grow Fruit and Vegetables in Pots' (Phaidon, 2020). The new book offers planting advice and recipes to those growing and gardening in small spaces and provides a great guide for those wanting to create a kitchen garden out of pots and small planters.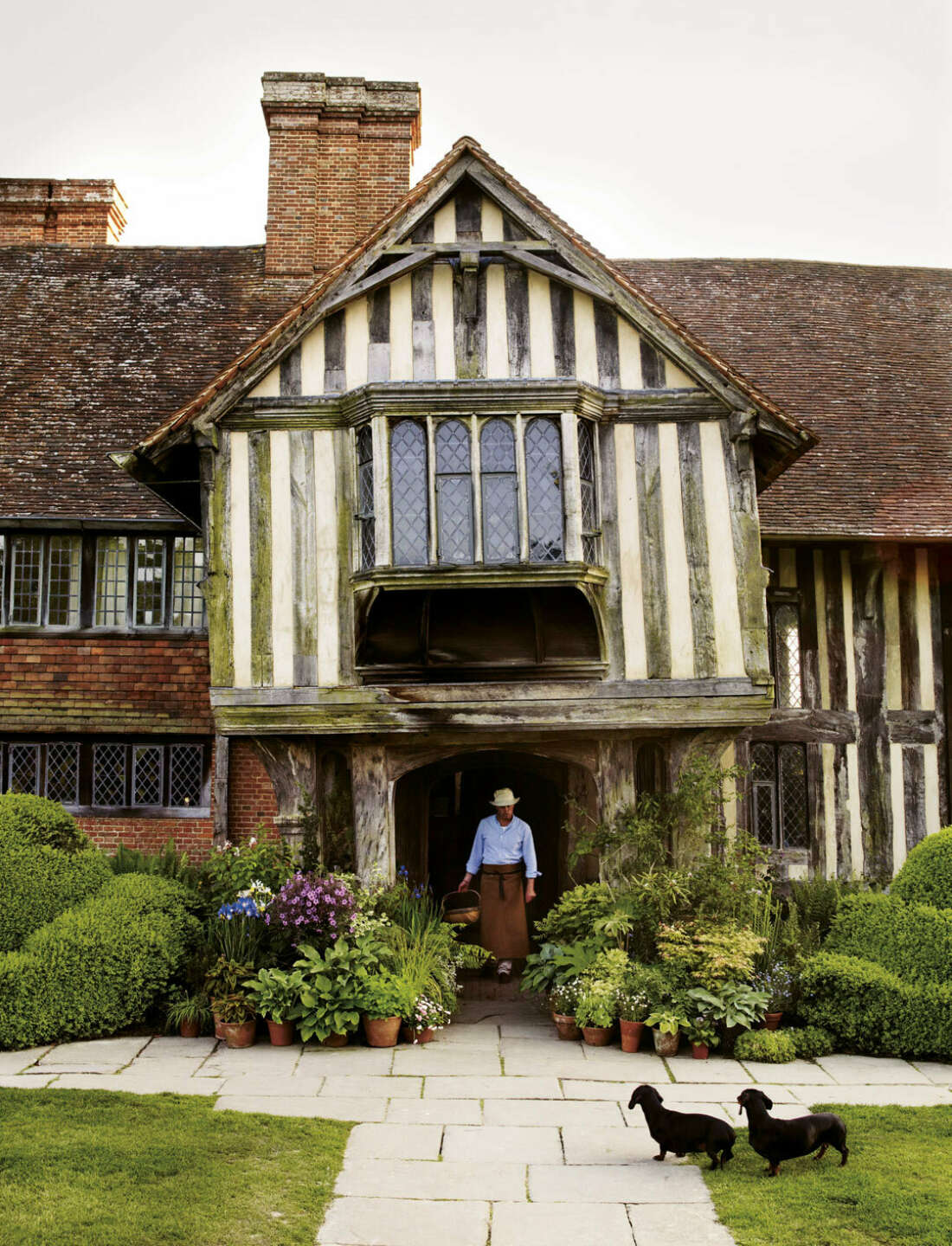 M. How much do you think your upbringing and experiences with your grandfather led you to your current life as a gardener?
A. The older you get, the more you realise how much your childhood influenced you. You slightly morph into those people who had a big influence on you. I think a lot about my grandfather the older I get and the more I garden. And the way I garden is very much influenced by him.
I suppose one of the things I learned from him is the joy of growing and eating from a garden. Just the way he did things, the way he carried things around the garden, the way he used trowels as a sort of measuring tool for spacing plants. I was carrying a plug tray of seedlings through the garden the other day and thought, 'this is exactly how my grandfather carried them'. It's those little things that suddenly trigger your past and give you a flashback as to how your grandfather did it.
M. What was it about Christopher and the Great Dixter that made you want to reach out?
A. When Christopher came and spoke in New Zealand I was just so fascinated by the world he was living in. He had such passions for eating, cooking and growing, and decorative growing.
M. What have you discovered about gardening and cooking as a result of being at Great Dixter?
A. The Great Dixter has a rich history of vegetable growing. When the family moved here in 1912, and took it on as a garden, the vegetable garden was a massive part of it. Then during the Second World War they had to turn a lot of the area over for vegetable gardening, because everyone had to grow for the country and grow as much as they could. So Christopher really understood how to grow vegetables on the site, what the soil conditions were, and what did well and what didn't do well. And he was a passionate foodie so it was important to him what was being produced in the garden.
M. What have you noticed in terms of the differences between how New Zealanders and British people garden and cook?
A. British cooking is fantastic and yet it has a very bad reputation. That is, I think, based on the fact that after the Second World War Britain was a country that had suffered a lot and rations were huge, right until the mid-1950s. I think British cooking was seen as second rate for quite a long time. But Britain, like New Zealand, is full of immigrants and peoples from all over the world, so the food can be varied and extraordinary.
Also, the allotments here are fantastic. New Zealanders have more space to grow, but the English, their equivalent are allotments. You can have Turkish allotments, South American allotments, Jamaican allotments, and they all grow such different plants. It's quite fascinating to see what different plants they bring to the table and it really changes the local cuisine.
M. Why do you think that it's so important to work to the seasons when growing and cooking?
A. I think it's the most fundamental thing we could do to change waste and our carbon footprint. Seasonal food is extraordinarily good, it's food at its finest. If you eat seasonally, you're eating what your body needs at the time of the year that it's producedand you're not expecting things to be shipped across the world for you.
People here in the UK want strawberries in December. They're picked green in the Southern hemisphere, sprayed with terrible chemicals and then shipped up here.
Look, I eat bananas, and we grow very little bananas here so I'm not living in a fake world, but I think there are changes we can make. We shouldn't demand soft fruit in the winter, we should eat stored apples and pears, which are at their best then.
We should wait for things. It's nice to look forward to things. People are so spoiled now, they don't like to wait. I love to wait for something to be ready and at its best.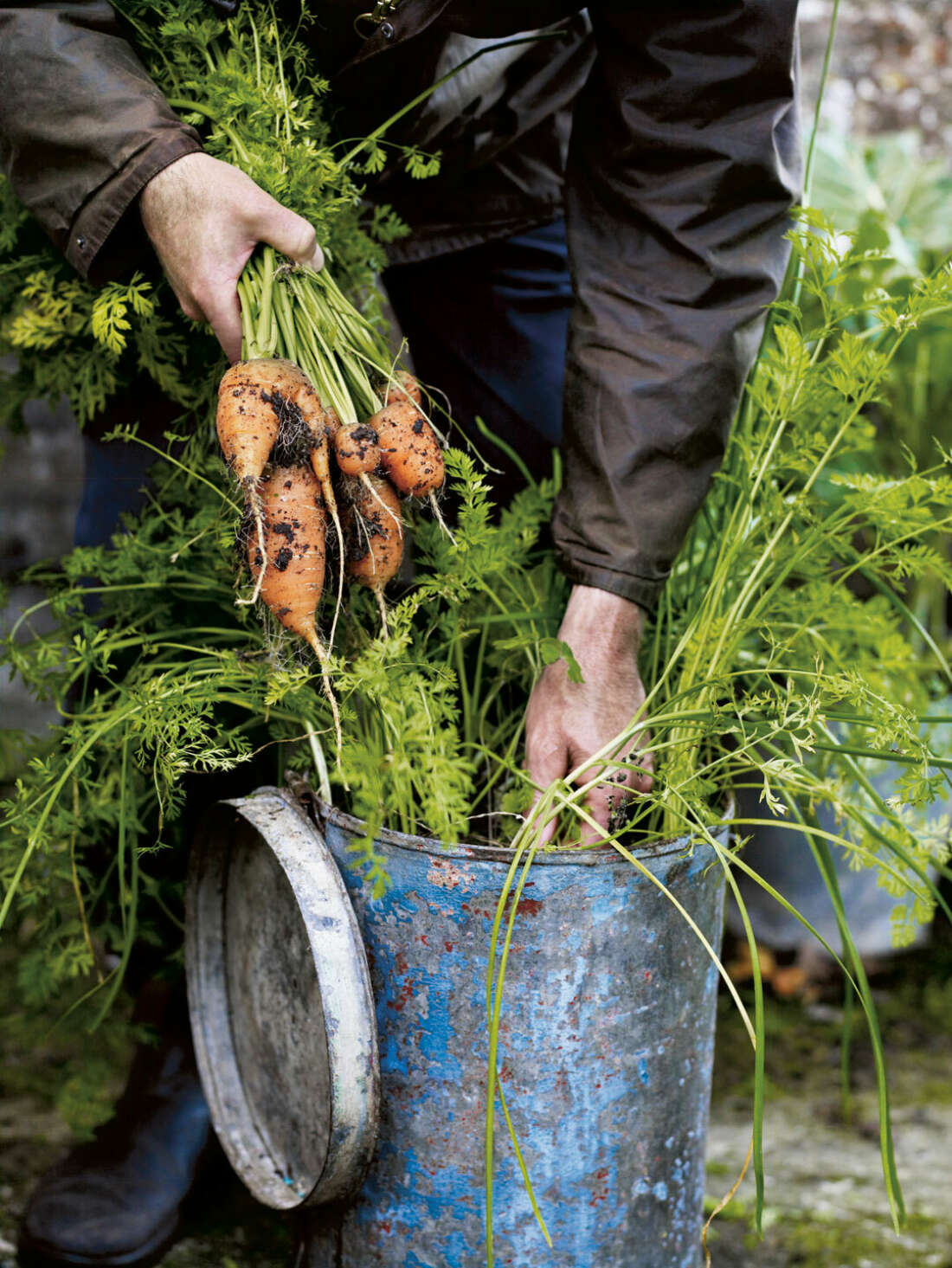 M. What kinds of plants do you recommend to those starting out?
A. Herbs and salad crops. They're a really good starting point and they're easy to use. When people ask me what to grow, I say 'grow something that you enjoy.'
Whether it be a pot of parsley or mint, grow something that you can eat and enjoy. That will hopefully lead to something else, and something else. Then suddenly you find yourself with this massive vegetable garden and you don't even know how it happened.
People generally take on too much at the start and then it becomes a burden and they stop. Just take it slowly. It's full of surprises. If you're realistic about it all, it's an absolute joy to be out there.
M. What are some of the key considerations when growing specifically in pots?
A. You need to remember that plants grown in pots are going to dry out faster than plants in the open ground, so watering can become an issue if you're not going to be around often.
But overall plants grow faster in pots because you can give them the ideal soil, water and heat. So the turnover of crops can be much faster and you should get more crops as a result.
M. How important do you think it is that people have their own garden?
We all need to take stock of the production of everything we use and eat. We can all make a difference on our own individual level, even if it is just three herbs in a pot on a windowsill.
Everyone can grow something.
'Grow Fruit and Vegetables in Pots' by Aaron Bertelsen is published by Phaidon – photography by Andrew Montgomery
WARM SPICED LENTILS WITH CAVOLO NERO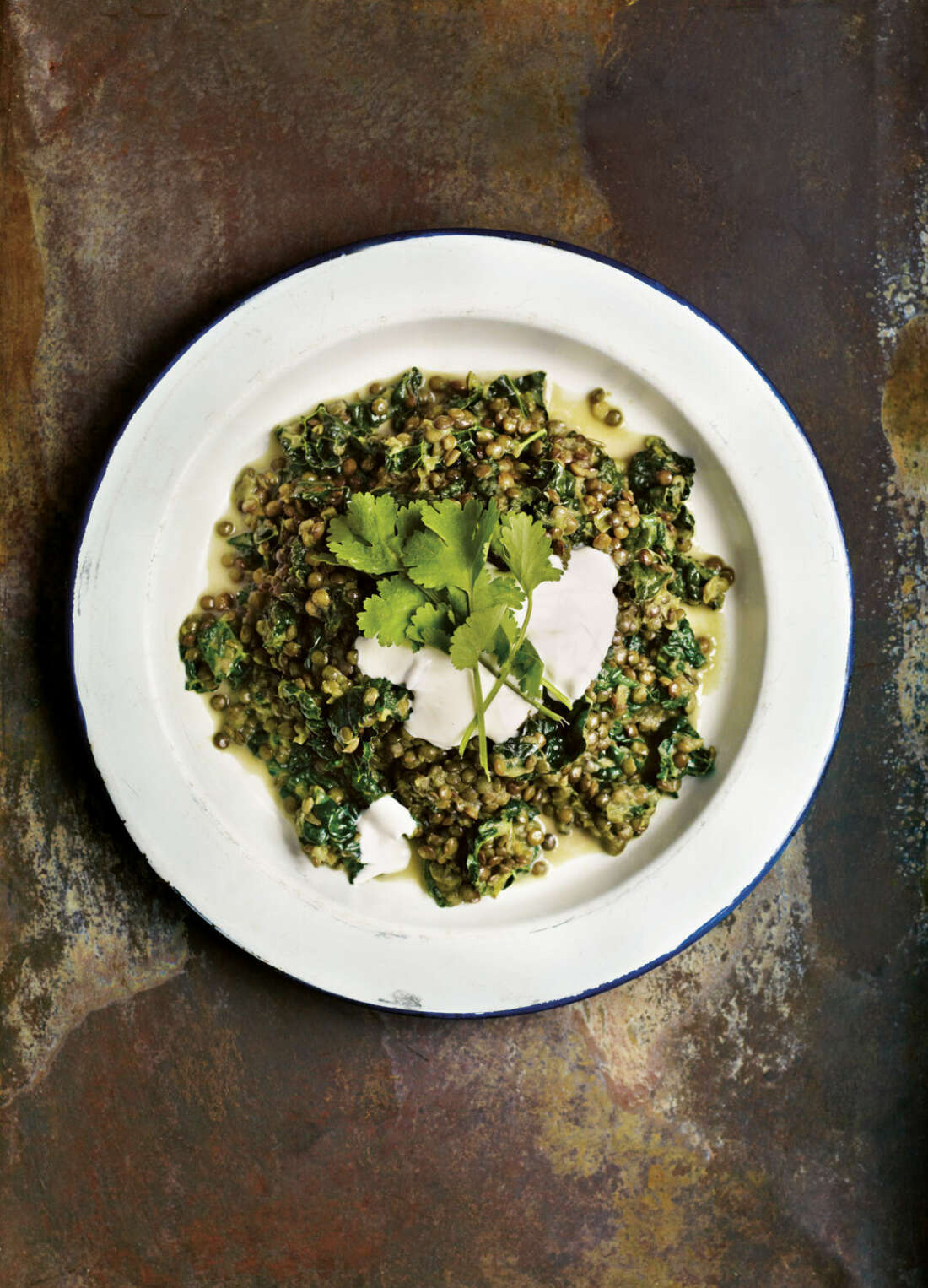 Serves 4 as a main course, 6–8 as a side dish
This is such a versatile dish, and one that really makes the most of the intense, slightly bitter flavour of cavolo nero (Tuscan kale). It is quite unusual to see these earthy ingredients combined with exotic spices, but it really does work. I like this as a main course, but you can also use it as a side dish to accompany lamb, chicken, sausages or even a substantial fish. I use puy (French green) lentils for their nutty flavour and excellent firm texture – the little gleaming dark greeny-grey pebbles look so beautiful with the black leaves of the kale. Make this with vegetable stock (broth) if you prefer, for a completely vegetarian dish. Aaron Bertelsen
PREPARATION: 10 minutes 
COOKING: 40 minutes
2 tablespoons coconut oil
1 large leek, trimmed and diced
1 large celery stalk, finely chopped
2 cloves garlic, very finely chopped, grated or crushed (minced)
1 teaspoon ground turmeric
the seeds from 1 teaspoon cardamom pods, lightly crushed
400 g/14 oz (2 cups) dried puy (French green) lentils
1 litre/13⁄4 pints (41⁄4 cups) chicken stock (broth)
1 teaspoon salt
1 x 200-g/7-oz bunch cavolo nero (Tuscan kale), large stems removed and leaves sliced (1 3⁄4 cups prepared)
juice of 1 lemon
1 tablespoon mild wholegrain mustard
handful flat-leaf parsley or coriander (cilantro), finely chopped, plus a few whole leaves to garnish
yogurt, to serve
Heat the oil in a pan over low heat, add the leek, celery, garlic, turmeric and cardamom and cook for about 10 minutes until soft. Add the lentils, stock (broth) and salt, bring to a boil, then reduce the heat and simmer, covered, for 20 minutes.
Uncover the pan and stir through the cavolo nero (Tuscan kale). Simmer, uncovered, for 10 minutes, stirring gently now and then, so as not to break up the lentils.
Remove from the heat, add the lemon juice and stir through the mustard and parsley or coriander (cilantro).
Serve warm, with a good dollop of yogurt and garnish with some extra herbs.
Photography: Andrew Montgomery