Category — Features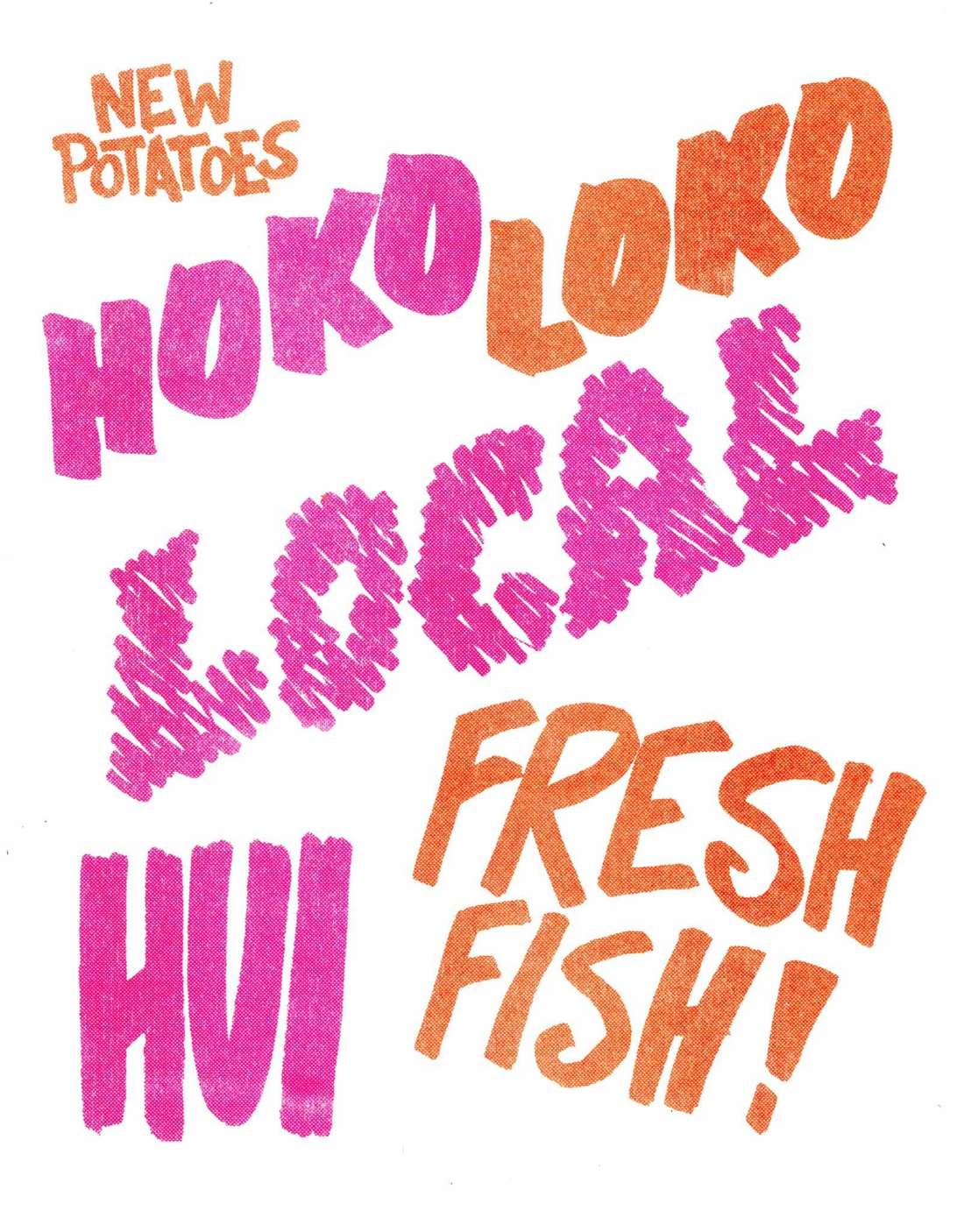 Digital meets local at Hoko Loko
Hoko Loko's origin story has its founders quite literally running down a new trail with a basketful of skills gleaned from the corporate world and insights from their travels.

Inspired to return home and create a digital platform which offers people in Taranaki a way to conveniently 'get real local food from real local people', building community and supporting small-scale agriculture while they're at it.
Illustration by: Lee Richardson

Jeffrey Fong and Rosie Sargisson both studied engineering at university and then went straight into employment with our biggest food producer, Fonterra, helping send milk powder around the world. Rosie was given a three year post in Singapore and the couple jumped at it, but found they were at odds with the impersonality of living in a big city, so they started "searching for a bit more human connection", which they found by frequenting the market and a particular stall holder who knew all of the locals and their preferences.

When the contract ended they quickly "escaped" to Europe on a year-long running holiday. "Part of running trails," Rosie explains, "was coming up with what we wanted to do next". Parallel to the running, they developed an interest in nutrition and why it's so hard for some people to access. They decided they wanted to come home and open a bakery selling sourdough bread, so enrolled in a weekend course in the UK and then went WWOOFing with bakers in France to build the necessary skills.

One of the bakers they worked with sold at two weekend markets, but Rosie and Jeffrey explained that she and her husband's business was only viable because they also had collections of pre-orders from customers at a midweek market. In a small french town they had stumbled across what Jeffrey describes as an "interesting alternative distribution system" called AMAP (Associations for the Preservation of Peasant Farming), where people congregate on a Thursday night to pick up groceries pre-ordered through a series of paper forms and paid for three months in advance. "We thought that was pretty cool, it was a bit of a spark for us and filled us with warm fuzzies seeing it for the first time," he explains. Hoko Loco was beginning to ferment.

Rosie and Jeffrey considered that in New Zealand this concept didn't exist. Rosie explains, "Local producers sell in the weekend but don't have much opportunity to distribute midweek. The baker really liked it because she didn't have any food waste - she knew exactly what she needed to make - and she also had cashflow because she had been prepaid". It both brought the community together around food, "where the customers got a really good offering from a mixture of producers," and gave an advance guarantee of income to small producers. They now had a dual mandate, inspired to return home both as bakers and creators of a distribution model currently unavailable to New Zealand producers.

They did some homework and stumbled across The Food Assembly, a French company which they saw in operation in the UK. "We studied that quite closely," Jeffrey explains, "because it ran a similar model to what we've tried to build. But we've put a few twists on it. They have a platform to bring multiple producers together, an ordering window and one collection a week. But we changed quite a bit in terms of the commission structure, how the membership works and how strict we were in terms of having producers there in person to hand their produce to the customer". The connectivity they saw in French markets is integral to Hoko Loco.

It is easy to imagine Hoko Loco emerging from a collective of idealistic farmers or out of a hackerspace, but instead, two ex-Fonterra employees paradoxically decided to shorten the supply chain in their local market. Utilising a skill set learned in the corporate sphere but applying it to another world they'd fallen in love with - community and nutritious local food. "When we meet corporate people they think we're really hippy, and when we meet more alternative people they think we're really corporate," laughs Rosie, "so we really sit in the middle, and I think that what we've created is probably a way to bring those two worlds together. The local food movement can utilise the tools that the corporate world has at their disposal and it can appeal to a huge range of people."

New Plymouth already had a few markets, one on Saturday, the New Plymouth Farmers Market on Sunday, and another weekly seaside market, but Rosie and Jeffrey believe this made the scene a little disjointed with less participation than in similar sized towns with a single market. Importantly they also note that "being a big dairy area, people are just starting to grow more vegetables in the last two to three years." Some of this recent emergence of smaller producers made possible "because dairy farms are being subdivided into lifestyle blocks." Jeffrey jokes, "What's more profitable than increasing the dairy production of your farm…. subdividing and selling to yuppies!"

On returning home they had started selling bread at the farmers market and met this fledgling community of growers. They soon felt there was room for them to kickstart their distribution platform; to both facilitate these producers and to fill a midweek gap. "People really liked the idea," explains Rosie,"(in New Plymouth) we couldn't buy all of our groceries from the market, you'd go there as a special occasion. People come to New Plymouth to have children, everybody has kids sports on the weekend or goes mountain biking. If it's sunny you don't sell very much and over winter it's raining so you don't then either. And because the market is small, even though it runs until twelve, by ten-thirty there's nothing left to buy".

Hoko Loco brings convenience to local food, delivering a service we've all become accustomed to by allowing customers to be specific about exactly what they want and enabling them to get almost everything they need in one place. "One of our really important aims from the beginning," says Rosie, "was to fill the basket so that people had less need to go to the supermarket". Other than dried goods and dairy, people can get almost everything they need - "we have vegetables, bread, meat and seafood, and as we've filled the grocery basket," she continues, "we've seen the platform grow a lot".

They are tapping into the convenience of the supermarket, but also breaking its model, by facilitating a different kind of interaction, with a different kind of producer. The website runs a weekly cycle, the online shop opens Friday morning at 8am and closes Monday at 8pm. Every single item is listed on the site (which currently hosts eighteen producers), enabling customers to shop for specifics and pay for what they want week by week. Then Hoko Loco send reports to all of the producers on Monday night so that they know what to bring when everybody comes together on a Wednesday evening for an hour for the producers to hand their wares directly to their customers.

"It's really quick and really easy," proclaims Rosie, "you've already paid so you walk in and people just hand you produce. We're now in a really good position with good parking, so you can just drop in and do it in 5 minutes. But invariably you don't because you end up talking to someone".

Unlike a farmers market where a producer can arrive with a van full of produce to find no customers, the Hoko Loco model guarantees the farmer that what she or he harvests will go home with somebody. It touches on the Community Supported Agriculture (CSA) model but Rosie describes it as "a happy medium, because producers like the certainty, but consumers like the flexibility". It shortens the CSA model to a weekly cycle and bridges the gap between guaranteed sales for the producer and the convenience of a supermarket for the consumer.

Rosie and Jeffrey could have chosen to take orders through their platform, package everything in a box and deliver it to people's doorsteps like the 'veggie box' model. But central to their idea is "who, not where, your food comes from", so it was important to them that they connect the two ends of the supply chain in a physical space. "There are both emotional and practical reasons for that," says Rosie, "in France we got the feeling that people got a lot out of meeting the producers and the producers out of meeting the customers. You can be quite isolated as a producer and lose touch to where your produce is going. If you meet the people who are buying it, it has more meaning, and vice versa".

"We're using a digital platform to bring the local community together," concludes Jeffrey, "buy online, meet in person. I think it just smacked all kinds of millennial stereotypes together in one," he laughs.

Hoko Loko seems destined to grow beyond New Plymouth. Rosie and Jeffrey are using their own backyard as a testing ground, but are keenly aware that local knowledge is key to its success in other places. So as much as they intend to continue to run the platform and manage the data as it expands, they will be looking "to find the right partners in different places".