Category — Features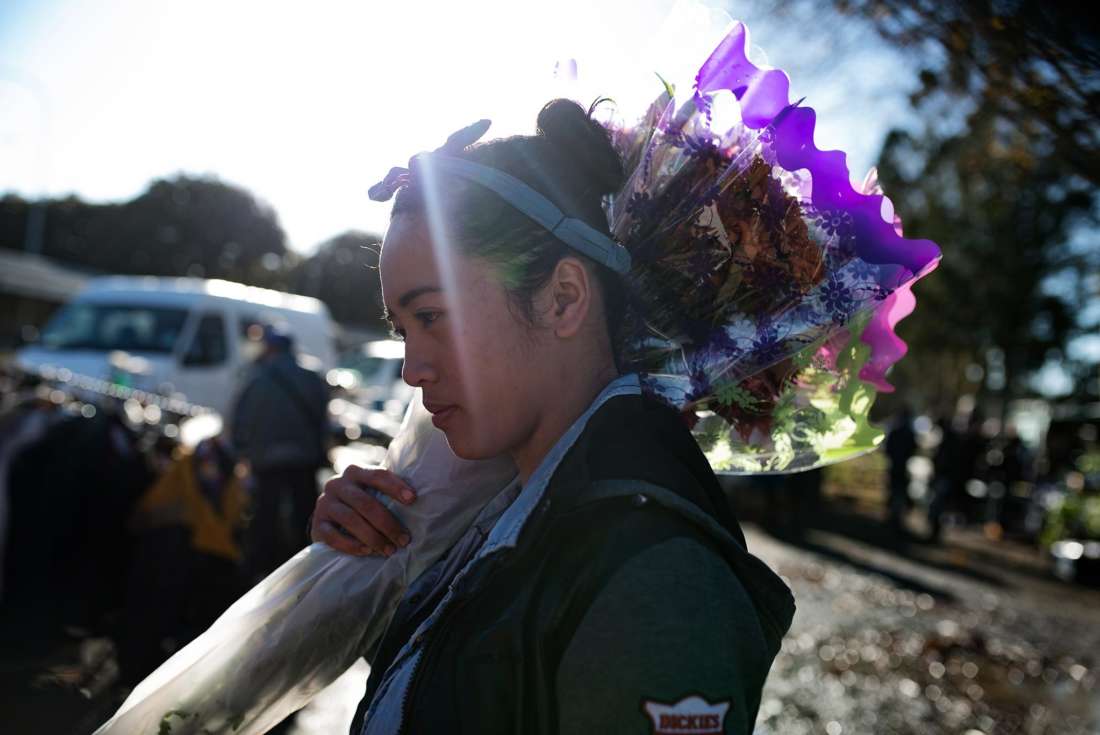 Defamiliarising the Familiar
For an immigrant, settling down in unfamiliar territory has never been easy, you have to deal with discomfort to become comfortable. As the German philosopher Friedrich Nietzsche famously said, "one must still have chaos in oneself to be able to give birth to a dancing star".
In pursuit of a better quality of life, you have to jump off the cliff with your eyes closed, to take a risk, to leave everything behind and basically start all over again. There are no clear paths or straight roads towards your destination.
As a recent Filipino immigrant, I have to familiarise myself with my new space and slowly immerse into it. This quest to find myself again in a new environment has led me, by chance, to meet a fellow Filipino migrant, Jess Granada of Nanam Eatery, who has worked and lived in New Zealand for 8 years.
I joined Jess one busy Sunday morning at the Avondale Market to hear her story, see her Auckland, and share lunch with her staff at her restaurant, hoping to gain a better understanding of being a participant in this new place.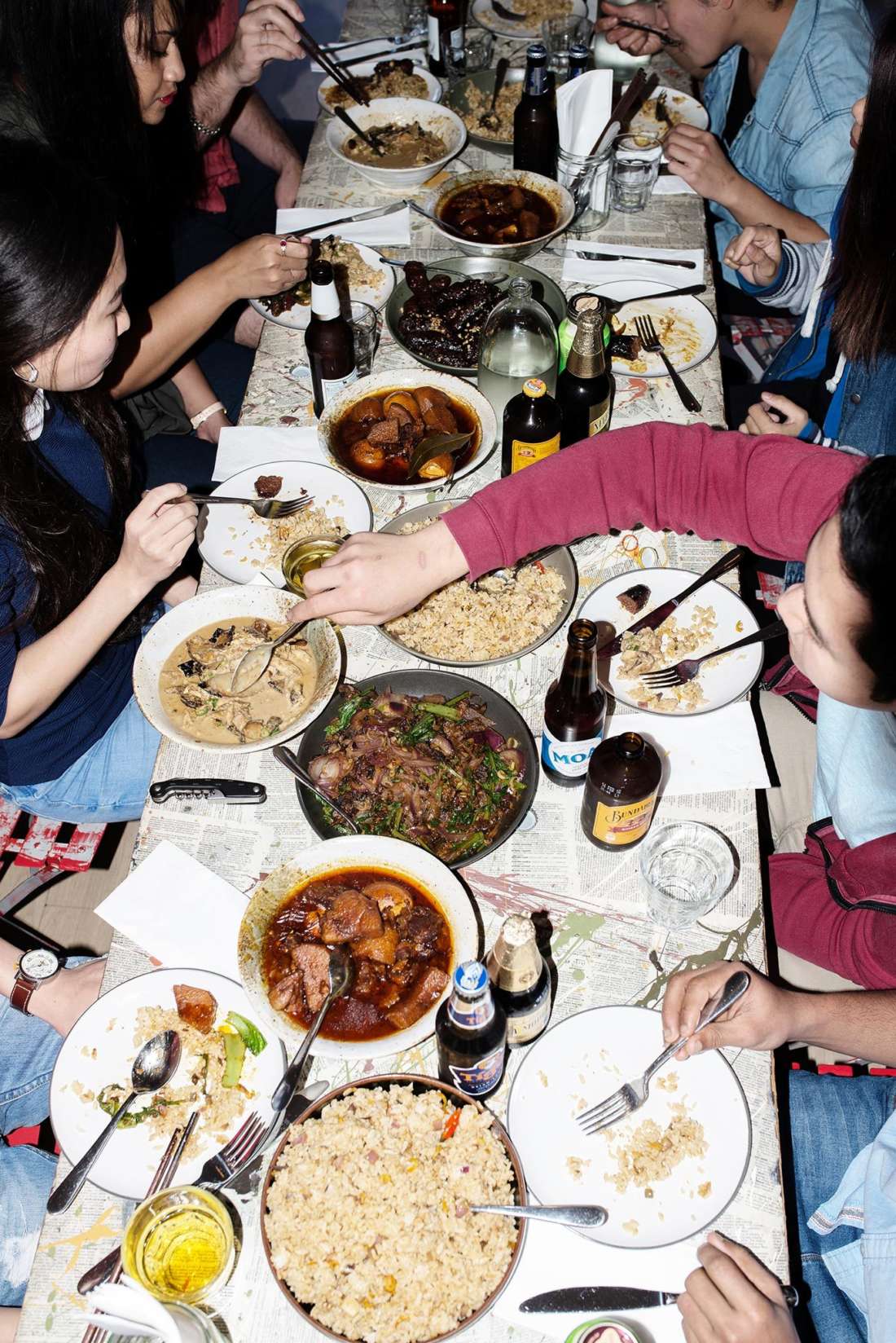 CB: What do you like about going to the Avondale Market?
Avondale reminds me of what it's like back home, I have this nostalgic feeling towards it, it has the same vibe. You hear all sorts of noises, a lot of activities going on, people talking and bargaining. It's a very congested and busy environment, there's so much vitality there.
It's always exciting to wake up early in the morning, head to the market, have noodles for breakfast and walk for hours without thinking about work. It allows me to interact with people from different cultural backgrounds and learn about what they're doing. People grow and bring rare ingredients to the Avondale market, things that I haven't used or experienced before. I like to choose something that I don't know, bringing it back to the kitchen and experiment.
CB: What was your life like growing up in the Philippines?
I grew up two hours from Manila in a province called Batangas, so we called ourselves "probinsyanas". It's one of the most beautiful places for me. Life in the province is probably what I miss, that sense of making everything yourself. My father used to make bahay kubo (little houses) for us before we got a bigger family house, our furniture was made by my grandfather.
Living a simple life is actually one of the greatest things that I accumulated in my province, enjoying what I have, helping on the farm: my grandfather had bananas, we used to grow all of our own vegetables, we had our own chickens and livestock. It was such a great experience, we actually didn't have a fridge until I was ten.
I have these memories in me, not thinking about materialistic things, enjoying what I have in the moment. And that's really determined who I am now, because that means that I always depend on and utilise what is around me.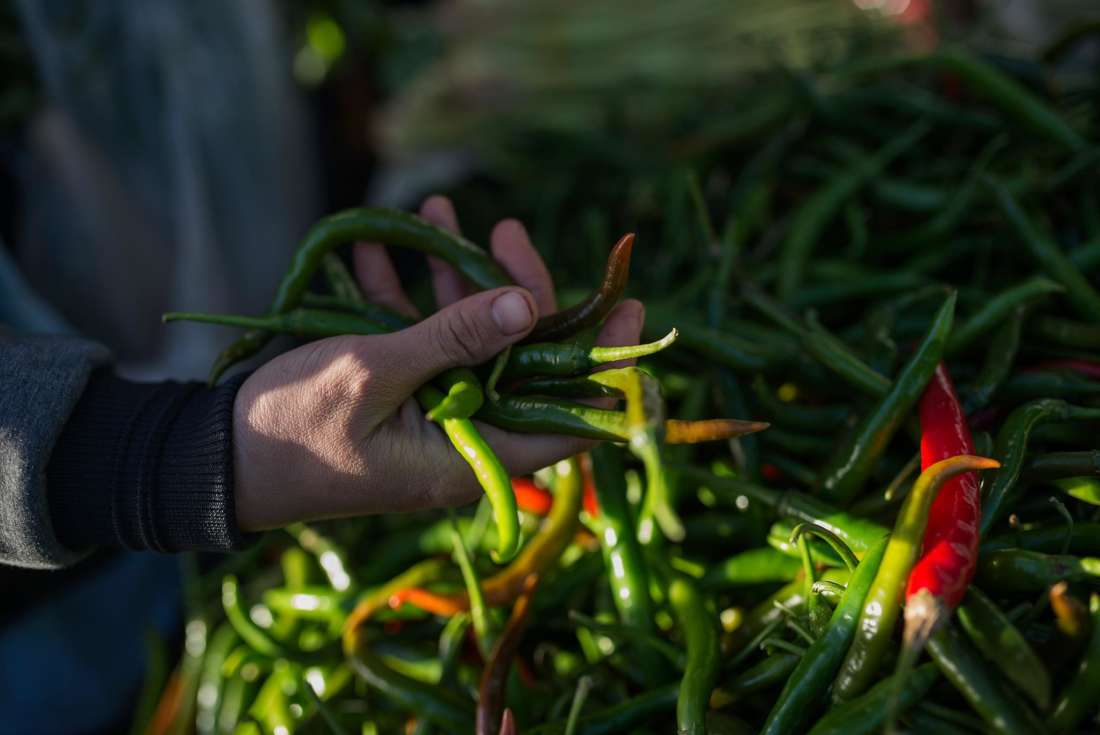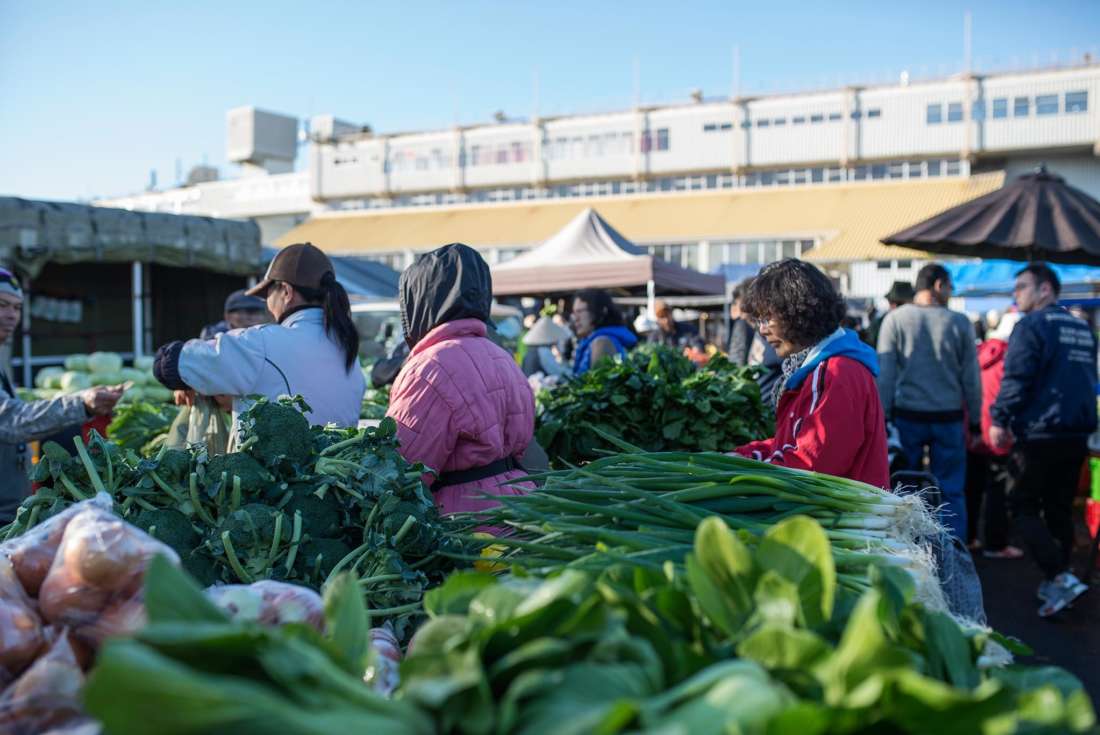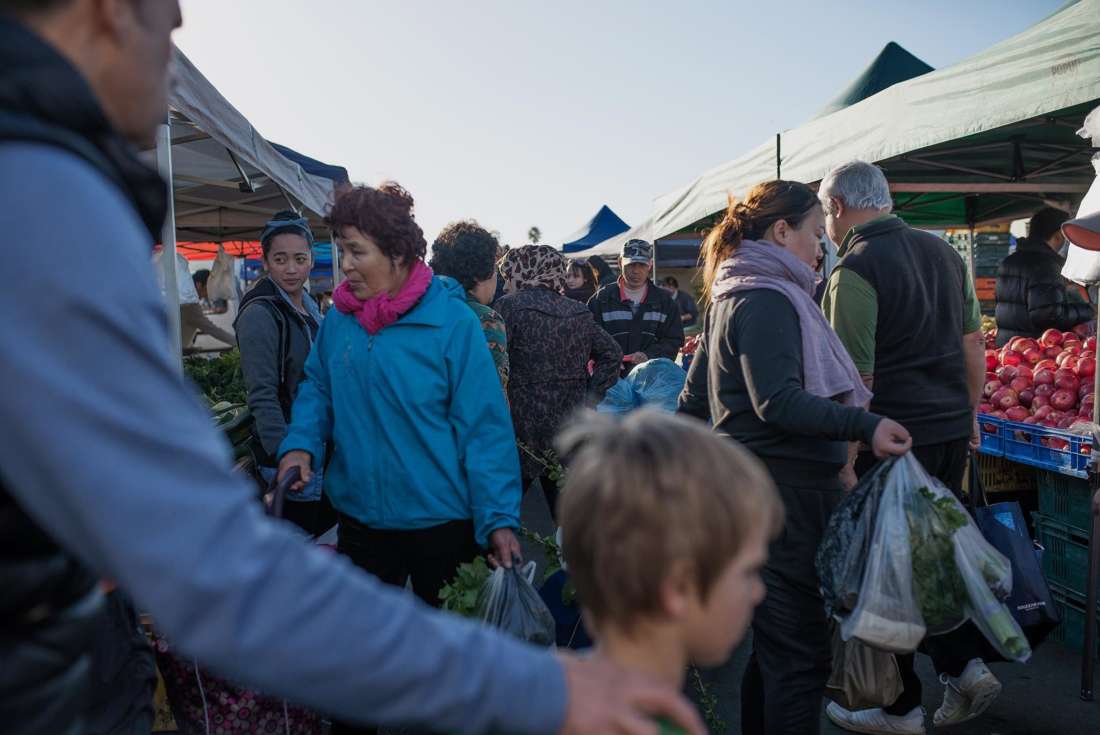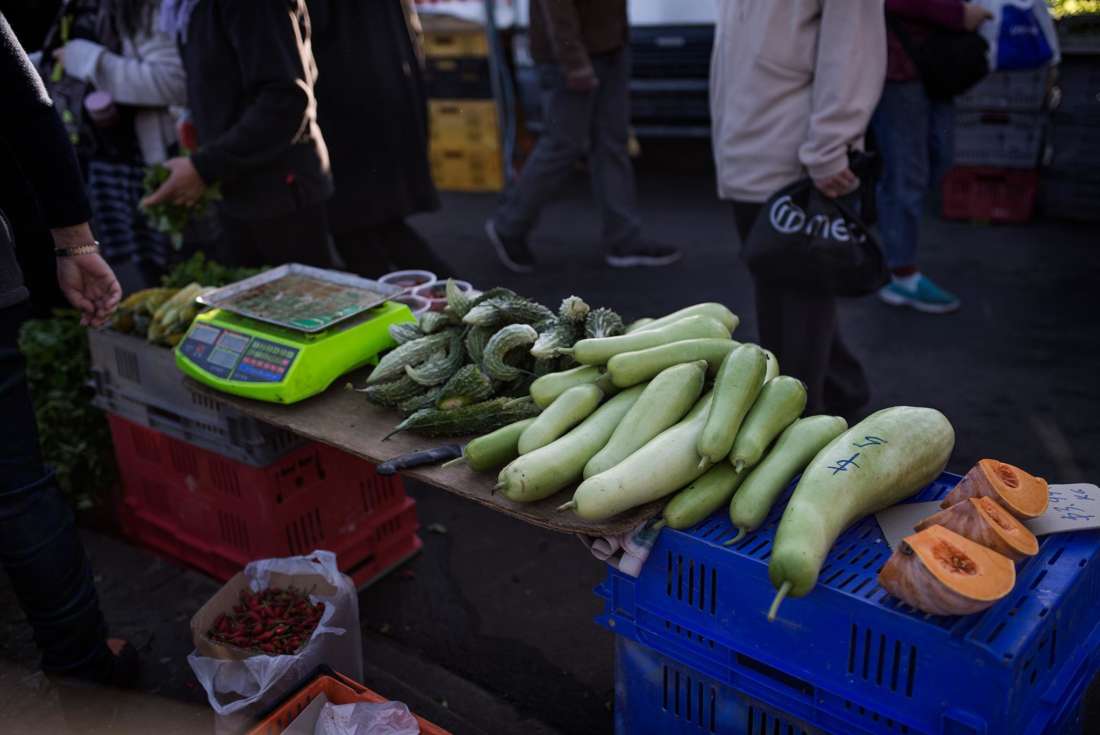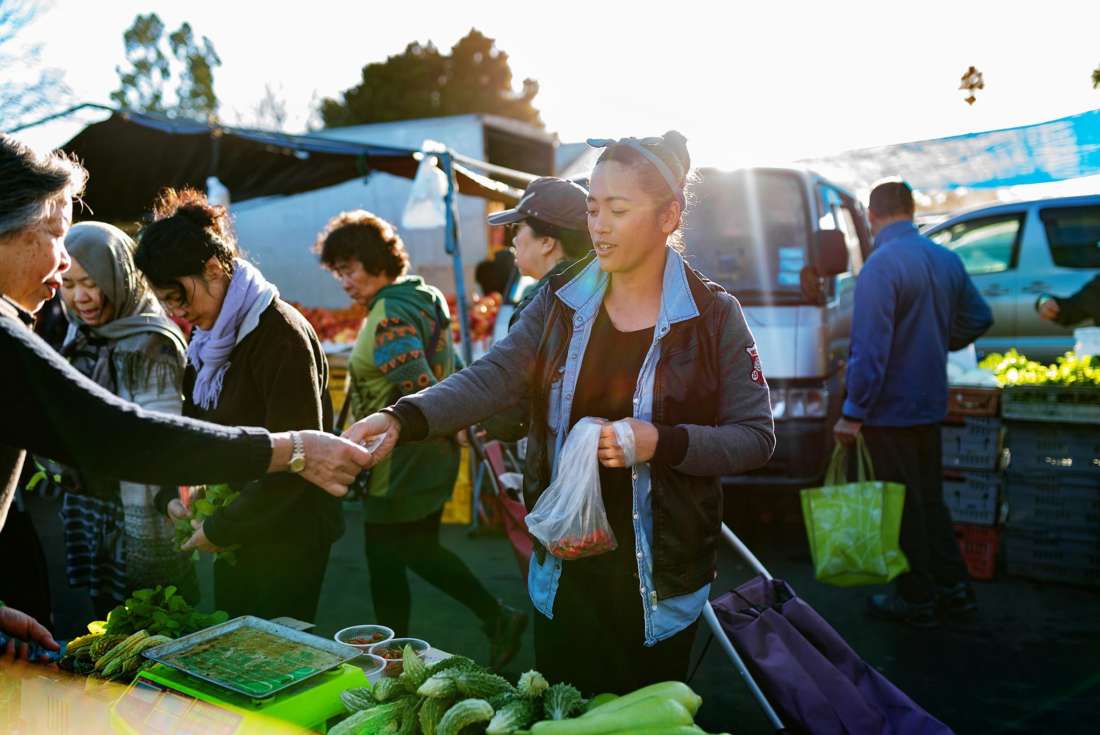 CB: We all have different reasons for moving to New Zealand. What was your reason, and why New Zealand?
I came to New Zealand because of one comment. My friend told me not to move here because "there's probably more sheep in New Zealand than interaction with people". I actually wanted to move here more because of that negative comment, I'm the sort of person who if you give something negative, I will try to prove that there's something beautiful going on. Better than trying the norm — America or Canada or Europe — which was what they suggested. New Zealand sounded unexplored, I'm someone who wants to explore.
I moved here when I was eighteen because I felt a need to grow. I said to my parents I want to move to New Zealand to explore myself and find who I really wanted to be, and that that would probably make me successful. Not a lot of people believed it would, but I did. I wanted to discover something, to experience something that is not normal, to experience a life without depending on my parents.
When I arrived I had five jobs. I wanted to support myself and thought that everything I experienced at that moment would define my future and be my growth. Not living in the comfort zone, but going out there, out of the box. I wanted to follow my own values in life, so I would actually be happy. I don't believe you can be happy if someone tells you what to do.
I felt the opportunity here was so big, because as a chef in the Philippines I could never explore, there's a big cultural blanket on the food. What I was looking for was the growth I was seeing from chefs in magazines, exploring and making something really different. And I felt that if I went out and explored myself somewhere else, far away from home, I would find a style of my own.
The great thing about New Zealand is it's a very open society. I found I was free and not restricted, I was able to create things from what I imagined, because people are open-minded, they appreciated the positive side of anything that I did. That felt like freedom because there was a respect of who I was and the things that I wanted to pursue.
CB: What was it like when you first arrived?
My first problem was the temperature, absolutely, but I overcame it. People were very welcoming and warm. The community is not very big in Central Otago (where I studied) but their doors were always open to new people like me. They invite you to join them for breakfast as if you're not a stranger.
One of the challenges of coming here at a young age and being a student was trying to be open-minded. In school you meet a lot of people — from twenty different countries; India, Scotland, the Philippines, from all sorts of places, and they all have different cultures and different backgrounds — it was amazing to just sit around one table getting to know people. You have your own lunch boxes and share what you have with the other students. We connected ourselves by sharing and because we all enjoyed food and cooking. I think that's one of the most amazing things that I have experienced.
CB: What challenges did you encounter as an immigrant?
There are many challenges, especially in my work environment in the kitchen. I worked as hard as I could, earned respect and took every negativity as a challenge. When I was still working in Central Otago I tried to present a dish to put on the menu using choko. Choko (called sayote in the Philippines) was an ingredient treasured back home, so I was really excited to find it here. The chef said it was used to feed cows in other countries, even if he found it delicious, he still couldn't put it on the menu. That feeling of being rejected didn't stop me from moving forward or from experimenting with choko, it fuelled my creativity. I have a dish with choko on the menu at Nanam.
CB: The Philippines has a different background in history, culture and environment from New Zealand. When you moved to here, how did this new environment transform your life? How did it reflect in your creativity?
New Zealand has given me an opportunity to explore. There are a lot of beautiful things that have happened to me here. After we opened Nanam and started to create our own dishes, Andrew and I thought, if we didn't end up here, would our food be the same? Would it look like this?
The greatest influence on me here are the values that I found in the people who interact with food, the value they give to their food, to nature, to taking care of their surroundings. These values end up on the plate, not only the ingredients. As a chef, more than anything else, I value when people ask me what the inspiration was behind a beautiful dish, why I made it, where it came from. These are questions that I believe are asked in New Zealand compared to other countries. And for me that shows how much people care, which influences me very much.
Another thing, passed on to me by a really great Central Otago chef Pete Gawron, was to nourish yourself by using the things that surround you, to find uniqueness in a dish that you picked yourself. So I started going for a walk, to actually use my eyes and my sense of smell and make sure that I had a paper bag with me, to bring things to the restaurant to use in dishes.
In Auckland I started finding things like Kawakawa leaves, yarrow, a lot of wild feijoa and apples. Probably one of my favourite things to forage is puha, that I found in a creek near the restaurant. Seaweed is also really accessible, you can dry it and eat it or use it in soup. But I also learned how to use it as a fertiliser for the garden. I love plants, we used to have a garden at the back of Nanam which we have now moved to our house.
Foraging definitely ties back to the Philippines, we have kumara tops and all sorts of greens that grow around the house, and as a daughter of a farmer, we are always eating out of our backyard. People think that foraging is just a fad, I think this is a misconception, it has always been happening around us, since the old days. I think people should learn about what surrounds them and make use of it.
CB: What motivated you to open up a restaurant?
Seeing people's happiness gave me the courage to pursue opening a restaurant. When I arrived in Auckland I could count how many people I knew — and how many people would support me — on my hands. If I had based it on that, I don't think I would have opened Nanam. But there was a belief that there could be a chance for my cuisine to inspire others, or at least to make people know that we exist, because this is a cuisine that nobody here knows anything about.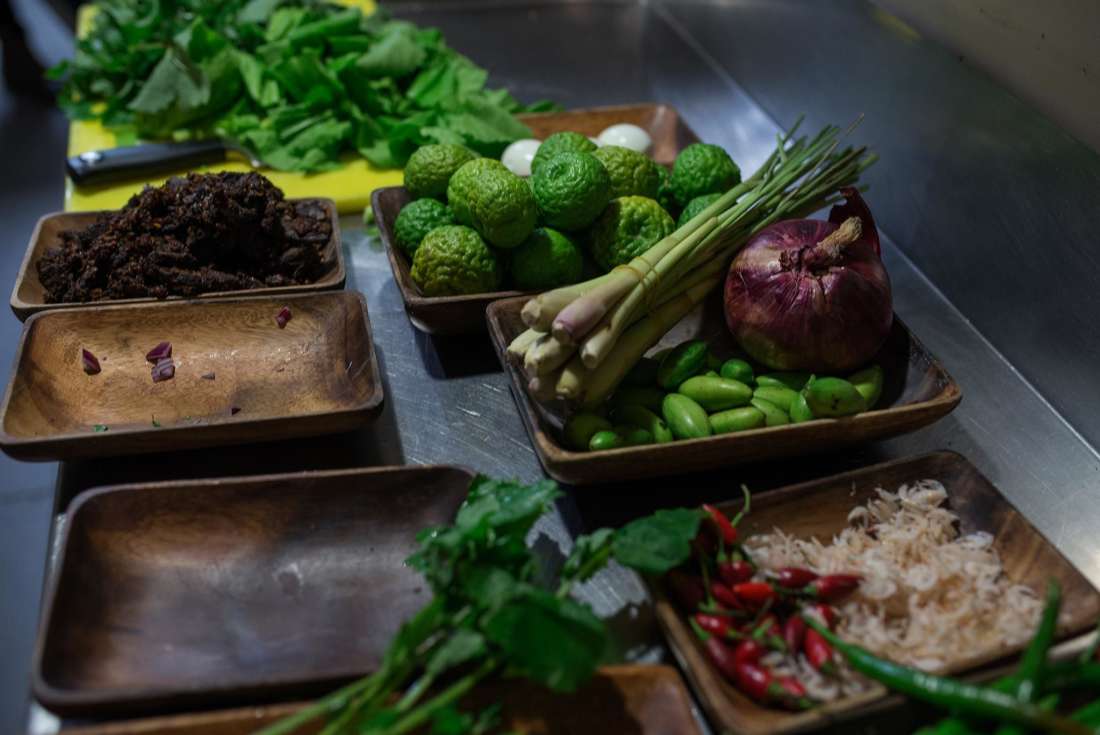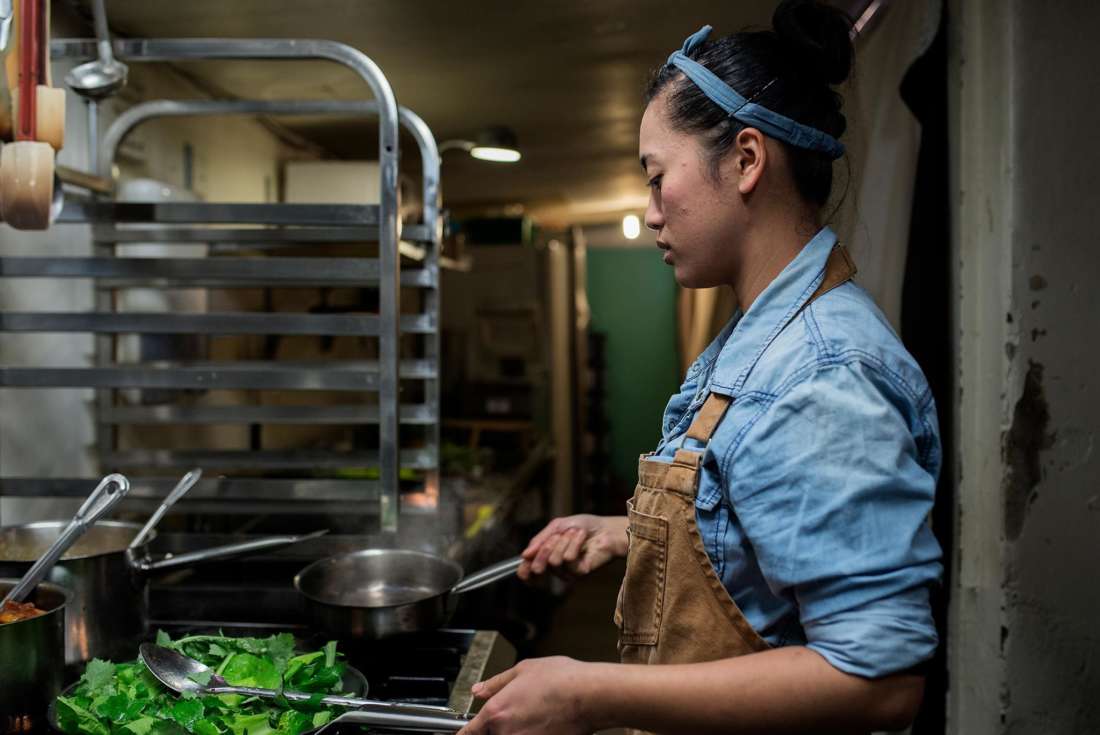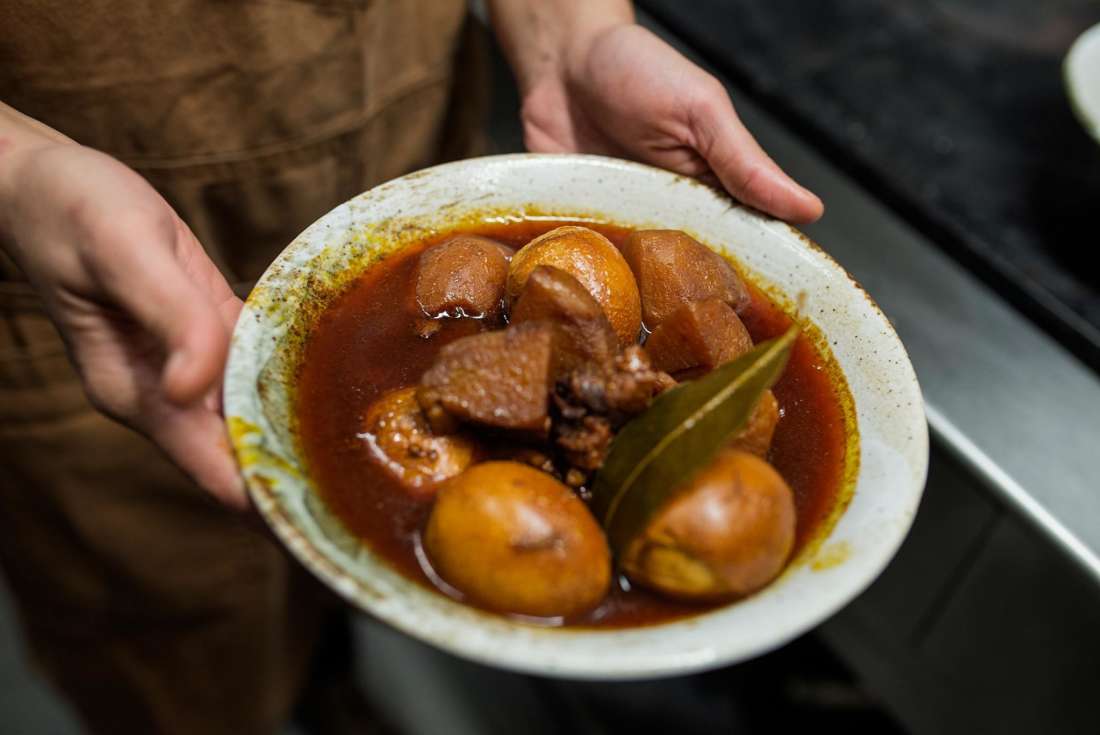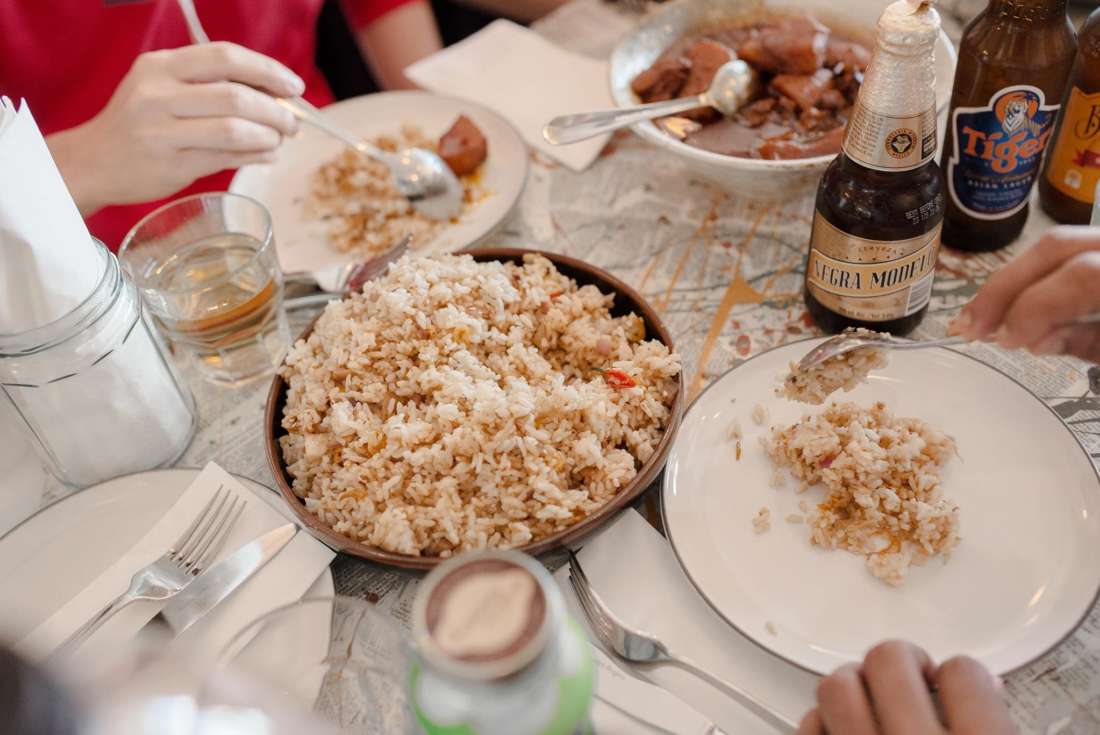 CB: What were the challenges that you encountered when you opened Nanam?
Probably one of the biggest challenges of opening a restaurant is to introduce change, change doesn't come easily to anybody. We're opening up that blanket, shedding light on our food – that is a long-term goal for me.
Obviously a lot of Filipinos come into our restaurant, and we don't get 100% thumbs up from everyone. One of our most unforgettable experiences is a Filipina woman coming in here — she obviously loves Filipino food very much — and telling us that if we pursue cooking our food this way, we're going to close down in just three months. She said that we should take this as great advice.
It affected me a lot, because it was the first month or two of the restaurant, and we were trying to achieve great things. But it didn't stop us from believing that this could be something really special, because we've seen something that she hasn't, a lot of people coming here and thanking us, because they had experienced something different, something that they are proud to tell their friends to try. I think that is what matters the most.
CB: Was there a Filipino ingredient that you found hard to find in New Zealand?
It's really hard to find fresh banana heart and leaves here. The only place that I've found them is at Kelmarna Gardens. On my first visit to Kelmarna I saw that they were not using them at all, I asked: "Why do you just leave them on the ground? Why would you do that?", and they said "we don't know what to do with them". The heart is the male part of the banana which doesn't produce fruit. I asked if I could have it and they gladly gave me everything. Since then they keep it aside in a basket for me and I'm still using it in a dish on our menu; fish wrapped in banana leaf served with banana heart salad. That's probably one of the most difficult ingredients to find in New Zealand.
CB: In your opinion, what is Filipino identity when it comes to food?
Filipino food is very versatile, we are influenced by the Spanish and the Americans; by Muslim and Chinese food, we have all sorts of Mexican fruits and influences. Filipino cuisine is based on history. We didn't have fridges at home, so when people from the other countries came they gave us vinegar, soy sauce and salt. That was the way of us preserving everything and why it's sour, sweet and salty.
I used that history to make my own story. Not to say that Filipino food wasn't already good, but for me to actually share something with people. That you can do more. You can explore more by going out of the box and seeing what's around you. In New Zealand, there is a lot of beetroot, so going back to the kitchen and saying, maybe beetroot will work with adobo. And it worked well, a simple yet great addition to our favourite dish.
AM: Do you have a favourite New Zealand dish or ingredient?
Lamb is one of the amazing ingredients that is very hard to find back in Philippines. I used to hate lamb; the smell, everything about it was so negative to me, but when I moved to New Zealand and I tried lamb shanks in a pub in Central Otago, I was like, "is this lamb?", I couldn't believe it. I have transcended from hating lamb to actually liking to eat it. And I love Pavlova, because it's almost the same as a dish what we have back home called Brazo de Mercedes that is an influence from Spain. It looks like a Swiss roll with a custard like filling, made with condensed milk and egg and sugar. We had it as a special when we started the menu and had really positive feedback.
CB: Why is it important for you to step out of your comfort zone? Are you a bit rebellious?
I wouldn't really say that I am rebellious, I'm quite good at trying to stick to the rules, but there are certain things that you have to break, so that you can make something new. There is always fear connected to change, fear holds back everything. If you are given a life, you have to do something great, you have to move, not just stay in one place. At the end of the day you don't want to be taking your goals and your dreams to the grave. Because you could have inspired someone else, changed someone's life, done better than you could have imagined. So you have to try again and again and again, until you have pushed that boundary.
CB: Do you have plans of returning home and doing something there?
I believe that we are not born to be restricted and just stay where we are. Everyday at the restaurant we try and create and explore and do something new. I don't think we will ever stop exploring, there are a lot of things to see. The Philippines actually has more than 7,100 islands, I think there's more to it than I can explore.
I haven't been back for five years. I would not open a restaurant in Philippines right now, but I definitely want to in the future. I want to bring something home and contribute something to the country that I have learned outside my comfort zone, and make people see that there is a future for our cuisine.