Category — Features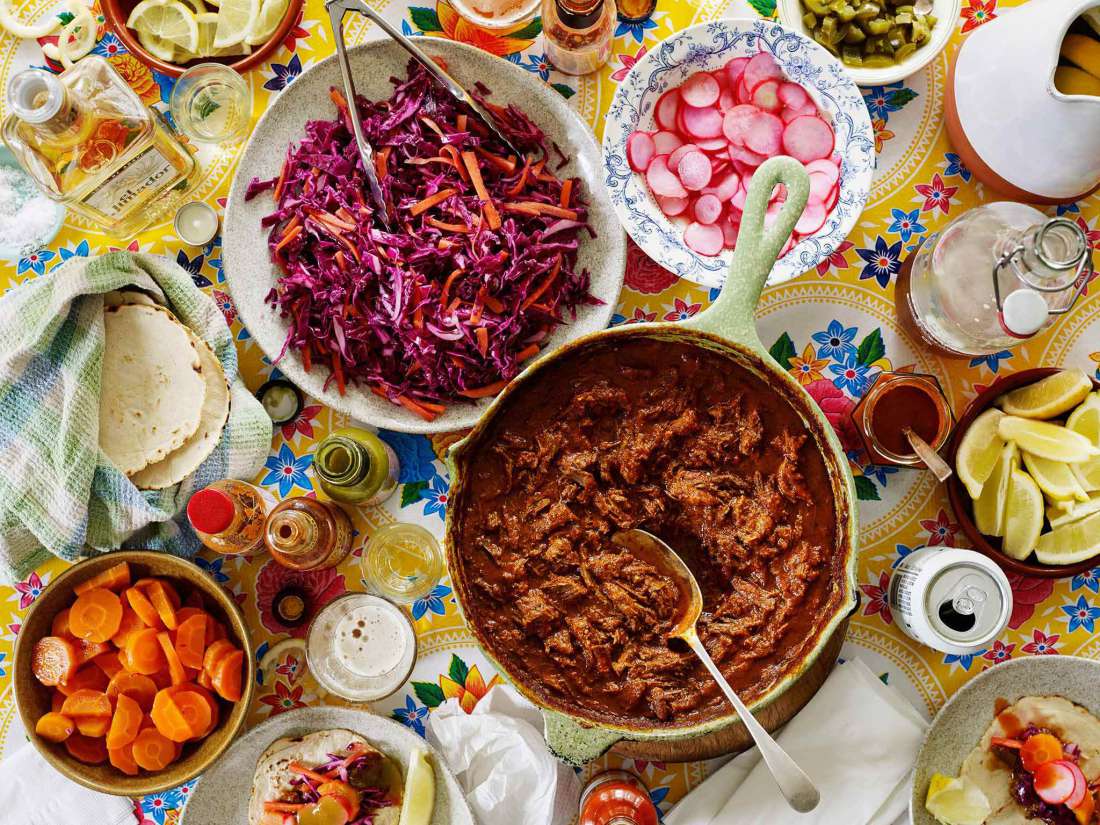 Carne Deshebrada en Salsa Roja
I've sadly not been to Mexico yet but I try to travel there regularly with my taste buds.  I love both the informality and the vibrancy of it's cuisine and any excuse to justify tequila with dinner.
I discovered the foundations for this recipe in the sadly missed Gourmet magazine. Carne Deshebrada en Salsa Roja simply means shredded beef in red sauce, which doesn't really do justice to this rich aromatic dish. Mexicans eat it at all times of the day over rice, in burritos or tacos, on huaraches, or with a side of tortillas (or rice) and beans.
It's very simple to make and fills your home with aromas of allspice and cloves as it simmers for hours, making the anticipation for your feast almost uncontrollable. Any stewing cut with a long grain, like brisket, skirt or flank steak, will work well; I've opted for beef cheeks, that way you can economically scale-up to feed a crowd and try an underutilised cut.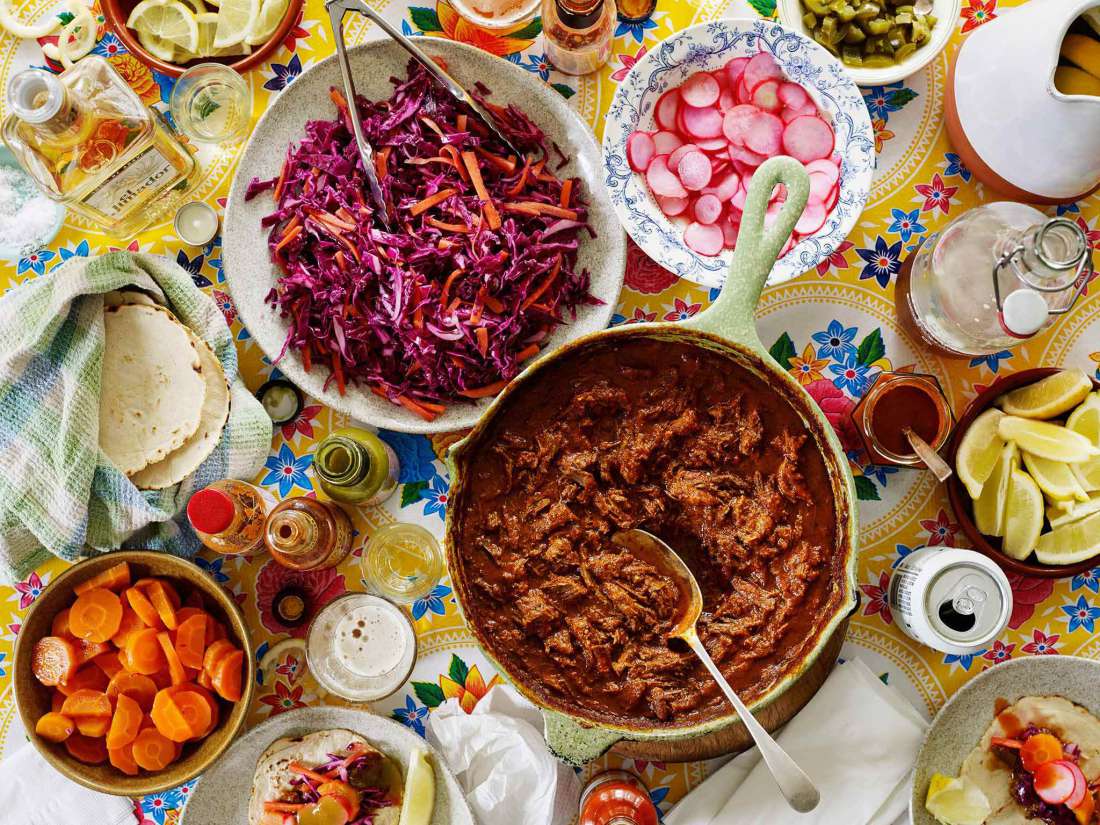 Serves 4 – 6 – with potential leftovers for breakfast to help with the consequences of the tequila.
Ingredients
This recipe is abundant in the spices that travelled to Mexico with the Spanish courtesy of the Moors, they can be excluded for a simpler but less exotic dish.
Both Guajillo and Arbol Chillis can be bought from www.tiopablo.co.nz (or specialty food stores) but I've sometimes used the same quantity of dried cayenne peppers as substitute for the Arbol.
I made 20 small corn Tortillas to accompany mine, a quick Curtido (a South American pickled slaw), slices of the carrot used to flavor the stock and a selection of chilli sauces. If you don't want to get your hands dirty, you could alternatively serve it with rice and black beans.
For beef:
1kg of beef cheek (or skirt, flank or brisket)
1 onion, quartered
3 garlic cloves
2 bay leaves
1/4 teaspoon black peppercorns
3 whole allspice
1 whole clove
3 large carrots peeled chopped in half
1 teaspoon salt
For sauce:
30-50g dried guajillo chillis
3 or 4 medium tomatoes, quartered
3 tablespoons sunflower oil
1/2 teaspoon black peppercorns
1/2 teaspoon cumin seeds
3 whole allspice
1 whole clove
Cinnamon – about 1/2 of a stick or 1/4 teaspoon of powder
3 to 5 dried Arbol Chillis, stemmed and seeded.
1 medium sized onion, finely chopped
3 large garlic cloves, roughly chopped
For Curtido:
1/2 small red cabbage, very thinly sliced
2 small to medium carrots, peeled and julienned (cut into matchsticks)
1 bunch or about 6 small radish cut into rounds
1/4 cup apple cider vinegar
2 teaspoons sugar
1 teaspoon salt
To cook the beef:
Trim excess fat and sinew from the beef cheeks and place with other ingredients in a large pot with enough water to generously cover the beef – it makes a great stock so make sure you save the resultant liquid to make soup. Simmer, partially covered, skimming foam and occasionally adding more hot water if necessary to keep beef covered, until tender, two hours will do, but three is better.
Remove beef and shred (once it cools a little, but not enough to congeal).
Strain stock, discarding solids but retaining the liquid and the carrots which you can slice ready to top your Tacos.
To make the sauce:
You can prepare all of your sauce ingredients when the beef is getting close to being cooked, then put it together once the beef has been shredded.
Slit Guajillo chillis lengthwise, stem and seed. Heat a dry, heavy based pan over medium heat, toast the flattened chilles, turning and pressing until softened and starting to char. Place in a bowl of hot water to soften for around 20 minutes. Preheat grill. Toss tomatoes with 1 tablespoon of oil in a baking or roasting dish. Place close to the elements and grill until soft and charred. Toast spices in hot pan stirring constantly until fragrant, grind in a mortar & pestle with Arbol chillis then transfer to a blender or food processor. Drain your soaked chilles (add a couple of splashes of the chilli water, and reserve the rest to add to your leftover stock) and purée with the toasted spices, tomatoes, onion, garlic, 1 cup stock, and a healthy pinch of salt until smooth.
Heat a little oil in your cleaned pot over medium heat, slowly add sauce while stirring and simmer, continuing to stir for about 5 minutes.
Add beef and a little more stock depending on how liquid the sauce is. (I don't want my beef too saucy as I'm serving it in tortillas but if you're serving over rice more liquid may be desirable) and bring to a simmer, stirring, until the meat is heated through.
To make curtido:
In a bowl, toss cabbage, carrot and radish.
In a small saucepan, combine vinegar, salt and sugar, stirring over a medium heat until salt and sugar have just dissolved. Pour over your vegetables and toss. Cover and refrigerate for at least an hour before serving.