Category — Hospitality/Dining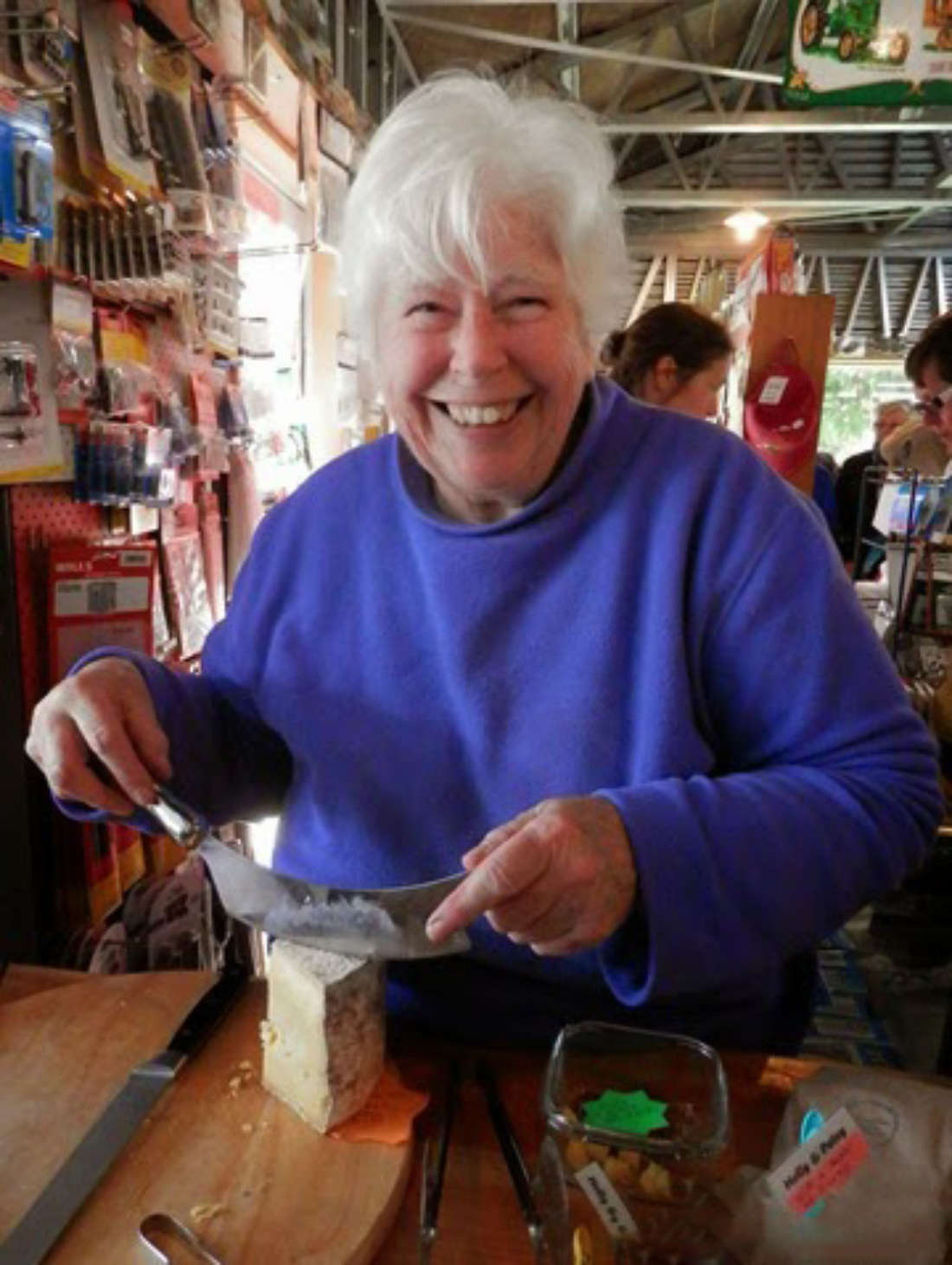 Biddy Fraser-Davies, my favourite 'late developing geriatric peasant'
By Calum Hodgson, cheesemonger at Sabato, otherwise known as 'The Curd Nerd'

At the beginning of September 2016, Biddy made the decision that she would no longer make heat treated cheese. Her advancing years and clapped out shoulders meant lifting heavy pans of milk into bigger pans of boiling water and then out again into iced water to cool it down before she could begin cheesemaking was a chore she could do without.
Today, Sunday May 14, is Biddy's 75th birthday, she is the only NZ cheesemaker making exclusively raw cheese. All the milk from Biddy's 5 cows is used to make Cwmglyn Raw Farmhouse Cheese. The chefs at Government House always buy it when they have Royal Visitors on State visits. It is also served at top restaurants across New Zealand. Biddy makes good cheese, and has enough HACCP and Risk Management Documentation to paper a palace.
Traditional Hard Farmhouse Cheese was developed centuries ago to preserve the nutritional value of milk when there was plenty in the summer, in order to feed people in the winter when there was none.
It is a simple nutritious peasant food, that, in New Zealand, due to regulatory measures ostensively designed to ensure Food Safety, has raised the compliance costs to unaffordable levels, so sadly it is now only available to those who can afford it.
'I have a feeling that there would probably be less compliance costs were I to start making explosives for sale rather than cheese.'
Biddy has been trying for years to get these costs down to a reasonable level, so that the pleasures of cheesemaking can not only feed the family of the cheesemaker, but be produced in sufficient quantities to be sold & be enjoyed by many at cheesemonger shops and markets all over the country. Unfortunately in NZ, MPI appear to make no distinction between soft and hard cheese -they regard all dairy products as a highly dangerous commodity that only by rigorous policing can the public be protected from the wily machinations of the cheesemaker.
The dairy team at the Ministry of Primary Industries want to test Biddy into extinction. Evaluation and verification of premises has to be regularly carried out by only one or two 'MPI recognised' auditor companies. The costs for a small operation like Cwmglyn is over $4,000.00 annually. But if you want to make raw hard cheese, you hit a bigger barrier, as there are NO RAW cheese auditors in NZ, so these operations have to be audited by MPI. Not only do MPI charge a substantial fee for 'Dairy monitoring' on the annual milk solids total, of which the lowest level is some 15 times higher that the level Cwmglyn Farmhouse Cheese produces, but any MPI auditor services are charged at a rate of $173.00 an hour plus travel & accomodation costs, this is on top of any registration fees charged for your operation. Raw cheese making incurs additional costs, two milking shed inspections annually at around $300 a time, annual milking plant inspections -there goes another $400, water testing, 2 veterinary herd or flock inspections annually, TB testing annually, even in TB free areas. You have to be pretty stubborn or foolhardy to want to make raw cheese under these conditions…… Biddy made a complaint to the Ombudsman but apparently they can't take any action as the requirements are enshrined in existing legislation.
'It might not be considered in the national interest, but I do think it important that there is a vibrant artisan cheesemaking movement in NZ.' – Biddy.
Happy Birthday Biddy Fraser-Davies, my favourite 'late developing geriatric peasant'.