Category — Features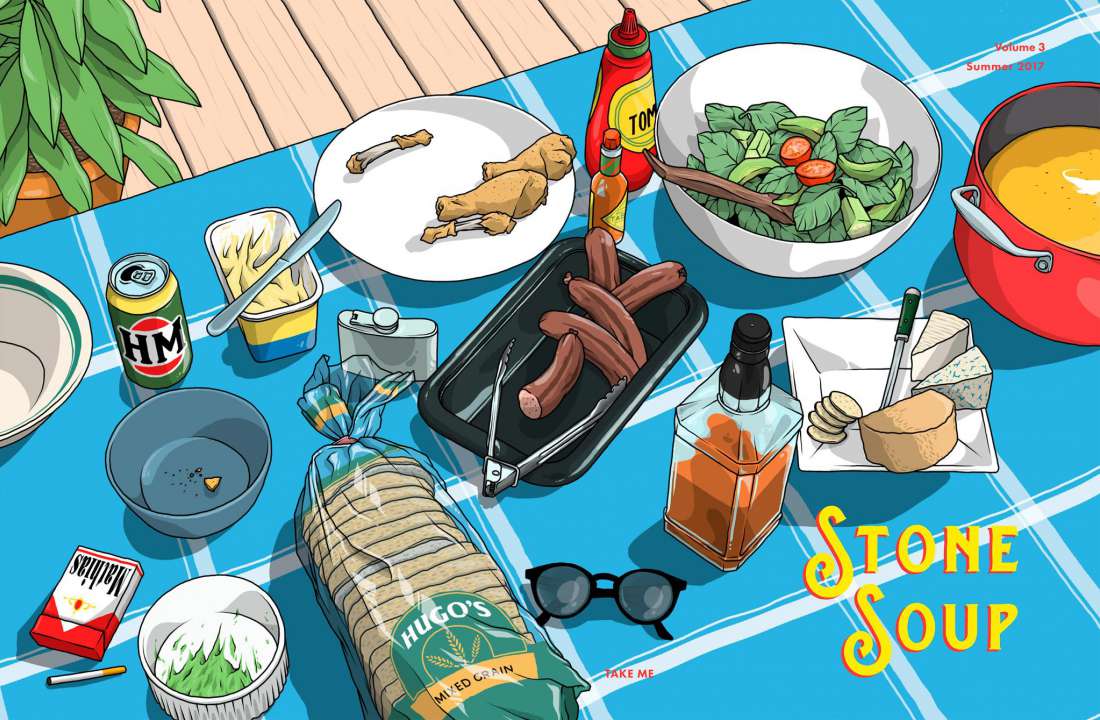 Volume Three - Editorial
Praise Ra, it's summer. As Roy Ayers exuberantly professes in his good times track – 'Everybody Loves the Sunshine', except for the gamer in my basement, but that's another longer story.
Hopefully most of us are due a bit more time off work to spend with family and friends, at the beach or in a hammock, into the longer warmer evenings, and this bumper summer edition of Stone Soup has got the good times and your entertainment, eating and imbibing covered.
Travel down Tokyo's grimy alleyways with Mika Reilly; into the existential dilemmas of attempted vegetarianism with Kate Richards; down a rabbit hole debate on Natural Wine, and to blistering sunshine and blueberry queens in Maine, USA with Lottie Hedley.
Visit a Mon refugee family with Vivienne Teo of Breakbread; the markets of Wellington with Instagram sensation @heresbarney and Martyn Pepperell, and the streets of Mumbai with Angela Clifford in Christchurch. We even go to Hamilton for the country's most exciting ice cream with Leisha Jones.
Meet Australian food evangelist Rohan Anderson with Marty Jones; bread dealer Jerome Ozich; 3D print master Daniel Kamp of Kamp.studio, and Yuki, our latest hospitality profile.
We've got cocktails covered thanks to Jonny Almario of K Rd's Madame George, to accompany your summer soundtrack curated by The Avant Gardeners – you may even have been lucky enough to pick up our limited edition physical mixtape. If not, have a listen at soundcloud.com/stone-soup-syndicate
And of course, we've got your food covered. Ruby @misschangy White reclaims a cultural treasure from The Man; Charlie McKay pays homage to Fergus Henderson; Fiona Smith turns one sustainable fish into a four course Peruvian tasting menu. If you're not up to making the tasting menu, make sure to give somebody the task of making her ceviche as part of my potluck challenge. The recipes spread throughout the magazine add up to the perfect potluck party. Ring up your mates, assign them a dish, light a fire and turn up the tunes. There's pickled watermelon from Will Bowman and Jane Lyons of @thenextmeal, Marcus's jerk marinade, Hartwood inspired creamed corn, Rohan Anderson's grilled Zucchini and Fennel salad, and Leisha's carpaccio and boozed up watermelon spiders.
I don't know what more you could ask for really. Enjoy the sunshine and see you again later in the New Year. Make sure you follow us on Instagram for our movements between issues if you haven't already @stonesoupsyndicate
Our Cover:
Hugo is a Kiwi illustrator and painter based in Melbourne. He works as a commercial freelancer and a fine artist. His recent work explores ideas of human history and it's layered connections to the contemporary state, represented in the form of lonely subjects. @hugo_mathias
You can buy his work, including the cover and recipe illustrations he did for Stone Soup at – hugomathias.bigcartel.com