Category — Recipes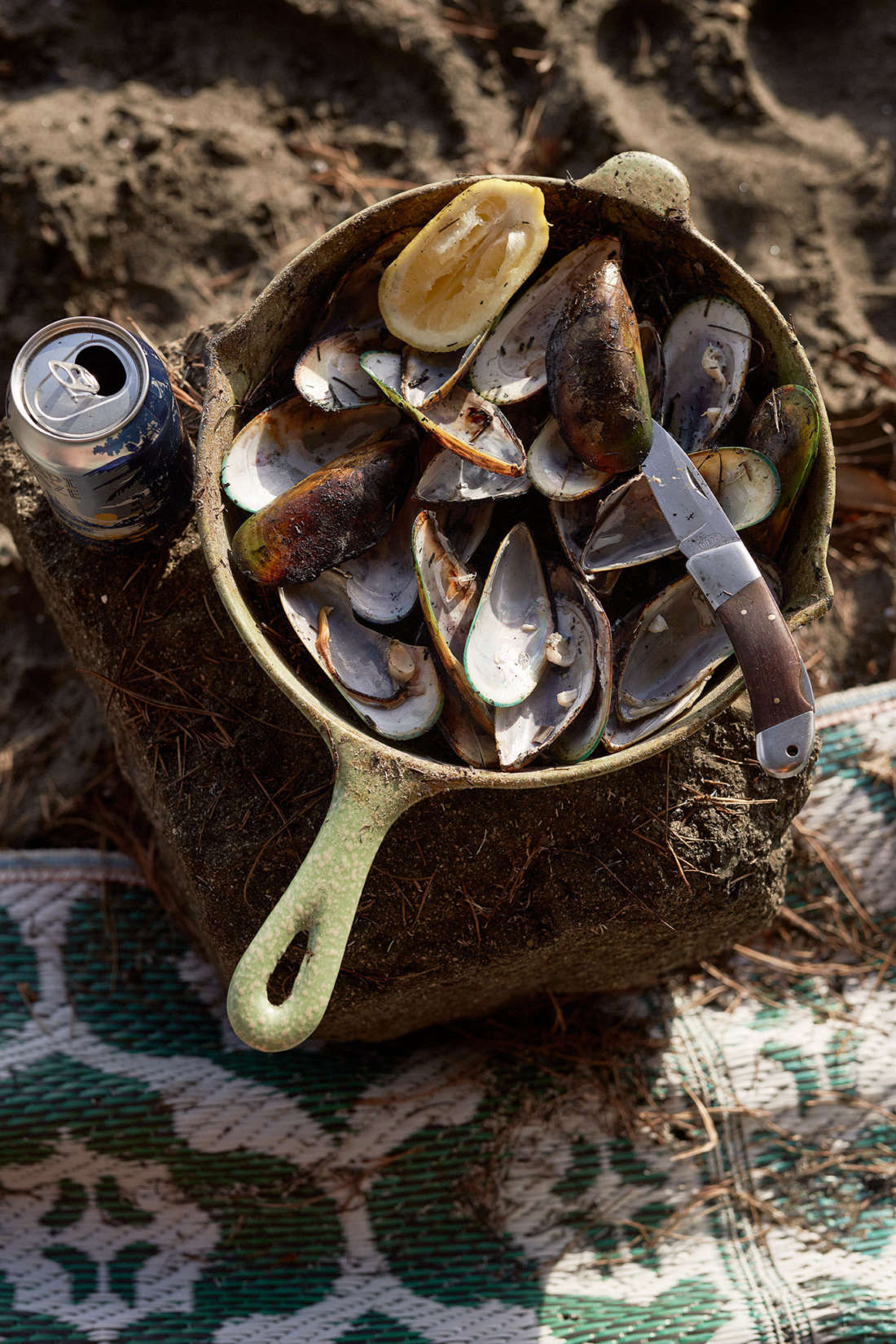 Shared nature
In our last issue we met Lucas Kaminski Sampaio who spoke about his trials and tribulations with our immigration department.
Lucas told the story of how he came to New Zealand to drop out of the pressure of cooking at a very high level in Europe, but fell back in love with it as he traveled. Camping around the country he took pleasure from cooking multi-course meals over the campfire. He would spread a blanket and gather whoever was around him for a family meal. With camping season fast approaching, it seemed sensible to ask him to let us in on some of his tricks, applicable to the campsite - or your backyard - this summer.

These recipes are for 2-4 people, depending on who's around you, but can easily be adjusted to feed more.

Eclade de Moules

A great start to any camp meal is a technique I learnt from my French friends called Eclade de Moules. It is a simple and amazing dish which simply consists of mussels, dry pine needles (both of which are easy to find when camping in New Zealand) and a quick simple dressing.

24 mussels (or as many as you can eat)
dry pine needles, an armful
1 tablespoon raw pine nuts, chopped
1 tablespoon extra virgin olive oil
Juice of 1/2 lemon
1 tablespoon chopped parsley

Place the mussels around a pan in a circle with the edge which opens facing down. It requires a little patience but while camping you have all the time in the world. Once arranged cover with dry pine needles piled as high as you can balance. Light it, watch it burn.

Mix pine nuts, olive oil, lemon juice and and parsley.

Brush the pine needle ash from the mussels, they should have opened, discard any that haven't.
Serve in the half shell drizzled with the dressing and a nice cool IPA.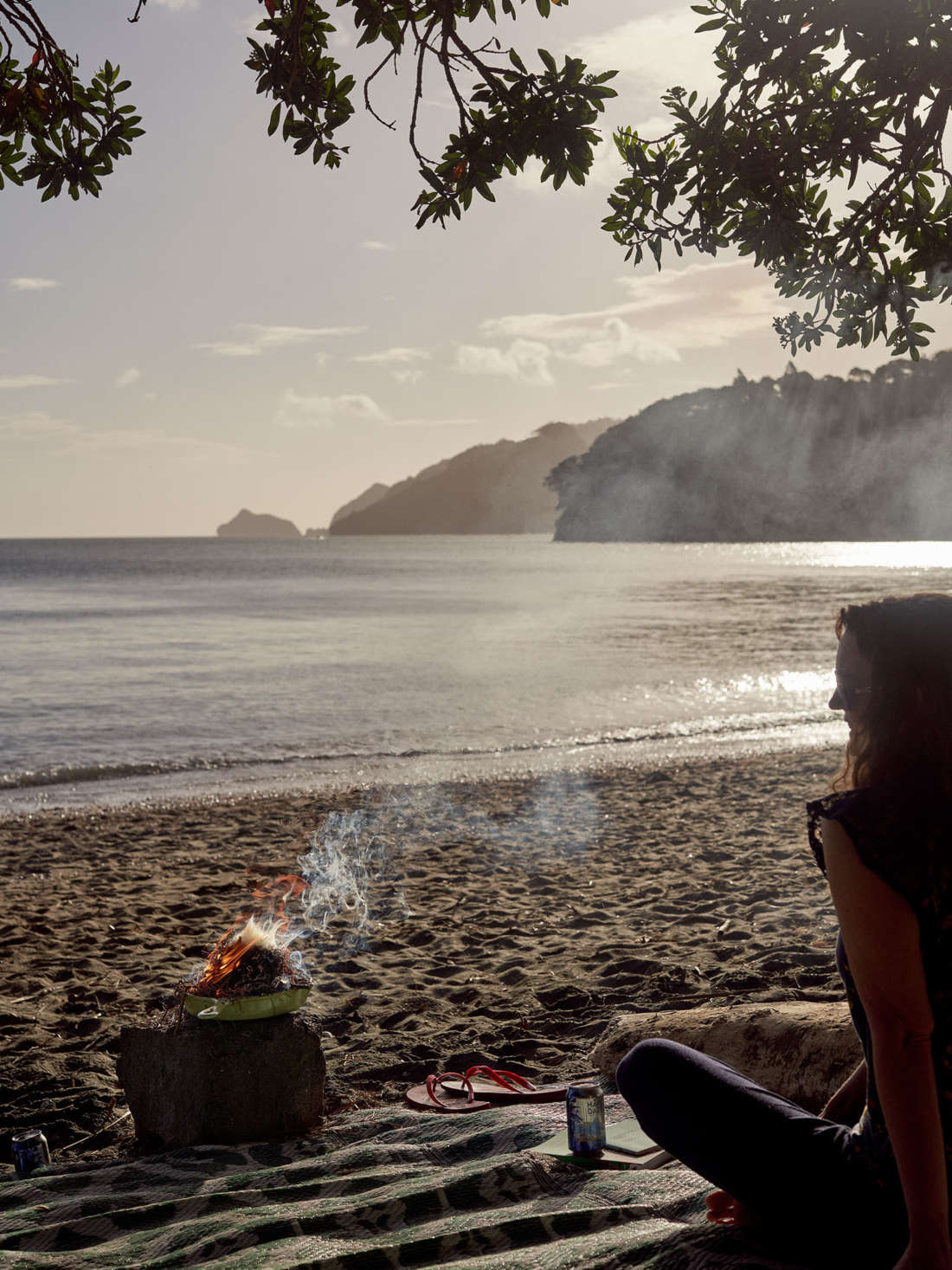 Campfire couscous salad with grilled fish.

A simple meal to prepare around the fire with friends while you eat mussels. If you want to be lazy the following day, make sure you cook extra while you're at it to keep for a tramping snack.

1 eggplant
1 leek
2 sprigs of rosemary (or other herbs)
200mls olive oil plus extra for drizzling
salt
2 capsicum, 1 red and 1 green
200g couscous
1 cup boiling water
7 cloves garlic
2 fresh chilli, chopped (or use a good pinch of chilli flakes)
200 ml olive oil
1 fishing rod – or 1 beautiful fresh fish exchanged with a fisherman for a feed of mussels.

Put the couscous in a large container or bowl, pour over the boiling water and cover with a lid. Grab your eggplant and imagining you don't like it, throw it on the coals for 15-20 min until it looks like a deflated balloon and has gone very soft inside. Carefully remove from the fire and let it cool a little before chopping in half and scraping the soft inside onto a board. Chop into small pieces and place in a large container. Throw the burnt skin on the fire.

Cut the leek down the middle place put 1 sprig of rosemary or other herbs you have in the middle, drizzle with olive oil and salt, put the leek back together, wrap with tin foil and throw into the fire for 15-20 minutes or until soft. Let it cool a little, chop and add to the container.

Grill the capsicum over the coals until the skin is quite dark, put them in a plastic bag, close and let them sweat for 10 minute so it's easy to remove the skin and seeds. Cut into strips and put in the container.

While the vegetables are cooking bring the water to the boil and if you have any spices or fresh herbs add them, pour over the couscous, cover and leave to sit and cool in a pot while you finish the vegetables.

Put the olive oil to a small pot, add 1 clove of light smashed garlic, remaining sprig of rosemary and the chilli. Place the pot next to the fire and add a small piece of glowing charcoal to the oil. Leave the oil for at least 10 minutes and allow the flavours to infuse. Strain and discard the herbs and charcoal. Fold this special olive oil through the salad with a generous squeeze of lemon juice and salt when you're ready to serve.

Ideally go fishing in the morning. Let's imagine a nice kahawai pulling on your rod and you bag it. Clean the fish – scales and guts. Season the inside of the fish and stuff with slices of lemon, 4-6 cloves of smashed garlic and some fresh foraged herbs like parsley and fennel. Place a clean grill on the fire and let it get really hot before you place the fish on top and grill for 5 minutes on each side. A little longer if you caught a big one. To check it is cooked you can cut into the fish until you reach the spine and if it is white and pulls easily from the bones it is ready.

Take from the fire, open the fish and remove the herbs and take the bones out. Take the lid of the pot of couscous, place in the centre of those you've gathered around you and let them all help themselves. Make sure you treat yourself to a nice dry riesling as accompaniment.

Kiwi, chocolate and kawakawa

I'm not a really sweet tooth, but I do appreciate a bit of a treat at the end of a meal, especially when I am camping. This is a simple dessert that satisfies that desire and utilises the dwindling embers of your fire. This recipe is for each kiwi, make as many as you have people.

1 green kiwi fruit – which has a stronger skin than yellow.
50 grams of white chocolate
If you are camping next to a river you can usually find a sprig of river mint or 2 unripe kawakawa berries.

Cut the top off the kiwi and carefully scoop the fruit out without making a hole on the skin. You should end up with a small cup. Cut the scooped kiwi flesh, the chocolate and the mint or kawakawa berries into small pieces, spoon back into the kiwi cup and place on the grill over low embers until the chocolate melts. Enjoy the warm kiwi salad and don't forget to look at the stars.

By Lucas Kaminski Sampaio