Category — Recipes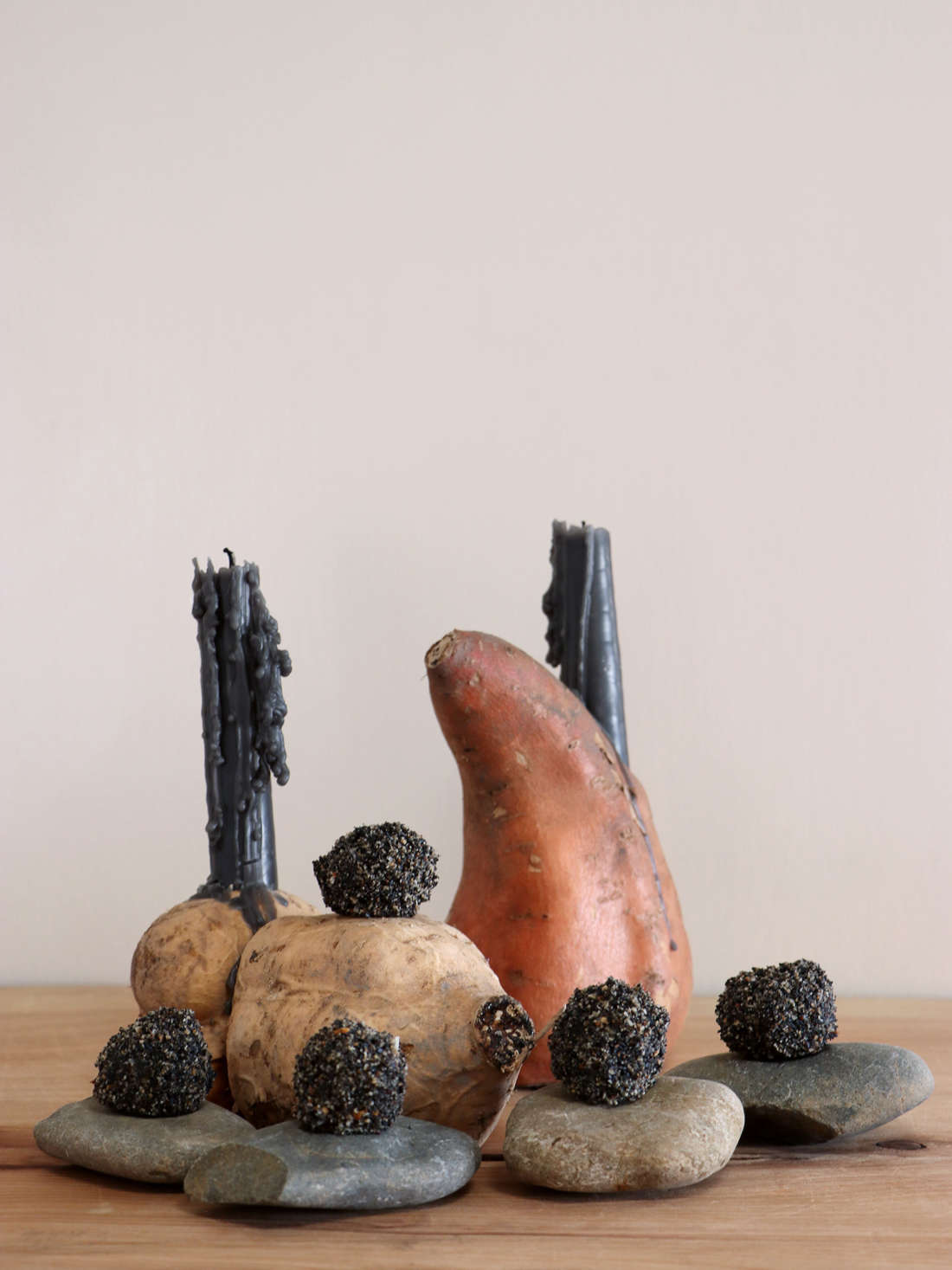 Onde onde
This began as a recipe for onde onde, but ended up as more of a fusion child between onde onde and tang yuan, two of my favourite Asian desserts. Typical.
Onde onde is a much loved kueh in Malaysia, Singapore and Indonesia. Tang yuan is a traditional Chinese dessert. Both dishes consist of glutinous rice balls stuffed with either palm sugar (Onde Onde) or black sesame paste (tang yuan). Onde onde is coated in fresh coconut shreds, while tang yuan is sersved in a clear ginger broth. Their similarities extend to the addictive chewy texture and delicious explosion of liquid sweetness that fills your mouth when you bite into them. SO GOOD.

For this recipe I included kumara in the dough which enriches the texture and flavour. I've also used a blend of palm, gula melaka and coconut sugar to provide further depth but you can definitely use just one or experiment with different types. The addition of the black sesame seeds to the outer coating lends a wonderful complimentary flavour profile and new texture which I personally really enjoy. Serving them with a hot and spicy ginger tea balances the sweetness and rounds off the dessert. Enjoy these shared! Tang yuan is traditionally eaten with family and friends, it reflects a connection to others and family bonds (quite literally the balls represent the individuals while the bowl is bringing and holding them together).

Makes around 13-15

½ cup toasted black sesame
½ cup toasted coconut

Dough:
65 ml water
4 pandan leaves
65g steamed kumara
120g glutinous rice flour
1 1/2 tsp tapioca flour

Filling:
20g grated gula Melaka
20g grated palm sugar
20g coconut sugar
50g fresh ginger, sliced

Ginger tea:
500ml water
10 slices of fresh ginger (to taste)
Optional: a few leaves of kawakawa

In a blender or food processor blitz sesame and coconut until coconut is quite fine. Set aside for later.
Blend the water and two pandan leaves in a blender. Strain through a sieve into a pot.
Mash kumara into glutinous rice flour.
Cook tapioca in pandan water over low heat for 2-4 minutes until starting to thicken.
Pour tapioca into kumara mix. Sir to combine, then knead into smooth dough.
In a separate bowl mix sugars together.
Pull out 20g lumps of dough (around the size of a large marble) and pinch into a cup or flatish disc shape.
Generously fill with a tsp of sugar. Pinch to close and roll into ball.
Bring a pot of water to the boil with ginger slices and remaining pandan leaves. Boil onde onde until they come to the surface. Continue to cook for a further 2mins.
Removed from water with slotted spoon and drain on a tea towel. Roll in coconut and sesame seed crumb.

Serve warm with ginger tea.

To make the tea:
Put water, ginger and kawakawa (if using) into a pot and bring to boil.
Pour into a pot and allow to infuse for a few minutes.