Category — Features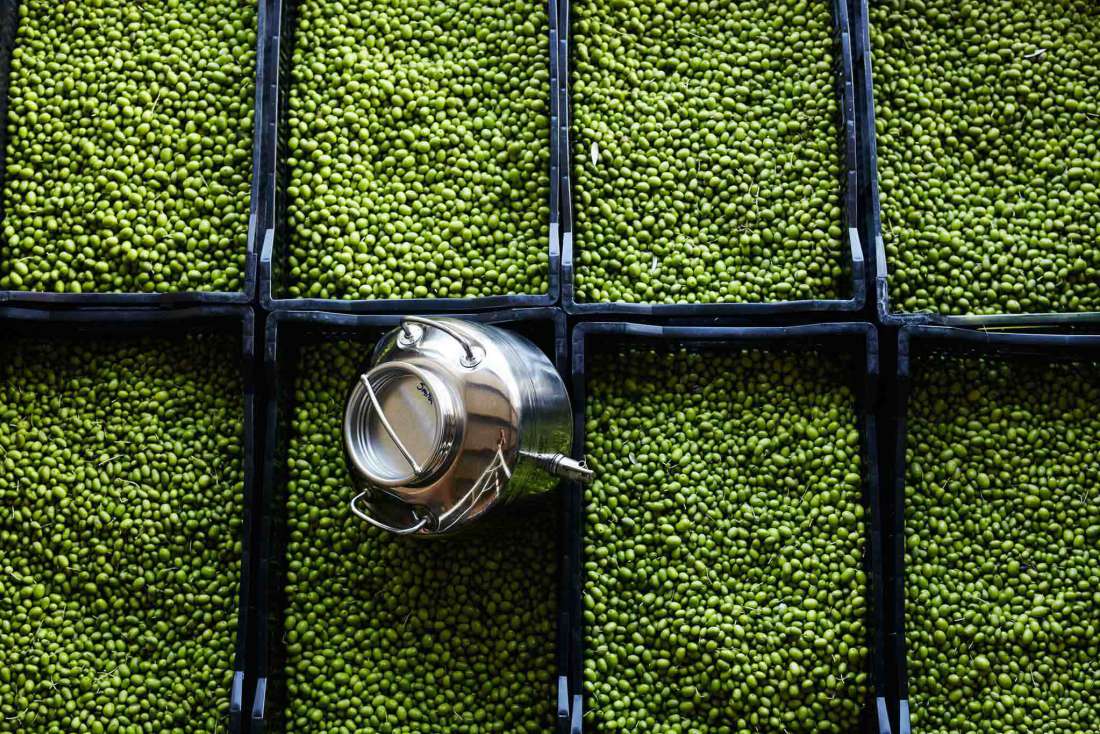 Olive Harvest
For a young New Zealand girl, growing up on a quarter-acre section in central Auckland, growing and pressing your own olive oil seemed the reserve of the elite, with acres of rolling hills in the country. My Italian neighbours would tell of their yearly olive harvest and I imagined their estate in southern Italy, complete with majestic villa and the aforementioned hills. Many years later, while backpacking through Europe, I visited my old neighbours in their small seaside village of Scauri. No majestic villa. No rolling hills. Big disappointment.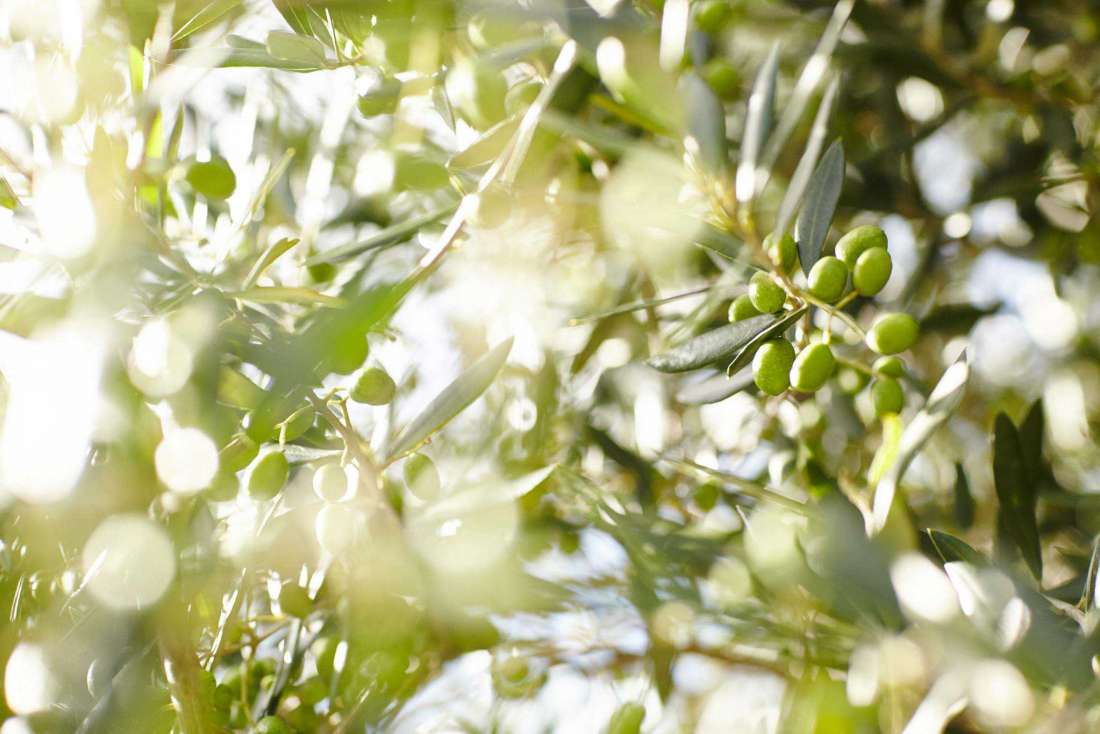 In actual fact, their lovely but modest home, on probably the same-sized piece of land as ours, was a delight and an inspiration. Not only was there olive trees, but also grape vines for wine, fruit trees and plenty of spaces for veges. It was not manicured perfection, but it was something much better – it was a producer, a food forest before the phrase had been invented.
My mother had also visited our neighbours in Scauri and had obviously been just as inspired. She planted six olives on a small patch of land up north. That was 1997. The trees grew away quietly. No one seemed to take much notice of them, pruning them once in a while, but certainly not into any good shape for olive harvesting. Olives started growing and we would brine a few of the choice plump ones, but half of the trees are J5, a variety that grows extremely well in the north and makes excellent oil. An olive press really is the domain of the elite and unlike small Italian villages, we don't have a community press, so that really put a dampener on the oil idea.
We aren't the only ones in our local area to have a few olive trees. Others had been so inspired; it was the time of a boom in olive oil production in Northland. With a few of the large producers having their own presses, we were lucky to find Lynette and Colin Wilson at Hihi Olive Estate in Mangonui. While pressing their own, award-winning extra virgin olive oil (EVOO) and in the spirit of the neighbourly north, the Wilsons are happy to press other people's oil for a tiny fee.
Neighbours talked and a few years ago we banded together to pick fruit from around the neighbourhood. Not only was it a fun (if tiring) weekend, but we were rewarded with a few bottles of the freshest EVOO we had ever tasted. Two years later we set about picking the olives from just our little patch. Olive trees, especially ones with bad pruning history like ours, won't always bear fruit consistently, and weather is a factor. That year the crop was good and we pressed 8 litres of oil from our 67kg picked. Lynette tells me you get about a litre of oil from each 7kg-10kg of fruit, so I was happy with that.
I'd like to say we romantically spent the weekend up ladders, dropping fruit into the silk parachutes below, but we totally cheated. I had someone come and take the tops off the trees and we stripped the branches from the comfort of our chairs. The trees needed a big pruning, with them mostly neglected and growing too high in an attempt to find light. Taking the tops and central branches out would hopefully open the trees up and produce lower, more accessible fruit. Late summer is not an ideal time for pruning, but it's a hell of a lot easier way to pick.
As olives don't grow on the new growth, we took a year off. The oil from the previous harvest lasted well – I'm really frugal with it, using it only for salads and drizzling over everything… Towards the end it had mellowed to almost tasteless, but had no sign of rancidity, so was great for cooking.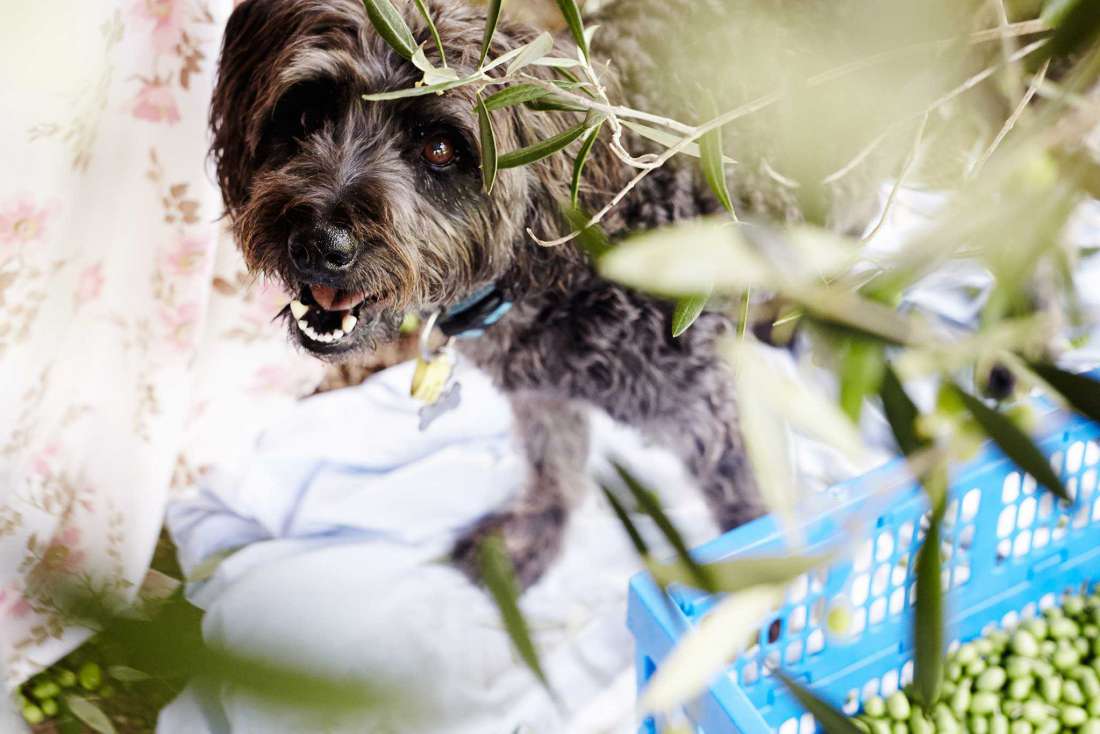 This year was a bumper season for olives – just the right conditions, I guess – and ours were no exception. The outer branches on the shorter, wider trees hung heavy, laden with fruit. With a band of willing helpers, we picked for just one day. I have to admit we cheated again. There was one tree that the pruner forgot, so he lopped the top off that one for us and away we went. In just one day we picked 133kg and I have to admit, the bulk of that came from the pruned tree.
We left so many olives behind it was depressing, but it's ideal to press within 24 hours of picking, Hihi is a 40 minutes' drive and I'd promised food and wine to my helpers, so one day it was. The olives were quite small and green, as it was early in the season, but Lynette assured me that green olives produce a high-quality oil that lasts really well. As it started to run from the press, I had no doubt to the quality – it was a vibrant dark green. We pressed just over 15 litres that day and probably picked half the olives from six trees. That's what I'm trying to convey here – you don't need a huge estate, just a wee patch of land and some patience.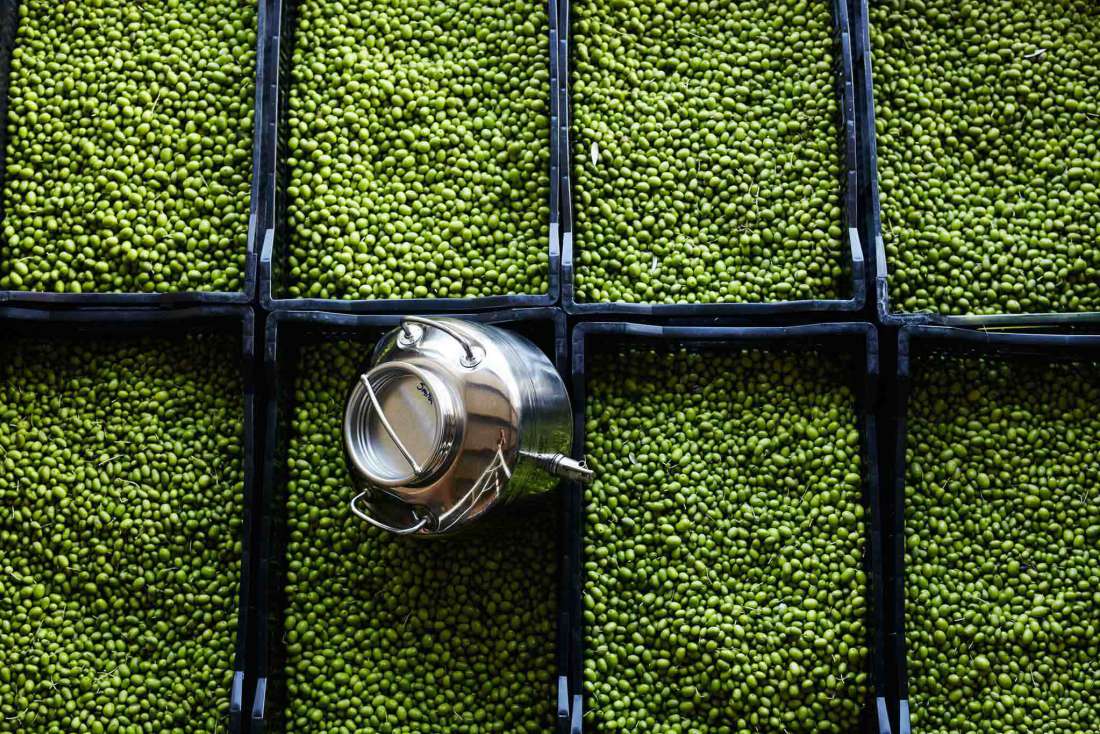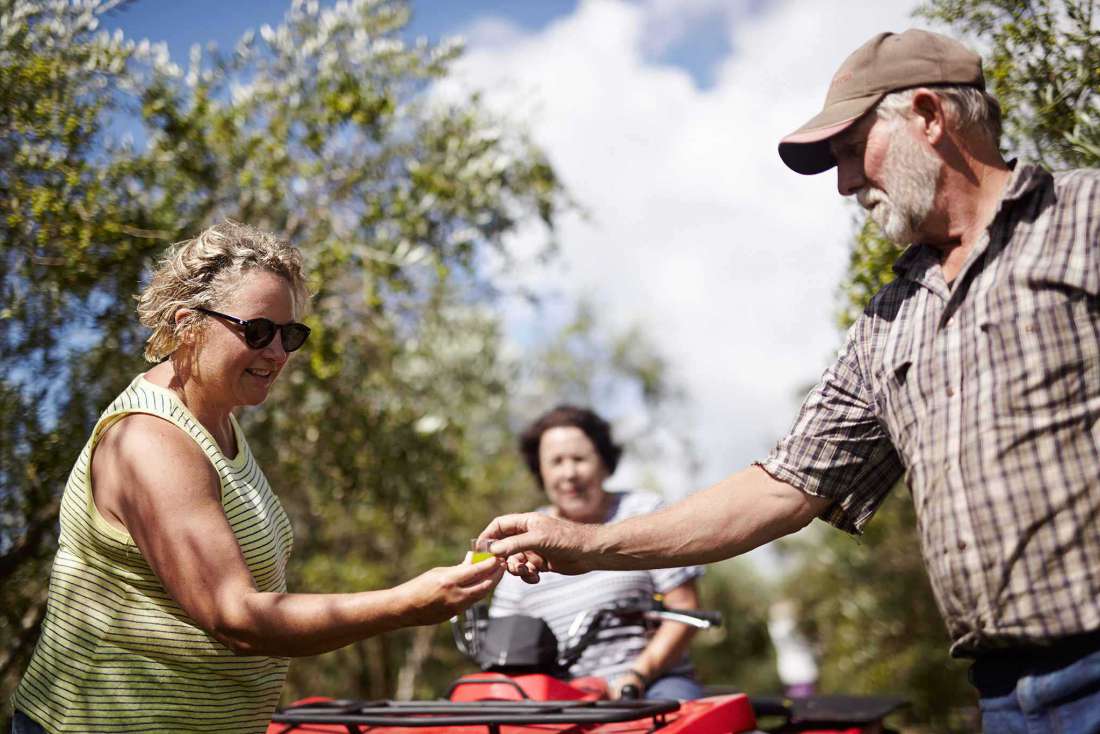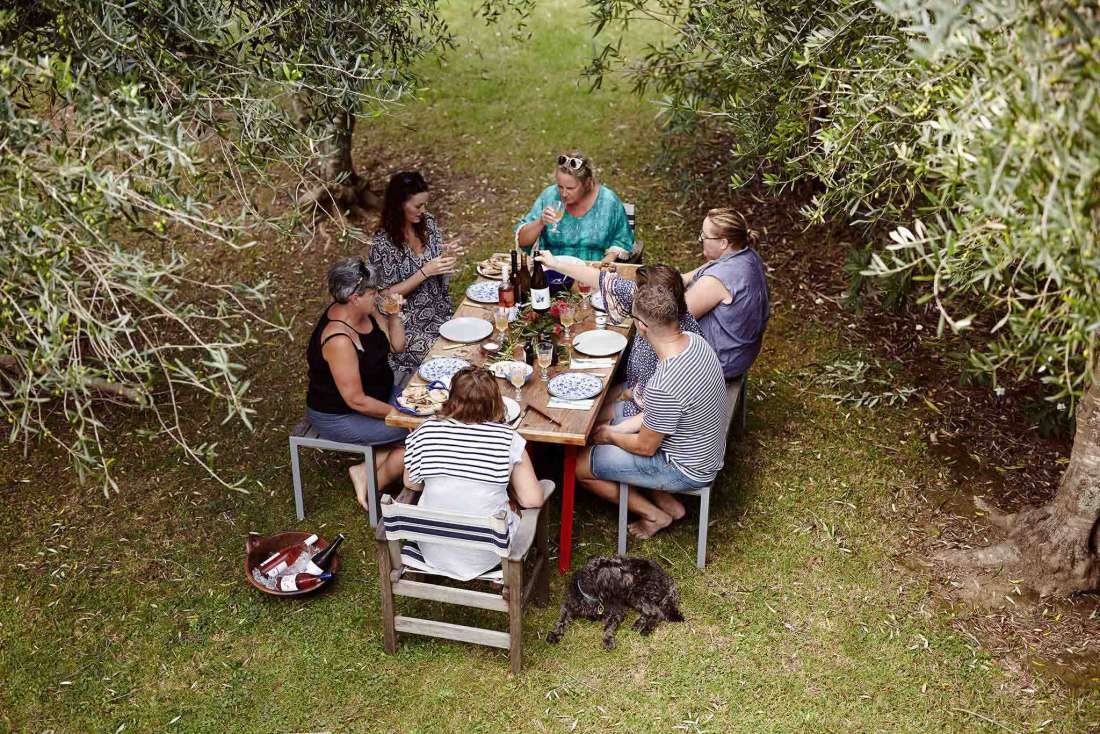 In my tiny garden in Auckland I planted a J5 olive tree a few years ago. It produces heaps of fruit. My neighbours recently planted two. I'm sure I could find another neighbour if I asked around. Finding a local press with the openness of Lynette and Colin at Hihi might be harder, but it's worth asking the question, right? We could have a few bottles of Western Spring EVOO in a few years. In the meantime, those plump, fat olives go straight into brine.
Mushroom & walnut bruschetta
Makes 8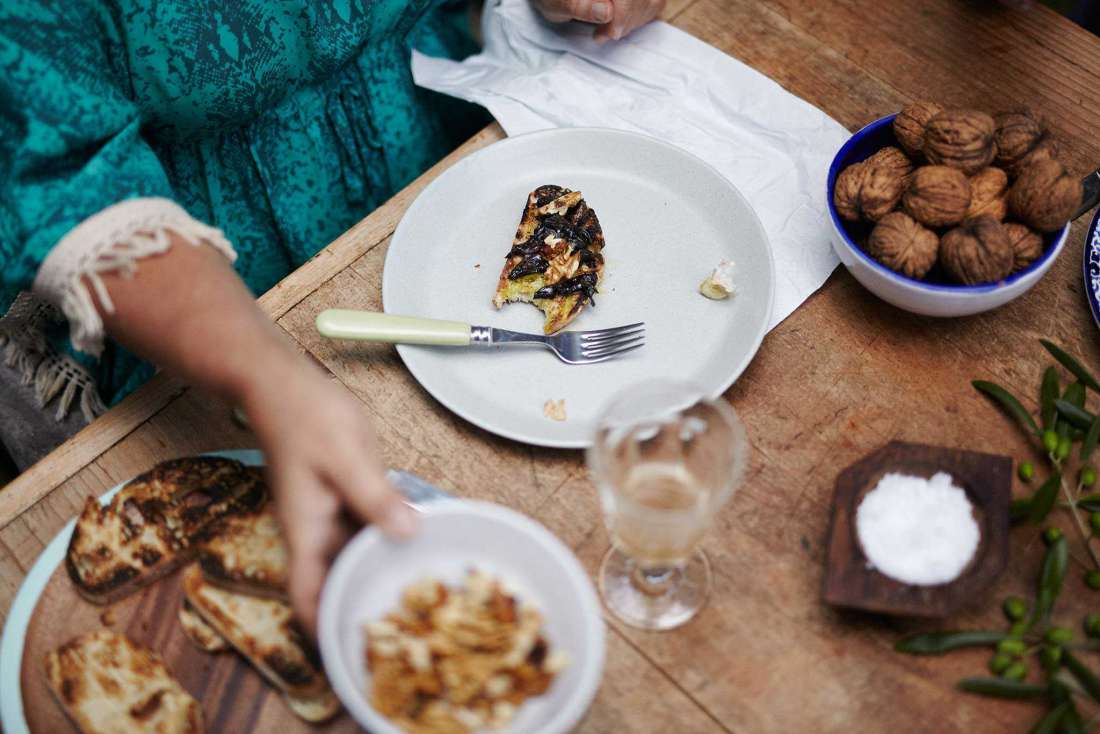 1 tablespoon olive oil*
500g mushrooms, sliced
½ teaspoon salt
3 tablespoons oregano, chopped
4 garlic cloves, halved
½ loaf sourdough bread, sliced
70g fresh walnuts, roughly chopped
extra virgin olive oil for drizzling

Heat the oil in a large frying pan over a medium heat. Add the mushrooms and salt and sauté for 10 minutes then stir in the oregano.
While the mushrooms cook, toast the bread.
Rub the warm toasts with the garlic then top with the mushrooms, walnuts and EVOO.

*As my EVOO is very precious to me, I always start cooking with a generic store-bought olive oil.
Parsley, caper & lemon sauce
Makes 125ml
1 tablespoon Dijon mustard
juice of 1 lemon
100ml extra virgin olive oil
1 cup parsley leaves, finely chopped
2 tablespoons capers, finely chopped
2 shallots, finely chopped

In a bowl, whisk together the mustard, lemon juice and oil and season with salt and pepper. Stir in the parsley, capers and shallots.
Flounder poached with olive oil & parsley
Serves 4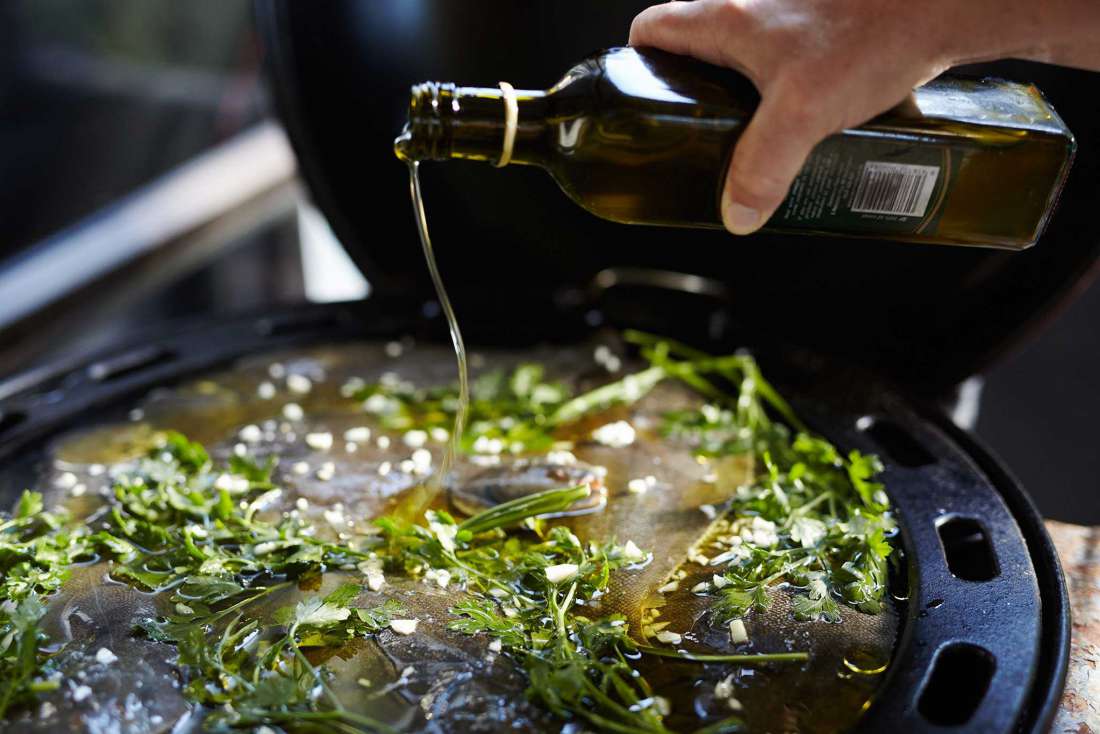 I like to serve the fish with a risotto, such as the barley one that follows this recipe, to soak up the juices, or you can simply serve it with bread with greens or a salad of cos and bitter leaves such as radicchio or endive.
4 small (300g each) whole flounders (or you can use 2 large)
2 cloves garlic, sliced
4 tablespoons extra virgin olive oil plus extra for serving
4 leafy stems flat-leafed parsley
½ teaspoon salt
Place the whole flounders in a large flat pan and add enough water to just cover. Add the sliced garlic, olive oil, parsley and salt. Turn the heat on to low/medium and bring to a gentle simmer but do not boil. Simmer for 5 minutes until the fish is cooked through. Remove the flounder from the pan and place on a heated serving dish, cover and keep warm. Increase the heat to high and boil the pan juices for 5 minutes to reduce. Spoon the juices over the flounder and drizzle with extra olive oil. Serve with the following barley & pumpkin with bay.
Barley & pumpkin with bay
Serves 4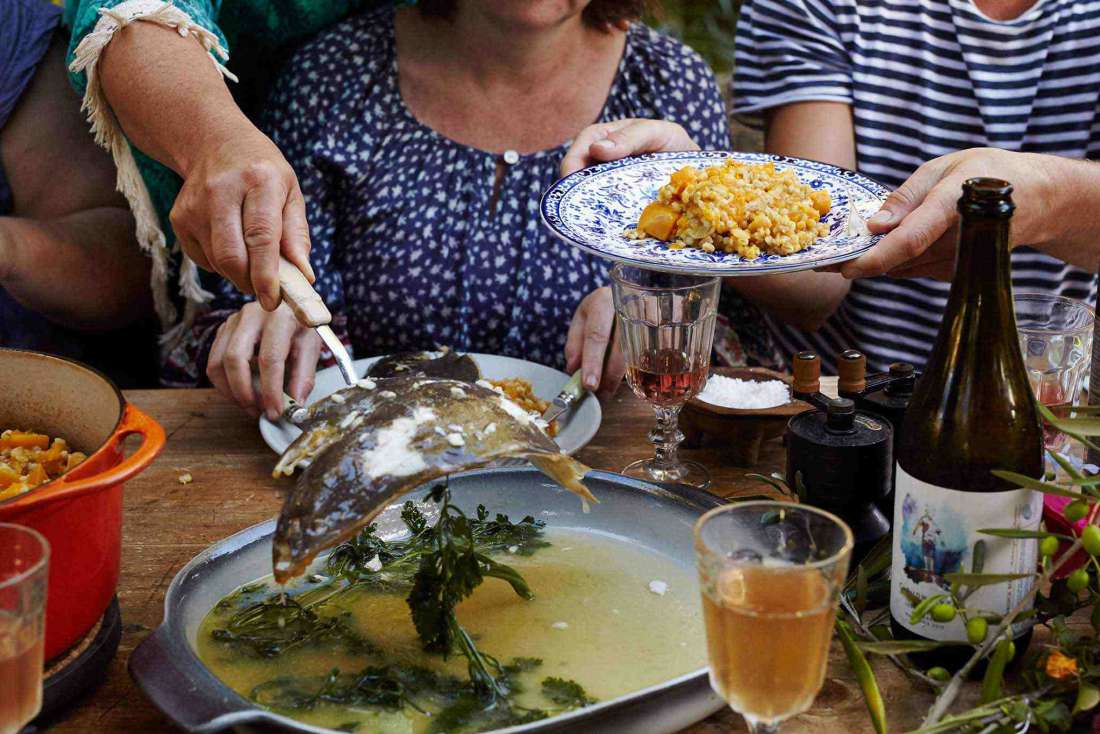 A bit like a risotto but without the endless stirring, and the barley gives a wonderful nutty taste and texture.
2 tablespoons olive oil
1 onion, finely chopped
1 bay leaf
200g pearl barley
100ml white wine
650ml vegetable or chicken stock, boiling
500g pumpkin, cut into bite-sized pieces
extra virgin olive oil to serve
Heat the olive oil in a medium saucepan over medium heat. Add the onion and bay leaf and sauté for 5 minutes. Stir in the barley and sauté for 5 minutes.
Add the wine and bring to the boil, boil until it is almost evaporated then add the hot stock and pumpkin and season with salt and pepper (if your stock is salty, you will not need extra).
Bring to the boil then reduce to a simmer and cook for 35 minutes, stirring occasionally. Cover, remove from the heat and let sit for 5 minutes. Serve drizzled with extra virgin olive oil.
Torta di ricotta
Serves 8-10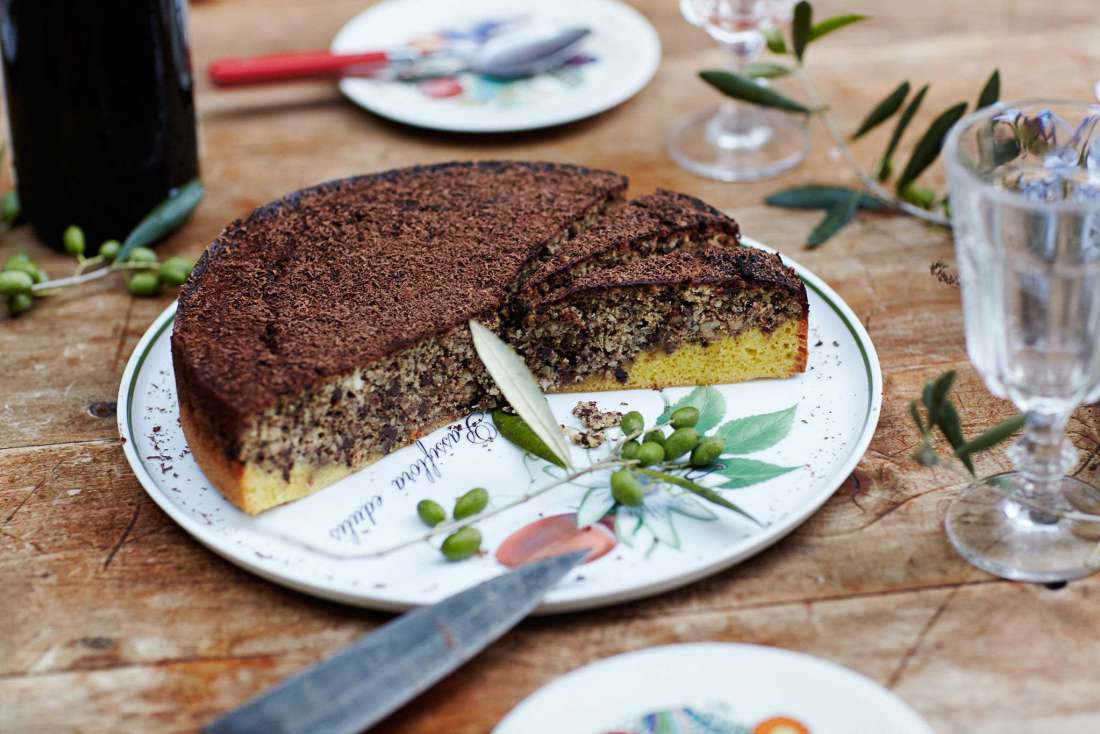 This recipe comes from Le Magnolie, an agriturismo farmhouse I stayed at in Italy during the olive harvest. It is made in two parts, base and filling, which sort of merge together when cooked. You can use whatever nuts you like – I have used almonds, but walnuts and hazelnuts work well. I also like to drizzle a little extra liqueur over the cooling cake.
butter for greasing
150g almonds (skin on)
100g dark chocolate, broken into pieces
6 eggs
200g sugar, plus 4 tablespoons extra
500g ricotta cheese
finely grated zest of 1 lemon
1 teaspoon cinnamon
1 tablespoon liqueur (limoncello, amaretto or similar)
3½ teaspoons baking powder
4 tablespoons extra virgin olive oil
100g flour
cocoa or grated chocolate for dusting

Preheat the oven to 180C. Grease a 22cm cake tin well with butter
Put the almonds and chocolate in a food processor and grind to a medium crumb.
Put 4 of the eggs and the 200g sugar in a large bowl and beat well. Add the ricotta, lemon zest, cinnamon, liqueur and 2 teaspoons of the baking powder, along with the almond-chocolate mix, and mix well. Set aside.
To make the base, beat the remaining 2 eggs with the 4 tablespoons extra sugar and the olive oil. Stir in the flour and remaining 1½ teaspoons baking powder. Pour into the prepared tin. Finally pour in the prepared filling.
Bake for 1 hour until just becoming firm in the centre. Cool for a few minutes then turn out and cool on a wire rack.
Serve dusted with cocoa powder or grated chocolate.
This cake will keep well for a few days.

Photography: Aaron McLean