Category — Features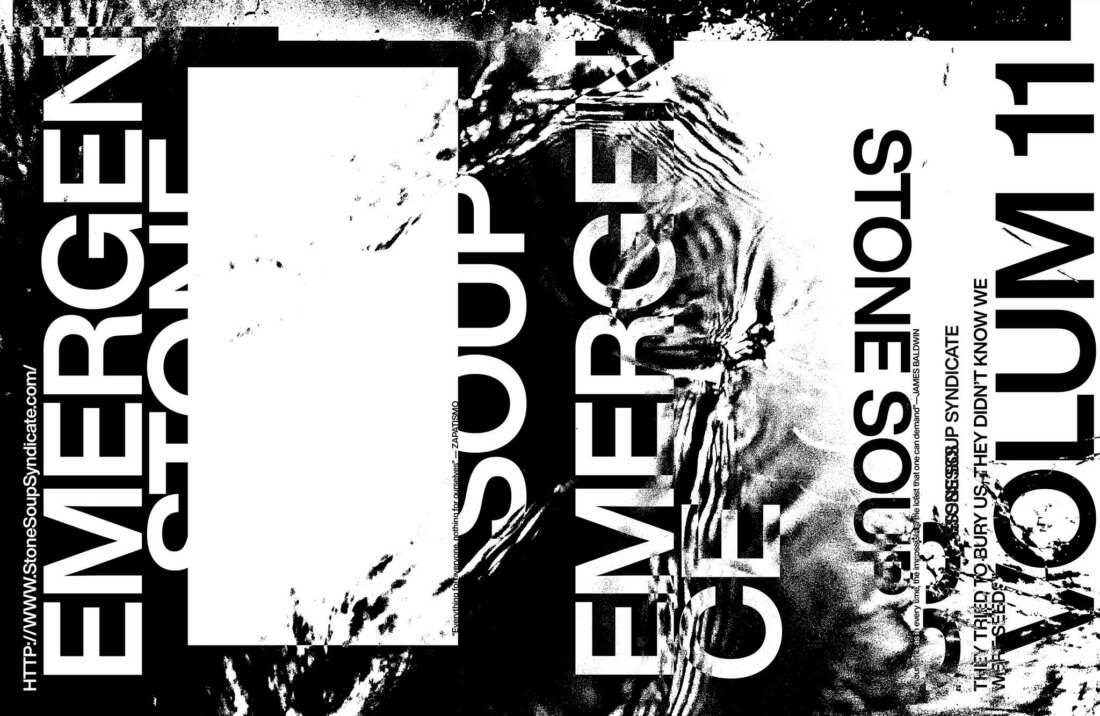 Emergence
Stone Soup Volume 11.

"Inside the word "emergency" is "emerge"; from an emergency new things come forth. The old certainties are crumbling fast, but danger and possibility are sisters." – Rebecca Solnit, Hope in the Dark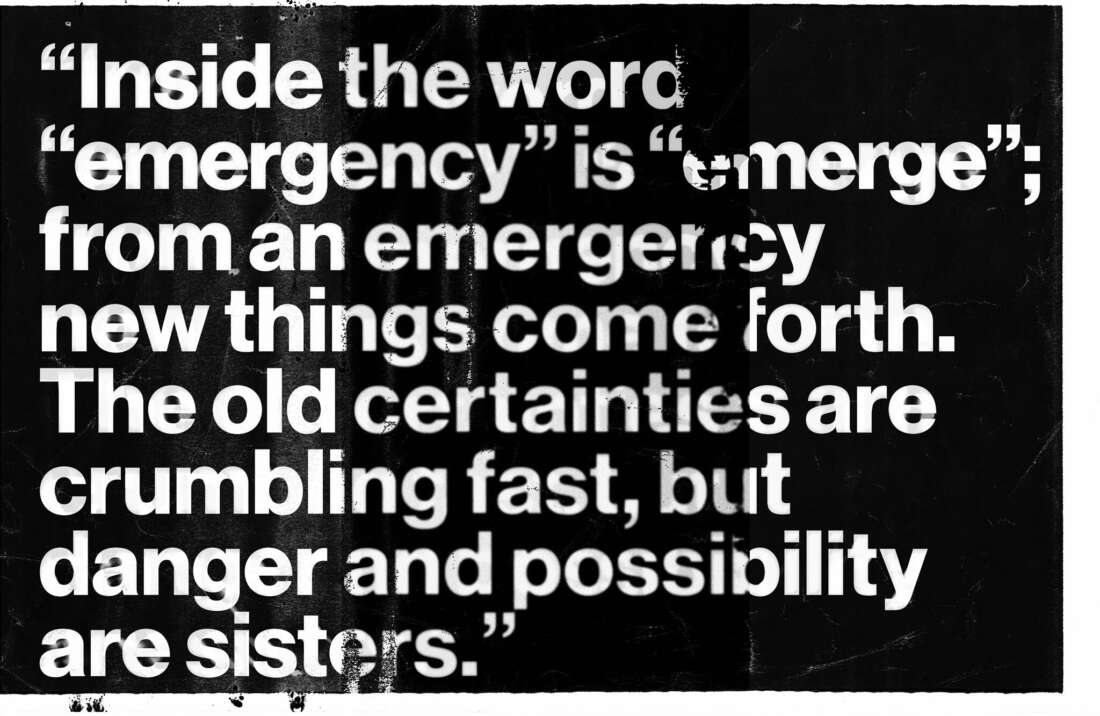 Stone Soup is an age-old parable in which itinerant strangers arrive in a town with nothing but hungry stomachs and an empty pot. The villagers refuse to share any food with them, so they melt snow to fill the pot with water, drop in a stone and bring it to the boil over a fire in the town square. The curious villagers ask the strangers what they're making; "Stone Soup," they explain. "It's delicious, as you'll see, but it would taste even better if you could spare a sprig of parsley!" Somebody soon donates that sprig of parsley, then another runs home to fetch some vegetable scraps, another throws in a spare onion, someone else a bone. The pot continues to simmer as one villager after another throws a scrap of this or that into the pot until they have a delicious nourishing soup, which both the villagers and the strangers sit down to feast on together.
This parable of generosity and reciprocity is Stone Soup Syndicate's namesake and has been its mission statement. We dropped a stone into a pot to draw friends and strangers alike, to contribute both creatively and financially, and to be nourished both by the process of making and devouring our broth. We have been overwhelmed by the generosity of all who gathered around us, enabling a fresh take on food publishing: independent advertising-free street press with a counter-cultural spirit, gifted to whoever stumbled across us.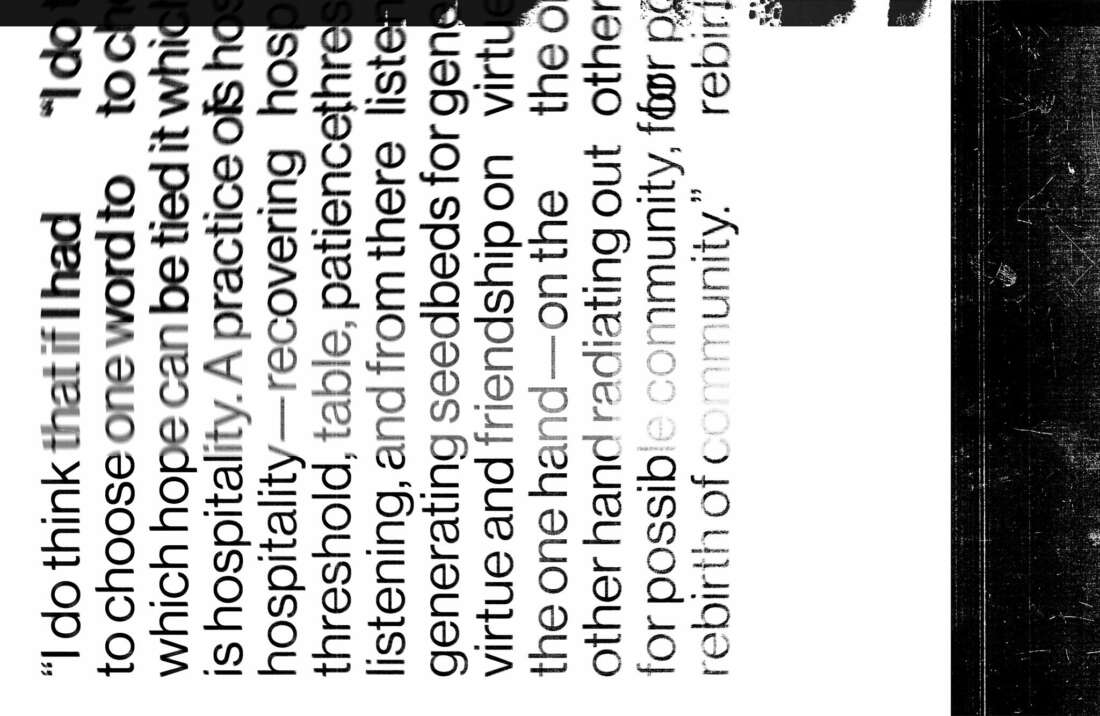 "I do think that if I had to choose one word to which hope can be tied it is hospitality. A practice of hospitality— recovering threshold, table, patience, listening, and from there generating seedbeds for virtue and friendship on the one hand — on the other hand radiating out for possible community, for rebirth of community." — Ivan Illich
We believe you can stir up many challenging yet convivial conversations through the lens of food, and we are proud to have done our little bit to bring an intersectional lens — so glaringly absent from our mainstream media — into our local food culture. Looking beyond the world of the 'best' or 'cheapest' restaurants, chefs and the latest luxury ingredient; we have sought to explore the social, economic and environmental connections in our food system. By meeting and talking to the people who pour our morning coffee, our indigenous food heroes, our migrant communities, activists and thinkers, food system wonks, gardeners, artisanal farmers and fishers. We are also proud to have opened the gate and provided space for those not practised or trained in the media — but with a stake in our food culture — to publish their perspective.
Food has the capacity to braid us together; it is something family, friends and communities have always congregated around, and we'll be forever grateful so many of you gathered around us. We want to thank everybody who has supported this project over the last five years. The patrons who have made it financially viable to print and distribute, all of those who have contributed stories and illustrations, our network of voluntary distributors around the country, those who have overwhelmed us with emails of encouragement, and those who stepped up to the thankless behind the scenes tasks of editing and organising and everything else that has gone into making the seemingly impossible — a print magazine run as a gifting economy — a reality.
This volume will herald an evolution for Stone Soup Syndicate – our last bi-annual magazine but by no means the end of our community or our publishing. We've tied many 'knots in nets of relationships' over the last five years, which connect us as a community. We can only begin to imagine what other collaborations are yet to grow. What we can clearly envisage is dedicating the time we spend on the magazine to preserving the content we have created, as well as a multitude of other ideas, in a more durable form, as a series of books. And of course, we will continue to publish stories on our website at stonesoupsyndicate.com and be active on Instagram @stonesoupsyndicate.
Ultimately, we hope that the enduring legacy of the magazine is our collaborators and readers putting the Stone Soup parable into action in our lives. That we can continue to plant seeds and share produce and meals and knowledge, and as such, together make a world we can all thrive in.
As James Baldwin said, "in our time, as in every time, the impossible is the least that one can demand."
Illustrations: David Wise