Category — Features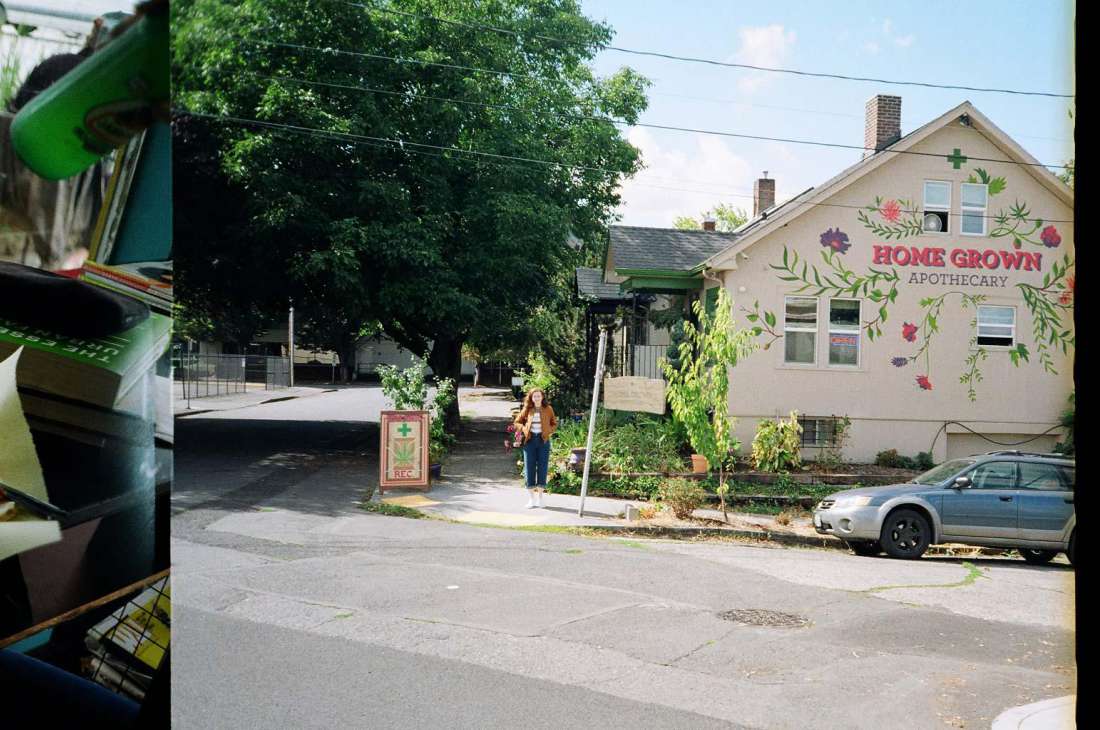 48 Hours in Stumptown
We were here for a good time, but not a long time. By US standards, Portland is not large, but if you really want to eat the essence of this hipster mecca, you will need at least a week, and a big packet of your favourite indigestion meds.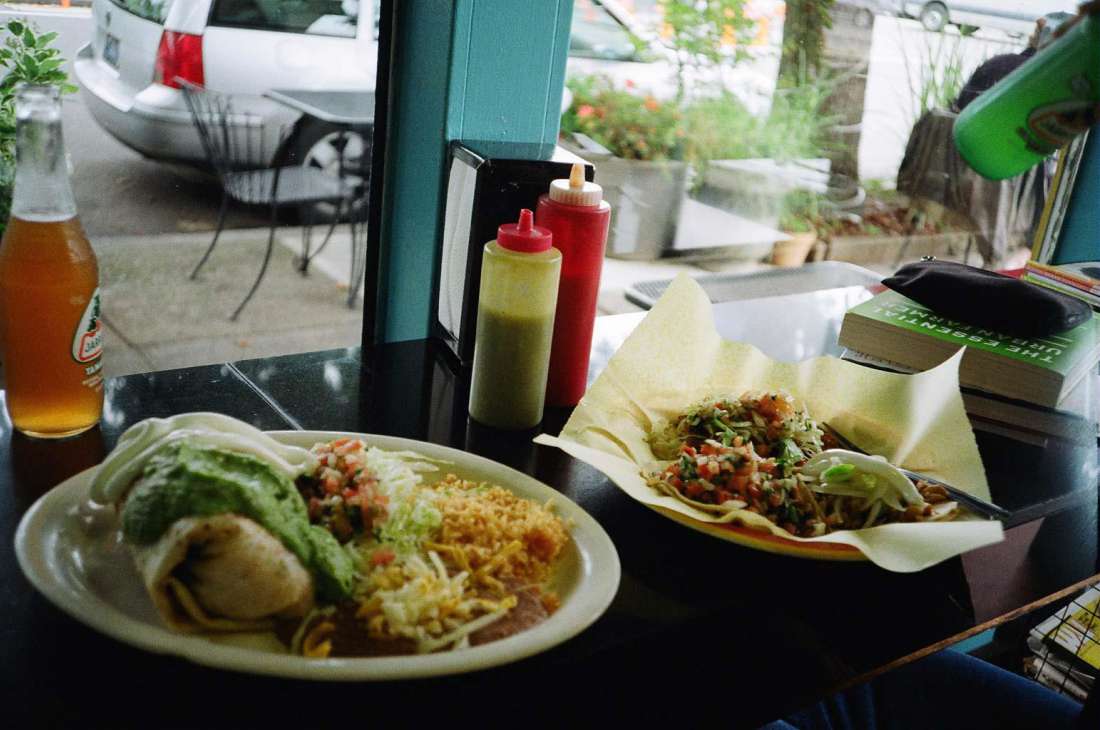 Day 1
Breakfast & coffee: at the famous coffee haunt Stumptown. This branch is in the lobby of Ace Hotel, a converted hostel with shared bathrooms that has you feeling like you are staying in the middle of a Wes Anderson movie. The coffee at Stumptown is good, they have nice chewy bagels to munch on and there's free wifi in the lobby of the Ace to plan the next move.
Ace Hotel / Stumptown Coffee
1022 SW Stark St, Portland, OR 97205, USA
acehotel.com/portland
Morning read: at Powell's City of Books. This place is crazy; it's the size of a whole Westfield and it's an independent book store. You would need weeks to peruse the whole place. I made a bee-line for the cookbooks and magazines. They had everything from Julia Child to Claudia Roden and back again. Might I add, they have most volumes of each title; hardback, softback and any re-issues. Every culture's cuisine on the shelves before me, I had to keep a tight grip on my wallet just to ensure our bags were under weight when we left. We picked up a couple of light local zines as well as a local publication called 'The Potlander', which has some insightful information for the herbalist connoisseurs out there.
Powell's City of Books
1005 W Burnside St, Portland, OR 97209, USA
powells.com
The Potlander
wweek.com/the-potlander
Lunch: is from one of the many amazing clusters of food trucks. Today we wanted tacos but I was swayed by some Hawaiian-Korean hybrid – kimchi scrambled eggs was the item that got me. Meanwhile, Charlotte lines up at the busiest looking taco truck. The problem is the locals know all the taco Spanish, they have been ordering "carne asada" and "carnitas" since they were three and they laugh at Charlotte while she bumbles through her order, trying desperately to get us a selection of their best. We meet up to share our spoils and I admit her tacos are better than my weird bowl of kimchi eggs and spinach. The look alone of these tacos is enough to make you quiver, then you stuff them in your face and dance with delight. Is it pork? Or chicken? Who knows but it's fucking delicious. Slap ya dad.
Food Truck Car Park
2880 SE Division St, Portland, OR 97202, USA
Dinner: at Podnah's Pit – real Texas-style American barbecue. It's hard to type this because reminiscing over the juicy tender meat is making me dribble all over the keyboard. These guys are the real deal. They get up super early in the morning to light the fires of the pits, then spend the day turning out what will be dinner for many a happy Portlandian. Same menu each day; brisket, links, ribs, pulled pork. There are some essential sides like iceberg wedge drowned in ranch and cornbread that's sweet and crumbly and perfectly complements the sweet zingy pulled pork. We got the "Pitboss", a selection of all the hits – built for two. Everything in America that says it's for two could easily feed four. The actual consumption of this meat is a sweaty blur, but I do remember needing lots of cold beer to wash it down.
Podnah's Pit Barbecue
1625 NE Killingsworth St, Portland, OR 97211, USA
podnahspit.com
*Note: You will need a car or taxi to get here from the central city, but it's worth the treck.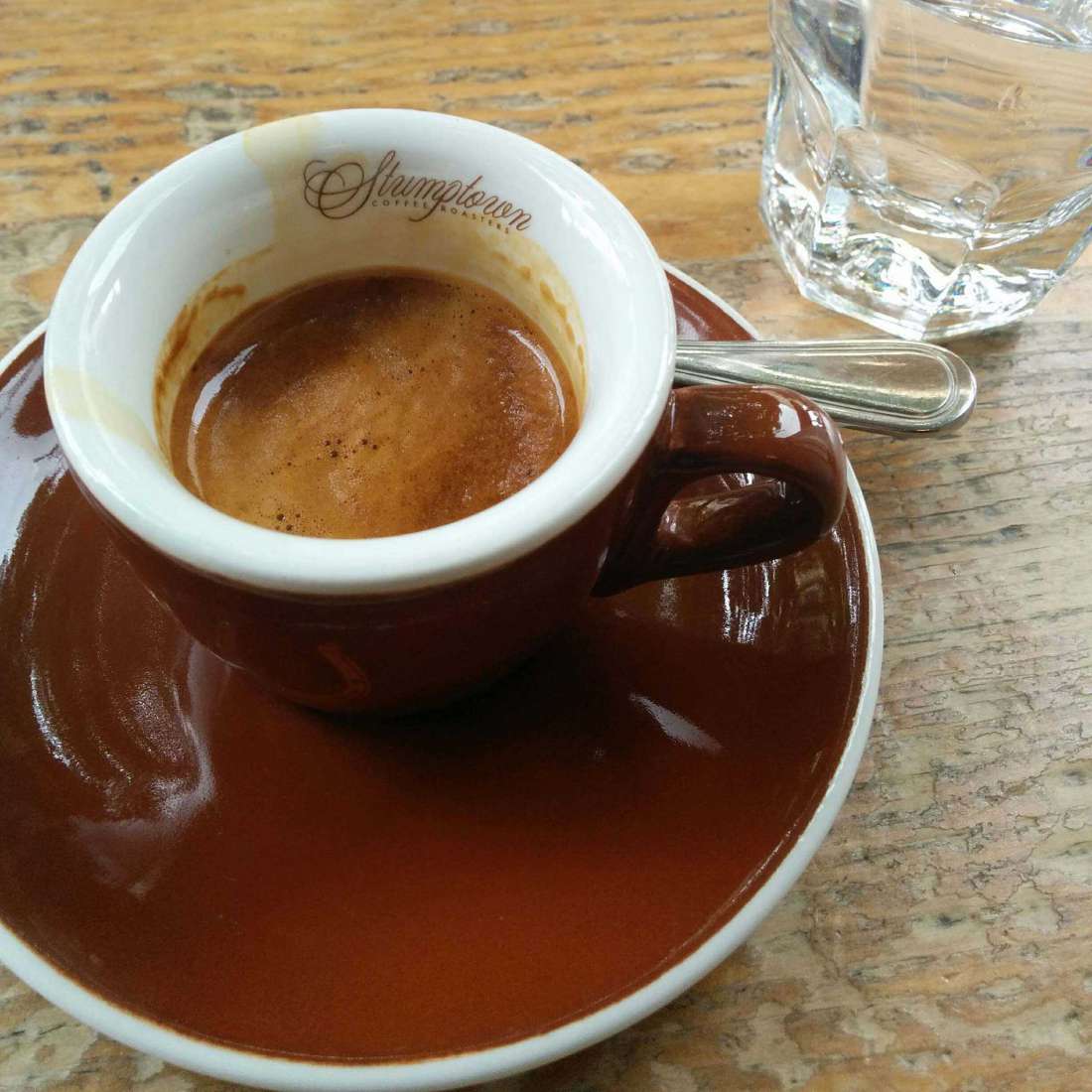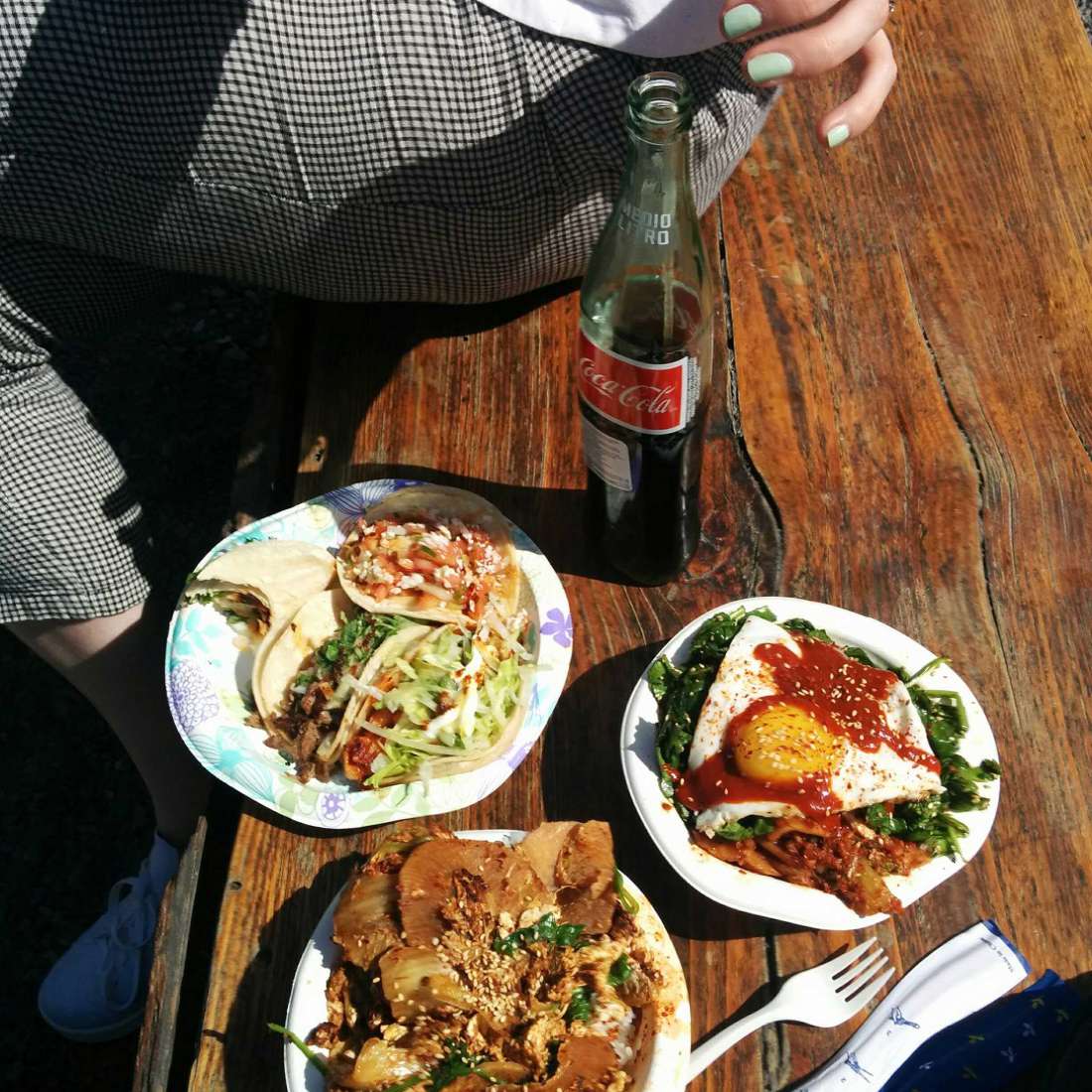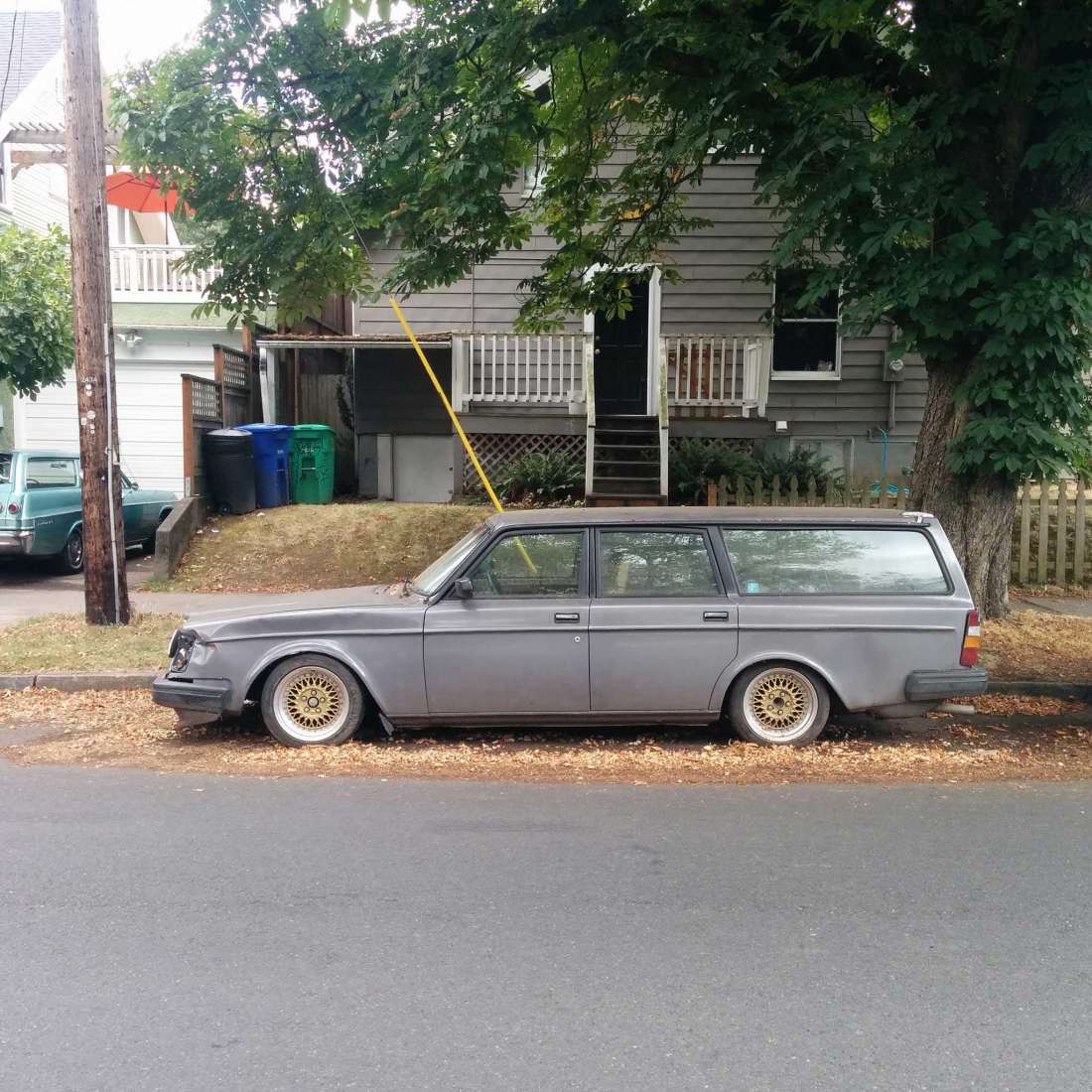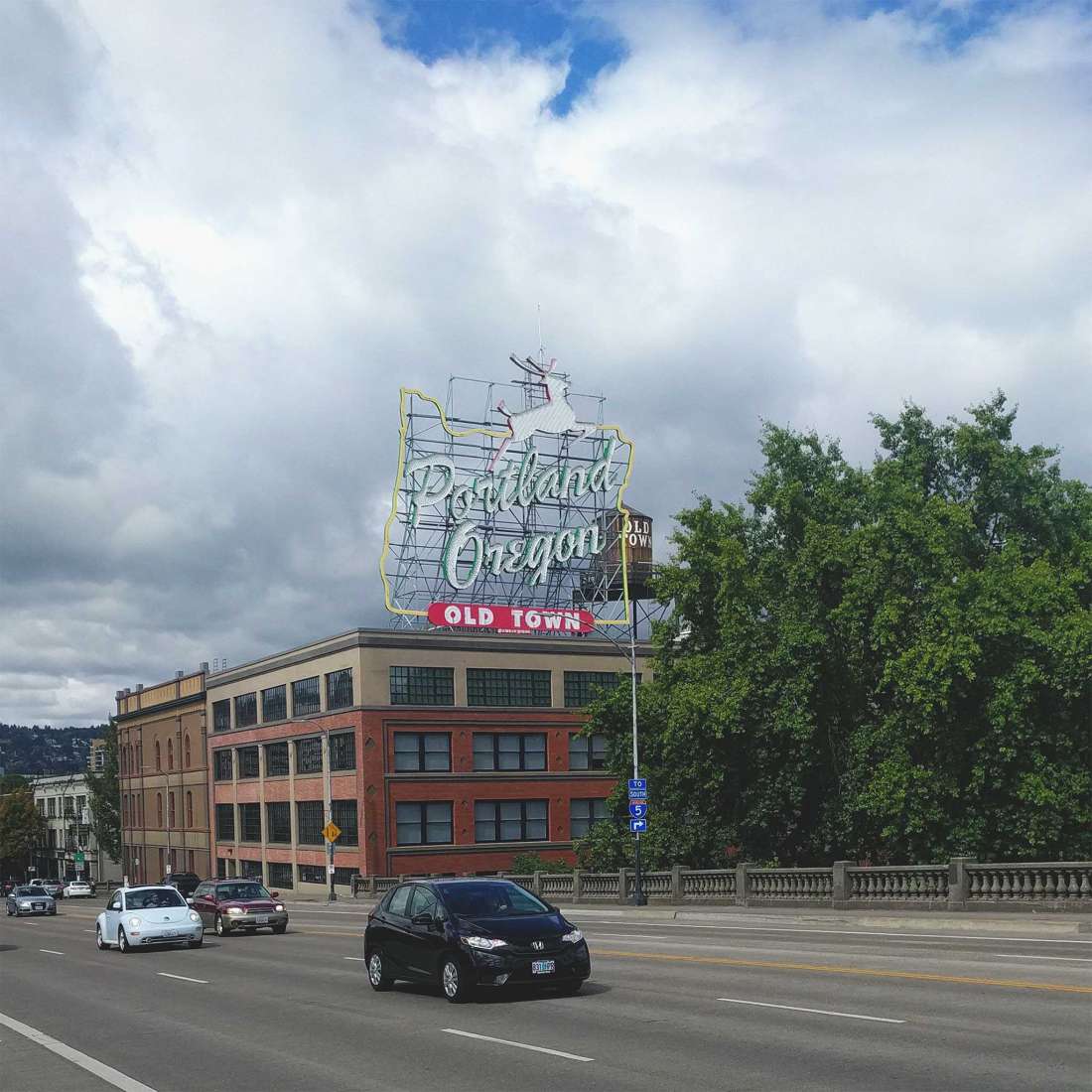 Day 2
Breakfast & coffee: was fruit from Whole Foods and coffee from the other Portland coffee powerhouse, Heart Roasters. These guys are young and fresh, minimal in a nice way with a great streetside area to chill and slurp up your morning fix. Charlotte has a long black but I just want the biggest mug of filter possible. After waiting for the caffeine to sink in while watching all the old Volvos drive by, we headed to Pok Pok
Heart Roasters
2211 E Burnside St, Portland, OR 97214, USA
heartroasters.com

Whole Foods (just up the road)
2825 E Burnside St, Portland, OR 97214, USA

Lunch: at Andy Ricker's famous Thai place. I had heard the food was spicy and I was suspicious, because mostly you find that it's white man spicy, mild in comparison with real street-level Thai spicy. But after we skipped the hour wait with my usual spiel of "I'm a chef, we'll eat anywhere – the bar, the table by the toilet", I was surprised and delighted to find that the spice level was "girl I wanna make you sweat" hot. The chicken wings are to die for and the duck larb was the stuff of dreams – texturally interesting and bursting with flavour. We smashed five dishes between the two of us. Everything was delicious and Pok Pok was cemented as an amazing place to eat.
Pok Pok
3226 SE Division St, Portland, OR 97202, USA
pokpokpdx.com
After lunch: we decided to go check out a marijuana dispensary. I had done some reading about recreational marijuana in the state of Oregon and I wanted to see what the real life version of this looked and felt like. We chose to visit a cute neighbourhood dispensary which had flowers growing up the side of it and looked like a nonthreatening introduction to what can only be described as a very weird and varied industry. The lady inside was very nice and welcoming to us, she was surprised and excited to see our New Zealand passports and was very helpful at showing us around and talking us through their large offering. They offered all kinds of herbal remedies and potions, marijuana was just one section of their wide herbal selection.
The kind lady helped us choose the right high for what we wanted and we left with two pre-rolled joints for the afternoon. We decided to check into our hotel before taking a walk to sample the herbal selections.
Home Grown Apothecary (Organic Dispensary)
1937 Northeast Pacific Street, Portland, OR 97232, USA
homegrownapothecary.com
Accommodation: for our second night was at the Jupiter Hotel, which is another interesting option. Jupiter is basically a done up 70s motel, two levels, all rooms the same, park outside your room, classic Americana motel. They told us at the front desk that the bar/diner attached was holding a sold out rock gig later that night, to please excuse any excess noise and that the concert would be wrapped up by midnight – yeah right.
We went for a stroll around the East Burnside neighbourhood and sampled the pick ups from the dispensary. They were as the lady had explained — "upbeat and heady" — but they were strong. I'm not sure if it was the weed or the really spicy lunch dishes, but I was feeling very strange and quite uplifted. We walked about in the afternoon sun around a nice neighbourhood full of vintage stores and little bars where we stopped to have a beer. Make sure you bring your passport though, because that's the only form of ID recognised by the state as proof of age and you won't be able to buy anything without it. We decided to go back and have a nap before the rock concert started. The mix of too much food, strong weed and a couple of beers meant we comatosed for like five hours and by the time we woke up it was late and the rockers had begun to do their thing downstairs. We went to the front desk and asked the guy where we could eat at this time of night (10pm), he explained that Portland doesn't close and that our choices were pretty much endless but suggested we check out this Cajun/French bistro with a reputation for fun service and crazy tinfoil sculptures which they build for your leftovers.
Jupiter Hotel
800 E Burnside St, Portland, OR 97214, USA
jupiterhotel.com
Late-night eats: at Le Bistro Montage is like nothing this small town boy had ever seen before. It's massive and chocka full of people eating Creole classics in a quirky setting reminiscent of an old French bistro; burning candles with years of wax everywhere, servers in white short sleeve shirts and doilies on every table setting. Our server was very forward and very loud — a common Portland trait. He told us to have spicy mac and cheese and fried chicken, how could we disagree. The mac and cheese was so spicy we needed litres of cold beer, which was the perfect segue to our main course of fried chicken, biscuits and sausage gravy. Somewhere in there we also had some gumbo for good measure and cocktails from their very long and inventive list. I went for a gin-based cocktail with lemon and some whiskey – just 'cause.
The guys at Le Bistro Montage break all the rules and don't seem to give a shit. You have to yell to talk because there are so many tables of people having way too much fun. They serve food until 3am five nights a week, so if you're hungry and it's late this is THE SPOT! Once we were finished our server was upset to see we had no leftovers to construct a tinfoil sculpture with. He decided he would make us some "art" anyway and after five minutes, he returned with a metre high tinfoil bong. Complete with a cone full of mesclun lettuce. He laughed as he told us this was one of the symbols of Portland and as tourists we had to make sure we checked out every aspect of his fine city. We laughed out loud, took our souvenir into a taxi and headed back to the hotel.
Le Bistro Montage
301 SE Morrison St, Portland, OR 97214, USA
montageportland.com
After dinner: the rockers were still in full swing, so we ditched our giant bong and headed out to another of our server's recommendations: a burlesque show at a place called Dante's which was on every two weeks. What happened at Dante's is not fit for this type of publication, but needless to say it was in keeping with the weird and wonderful vibe that Portland has in droves. The chick bending iron bars over her stomach and breaking bricks on her back was merely the beginning.
*Tip for young players – when ordering cheap shitty hipster beer Pabst Blue Ribbon, just refer to it as PBR. No one knew what the hell I was saying when I was asking for a Pabst…

Dante's
350 W Burnside St, Portland, OR 97209, USA
danteslive.com

The next morning: we had coffee and some diner-style eggs at Doug Fir Lounge, the place in the hotel carpark overrun with old rockers the night before. The waiter asked Charlotte how she would like her eggs; soft, she replied, he laughed and figured we were hicks from out of town. We munched down our food, sculled three cups of joe and drove back towards the Canadian border, full to the brim with Portland's weirdness and wonder.
Doug Fir Lounge
830 E Burnside St, Portland, OR 97214, USA
dougfirlounge.com